Readiness Enhanced With U.S. Army's Network Integration Evaluation Exercise
Soldiers received a hands-on look at the latest enhancements to Army tactical communications equipment during the two-week long Network Integration Evaluation (NIE) 16.2, which kicked off in early May.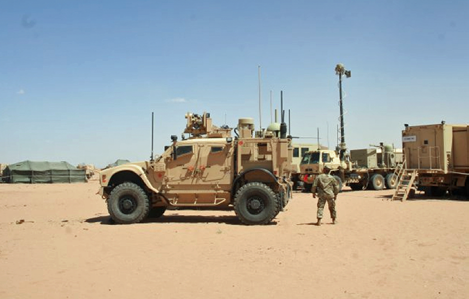 With 2,000 Soldiers from the 2nd Brigade Combat Team, 1st Armored Division performing combined arms maneuver missions spread out over more than 1,000 miles at Fort Bliss, Texas, the exercise will build on previous NIEs as it evaluates and improves the tactical network.
Using Soldier feedback, the NIEs are designed to help the Army keep pace with rapid advances in communications technologies and deliver integrated network and mission command capabilities, a top Army modernization priority for readiness.
"NIE is really a team-of-teams effort between 1st Armored Division, Operational Test Command and the acquisition community," said Brig. Gen. Terrence McKenrick, the commanding general of the Brigade Modernization Command (BMC), which helps execute the NIEs on behalf of the Training and Doctrine Command.
Since it was established in 2011, the NIE construct has continuously enhanced the Army's expeditionary mission command network baseline for fielding to brigade combat teams by incorporating Soldier feedback into system design, performance, functionality and training. NIE 16.2, the 11th such event, will support two Army program of record tests, as well as informal evaluations of several emerging network enhancement capabilities.
"We have repeatedly seen the value of hands-on Soldier feedback from NIE to help the Army make better decisions in our modernization efforts, while simplifying and cyber-hardening the system of systems network," said Douglas K. Wiltsie, executive director of the Army's System of Systems Engineering and Integration Directorate, which helps oversee and execute the NIE process for the acquisition community.
NIE 16.2, which ran through May 14, focused on evaluating network operations (NetOps) tools that Soldiers use to manage the network, assessing the Army's next generation of mission command applications, and informing the radio basis of issue for the mid-tier of the Army's tactical network.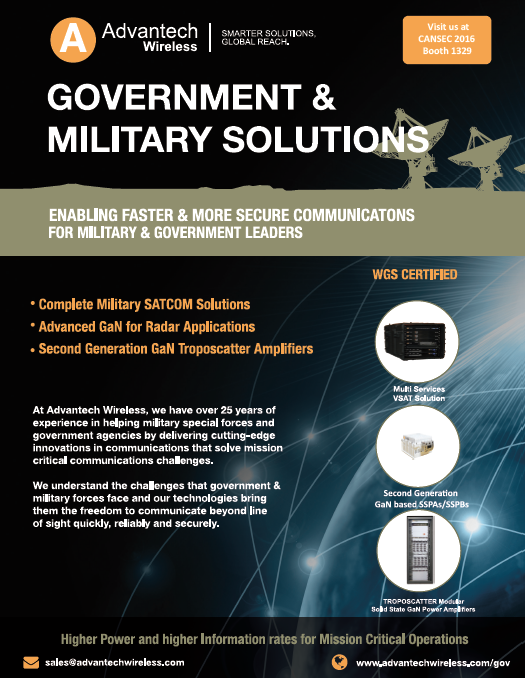 A critical objective of NIE 16.2 was focused on network simplification and management. The Warfighter Information Network-Tactical (WIN-T) Increment 3 NetOps test looked at enhancements that increase visibility and cyber-hardening across the network, while making network management tasks easier and more efficient.
Command post requirements were also refined during NIE 16.2, with an assessment of the second version of the Command Post Computing Environment, which introduced mission command "apps" and provided commanders improved situational awareness and understanding.
An operational assessment of the mid-tier network will inform the Army on the capability and capacity of the mid-tier and how that capability should be employed throughout the brigade combat team—much the same way previous NIEs conducted similar assessments for the lower tactical Internet and upper tactical Internet.
While NIE exercises used to be held twice a year, these events will be now be held annually, starting with NIE 16.2. In the fall, the Army will hold the first official Army Warfighting Assessment (AWA), a complement to the NIE.
NIEs, to be held each spring, will focus on formal testing and evaluation of network programs of record, while the AWAs, held each fall, will provide an experimental environment to help assess and refine requirements and improve emerging capabilities in a joint and coalition environment. Both events will work to promote innovation, modernization, readiness and developing capabilities for the future force.
"AWA is about innovation—we will work with industry to look at capability that will aid Army readiness, early developmental prototypes that we can evaluate before they are ready for NIE," McKenrick said. "AWA will help increase the rate of readiness."
As the Army continues to transition to a regionally aligned, expeditionary force that acts in partnership with joint and coalition forces, exercises such as the NIEs and AWAs will help inform more mobile, scalable and expeditionary network capabilities.
---
A Fusion Of Satellite Imagery For The Global Intelligence Community
A major problem in the intelligence community is managing and sharing data across agencies and divisions—now users will have access to high res satellite imagery and content info for key content, such as terrorist's activity, military installations and more.
At the GEOINT 2016 Symposium attendees got a sneak peak of the new product from IHS Jane's and Airbus Defence and Space.
Conflict Atlas combines Airbus Defence and Space's satellite imagery with IHS Jane's data into a new tool for the global intelligence community. For the first time, users will be able to navigate to a region of conflict or instability and view high resolution satellite imagery with key content such as military installations, terrorist activity, country profiles and the latest security insight mapped across each area.
Key features of Conflict Atlas...
• Entire country and regional coverage at 1.5 meter resolution and military site of interest at 0,5 meter resolution, to support the high currency and coverage rate requirements of the GEOINT community.
• Access to industry leading data and insight from IHS Jane's including: military bases, surface-to-air missile sites, terrorism and counter terrorism events, security news and insights and equipment profiles specifications.
Airbus Defence and Space has created blanket ortho-rectified color imagery mosaics over areas of interest, locally enriched with high resolution images over the densest, most critical areas including city centers, airports and military installations.
This new product furthers the IHS and Airbus Defence and Space partnership and gives users access to the industry's leading tools.
ihs.com/industry/aerospace-defense.html
airbusdefenceandspace.com
geoint2016.com
---
Expeditionary Network Equipment For Global Response Force
Suppose you are supporting an early entry Global Response Force (GRF) mission; which network equipment would you rather fly in with: two large sheltered vehicles that take up critical cargo space in your C-17 aircraft, or a few carry-on transit cases that provide 12 times the bandwidth?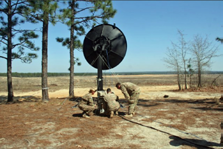 Continuing to inform requirements and seek solutions for light-weight, expeditionary networking gear for the GRF, the Army recently demonstrated a new modular suite of expeditionary communication equipment that provides increased bandwidth with significant size, weight and power (SWaP) reductions.
"As a GRF unit, what we take with us is critically analyzed because whatever we take, we have to leave something else behind," said Cpt. Alan Adame, C Company commander, 127th Engineering Battalion, 1st Brigade Combat Team, 82nd Airborne Division, a GRF unit . "If you take a vehicle with a shelter and it tows a mounted generator trailer, then that is potentially cutting off an artillery piece, a military intelligence piece, a radar piece; something else is being excluded from the fight [to make room on the plane for that equipment]."
The Army conducted the operational proof-of-concept expeditionary Signal Modernization (SigMod) capability demonstration at Fort Bragg, North Carolina, in support of the current 82nd Airborne Division operational needs statement requirements. Soldiers from the 127th Engineering Battalion, 82nd Airborne Division, executed the demonstration at three geographically separated locations to see how these new scalable SigMod capabilities could be utilized during various stages of operations to provide voice, video and data communications, mission command and situational awareness over the Army's tactical communications network backbone, Warfighter Information Network-Tactical (WIN-T).
"It's a complex world that we fight in, but the solution to mission success for rapidly deployable units like the GRF is simple: the
more situational awareness we can provide, with equipment that is smaller, stronger and faster, the greater the chance for mission success," said Lt. Col. Mark Henderson, product manager for WIN-T Increment 1, which manages the SigMod suite. "Each component of this equipment package increases performance at reduced size, weight and power to address these requirements."
Demonstration capabilities included a new high-bandwidth Terrestrial Transmission Line Of Sight (TRILOS) radio; the range-extending Troposcatter (Tropo) Lite; Commercial Coalition Equipment (CCE); and the Modular Communications Node - Advanced Enclave (MCN-AE), which supports intelligence users over the WIN-T network. All of these capabilities are commercial hardware solutions.
"This [toolset] could greatly enhance the current capability of the GRF," said Maj. Martin Schmidt, requirements officer for the Rapid Equipping Force, which provides accelerated procurement of capability to unique forces such as the GRF. "The Army is trying to make everything expeditionary so that the warfighter can hit the ground, set up and commence operations as quickly as possible."
Most mission command systems require a lot of bandwidth to operate and exchange situational awareness throughout the battlefield. To help meet these requirements, a component of this expeditionary tools set, the new TRILOS radio, provides a 12 times increase in bandwidth over the current line-of-sight capability known as the High Capacity Line Of Sight (HCLOS) radio.
"With TRILOS now we are connected and we have a lot of bandwidth that we can share amongst each other, and that generates options for the commander," Adame said. "Now we can have all these mission command systems, critical applications, which are very bandwidth hungry, including air space management and full motion video feeds from the Unmanned Aerial Systems, all of that can be used to support those first jumpers. And that is something that wasn't readily available before."
TRILOS is packed in a few deployable transit cases providing a significant reduction in SWaP, compared to the HCLOS radio, which requires two sheltered-vehicles and two large antennas to relay information. Additionally, not only does TRILOS provide point-to-point communications, but unlike the HCLOS, it also provides point-to-multipoint (signals to multiple locations) for increased capability, situational awareness and operational flexibility.
Complementing the TRILOS, and extending network range even further, the Troposcatter (Tropo) Lite provides beyond-line-of-sight (BLOS) capability without using expensive and limited satellite resources. Soldiers can bounce (or scatter) signals off of the troposphere much like skipping a stone on pond, or they can refract signals off of objects such as mountain tops, extending signals over terrain obstructions like trees and mountains, which can inhibit LOS communication. The Tropo Lite is deployed in transit cases and is significantly smaller than the legacy Tropo systems for increased unit agility. One of the biggest advantages of Tropo Lite is that it provides lower latency than satellite systems.
This low latency, long-range BLOS backhaul can be used for mission critical Command, Control, Communications, Computers, Combat Systems, Intelligence, Surveillance and Reconnaissance (C5ISR) and patriot missile fire controls, which require ultra-low latency to ensure accurate fires timing .
"This suite of Signal Modernization network capabilities provides the flexibility and scalability needed to support a wide variety of operations and mission sets ranging from GRF to long term operations," said Capt. Adrian Smith, assistant product manager for WIN-T Inc 1 extensions group. "And the Army plans to continue to enhance network communications and situational awareness while reducing SWaP to best support the GRF and the rest of the force."
Not only does some of the new SigMod equipment improve bandwidth and range, but it enables commercial, coalition (through CCE) and intelligence users (through MCN-AE) to connect to exchange voice, video and data information over the WIN-T network.
Additionally, CCE provides a Radio Bridging Voice Cross-banding (RBVC) capability that enables radios on different frequencies, or different equipment such as radios or cell phones, to seamlessly talk to each other, which is essential in both disaster response or coalition operations where different players and organizations have their own equipment.
Using the same network agnostic hardware "box" as the CCE, the MCN-AE augments the intelligence network, enabling intelligence users to simply plug into the MCN-AE enclave and, through the unit's high-bandwidth WIN-T "pipe", connect to all the same resources they had using the Trojan intelligence network.
"MC-NAE has a smaller footprint; it's easier to set up the equipment and faster to access it," said Staff. Sgt. Tyler Darby, D Company, 127th Engineer Battalion, which supported the MCN-AE during the demonstration.
Additional expeditionary solutions, including 4G LTE capability, were demonstrated at the engineering facilities at Aberdeen Proving Ground, Maryland. After assessing the capabilities demonstrated at both Fort Bragg and APG, the results from the two efforts will be combined into a single report. The Army will use the report to inform its decisions on potential fielding of these capabilities to the GRF via the REF. Some of the capabilities that were demonstrated at Fort Bragg will be fielded to the Army as soon as fourth quarter fiscal year 2016. Project Manager WIN-T can deliver these capabilities sooner if Army decides to make that decision.
Lt. Col. Thomas Sager, deputy commanding officer, 82nd Airborne Division, agreed that having this modular, scalable toolbox of network capabilities could provide operational flexibility in support of varying mission requirements, locations and terrain.
"With GRF we have seven to nine different tactical mission sets, from decisive action—going in and kicking down doors—to humanitarian assistance, to disaster relief; it just depends on where we get called up," Sager said. "There is an interest for these capabilities; they enhance the mission command systems and mission command."
Story by Amy Walker,
PEO C3T Public Affairs
---
Specifically Designed For U.S. Government—SpyMeSatGov
Unlike another application that sells sat imagery to the public, this hi-res satellite imagery is free to the U.S. government and authorized users.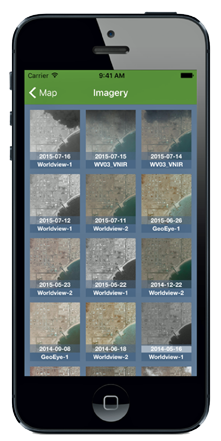 Orbit Logic announces their SpyMeSatGov iPhone app is now available on the Geoint App Store (https://apps.nga.mil) for any U.S. government or authorized user.
SpyMeSatGov provides real-time imaging satellite awareness and on-demand access to EnhancedView commercial satellite imagery archives.
The mobile app includes the ability to browse and select available commercial satellite images for any location.
The selection and download of archived imagery can be completed in seconds, delivering high resolution satellite images for any location on demand.
SpyMeSatGov addresses the need to get recent high resolution satellite imagery quickly and easily into the hands of end-users for government purposes.
The app also provides the ability to evaluate multiple images of a single location for change detection including damage assessment.
The Innovated GEOINT Application Provider Program (IGAPP) sought out Orbit Logic to develop SpyMeSatGov based on the popular SpyMeSat mobile app available on the Apple App Store and Google Play.
Unlike SpyMeSat, which sells satellite imagery to the public, SpyMeSatGov provides high resolution satellite imagery free to U.S. government and authorized users with approved EnhancedView accounts.
IGAPP shepherded Orbit Logic through the accreditation process for the GEOINT App Store including validating security features.
"SpyMeSatGov makes it easy and quick to get and exploit satellite imagery on mobile devices," said Alex Herz, President of Orbit Logic. "SpyMeSatGov provides real-time situational awareness and puts EnhancedView imagery in the hands of the government field personnel in seconds."
SpyMeSatGov users can configure the app to enable or disable individual satellites, change the location of interest, and enable or disable various notification options and notification timing.
orbitlogic.com
apps.nga.mil
---
Modernizing Military Enterprise SATCOM
Harris Corporation has received $41 million in orders for production, spare parts, depot, and installation of advanced satellite communications terminals under the U.S. Army's Modernization of Enterprise Terminals (MET) program—the orders were received during the third quarter of Harris' fiscal 2016.
Harris fixed-site terminals and hardened transportable terminals provide dual X- and Ka-band access to the new Wideband Global SATCOM (WGS) network, as well as legacy satellite constellations.
The nexgen military satellite communications terminals will provide the worldwide backbone for high-priority military communications and missile defense systems in locations around the world.
Harris is the prime contractor for the MET IDIQ contract, which was awarded in 2009 and has a ceiling value of $800 million, including a five-year base period and a five-year option period.
The latest orders bring the total MET orders Harris has been awarded to $516 million.
For U.S. decision makers and military organizations across the globe, the MET multi-band terminals will provide critical comms and situational awareness capabilities that are crucial to mission success.
harris.com/
---
21st Space Wing Ops & USAF Academy Cadets Team Up
When the 21st Space Wing Operations Group needed research done in relation to broadening mission capabilities for Ground-based Electro-Optical Deep Space Surveillance Systems, coming up with a cost effective method presented
a challenge.
Across Colorado Springs, at the United States Air Force Academy, cadets faced their own challenge. They needed to find projects during the last year of school allowing them to get experience in their chosen career fields. What better way to gain a win-win solution than to have the Wing and the Academy work together, providing excellent research and real-world work experience all in one mutually beneficial project.
The driving force behind the partnership is a desire to increase mission effectiveness and operate the GEODSS longer in adverse weather conditions. The system plays a critical role in tracking objects in deep space, everything from operational satellites to small debris caused by satellite breakups.
To perform its mission, GEODSS uses one-meter telescopes equipped with state of the art digital camera technology. Each of the three operational GEODSS sites has three telescopes to use either alone or together. As they are ground-based optical systems, weather, lighting conditions, and cloud cover could impact effectiveness in certain situations.
The telescopes are housed in domes, similar to those used for typical observatories. The dome features a shutter for the telescope to peer through and that opening is the heart of the issue. For example, GEODSS can become functionally degraded during high winds and have limited capability during those times.
The cadets tested dome models in a wind tunnel with the shutter at minimum and maximum openings with a variety of wind speeds, some up to 60 kph.
Dean MacNicol, 21st Space Wing chief of maintenance, said certain environmental factors, like heavy wind, may compromise the systems. In the course of research, he hoped to discover whether the systems could remain open longer or if they truly have to shut down at prescribed wind speeds.
"The premise is looking at limits," MacNicol said. "Are there areas to maximize capabilities to improve on the mission? What are the limits to the domes and can we keep them open longer?"
The 21st OG operates the GEODSS, but the question leading to the research started with Air Force Space Command's Space and Missile Center's Space Superiority Division. The thought was that operational capability could be expanded if the wind limitations were broadened. That's where Dr. Chris Randell comes on the scene.
Randell is a retired Air Force lieutenant colonel. He was chief of curriculum, USAFA Department of Engineering Mechanics and also was chief engineer, Opticals Branch, Ground Based Space Surveillance Division. His current role is as lead space enterprise analyst for The MITRE Corporation, a not-for-profit company operating multiple federally funded research and development centers.
With ties to both the GEODSS operations and the Academy, it figures he would make the connection that the entities could beneficially work together.
Randell knew USAFA sought opportunities for cadets to gain real world experience to the benefit of the Air Force. He approached the school's Department of Aeronautics to see if something could be worked out.
Randell contacted Dr. Thomas McLaughlin, director, USAFA Aeronautics Research Center, and Tim Siefers, instructor of aeronautics and team leader for the cadet project.
They decided the initial round of research would serve as a type of proof of concept regarding whether wind at particular speeds would cause the GEODSS domes to lift off of their bases or become crushed by wind pressure.
MacNicol said that while low cost is certainly a positive aspect of working with the cadets, there are others. The young cadets bring energy and innovation to the research.
"They are not fettered by thinking in the box," he said. "It gets them excited because we really use what they are giving us. It's real-world work," said Jeff Wiseheart, 21st OG technical director. "It is being put to use, they are helping us. This is big."
Working on a project like this one is a positive experience for the cadets. Randell said it gives them a chance to see how their work is used in a real-world mission situation.
"This could turn into a larger relationship," Randell said. "Opportunities are out there."
Story by Dave Smith, 21st Space Wing Public Affairs
---