U.S. Government agencies continue to be large consumers of adaptable commercial satellite services to establish and maintain communications for their operations. In fact, according to one recent industry analyst report, commercial satellite operators provide more than 80 percent of the bandwidth the U.S. government and military uses.

As an example, the U.S. Department of Defense (DoD) is leveraging the satellite capacity of Spacecom, operator of the AMOS satellite fleet, through a relationship with a major U.S. systems integrator in order to secure, reliable satellite communications in Europe and the Middle East, and soon in Africa.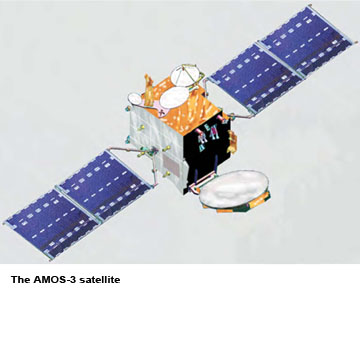 SATCOM For Critical Missions
Delivering end-to-end, secure communications and services to government requires that satellite providers be equipped to handle a variety of communication needs. For remote government facilities and deployed personnel spread out across rural areas, on land, sea, or in the air, maintaining open lines of communication with the home base and ensuring secure and reliable transfer of information is crucial.

However, moving content is only one of the many challenges facing the DoD. Given the nature of much of that content, the agency must also be ever vigilant about the security and integrity of communications. Challenged to meet stringent Defense Information Systems Agency (DISA)-mandated security requirements, the DoD needs to ensure defense against unlawful interference.

A supplier of continual, secure communications customized for the unique needs of defense personnel, Spacecom is currently providing the DoD with secure video, email and other satellite communications services in Europe and the Middle East.

The Company supplies secure, congestion-free delivery of video, voice and data applications, including videoconference, telephony and fax transmissions, to remote locations through interconnecting LANs between DoD offices and remote branches abroad. Spacecom also provides dependable emergency backup infrastructure on co-located satellites — AMOS-2 and AMOS-3 — at 4 degrees West to minimize the chance of disruption in case of malfunction.

Cost-Savings For Complete Connectivity
Designing, launching, and operating a military communications satellite is an expensive and time-consuming effort. Amid shrinking budgets and a government-wide emphasis on efficiency, capital and operating expenditures needed for satellites are in short supply. What's more, Defense Secretary Robert Gates' proposal to eliminate $78 billion in defense spending has prompted the military to home in on cost-effective solutions that demand the DoD do more with less — without short changing mission success.

Rather than commit to creating an entire satellite constellation, the DoD is leaving development to defense contractors and system integrators, which then partner with providers such as Spacecom to provide satellite services, in order for the agency to better reallocate resources for strategic development and logistical support.


Of course, the DoD isn't the only government agency, either in the U.S. or abroad, that has noticed the cost advantages of piggybacking on existing satellite networks. Government agencies worldwide can't deny the business case for third party provisioning of satellite services, which creates a potential supply and demand challenge: everyone wants a piece of the pie, but there isn't enough for everyone.

Fighting For A Limited Commodity
The truth is that demand for satellite bandwidth will eventually outstrip supply — a possibility that threatens assured access to satellite communications capacity.

It should come as no surprise, then, that government agencies, particularly the DoD, have made securing reliable satellite bandwidth a major priority. National security is dependent on the DoD's ability to secure enough of this resource to support U.S. military and foreign policy efforts around the globe. The DoD, warfighters and the intelligence community (IC) need access to the correct amount of bandwidth to accomplish mission critical activities.

Fortunately, satellite providers continue to expand service and capacity in high growth, under served regions of the world that even just a decade ago would have garnered little attention.

Reaching For Africa and Beyond
Ongoing conflicts on two fronts and new security challenges in Africa — ranging from piracy to failed states harboring terrorists — have strained the DoD's communications resources.

With political turmoil in North and West Africa and piracy in East Africa, the DoD's geographic command, the U.S. Africa Command (AFRICOM), is working to achieve cooperative relationships with nations on the African continent. Through AFRICOM and in conjunction with other international partners, the DoD relies on secure communication for military operations that promote U.S. foreign policy in Africa.

With the anticipated addition of the AMOS-5 satellite scheduled to launch in July 2011, the DoD will soon be able to access comprehensive satellite services that support military personnel deployed across the African continent.

At a new orbital slot over Africa at 17 degrees East, the AMOS-5 satellite will provide flexible, dependable pan-African connectivity solutions for government. After all, government needs a far-reaching satellite constellation to secure end-to-end communications in even the most remote locations all around the world.

About the author
Ori Onn leads Spacecom Marketing, Sales to Europe and North America, and Broadcast systems offerings worldwide. Throughout his 25-year career, Mr. Onn has held senior positions within the communications and satellite sectors. Prior to joining Spacecom in 2004, Mr. Onn was Managing Director at Comverse Technologies where he established and managed its European subsidiaries. He holds an honorary M.Sc. in Mathematics & Computer Science.


Scheduled to start service in Q3 2011 at 17 degrees East — a new orbital slot over Africa — the AMOS-5 satellite will position Spacecom at the forefront of Africa's emerging satellite services market. Once in orbit, the AMOS-5 satellite will feature a fixed high-power pan-African C-band beam and three regional Ku-band beams — all covering Africa with connectivity to Europe and the Middle East and supporting multiple transponders in both C-and Ku-band.
Additionally, Spacecom's AMOS-2, AMOS-3 and AMOS-5 satellites offer defense agencies coverage over the Middle East, Central and Eastern Europe, and Africa.
The AMOS satellite constellation provides flexible and dependable connectivity solutions for government and international organizations with a regional or global presence that facilitates access and connectivity between hundreds of crucial locations.