With a sense of accomplishment and pride, the leadership of the Hosted Payload Alliance jointly authors this month's HPA Corner to announce our milestone transition.
Since the establishment of the HPA in 2011, this nonprofit industry alliance has served as a bridge between the commercial space industry and the U.S. government for communicating, brainstorming, debating and progressing the vision of hosted payloads for mutual benefit.
HPA has provided numerous forums for open discussion and sharing one-on-one with Congress, the DoD, NASA and throughout the U.S. government the many benefits of the frequent, affordable and reliable hosting options on commercial missions.
With persistent encouragement from industry, the USAF Hosted Payload Office at the Space and Missile Systems Center (SMC) generated enough momentum to establish the Hosted Payload Solutions (HoPS) Indefinite Delivery Indefinite Quantity (IDIQ) contract with more than a dozen companies. Unfortunately, no hosted payloads have been contracted through HoPS over the past four years.
Hosted payloads are just one of many innovative solutions the USAF has been hesitant to adopt — but this is starting to change. Although much slower than expected by industry and many U.S. government leaders, the use of hosted payloads and other innovative approaches are being seriously considered within multiple missions in future architectures.
As the current HoPS IDIQ is set to expire in mid-2019, it is our sincere desire that it be extended to allow more opportunity for commercial industry to more readily serve U.S. government needs.
We no longer have to point to the single USAF CHIRP hosted payload as the sole proof of concept. The adoption of commercial hosting by NASA and the FAA continue to demonstrate the model. NASA is regularly leveraging commercial space missions to host high-value payloads as well as technology demonstrations and experiments.
Recent launches of the FAA's Wide Area Augmentation System (WAAS) and NASA's Global-scale Observations of the Limb and Disk (GOLD) missions on commercial GEO satellites, the start of NASA's GEOCARB hosted payload program and the imminent contracting of NASA's Tropospheric Emissions: Monitoring of Pollution (TEMPO) hosted payload are key examples. These missions verify the cost-effectiveness, reliability, sustainability, security and mutual benefits offered by hosted payloads.
We anticipate, encourage and look forward to more momentum across the U.S. government leveraging the growing U.S. commercial space industry.
Over the past seven years, as a focused, stand-alone body, HPA has achieved many of its goals. As we enter 2018, the HPA membership is considering how best to continue our mission in serving commercial and U.S. government space interests.
The HPA membership has decided that the best structure to continue this mission of service would be in conjunction with another industry association focused on the wider value that commercial space industry brings to the nation.
We are in the midst of this transition now and will be able to describe the new structure in the next issue of the HPA Corner.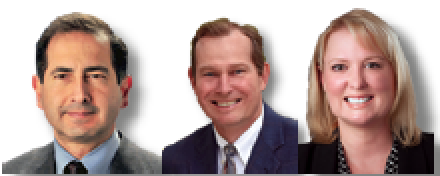 Your HPA Officers, left to right; Al Tadros, Bryan Benedict, and Hayley McGuire
www.hostedpayloadalliance.org/
---