Raytheon I&S Has Successful Sensor Design Payload PDR for USAF
Raytheon Intelligence & Space's competitive sensor payload design passed its Preliminary Design Review for the U.S. Space Force's Next Generation Overhead Persistent Infrared Block 0 GEO missile warning satellites being designed and built by spacecraft prime contractor Lockheed Martin Space.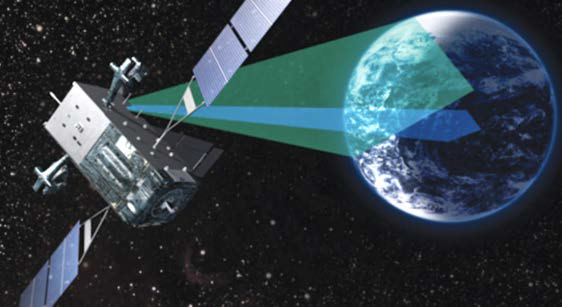 Wallis Laughrey, VP of Space Systems for RI&S, stated the early detection of launched missiles starts in space. Each layer, or orbit, provides a necessary and unique view of the Earth to initially detect and then track a missile. Passing the Preliminary Design Review (PDR) shows that the company's approach meets mission requirements, putting this 'Go Fast' program one step closer to launch.
Following PDR, RI&S is focusing on manufacturing hardware and building and testing critical components to reduce risk ahead of the competitive program's Critical Design Review in 2021. The team is building an engineering development unit that will go through a number of tests to ensure it functions as planned. Tests include environmental testing to simulate space's harsh environment, such as the thermal vacuum chamber, which tests a system under extreme temperature conditions.
Laughrey added that what sets Raytheon I&S apart is the firm's deep technology bench. Being able to pull or modify critical technology, such as focal planes and electronics, from the company's other programs allows for the rapid development of new designs for any orbit.
Planned to succeed the Space Based Infrared System by providing improved, more resilient missile warning, Next Gen OPIR Block 0 was implemented by the Department of the Air Force as a "Go Fast" acquisition program.
Prime contractor Lockheed Martin Space competitively selected Raytheon to design a potential payload for the program just 45 days after the program was initiated. The first geostationary orbiting satellite is targeted for delivery in just 60 months.
www.raytheonintelligenceandspace.com/
---
2nd Space OPS Sets New Standard and Performs First GPS III Maneuver
The 2nd Space Operations Squadron performed the first station keeping maneuver on a GPS III satellite to Satellite Vehicle Number 75 at Schriever Air Force Base, Colorado, May 14.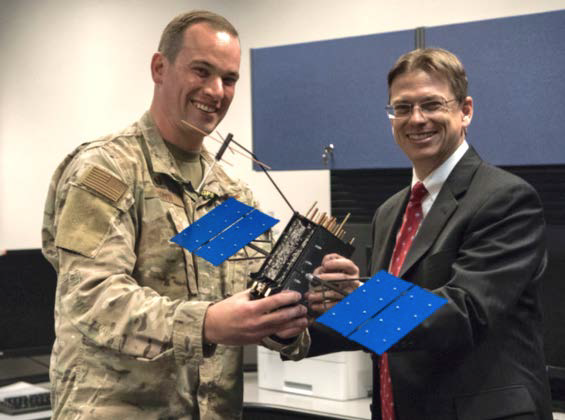 Johnathon Caldwell, Lockheed Martin Space Vice President
of navigation systems, right, presents Lt. Col. Stephen Toth,
2nd Space Operations Squadron commander, with a GPS III
model satellite as a token of appreciation for the 2nd SOPS
critical mission in space at Schriever Air Force Base,
Colorado.
U.S. Air Force photo by Airman 1st Class Jonathan Whitely.
The maneuver set a new standard for how GPS maneuvers should be conducted for the squadron that provides precision, navigation and timing signals to billions of users around the world.
A station keeping maneuver is performed to keep vehicles in their node (or parking spots in orbit) and involves burning the satellite's thrusters and changing the vehicles speed at a particular point in its orbit. This causes the orbit to change, in turn, keeping the vehicle in the ideal position to provide coverage.
"All operational GPS vehicles are assigned nodes, when all nodes are filled with healthy vehicles there is good global GPS coverage," said 1st Lt. Michael Gallagher, GPS subsystems analyst. "When new vehicles are launched they typically aren't launched directly into their final node. This means that the 2 SOPS analysis flight must perform a re-phase maneuver to put a vehicle in its node."
The maneuver required GPS III's signal to be turned off. Turning off the navigation signal while performing the maneuver prevents users from receiving inaccuracies generated by a change in satellite velocity.
"This was a new process that we could learn from as it was the first station keeping [maneuver] performed for the newest generation of GPS satellites," said Senior Airman Harrison Sherwood, 2nd SOPS satellite systems operator, who sent the commands to the satellite during the maneuver. "[Since] this was the first [maneuver] of the newest generation satellites, it was a bit of a guinea pig for future maneuvers."
However, the unit was able to complete the maneuver flawlessly. The maneuver was completed in a special mission area and there were no changes to the normal operations floor.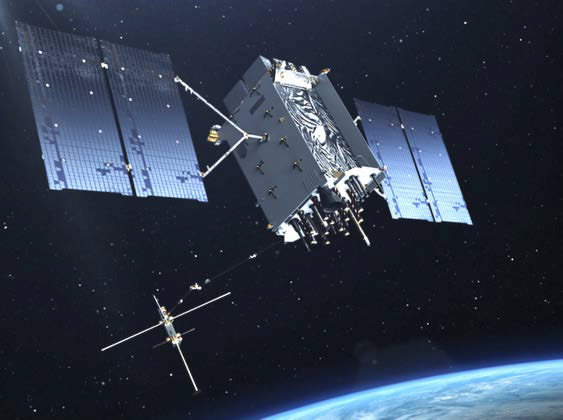 Artistic rendition of a GPS III satellite on orbit
"This maneuver had no effect on the rest of the [GPS satellite] constellation," Gallagher said. "SVN-45 was in the node SVN-75 was being placed into, so there was no decrease in GPS signal quality as a result of this maneuver."
This procedure was also the first of its kind to be performed with the 2nd SOPS Architecture Evolution Plan, which all active satellites in the program are operated. Since GPS III vehicles are fully integrated into the program with this maneuver, all maintenance is conducted through AEP.
"Station keeping maneuvers are essential to satellite operations and must be done for regular maintenance," said 2nd Lt. Tyler Gorman, 2nd SOPS navigation payload engineer. "This activity helped validate a nominal maintenance activity for a new generation of vehicles."
The unit plans to continue to use this new method and program for future GPS satellites that are being launched and need to be re-phased into their operation slots. The next satellite that will need a station maneuver performed is SVN-76, which is scheduled to launch in the next few months.
"GPS maintenance requires a coordinated effort to ensure our worldwide service is preserved," Gorman said. "That means careful planning and execution from our analysts in 2 SOPS, our satellite system operator and the operational support from Lockheed Martin and the Aerospace Corporation."
Story by Airman 1st Class Jonathan Whitely, 50th Space Wing Public Affairs
---
USAF Prime Contract to Masten Space to Support U.S. OPS Forces
Masten Space Systems has been awarded a contract from the US Air Force to change the way supplies are airdropped to frontline Special Operations Forces — the study will explore rapidly landing supplies under rocket power rather than a long, slow fall under a parachute.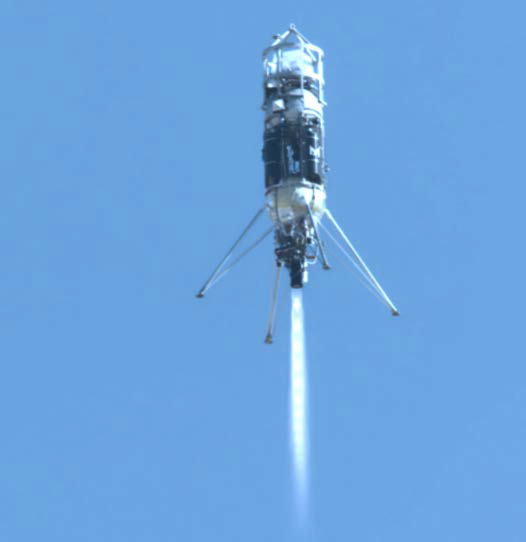 Masten Space's Xodiac rocket
Under the Phase 1 award from the Small Business Technology Transfer (STTR) program, and in partnership with Rhea Space Activity and Purdue University, Masten will conduct a feasibility study to produce an initial design for a rocket-powered landing craft, named XERMES, to deliver supplies to frontline units.
The vehicle, based on Masten's proven Vertical Takeoff Vertical Landing (VTVL) rocket technology, would slow itself from free-fall to a safe landing through an aggressive retro braking burn, pulling above 9 g's of force, which is twice as much as a typical rocket launch.
Once XERMES lands, ground troops will recover the cargo stored onboard and then the vehicle could be reused for another supply drop.
Dave Masten, founder and CTO of Masten Space Systems, said that creating a rugged cargo vehicle for the Air Force fits well within the company's design philosophy. He noted that the company has always designed landers to be robust. The firm also found that companies are more willing to allow companies to fly their valuable payload when the vehicle has already had dozens of successful flights.
Rhea Space Activity came up with the idea to deliver supplies via a rocket-powered lander after an incident in 2016 when a Special Operations resupply crew was endangered as its aircrew flew 800 feet above a besieged compound to deliver supplies as accurately as possible, taking fire as it passed overhead.
Rather than drop payloads from low altitude to achieve high precision, the proposed system would guide itself in from high altitude. Starting the drop from above 20,000 feet, well out of the range of small arms fire, the lander would freefall to just 500 feet above ground. Then, the vehicle would fire its rocket engine and land within three feet of a designated area.
This high-impulse deceleration burn would last only seconds, providing little opportunity for adversaries to intercept or destroy critical supplies.
Steven Collicott, a professor at Purdue University and partner on the contract, said that this project is the latest step in Purdue's long history of developing innovative space technology and said that from Neil Armstrong to next-generation space habitats, Purdue University has made multiple contributions to the space industry. There's a certain amount of satisfaction in seeing technology made for a Moon landing come full circle to landing here on Earth.
Rhea Space Activity worked with Masten Space Systems to develop the idea as a parallel application for their current work with lunar landers under the NASA Commercial Lunar Payload System. Masten has been flying rocket-powered landers for more than ten years, with 600+ successful VTVL flights accomplished across five vehicles.
These vehicles have demonstrated high levels of positioning and navigation capabilities including winning both level one and level two of the Northrop Grumman Lunar Lander Challenge X Prize in 2009 with an average landing accuracy of less than 8 inches from the target.
Beau Rideout, an engineer at RSA said that the adaptation of space technology to other applications should be considered more frequently, noting that especially in today's space industry, where innovative new ideas are being developed continuously, it's hard to know if one company has solved someone else's problem. This is especially relevant to conversations between small businesses and the government. Lots of space companies have developed technology that solves this and other problems in national security, such as secure communications, novel sensor devices, and intelligent reconnaissance platforms.
Following the completion of this Phase 1 award, Masten will apply for a Phase 2 contract to bring operational lander hardware to USAF personnel. The Phase 2 effort will include hot-fire tests of the proposed design along with tests of contingency measures to ensure the safety of ground personnel and supplies.
www.masten.aero/
---
SWF Publishes Their Global Counter Space Capabilities Analysis and Report
Space security has become an increasingly salient policy issue. Over the last several years, there has been growing concern from multiple governments over the reliance on vulnerable space capabilities for national security, and the corresponding proliferation of offensive counterspace capabilities that could be used to disrupt, deny, degrade, or destroy space systems. This in turn has led to increased rhetoric from some countries about the need to prepare for future conflicts on Earth to extend into space, and calls from some corners to increase the development of offensive counterspace capabilities and put in place more aggressive policies and postures.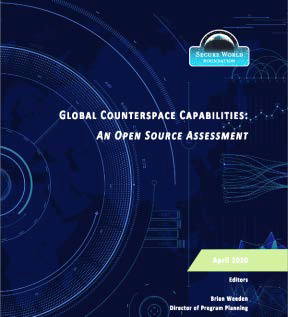 The Secure World Foundation feels strongly that a more open and public debate on these issues is urgently needed. Space is not the sole domain of militaries and intelligence services.
Our global society and economy is increasingly dependent on space capabilities, and a future conflict in space could have massive, long-term negative repercussions that are felt here on Earth. Even testing of these capabilities could have long-lasting negative repercussions for the space environment, and all who operate there.
The public should be as aware of the developing threats and risks of different policy options as would be the case for other national security issues in the air, land, and sea domains.
Highlights from the 2020 Report
China Conducted additional rendezvous and proximity operations (RPO) of their SJ-17 to inspect a potential anomaly with Chinasat 5C in GEO Reports of widespread GPS jamming near port of Shanghai Additional details on Chinese ground-based directed energy facilities.
Russia:
New research suggesting tho have two separate programs, Burevestnik and Nivelir, which may correspond to a co-orbital ASAT program and a surveillance / tracking program, respectively Conducted additional RPO activities in LEO and GEO, including shadowing of a NRO imagery satellite Evidence of a new program called Ekipazh to develop nuclear-powered space-based electronic warfare capability Widespread PNT jamming and spoofing in Crimea, Syria, and Russia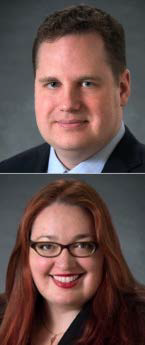 Report authors Dr.
Brian Weeden and
Ms. Victoria Samson
United States
Conducted covert release of cubesats from X-37B OTV-5 More public details on the RPO activities of GSSAP and Mycroft Widespread GPS jamming for naval exercises in the southeastern U.S. Re-establishment of the United States Space Command and creation of the United States Space Force
France
Overview of the new French Space Defense Strategy and plans for ground-based lasers and guardian satellites
India
Updated information on March 2019 ASAT test Information on the establishment of the Defence Space Agency and the Defence Space Research Organization
Iran
Information on attempted Iranian satellite launches in August 2019 and February 2020 Reports of Iranian GNSS jamming occurring near the Straits of Hormuz
Japan
Information on their exploration of counterspace capabilities
For more information or media inquiries, please contact SWF Director of Program Planning Dr. Brian Weeden at bweeden@swfound.org or Washington Office Director Ms. Victoria Samson at vsamson@swfound.org. The full report is available at this direct link...
---
The National Geospatial-Intelligence Agency Publishes Their Tech Strategies
The National Geospatial-Intelligence Agency (NGA) has published their technology strategy that highlights the agency's path to continued GEOINT dominance through improving internal processes and leveraging industry-leading technology.
---

---
The NGA Technology Strategy outlines the current technology environment, the vision for tomorrow and how the agency and the geospatial ecosystem can reach this desired end state. The way ahead incorporates a number of key initiatives...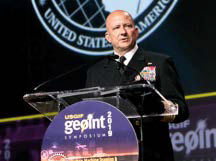 Rear Admiral Robert Sharp engaged in
a presentation.
- Enable builders and makers
- Transform digital work spaces
- Build with customers
- Treat data as a strategic asset
- Build artificial intelligence, cloud and high performance computing into GEOINT mainstream
The NGA Technology Strategy was developed concurrently with the 2020 NGA Tech Focus Areas that detail current and enduring agency technology needs.
NGA Director Vice Admiral Robert Sharp said that maintaining the agency's advantage as the world leader in geospatial intelligence requires a sound digital enterprise. The NGA depends on this system of systems to provide speed, accuracy and precision in the missions to show the way – either physically from point A to point B on land, sea and air, or logically in making national security decisions.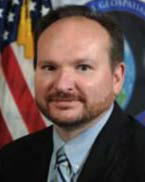 Mark Munsell
NGA CTO, Mark Munsell, added that this strategy focus on enabling those who build and make technology to support NGA and the Systems for Geospatial Intelligence. The NAG firmly believes that the most important technology problem is not the adoption of artificial intelligence or quantum computing but fostering a technology workforce steeped in GEOINT and enabling them with an environment to deliver the best applications and services in the world.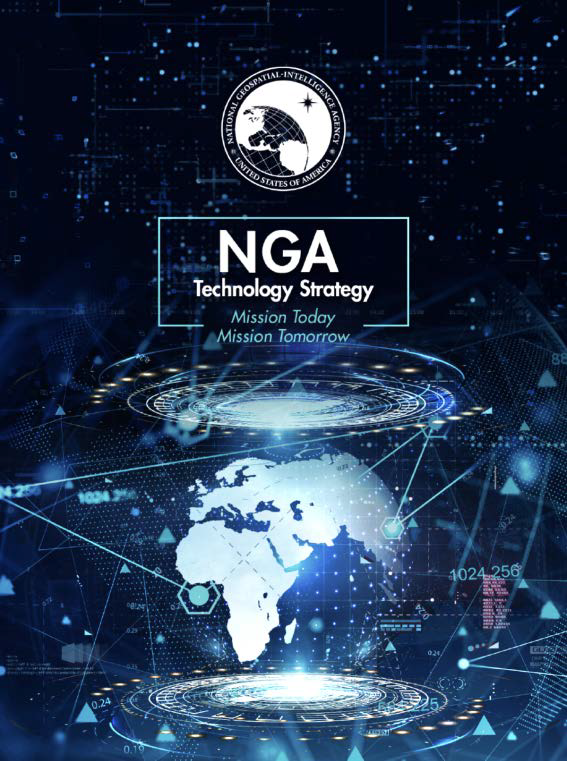 The NGA Technology Strategy is available for download at this direct link...
---