With speakers from the highest government offices, including two members of the President's cabinet, the 35th Space Symposium, which took place in Colorado Springs from April 8 through 11, attracted roughly 9,000 people from around the world.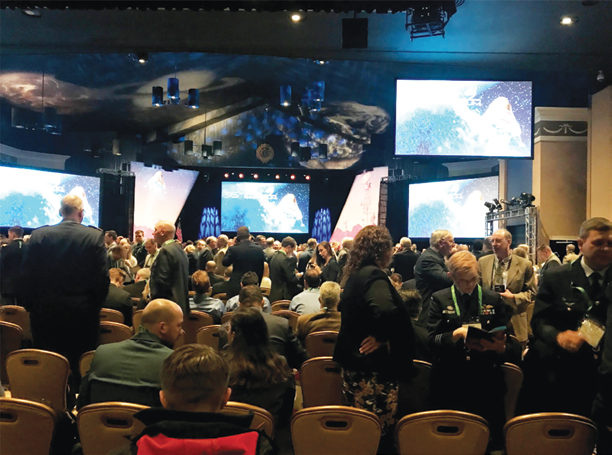 Conference sessions at the International Center were well-attended
The 60,000 square foot International Center at the Broadmoor hotel was filled to capacity with attendees who wanted to hear from luminaries such as Acting Defense Secretary Patrick Shanahan, Secretary of Commerce Wilbur Ross, Secretary of the U.S. Air Force (USAF) Heather Wilson, and NASA Administrator Jim Bridenstine.
Key themes across the numerous, well-attended conference sessions included:
• The urgency of prioritizing space and accelerating programs
• The importance of international partnerships to achieving goals
• The desire for the U.S. government to collaborate with commercial industry
Acting Defense Secretary Patrick Shanahan was the opening speaker at the four-day event. He was surprisingly outspoken about the current threats facing the nation and said that China and Russia have weaponized space with laser systems to target Low Earth Orbit (LEO) spacecraft as well as hypersonic weaponry, which the U.S. is not currently capable of tracking.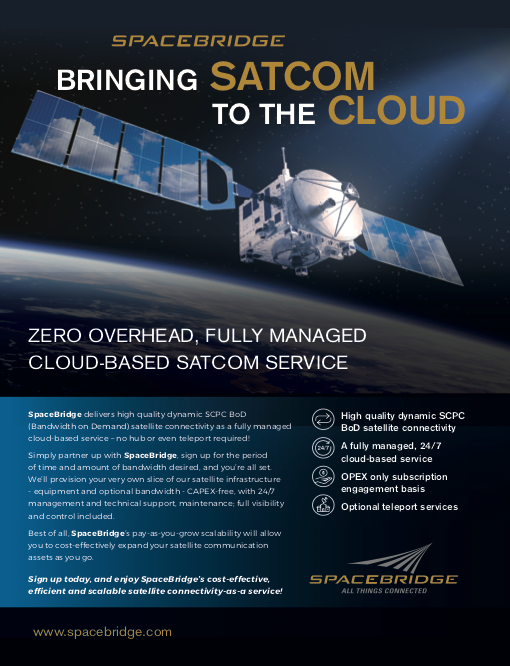 Other speakers concurred, saying that slow and meticulous development of space assets has been the status quo for many years; however, with the recognition that space is now a contested environment, the U.S. government must focus on making space a priority.
Shanahan noted that despite its importance, USAF General John Hyten, the Commander of the U.S. Strategic Command, cannot keep a constant focus on space issues.
According to the General Hyten and Shanahan, this was acceptable in the days when space was a peaceful domain.
In a private briefing, General Hyten reiterated that space was his third priority, at best. Despite his love of space, he said that nuclear and nuclear command and control demand most of his attention and must come first.
He stated that we need a commander with a focus on space all the time, and he lauded the nomination of General Jay Raymond to lead the new
Space Force.
Shanahan said that having a dedicated branch of the military to focus on space will be a significant deterrent to the nation's adversaries. He explained that as a sixth branch of the armed forces, the Space Force would defend the U.S. in space, just as the U.S. Navy is focused on battles at sea, the USAF on aircraft warfare and the Army on ground forces.
He believes that a strong U.S. Space Force will protect the domain and promote the new space economy.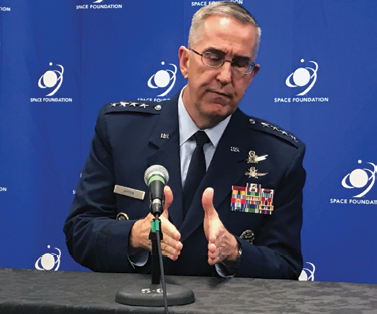 General Hyten met with the press to answer questions at the Space Symposium
General Hyten discussed the need to move quickly, as did Heather Wilson in her address. Hyten said that fear of risk has caused the buildup of a big bureaucracy, which was acceptable when space was a benign environment.
To move faster, he suggested that the USAF needs to learn to take on more risk and to delegate down without every decision being reviewed at the highest levels.
He referenced Apollo 1, both in a press briefing and later at the Space Symposium's Corporate Partnership Dinner, where he was the
featured speaker.
He said that after the failure of Apollo 1, there were many in favor of abandoning the Apollo program altogether. However, understanding the risk and moving forward anyway prevailed, in part due to the support of international partners.
Heather Wilson drew a standing ovation following her address in the general session.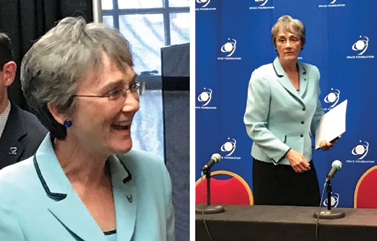 The Honorable Heather Wilson, Secretary of the U.S. Air Force.
She said that it is essential to build and deploy faster — under her management, the USAF has stripped away 100 years of bureaucracy from the acquisition process.
She said the USAF is removing the barriers to entry for small and innovative companies and she specifically mentioned companies such as SEAKR Engineering, Millennium Space Systems and Blue Canyon.
She said Millennium is on schedule to deliver a constellation of smallsats in GEO just one year after the contract was awarded.
In response to the attention that smallsats are currently garnering, Wilson quoted H. L. Mencken, saying, "For every complex problem there is an answer that is clear, simple and wrong."
She explained that hundreds of inexpensive satellites will not provide enough options for all of the varying phases of conflict.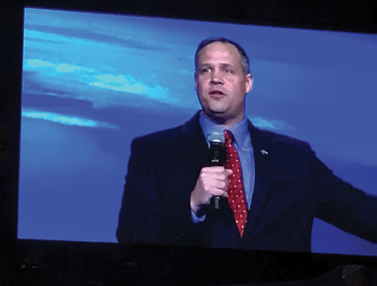 NASA Administrator Jim Bridenstine discussed the acceleration of the mission to return to the moon.
"Different missions will require different solutions. One size does not fit all. Increasing the numbers of satellites helps, but numbers alone are not enough... Space missions that are not well aligned with commercial low earth orbit satellites are better off staying where they are," she said.
General Hyten also highlighted the need for a mix of different orbits, each with differing benefits. He advocated for a complex architecture that ensures that it is too difficult for adversaries to deny service.
Increased Funding
Nearly all of the key speakers advocated for increased funding for space programs. Wilson said that the USAF budget for unclassified programs is $13.7 billion for 2019.
This is an increase of 17 percent over the 2018 budget, which was greater than the 2017 budget.
In his address, NASA Administrator Bridenstine discussed the acceleration of the mission to return humans to the moon, including the world's first woman to walk on the surface of the moon.
Originally planned for 2028, Vice President Mike Pence challenged NASA to move the mission up to 2024.
As a result, Bridenstine said that NASA is going back to congress with an increased budget request and his talk included a plea for bi-partisan support to meet the aggressive deadlines.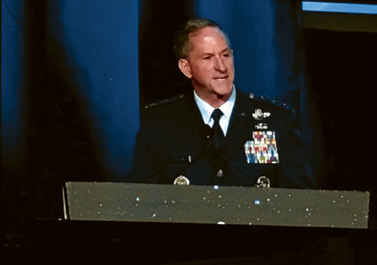 USAF General David Goldfein was passionate about working together with our allies in space.
NASA Administrator Jim Bridenstine discussed the acceleration of the mission to return to
the moon.
General David L. Goldfein, Chief of Staff, USAF, brought humor and humanity to his speech, starting with a tribute to Lieutenant Colonel Dick Cole, a World War II airman who flew a heroic mission known at the Doolittle Raid and had just passed away at age 103.
Reinforcing the need to invest in space infrastructure, the USAF Chief of Staff gave a heartfelt testament to the nation's goals.
"We're the best in the world in space, but our adversaries know it. As acting secretary Shanahan properly stated, since desert Storm they've studied our ways, and invested in means to deny us access to space capabilities in crisis or conflict.
"Our job is to never let that happen so we can maintain space as a peaceful domain where common interests can align and flourish."
He also addressed the importance of how space has become a place for commercial profit and competition, which is energizing industry, and he talked about working together with allies.
Driving home the importance of the work the USAF does in space, he said, "We have to protect and defend what we have in space because it's going to be there for a while and we all depend on it. We must harden our networks, build resilience in our systems, enhance existing capabilities as we improve information sharing in areas like satellite communications, and missile warning."
USAF General David Goldfein was passionate about working together with our allies in space
He was heartfelt in his passion for the responsible, peaceful and open use of space for all and said, "We do this by creating military capabilities that underwrite deterrents, preventing war from extending to space. Just as we continue our work to do so, in the air at sea and in the cyber domains, the global commons. Because historically, those with allies win. And America's greatest strength has always been its ability to attract partners with common interests."
Article photos are courtesy of Wendy Lewis.

Wendy Lewis lead external communications for Space Systems Loral for 12+ years and has a deep understanding of how satellites connect, protect and inform the world. She is a contributing editor to Satnews Publishers, MilsatMagazine and SatMagazine and is the principal of Strategic Voice, a company that develops and executes strategic communications programs that drive awareness and engagement in support of business objectives.
The 36th Space Symposium will be in session at the Broadmoor, Colorado Springs, Colorado, and will be held from March 30 - April 2, 2020
www.spacefoundation.org/events/space-symposium
---