General Dynamics Gets SOTM'ing
New, fourth generation (4gen) SOTM antennas have debuted from General Dynamics, a system wherein military users were responsible for helping with the design and development of the new product.
The antenna features improved reliability by increasing mean-time between failures (MTBF) and eliminating cooling fans to improve airflow within the antenna terminals. The new model is also 16 percent lighter, giving terminal operators the opportunity carry additional equipment or increase their agility and efficiency when on-the-move.
The new terminal delivers private, secure voice, video and data satellite communications (SATCOM) for users remotely located or where there is limited access to a satellite network infrastructure. Ruggedized for the most challenging operational environments, General Dynamics SOTM terminals maintain connectivity with satellite networks using the terminal's trusted gyro-stabilization, which provides high-pointing accuracy.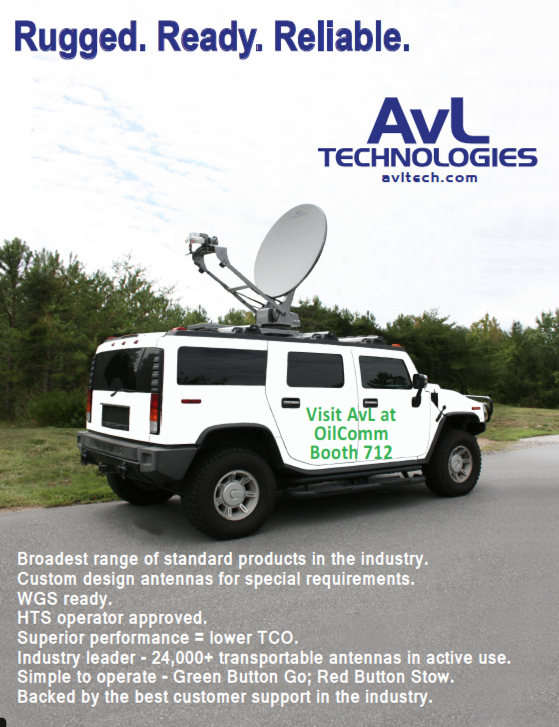 General Dynamics SOTM products come in a variety of sizes and configurations and customers can install the antennas on ground vehicles, maritime vessels and aircraft to establish secure links to forward operating bases.
gdmissionsystems.com
---
POGO Pumps Up USAF Satellite Control Network
Detachment 1, 23rd Space Operations Squadron, gained operational acceptance of the seventh and final Remote Block Change antenna at Thule Air Base, Greenland, July, 26, 2016.
Known as POGO-Charlie, this seventh and final Remote Tracking Station Block Change antenna has received full operational acceptance for Detachment 1 of the 23rd Space Operations Squadron at Thule Air Base in Greenland.
This is a vital asset to the Air Force Satellite Control Network, which consists of seven ground stations located around the world. These remote tracking stations support space operations by allowing Department of Defense (DoD), national, allied and civilian satellite operators to communicate with more than 175 satellites; the RTS's also support launch, early orbit and end of life operations.
Operational acceptance was the final step in the installation of the antenna at Thule AB. Beforehand, the antenna remained in a testing period to identify and resolve any deficiencies.
A final vote from stakeholders determined whether the antenna would be considered fully operational. The vote was unanimously cast in favor of acceptance of the antenna as a fully operational asset.
Col. William Angerman, 50th Network Operations Group commander, explained the antenna's acceptance is strategically crucial and that the POGO-C antenna is important as its location in Thule, Greenland, is ideal for contacting polar-orbiting satellites.
About four years ago, a legacy antenna failure reduced the number of antennas to only one. That reduction left the station handicapped, forcing the AFSCN to lean on three other antennas at New Boston Air Force Station, New Hampshire, to compensate and support the satellite mission.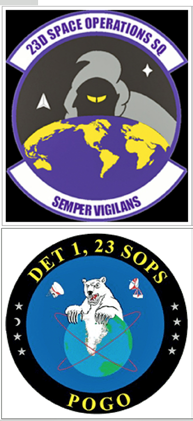 According to Lt. Col. Marty Easter, 23 SOPS Commander, RBC antennas are the latest version of the systems used to command and control satellites on orbit. The benefit is that this antenna is a more modern system when compared to the previous generation.
The technology brings a new level of sustainability and operational capability.
Easter added that the final antenna did present some challenges because of Thule AB's remote location—the 50th Space Wing worked closely with the Space and Missiles Systems Center, 21st Space Wing and the 821st Air Base Group to manage the complicated logistics of installation, testing and operational acceptance of the equipment and the personnel required to accomplish all those tasks.
The SMC, Range and Network Division oversaw the engineering, installation and issue resolution of the antenna.
The 22nd Space Operations Squadron oversaw the operational test period and satellite user coordination, observing 691 satellite contacts with a more than 98.7 percent success rate.
23 SOPS oversees three of seven AFSCN sites, including POGO (Detachment. 1, 23 SOPS), which operates the actual antenna. The detachment also provides real-time feedback for satellite user requirements and configuration issues.
Article by 2nd Lt. Darren Domingo, 50th Space Wing Public Affairs, USAF
---
'Neighborhood Watch' Helps Navy Investigate Satellite Out Of Target Orbit
Air Force Space Command's "Neighborhood Watch" satellites, from the Geosynchronous Space Situational Awareness Program, recently responded to the Navy's request for help with a satellite of their own.
The Joint Functional Component Command for Space officially tasked the 1st Space Operations Squadron to support the Navy's ongoing Mobile User Objective System-5 anomaly effort after the satellite failed to reach the target geosynchronous orbit on July 3 of this year.
Anomaly resolution in space is challenging for many reasons, one being it's difficult to see what's going on with the satellite. Traditionally, engineers, analysts and operators comb through telemetry to come up with possible reasons for the anomaly; however, in cases like this, GSSAP is able to provide electro optical space situational awareness on the status of space objects to include location, orbit and size of the space object.
GSSAP crews conduct rendezvous and proximity operations to get the best possible vantage point for collecting SSA data when requested. In this case, the mission was to help rescue MUOS-5.
Once tasked, the 1st SOPS mission planning cell began deliberate, customized mission planning to determine how to execute the operation and maximize the probability for success. The satellites' differing orbits and the various forces at play, including astrodynamics, reminded crewmembers that success was not inevitable.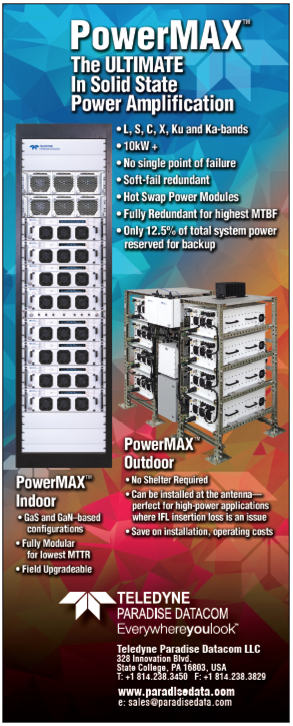 Capt. Barbara Dyer, the 1st SOPS mission commander, led the crew that accomplished the command and control operations to collect MUOS-5 imagery on her 10th shift.
"I knew we were prepared. We had completed the rehearsal of concept for the unique mission," she said. "We recognized the newness of what we're doing will drive new expectations."
Second Lt. Nathan Paddock is the satellite vehicle operator who executed the command and control for the operations.
"There were a lot of different people on the operations floor during the shift," he said. "Senior leadership was there encouraging us and reminding us that this was something very important. I am new to the Air Force and the job, but knowing leadership trusted me and expected excellence is something that's unique to this work."
The audience and mission importance added to the pressure to achieve success, but that didn't deter Paddock.
"I liked it. I thrive under pressure," he said. "The crew engineers gave us a lot of support and helped me stay calm and relaxed. I know they had my back."
The crew conducted SSA missions with other 1st SOPS assets, like the Space Based Space Surveillance system, in preparing for and during the mission.
While planning and operations were conducted at Schriever Air Force Base, another aspect of this unique mission occurred at Point Mugu, California.
"Due to the complexity of the program, we wanted someone on site to provide context to Navy leadership, explain our operations, facilitate information sharing and ensure there was robust coordination during the operations," said Lt. Col. Casey Beard, the 1st SOPS commander.
The squadron's mission planning cell chief, Capt. Brett Kasischke, was just up the road at Vandenberg AFB, California, to participate in an exercise. He capitalized on the opportunity and extended his stay
in California.
"I quickly immersed myself into the mission's requirements and served as an intermediary; I ensured data was sent at appropriate times as well as supported the team back at Schriever," Kasischke said.
The mission's full impact is yet to be determined, but there are successes already to be celebrated.
Story by Jennifer Thibault, 50th Space Wing Public Affairs, USAF
---
Preparing For The Worst While Working With The Best
What is Pacific Endeavor? Hosted by the Australian Defence Force and US Pacific Command's Multinational Communication Interoperability Program, this year's Pacific Endeavor is the culminating event of a year-long planning effort, which took participants and planners to Papua New Guinea, Hawaii and Mongolia—the exercise wrapped-up September 2.
Based on recent real-world events, Pacific Endeavor 2016 features a scenario based on a Category 5 typhoon striking Brisbane, which requires participants to set up a Multinational Coordination Center and forward deploy to two other locations in the affected area.
Their mission is to validate and document high-frequency voice and data transfer using ordinary field radios. Commonly referred to as Internet protocol over radio frequency, the practice involves transmitting not only voice, but images and e-mail data over the same IPRF signal.
GVF reports that more than 20 APAC militaries plan to strengthen regional disaster preparedness and response through expanded collaboration with GVF—the international association of the satellite communications industry—and its Member companies, which include the world's leading providers of broadband connectivity.
The expansion plan was recently established during "Pacific Endeavor," an annual, joint program of militaries from throughout the region sponsored by the US Pacific Command (PACOM) through the support and coordination of PACOM's MCIP Management team.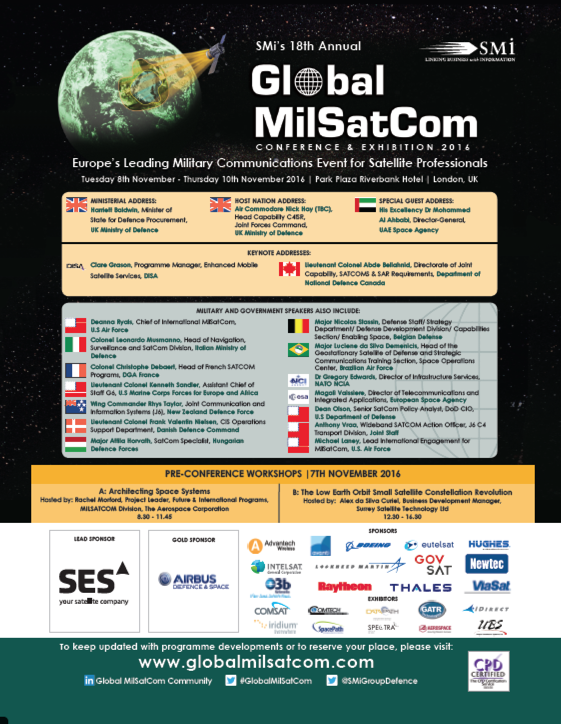 This will build upon the previous information sharing and certification by GVF of participants from Asia-Pacific militaries on the use of satellite communications systems to ensure that in a crisis or disaster there are individuals available throughout the region who can assist with relief efforts. In addition to capacity building, collaboration will also be expanded to address Cyber Security and Validation and Benchmarking initiatives.
"With support from leading satellite industry providers of bandwidth, Earth stations, integration, and online interactive content mentored on site, GVF will be working closely in collaboration with the MCIP team at PACOM to facilitate information sharing for those in their organizations who will stand ready to help save lives during any disasters that may strike the Asia-Pacific region," said David Hartshorn, Secretary General of GVF.
During the previous three Pacific Endeavor exercises, 71 candidates successfully completed the online courses and 67 passed Hands On Skills Tests and were Certified.
GVF conducted the Onsite Mentored Certification modules in 2012, 2014 and 2015. Military personnel participating from more than 27 PE member nations achieved GVF Satcom Professional Certifications. This included GVF Basic and Advanced Satcom Professional Certification; several participants also earned GVF's new General Auto-Point Terminal Operator Certification.
Industry support was provided by GVF Members and partners, including AQYR, GATR, Integrasys, Intelsat, Mercantile, SES, Speedcast, Viking Satcom, and other leading companies. Online interactive content was provided by SatProf and Onsite Mentoring of sessions was supported by Mahdi Bagh Computers.
"Our goal is very simple," said Riaz Lamak of Mahdi Bagh Computers and a GVF Point of Contact for Pacific Endeavor. "The most important thing is that people on the ground are able to ensure that the network can be established rapidly, works properly, the signals don't drop, and communications happen."
---
UltiSat Into ISR For Lockheed Martin & US Army
With US and foreign customers, agencies, contractors, NGOs and multi-national enterprise companies under their belt, UltiSat will now also be providing the firm's technology architecture design for a new contract that will support Lockheed Martin Corporation for the Sensor Systems – Aerial Intelligence, Surveillance and Reconnaissance (SS-AISR) task order on the R2-3G indefinite delivery, indefinite quantity (IDIQ) contract vehicle by the US Army Contracting Command – Aberdeen Proving Ground (ACC-APG).

Under this one-year base/two one-year options contract, UltiSat will support the SS-AISR program in AISR data collection, ground-based processing, exploitation, and dissemination for missions worldwide. UltiSat ISR services team will provide personnel to manage and operate the Aerial Reconnaissance Support Team, Intelligence Analyst, and all Network Communications for the overall program at multiple stateside and overseas locations.
The team is focused on supporting the US ACC-APG in delivering efficiencies and reliability for the missions being supported. The firm also presents a wide range of products and managed network services for the Airborne ISR and COTM markets for manned and unmanned fixed wing and rotary wing platforms.
Moe Abutaleb, CEO of UltiSat, acknowledged that his firm is rapidly becoming a key player in the airborne ISR/COTM markets due to the unique expertise in the design, optimization, commissioning, and network operations of airborne Beyond Line of Sight (BLoS) solutions they produce.
The company's technology agnostic approach, strategic partnerships and reseller agreements create the industry's largest SATCOM-focused ISR/COTM product portfolio, according to Abutaleb.
ultisat.com/
---
Aerojet Rocketdyne Takes AFSPC-6 To Slots
A successful launch requires the talents of numerous individuals and companies lending their expertise to the common goal... launch that satellite.
The early morning launch of the Air Force Space Command-6 (AFSPC-6) satellite was made possible with the assistance of Aerojet Rocketdyne, Inc., a subsidiary of Aerojet Rocketdyne Holdings, Inc.
At liftoff, a single RS-68A engine ignited to boost the Delta IV rocket off the pad, providing 702,000 pounds of lift-off thrust. After the upper stage separated from the launch vehicle, a single RL10B-2 engine ignited to provide 24,750 pounds of thrust to power the upper stage, using cryogenic liquid hydrogen and liquid oxygen propellants during its operation. The RS-68A is the world's most powerful liquid-hydrogen/liquid-oxygen engine.
The huge RS-68A engine supported the successful launch of two Geosynchronous Space Situational Awareness Program (GSSAP) satellites into orbit to help detect and track space objects as part of the Air Force Space Command-6 (AFSPC-6) mission. The mission was launched from Cape Canaveral Air Force Station in Florida by a United Launch Alliance Delta IV rocket.

Aerojet Rocketdyne's rocket propulsion systems included:
• RS-68A booster engine
• RL10B-2 upper-stage engine
• 12 helium pressurant tanks
• 12 reaction control thrusters on the upper stage for roll, pitch, yaw and settling burns
Aerojet Rocketdyne CEO and President Eileen Drake stated, "In today's world, it's absolutely critical that our nation have the ability to monitor potential threats to military satellites operating in geosynchronous orbit above our planet. We are honored to provide reliable propulsion to make that possible."
Rocketdyne's family of engines has a busy history and the company has now flown 33 commercial and government missions, all with 100 percent mission success.
The RL10B-2 engine is a liquid-fueled cryogenic rocket engine designed and developed from the RL10 family of upper-stage engines, which has accumulated one of the most impressive lists of accomplishments in the history of space propulsion.
More than 470 RL10 engines have supported launches over the last 50 years, helping to place military, government and commercial satellites into orbit, and powering scientific space-probe missions to every planet in our solar system.
Twelve 9-lbf MR-106H Aerojet Rocketdyne monopropellant hydrazine thrusters, packaged in four, 3-engine MRM-106F modules on the Delta IV upper-stage, provided roll, pitch and yaw control, as well as settling burns for the upper-stage. ARDÉ, a subsidiary of Aerojet Rocketdyne based in New Jersey, provided the pressure vessels on the first and second stages on the launch vehicle.
The twin spacecraft are the third and fourth satellites for the GSSAP. They will support U.S. Strategic Command space surveillance operations as a dedicated Space Surveillance Network sensor.
The GSSAP also supports Joint Functional Component Command for Space tasking to collect space situational awareness data, allowing for more accurate tracking and characterization of man-made orbiting objects.
www.rocket.com
www.AerojetRocketdyne.com
---
Moving On Up... General Raymond To Head Up AFSC
US Secretary of Defense Ash Carter has announced that the president has nominated Air Force Lt. Gen. John W. Raymond for appointment to the rank of general and for assignment as the commander of Air Force Space Command, Peterson Air Force Base, Colorado.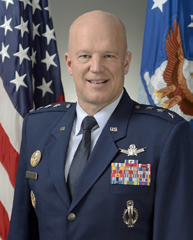 Gen. Raymond will move into this command position from his current duties as is the Deputy Chief of Staff for Operations, Headquarters U.S. Air Force, Washington, D.C. He is responsible to the Secretary of the Air Force and the Chief of Staff for formulating policy supporting air, space, cyber, irregular warfare, counter-proliferation, homeland security, and weather operations.
As the Air Force operations deputy to the Joint Chiefs of Staff, the general determines operational requirements, capabilities and training necessary to support national security objectives and military strategy.
General Raymond has extensive command experience, ranging from the 5th Space Surveillance Squadron at Royal Air Force Feltwell, England to Southwest Asia as Director of Space Forces in support of operations Enduring Freedom and Iraqi Freedom to Joint Functional Component Command for Space, U.S. Strategic Command, Vandenberg AFB, California
He will succeed General John Hyten in this position.
---