For years, GVF has been asked by the international disaster-response community to identify a means by which satellite-enabled systems, services, and human resources can be cost-effectively pre-positioned worldwide. In a few weeks, GVF will provide an answer to that request, and we would like to invite your organization to coordinate with us now as we prepare to launch the GVF Disaster Preparedness Communications Registry.
Since the Haiti earthquake, GVF has held dozens of meetings with our partners at the United Nations, organizations in the humanitarian sector, the military, governmental groups, and with other first-responder groups. All of them support GVF's Registry plan, which will provide higher visibility for our industry, more rapid access to pre-positioned resources, less redundancy in resource provision, and improved commercialisation of the Membership's disaster-response and development capabilities.
At the same time, we have also been informed that many of our member companies who responded to calls for urgent assistance, gave very generously their equipment, services and the cost of employees who travelled to Haiti to conduct installations. While generous, some of these member companies have indicated that this approach is not sustainable.
The Challenge
A persistent problem that has severely inhibited first responders — as well as our industry's efforts — concerns the need for "pre-positioning" of satellite communications solutions that are local to the disaster zone and that can be quickly and cost effectively used to support a response effort. Further, how to link those same pre-positioned systems so that they can not only be used for disaster response, but also to be re-purposed after the relief effort to achieve medium and long-term development objectives has not been realized at a commercially viable level.
Indeed, major challenges have thwarted a comprehensive global program designed to provide a pre-positioned solution. Not least among those challenges is the difficulty for any organization to cost-justify investment in communications systems that are pre-positioned and which remain either unused or under-utilized until a disaster occurs, by which time they may even be obsolete. This investment challenge is considerable in one region of a single country; it is overwhelming when considering a global pre-positioning solution.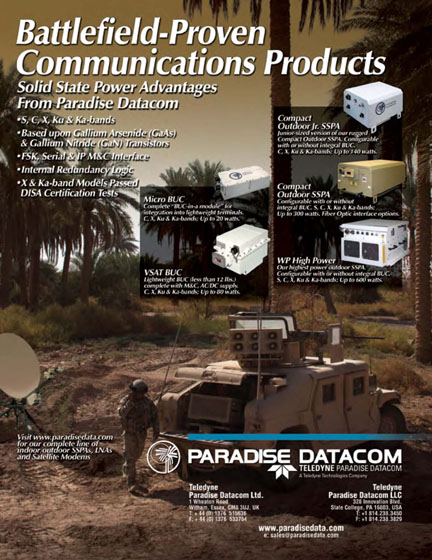 Added to the cost-justification hurdle are other significant obstacles: Pre-positioned systems need to be maintained, which involves further expense. Often, licenses must be secured and kept current. Having locally trained technicians identified and available to deploy and/or operate the systems and services is essential and comes at a further cost. And for the most part, disaster-response stakeholders often do not have a communications approach that addresses the more robust on-the-ground collective solution that can also be transitioned into a medium and longer term infrastructure with scale capabilities — or that can eventually be transitioned into a permanent, locally-operated, commercial enterprise.
The following plan will be applied to address each of these challenges; the first phase will be implemented with nearly immediate effect. We would like to invite participation from your company.
The GVF Disaster Preparedness Communications Registry
The solution is our industry's current installed base and our rapidly-deployable fixed and mobile resources. Among GVF's approximately 230 Member companies are all of the world's major satellite-bandwidth suppliers and satellite equipment manufacturers, as well as many local and international connectivity providers. Collectively, your companies and your customers supply, install, maintain and operate millions of fixed and mobile Earth stations throughout the world. Some of these resources can and should be considered as "pre-positioned" for use in supporting disaster-relief efforts, if they are ever needed.
These systems and services are already being maintained and operated with "sustainability", which is to say that their current use generates enough funds to keep the local operation running and, in most cases, to earn a profit. This profit enables further expansion of the networks to other locations throughout the world and strengthens development.
Many of these systems and services are already being used to support applications that are essential to development, including banking and financial services, agriculture, health, education, oil, gas & mining operations, mobile communications, fiber and other terrestrial last-mile extension, and much more. In addition to being already installed, these systems are already licensed for use in their respective countries. This solves another great challenge of the disaster response community when deploying communications systems.
Inherent in this existing value chain is a powerful solution to address the pre-positioning challenge. GVF will create an online
Disaster Preparedness Communications Registry
in which all GVF Members are invited to voluntarily identify systems, services, and other resources that:
– Are currently operational

– Can be quickly identified (as closely as possible) through a designated contact at your company

– May be re-purposed for use if necessary to support local disaster-relief efforts.
The idea for the GVF Disaster Response Communications Registry has been developed in coordination with not only our industry, but also with UN, humanitarian, military and other governmental disaster-response interests. Before a disaster occurs, their awareness of the Disaster-Preparedness Communications Registry will inform decisions made regarding their strategic disaster-response plans. During a disaster, they will be able to quickly access the GVF Registry and use it to identify systems, services and/or personnel that are available to help support disaster-response efforts locally. After a disaster, they can explore use of the resources to support medium and long-term development objectives as the rebuilding efforts begin.
At each stage, the terms and conditions pertaining to the use of those resources are subject to agreement between the first responder, your company, and/or your customer. To be clear, the solutions may be provided either as in-kind donations, or under commercial terms.

The resources that can potentially be included in the GVF Registry include a vast array of not only fixed and mobile satellite-based solutions, but also include all terrestrial systems that are applied by GVF Member companies in tandem with satellite communications, e.g., GSM, WiFi, WiMAX, LTE, digital microwave, fiber optic cable, pico and femtocells, and more.
Key among the Registry's advantages are:
–
Immediate Access to Global Infrastructure:
The systems, services and other resources are already in effect "pre-positioned" in hundreds of thousands of locations in every major world region,
– Existing Linkage with Development:
The systems and services are, in many cases, already instrumental in promoting local development through the enterprise and social applications that they routinely support,
– Local Participation:
The systems, services and other resources are, in many cases, maintained and operated by local companies, which could become involved in response efforts but which are often unknown to first responders... and many of these local companies are GVF Members or their customers,
– Immediate Access to Qualified Technicians:
GVF already has a public database that will be linked to The Registry and which already includes nearly a thousand Certified VSAT Installers throughout the world, who can be contacted directly to support disaster-response SATCOM deployments (and who may secure business through The Registry),


– Repurposing for Development:
Once applied, the Registry's resources can be more closely coordinated not only for preparedness and first-responder efforts, but also for medium- and long-term development. These options increasingly include "leave-behind" infrastructure for local partners, which can use the solutions to jump-start host-nation ICT infrastructure recovery and reconstruction and provide commercial opportunities to seed economic revitalization through ICT infrastructure development,
– Rapid Online Implementation:
The online GVF Disaster-Preparedness Registry will begin to be made available globally next month, with the first phase consisting of a new search designation in the inter-active GVF Member Directory, entitled "GVF Disaster-Preparedness Communications Registry",
– Coordination:
GVF already has partnerships with dozens of humanitarian organizations, all of the UN aid agencies, and other user groups that have confirmed the validity of the plan and their willingness to work with our industry to make The Registry a successful collaboration.
GVF is inviting your company to take advantage of this opportunity. To indicate your company's interest, please contact Steve Birnbaum, our newly-appointed lead for GVF's Humanitarian Assistance & Disaster Relief Task Force (
steve.birnbaum@gvf.org
). We look forward to working with you and your colleagues to transform the global disaster-relief challenge into a new financially sustainable paradigm.
David Hartshorn
Secretary General, GVF
Ensuring COB Speicher Is Connected To The World
Airmen are an integral part of Operation New Dawn and joint operations throughout Iraq. The communications site, or Task Force Palmetto, at Contingency Operating Base Speicher is no exception.
The 30 contractors and 34 service members, including 18 Airmen, assigned to the task force are responsible for installing, operating, maintaining and defending the communications network for COB Speicher.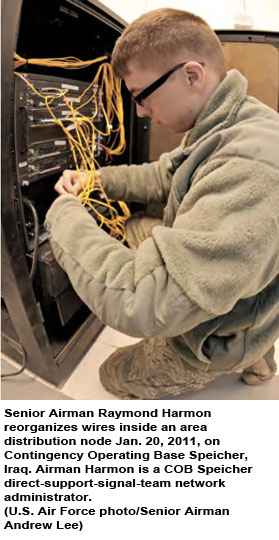 "We take care of every aspect of the (U.S.) Central Command network here, from the satellite signal to the cables in the ground to the user's desktop computer," said 1st Lt.
Jesse A. Nelson
, the task force's officer in charge for the base. "If a problem comes up at any level, we fix it, and the entire team is doing an excellent job."
The joint team works on a network that supports more than 70 units, including U.S. Division-North.
"Our job isn't glorious, but it is critical," said Staff Sgt.
Ted Lee
, the service desk NCO in charge. "We provide strategic communication for the entire base."
It all starts with a satellite signal. The signals transfer to the technical-control facility and then gets distributed to the entire base via fiber-optic cables and other wires. Technicians continuously monitor the facility to mitigate network outages.
"Without the TCF, all the users on COB Speicher wouldn't have network access or the ability to communicate," said Staff Sgt.
Timothy Voliva
, the technical-control-facility NCO in charge. "If there is an outage, it affects our customers' ability to complete their mission, and it's important we fix it quickly." The network is available, but all devices must visit the automated-data-processing and equipment section to undergo a configuration process consisting of more than 30 steps before they can be plugged into the network.
"We standardize every computer," said Staff Sgt.
Gissell Gilbert
, the NCO in charge of the ADPE section. "We ensure all systems have the proper software and drivers installed before they are hooked up to the network."
With more than 4,500 users accessing the network, the task force's service desk stays busy. The service desk handles 400 to 500 trouble tickets per week.
"Our main focus is tier-one troubleshooting," Sergeant
Lee
said. "We have never had a day when with no tickets. Computers are always breaking."
With the network being so important to mission success, maintaining the network's security is essential. Network and site administrators work to ensure that the network is always protected.
"We try and maintain as much network security as possible to ensure it doesn't get compromised by the enemy," said Senior Airman
Raymond Harmon
, a network administrator. "If the system goes down, COB Speicher loses its ability to communicate."
In addition to the job, Airmen have had to adjust to working with Soldiers.
"It's very beneficial for the Airmen to work side-by-side with the Army," Lieutenant
Nelson
said. "They see a new perspective on how to do their job, and it breaks down all the interservice stereotypes."
Although they wear different uniforms, the Soldiers and Airmen work well together to accomplish the mission, said Tech. Sgt.
Brian Bowles
, the NCO in charge of the base's direct-signal-support team.
"It's as smooth as it can be," he said. "We are very successful as a team. It is definitely a joint effort."
Story by...
Staff Sgt. R. Michael Longoria
9th Air and Space Expeditionary Task Force-Iraq Public Affairs
Sometimes The Enemy Is A Storm Surge
Just ask Col.
Quill Ferguson
. "When you enter into a crisis situation, normally one of the first things to go is your communications," he said, as he is the G6 for U.S. Army North, which frequently responds to natural disasters. "Having a satellite-based network allows you to bridge some of that infrastructure damage that you normally get, whether it's an earthquake, a hurricane or another man-made or natural event."
In the years since Hurricane Katrina exposed dangerous information gaps between various government responders, the Army has developed high-tech capabilities that enable rapid, inter-agency communications during an emergency. One of those systems, the
Joint Incident Site Communications Capability
, or
JISCC
, has been deployed in response to wildfires in California, the earthquake in Haiti and other disaster areas, said Joseph Cellini, JISCC project lead for the Army's
Program Executive Office Command, Control and Communications - Tactical
(
PEO C3T
).
In austere battlefield environments, network infrastructure can be nonexistent, leaving Soldiers to rely on imported satellite communications to transmit information by voice, data and video. Back in the U.S., a disaster that wipes out the communications infrastructure can have the same chilling effect. "The advanced, futuristic technologies that we live with go away, and you become very austere,"
Cellini
said. "You have no electricity, satellite, bandwidth and communications. Think of all the things we do on a daily basis. Now take it all away. That's really what happens at an incident site such as 9/11 and such as Katrina."
Now, the Army is able to fill that void by bringing in its own communications pipelines. Army North relies on vehicles powered by a generator and equipped with a satellite connection, allowing Soldiers to connect with their higher headquarters on both classified and unclassified networks, said Sgt. 1st Class
Alberto Hernandez
, who is assigned to Army North. "Once we have established communications through the satellite link, it's just like being back at the office. You have the same capabilities. We can be on the air in 10 minutes or better, and that means the difference in saving lives and coordinating with the first responders at every level - whether it's the local, state or federal level," he said. "The most crucial element of any crisis is information, and being able to disseminate that information, to share it with the right people, at the right time."
To track the movement of personnel, equipment and supplies to the area of distress, Army North responders also have access to the
Command Post of the Future
(
CPOF
), said
Matt Hopper,
a telecommunications specialist for Army North G6. The CPOF, a key command and control (C2) software system on the battlefield, can be used for domestic disaster response when it is fed with historical data and mapping software of the affected region, he said.
"It gives us a snap picture of what's going on during an event,"
Hopper
said. "In theater, the Commander can see where his forces are, where they're moving. If we were moving logistics to provide food, water and shelter to citizens of the United States, we use it to track units that are going in to do search and rescue."
In addition to satellite feeds, both the Army North vehicles and the JISCC come equipped with handheld portable radios that can run on various bands and frequencies, permitting different agencies to talk to one another. That provides simultaneous situational awareness for first responders including police and fire departments, Emergency Medical Technicians, state and local governments, and relief organizations such as the Red Cross,
Cellini
said. "There are no longer these disparate communication nodes he said. "Everyone can talk by doing talk groups. It brings everyone on the same common page."
The JISCC is 11,000 pounds of communications and support equipment, all transported in an 18-foot trailer and can be set up and operational in less than an hour at an incident site, Cellini said. The PEO C3T Special Projects Office (SPO) supported the delivery of JISCC systems to all 54 U.S. states and territories supported by the National Guard Bureau.
In each state, the system is overseen by the adjutant general, the governor's military adviser, and the state is then responsible for training the local first responders. Because the JISCCs are identical and interoperable, states can rush to one another's aid, and have contractual agreements to do so,
Cellini
said.
"If a hurricane hits the entire Southeastern coastline, having an agreement between North Carolina and South Carolina does no service if they're both underwater," he said. "So South Carolina has (agreements) with its brothers on its borders, but also has an agreement with maybe Illinois or Wisconsin."
Mobile satellite communications also allow military responders to be prepared for the worst during big events such as the presidential inauguration, the Super Bowl and the Indianapolis 500, if the military is required.
Story by...
Claire Heininger, PEO C3T