Vizada Networks has earned its reputation as a defense communications specialist by being on the ground where its services are most needed, and by developing satellite capacity to ensure availability. Here's a look at a number of Vizada Networks projects. Additionally, the company has now restructured and has opened a new, dedicated, defense division.
In May 2001,
Vizada Networks
was awarded a contract for installation and operation, including manpower, of a satellite communication system connecting
NATO
headquarters in Brussels, with NATO peacekeeping forces in Kosovo, Macedonia and Albania (KFOR), and Bosnia Herzegovina (SFOR). The network has two hub locations; one located at
NATO HQ
,
SHAPE
and a second at
JFC Naples
— 18 locations are served with satellite and microwave communication. The network is fully operational and has proven to be highly reliable, while at the same time exceeding all required availability demands.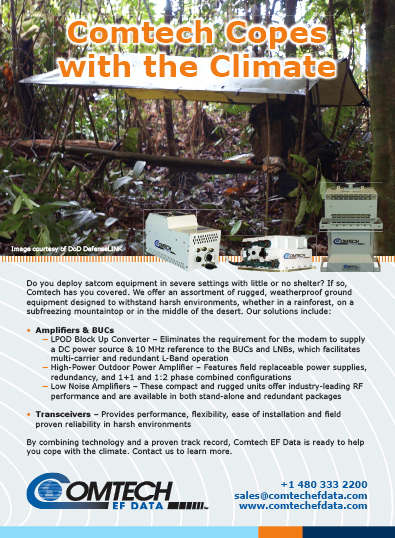 Vizada Networks' activity within the defense market has grown considerably in the years since the KFOR and SFOR networks were implemented, culminating in the formation of a dedicated, security cleared defense division that went on-line in January 2010. It operates out of Vizada Network's security cleared Oslo, Norway, headquarters as well as other substantial, security cleared location's in Norway, France and Slovakia. With own-staff, partners and personnel in all major theatres and other trouble spots, it offers a very global outlook.
The new division was formed, based on the company's success in the last decade. Vizada Networks had become recognized as an organization of experienced people committed to serving the integrated telecommunications and satellite communications requirements of defense organizations such as NATO so it was only natural that the company's work in this specialist sector was ring-fenced to continue and strengthen its already strong customer focus.
Norwegian Defense Logistics Organization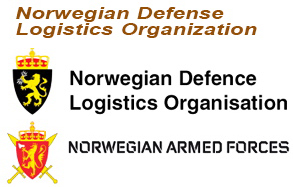 It wasn't long before the new division hit an important milestone — the May, 2010, announcement that the company had signed a first of its kind agreement with the
Norwegian Defense Logistics Organization
(
NDLO
), which expanded existing co-operation by entering into a
Framework Agreement
for the supply of commercial satellite capacity and additional services. Vizada Networks has been contracted to provide the NDLO with worldwide coverage and support within SATCOM (VSAT) solutions and has become the preferred vendor for the organization's satellite communication requirements.
The framework agreement extends on a strong foundation of previous co-operation and was awarded based on Vizada Networks' wide ranging experience in providing defense communications for NATO and other military organizations in all current operational theatres including Iraq and Afghanistan. A portfolio of worldwide coverage, strong technical solutions, a position as a turnkey defense communications networks supplier and the ability to meet the NDLO's future requirements for services and solutions in a quick and reliable manner were also attributes cited for the contract award.
Under the agreement, which commenced February 2010, Vizada Networks is to provide the Norwegian Armed Forces with on-demand satellite capacity in defined areas. The additional services Vizada Networks will supply include, but are not limited to; capacity on contractors satellite anchor stations, lease of land lines from
NDINI
(
Norwegian Defense Information Network Infrastructure
) to the providers' satellite anchor station, housing agreements for hosting NDLO's own equipment, and training and engineering services.
The Framework Agreement with Vizada Networks is the first of its kind for space capacity that the NDLO has entered and will ensure reliability and availability of communications for Norwegian military units around the world. Vizada Networks is among the top customers of the major satellite operators and is uniquely positioned to provide this service by offering the most appropriate solution of conveniently located and powerful C-, Ku- or X-band satellites available in the market, with particular emphasis on the North Atlantic and the Middle East regions.
NATO Consultation, Command and Control Agency — NATO Response Force
As an integrated SATCOMs and CIS systems specialist for the defense industry, it is vital that Vizada Networks offers reliable, high quality satellite capacity to ensure that all communications from all locations are received and acted on because at times — such really could mean the difference between life and death.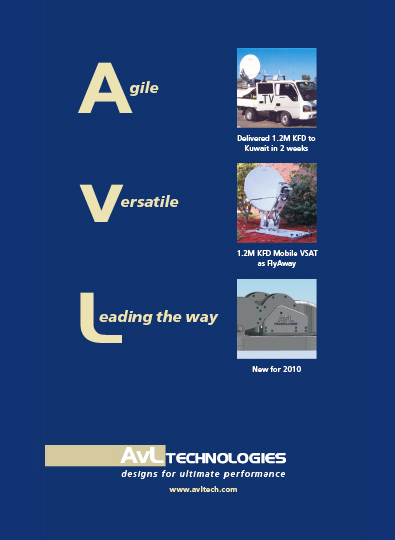 Together with additional operational partners, Vizada Networks represents the strongest satellite consortium available in the market. The consortium's vast combined available satellite capacity in all frequency bands provides NATO, the NDLO, and Vizada Networks' other defense customers, with a great deal of flexibility. This capability increases Vizada Networks ability to accommodate immediate and on-demand requests, and provide the unique northern coverage of the high power
Spot1
beam on
Intelsat IS-1002
. Vizada Networks' position in the consortium also enables it to enter into discussions and develop non standard concepts to meet specific customer requirements if requested.
In addition to agreements and partnerships that provide the ability to ensure delivery of every single communication, Vizada Networks is also committed to deploying the right technology for the people on the ground and because the company is independent and not tied to any one manufacturer, it is capable of providing COTS or highly customized solutions for specialized missions or campaigns using multi vendor hardware and software.
Between 2006 and 2009, Vizada Networks designed and delivered a total of 21
Deployable Satellite Ground Terminals
(
DSGT
) to
NATO Consultation, Command and Control Agency
(
NC3A
) for
NATO Response Force
(
NRF
) projects. The DSGT terminal is an X-band satellite system with a 2.4-m motorized antenna system and all HW is installed in a transit case for easy deployment in the field, and fully integrated by Vizada Networks. The system is provided with Vizada Networks monitoring and control software and the company provides additional maintenance and upgrade support for the terminals whilst offering regular training courses for NATO staff. The Vizada Networks Satellite Ground terminal is the standard NATO terminal currently used in operational theatres as part of the NRF communications segment.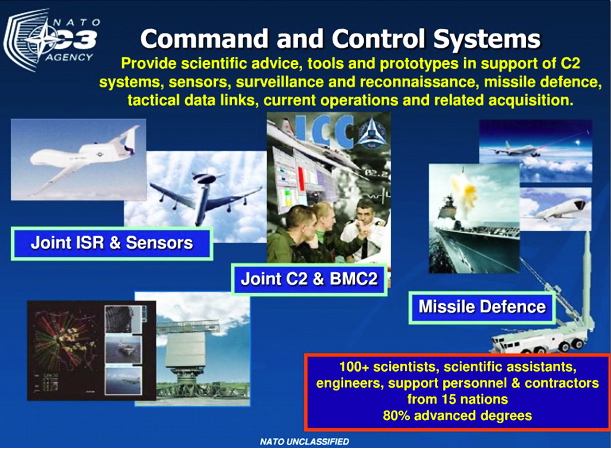 In 2009 Vizada Networks started delivery of three identical and coherent mobile communications systems providing voice, video, and data services for a military organization. These systems are capable of rapidly providing CIS services in new operational areas, in existing areas of operation with limited CIS support or when there is a lack of network connectivity, following an outage due to an act of war or natural disaster. They are easily transportable by road, rail, sea, and air (C-130 roll-on roll-off) and are capable of rapidly deploying into austere environments on a moments notice and functioning 24 hours per day, 7days per week, for extended durations. Due to these mandatory requirements, Vizada Networks focused on minimizing the size and weight of the systems.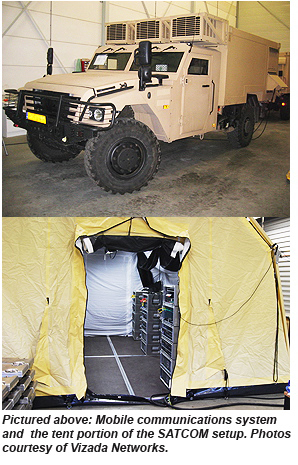 The mobile communications systems provide CIS services anywhere in a conflict zone without the need of external resources. One of the tactical vehicles has a mounted CIS shelter, with the most critical of the CIS equipment pre-wired and preconfigured for rapid deployment and rapid establishment of
Initial Operational Capability
(
IOC
) services upon arrival at the deployed location. Following the initial deployment, the remaining equipment can be transported to the deployed location to provide the
Full Operational Capability
(
FOC
) of the systems and vehicles.
In addition to the transmission, information systems, Voice & VTC, Vizada Networks also supplied the non-CIS segment of the solution, which included mobile redundant diesel generators, inflatable field tent systems to act as the communications control center, and the field power distribution system. All integration, implementation, installation and training was carried out by Vizada Networks.
NATO Virtual Silk Highway (SILK)
Vizada Networks' position as a communications supplier to NATO is also relevant for non-military operations, which is reflected in the company's position as a supplier to the
SILK
project. Named after the
Great Silk Road
trading route linking Asia and Europe, the
NATO Virtual Silk Highway
(SILK) project was initiated in 2002 under the
NATO Science for Peace and Security
(SPS)
Program
that NATO's
Public Diplomacy Division
(
NATO-PDD
) is managing. Over seven years, it has provided affordable, high-speed Internet access via satellite to the academic communities in the Caucasus and Central Asian countries. The
Kabul University
in Afghanistan was included in 2006. Apart from predictable bandwidth, Vizada Networks delivers tailor-made service management tools, including security in order to protect the network from outside violations.
However, while the Caucasus and Central Asia sites are migrating to terrestrial connectivity with support by the European Union, the new NATO project 'SILK-Afghanistan' will initially extend the connectivity to seven provinces of Afghanistan. In early 2009, NATO-PDD tasked the NC3A to prepare an Invitation for Bids to the Industry for expanding Internet connectivity for universities and higher education institutes in Afghanistan. On 21 December 2009, the NC3A and NATO-PDD completed the signature process of the Letter of Agreement in support of the SILK-Afghanistan project. This is a significant step towards expanding broadband Internet connectivity for higher education throughout the provinces in Afghanistan and Vizada Networks will continue its prominent role in this next, key phase of SILK.
The signature of the Letter of Agreement between NC3A and NATO-PDD concluded the tender process which took place in spring/summer 2009. NC3A will act as Procurement Agent and manage the new contract with the selected service provider — Vizada Networks — to maximize the potential of the SILK-Afghanistan project for universities in Afghanistan.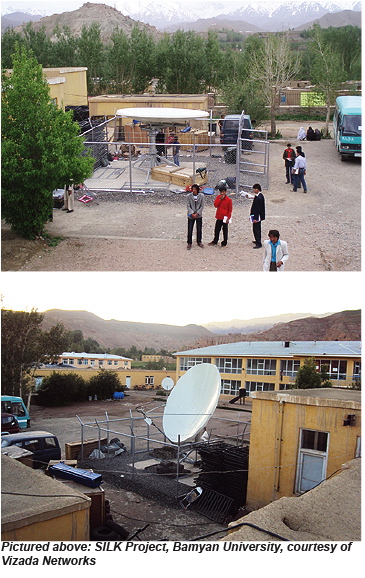 Seven universities have been identified as the first beneficiaries of this expansion project in addition to the already serviced Kabul University and the Government Media and Information Centre in Kabul, affording them access the public Internet network and the
GEANT
network (
multi-Gigabit Pan-European data communications network
) dedicated to use for research and education purposes. Vizada Networks will ensure connectivity to the nine sites via satellite resources by installing satellite ground terminals at each site. Traffic will be anchored at Vizada Networks' teleport in Bratislava, Slovakia, and will connect from there to the European network.
Iraqi Ministry of Defense
Vizada Networks also has experience working direct with various Ministry of Defense customers around the world for internal/local telecommunications projects. A recent example of this approach is the contract announced in June of 2009 with the
Iraqi Ministry of Defense
for the supply and operation of a 129 site VSAT network in Iraq, one of the largest contracts of its kind in Iraq.
Among the main objectives of the Iraqi MoD is a consolidation of independent networks delivered by different companies and on different platforms. The consolidated VSAT network will be based on a standardized iDirect Evolution platform and Vizada Networks' part of the contract in Iraq is to deliver the HUB services, provide bandwidth services and operations and maintenance to the terminals, with the possible expansion of an additional 100 terminals. The space segment is being used to provide a solution consisting of TDMA, Mesh TDMA and SCPC services. The project had a very aggressive roll-out; 90 percent of the network was operational in 30 days.
Dedicated to Defense
The new Vizada Networks dedicated defence division is a result of the company's ongoing commitment to a key market segment where it supplies the largest, most demanding players. To achieve the success in the projects detailed in this article takes specialist knowledge and an ability to operate in high pressure environments in support of defence organizations with solutions and services, in the crisis areas of the world today. The company has a track record as a key supplier of SATCOMs and large system integration projects and has built an extensive understanding of NATO and other defense organization requirements, which ensures competence — regardless of the theatre of operations.
For more information regarding Vizada Networks, select this direct link to the company website.