ThinKom Goes Thin + Low
A series of interoperability tests were conducted that brought out very positive aspects for ThinKom Solutions, Inc., demonstrating the compatibility of its core antenna technology with a low-Earth orbit (LEO) satellite network.

The tests took place during the first quarter of 2020, using commercially available airborne-certified hardware, including a ThinKom Ku3030 phased-array antenna subsystem and a Gogo radome, adaptor plate and power amplifier that together comprise the "2Ku" aero satcom terminal.
The 2Ku terminal demonstrated rapid acquisition and tracking of LEO satellites and provided continuous connectivity over all operationally relevant elevation angles.
The switch time between individual satellite beams was less than 100 milliseconds (ms), and handoffs between satellites were completed in less than one second.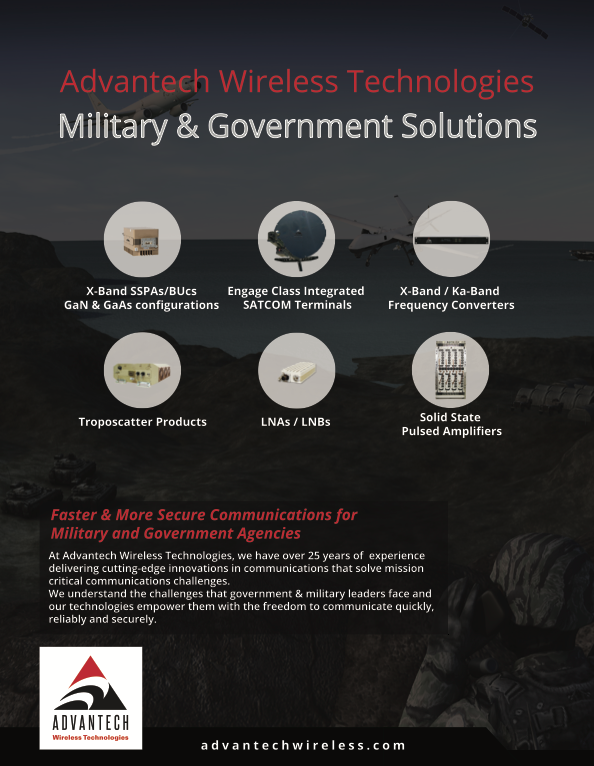 Switches between LEO and geostationary (GEO) satellites were also achieved with similar results.
The measured terminal performance demonstrated the potential that the combination of ThinKom antennas and LEO solutions will provide, with throughput rates in excess of 350 Mbps on the downlink and 125 Mbps on the uplink, at latencies of less than 50 ms.
Bill Milroy, CTO of ThinKom Solutions, said that LEO satellite networks have the potential to be transformative to the in-flight connectivity experience, but also place new stringent demands on the antenna systems used to track and connect with the rapidly moving satellites. This important demonstration is another milestone verifying that our antenna technology operates effectively in the LEO environment, which is a key requirement for airlines in terms of enhanced network resiliency and flexibility.
ThinKom has successfully tested its Ku- and Ka-band COTS phased-array aero antennas across commercial and military frequency bands and a wide range of GEO and non-geostationary (NGSO) satellites over the past 12 months. In all cases, the phased-array antennas have consistently demonstrated high throughput operation and rapid reliable handoffs, including both intra- and inter-satellite switching.
thinkom.com
---
Smiths Interconnects Antenna Connects With Global Xpress Approval
Inmarsat has given approval to Smiths Interconnect KaStream® 5000 MK II antenna system for use over the Inmarsat Global Xpress network.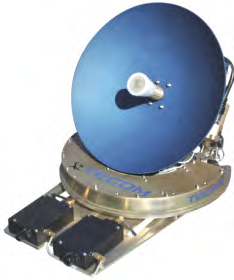 The lightweight KaStream® 5000 MK II antenna system is a fully integrated solution that is optimized for use over the Inmarsat Global Xpress Ka-band network and supports commercial and military modems. It can be used in tail-mount, hatch-mount and roll-on roll-off installations combining the Radio Frequency (RF) electronics, antenna aperture and positioning system in a single Line Replaceable Unit (LRU). This wideband, high-throughput terminal features a 12-inch diameter aperture and weighs less than 25 lbs (~11.4 kg).
Using a Global Xpress subscription, SATCOM as a Service, the terminal provides always-available access to high-throughput, reliable, secure connectivity, anytime and anywhere. Operation on Inmarsat's military Ka-band steerable beam ensures interoperability with military satellite systems, delivering redundancy, protection, scalability and global portability.
In U.S. government operation since July 2014, Global Xpress has established itself for reliable communications across land, air and sea for assured mobile connectivity and compatibility with government satellite systems.
Steve Gizinski, Chief Technology Officer, Inmarsat Government said that their government customers demand commercial and military Ka-band access on aeronautical platforms. This announcement demonstrates their commitment to meeting this need by responding with Global Xpress commercial and mil-Ka terminals for users operating across multiple environments. They are pleased to work with Smiths Interconnect to expand their offerings with the lightweight KaStream® 5000 antenna system, which is compatible with MILSATCOM and enables Beyond Line of Sight (BLOS) connectivity for a range of Airborne Intelligence, Surveillance, and Reconnaissance missions.
Ralph DeMarco, Vice President of Business Development and Sales at Smiths Interconnect added that theirKaStream® 5000 MK II broadband antenna system is truly unique in the market by offering access to global wideband commercial and military networks. They are very pleased to be partnering with Inmarsat to offer fast, reliable and efficient connectivity on and off the aircraft worldwide.
www.smithsinterconnect.com
---
New Orders for Lite Coms VSATS
Lite Coms LLC recently received new orders for VSAT terminals and the company's Tactical Modem Assembly (TMA) for delivery to users in Columbus, Georgia.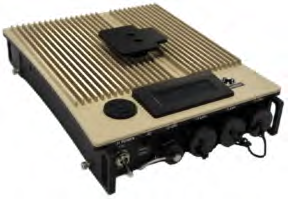 The Carbon Fiber antenna was selected for performance and small, total volume. The antenna will be used with the Lite Coms TMA. This advanced Tactical Modem has an integrated iDirect 950 satellite modem and is the smallest, lightest, tactical packaging of this modem on the market. The Lite Sat TMA-950-T has a feature rich LCD display, multiple data ports as well as Ethernet and serial control ports.
Lite Coms works to achieve the best physical layout and a Human Machine Interface (HMI) on the market. The company's goal is to ensure that their products provide both Comms Operators and General Purpose Users a simple, yet feature rich, experience. The Lite Sat TMA-950-T is also integrated into the Lite Coms 1.3 and 2.2 meter auto squire terminals.
Bob Jacobson, the President and CEO of the company, said the growing confidence the user community is showing in the offerings of Lite Coms is exciting. The company has customers around the globe coming to us to deliver higher throughput, innovative packaging and a more efficient user experience. Lite Comms manages to do this work in a fraction of the time of the competition.
Additionally, the company has engaged in a partnership with AvL Technologies, Mission Microwave, Orbital Research and iDirect Government as the firm continues to modernize their VSAT offerings.
The AN/TSC-248 family of terminals are comprised of an integrated Lite Sat 1.3 meter Auto Acquire terminal with the Lite Sat Tactical Modem Assembly (TMA) that features the iDirect 950 satellite modem. LNB's from Orbital and the Lite Coms Wide Band Custom Ku- LNB and SSPAs from Mission Microwave are integrated in this product into a light weight, rapid set up, small pack-out system with an optional, user-friendly GUI.
Mr. Jacobson stated that this highly transportable terminal packs smaller than many sub-one meters, assembles in minutes and delivers incredible performance and throughput at a highly competitive price. The product is the result of countless hours spent with customers whose input strongly influenced the final design and configuration.
www.litecoms.com/our-products/
---
USAF's Support to Space Industrial Base
In response to COVID-19, the Department of the Air Force is posturing to identify and provide support to the space industrial base, assessing sectors most impacted by the pandemic while creating an environment where companies in need can compete fairly in the event of supplemental federal relief funds.
Dr. Will Roper, Assistant Secretary of the Air Force for Acquisition, Technology and Logistics and U.S. Space Force Service Acquisition Executive, said the space industrial base is critical to the nation's military and economy. The Space Force Acquisition Council held an emergency session to synchronize response to fragile supply chains, at-risk workforces, and receding commercial markets and will continue to work with the Department of Defense and Congress to get additional help.
Roper said the council directed a comprehensive survey go out to space industrial base sectors, including members and non-members of the Space Enterprise Consortium, several federally funded research and development centers (FFRDCs), and pertinent think tanks. The survey focuses on three distinct priorities:
1. Emerging supply chain, cleared workforce, and markets under immediate distress
2. Real bills caused by COVID-19 with the goal of minimizing existing program schedule risks
3. Stimulus: Small space vehicles, micro-electronics and other key areas for long-term sustainment
Dr. Christopher Scolese, NRO director, added that assured access to space coupled with a strong space industrial base are fundamental to national security. The National Reconnaissance Office is committed to working with the Space Acquisition Council and with the U.S. Space Force to ensure the stability of the space sector.
While Air Force officials recognize major suppliers and "prime" companies have been affected by COVID-19, an immediate concern is with tier three and tier four suppliers and vendors, as well as small companies, especially in the small launch, commercial satellite communications, and micro-electronic sectors.
Gen. Jay Raymond, U.S. Space Force Chief of Space Operation, noted that the COVID crisis must not undermine critical space industries. Given the threat to space capabilities posed by potential adversaries, the U.S. space industrial base must remain strong — the best in the world at developing national security space systems.
---