ORBCOMM's AIS Contract with MarineTraffic is Extended Thru 2023
ORBCOMM Inc. (Nasdaq: ORBC) has extended their contract with MarineTraffic through the end of 2023 for ORBCOMM's satellite Automatic Identification System (AIS) data used for ship tracking and other maritime navigational and safety efforts.

MarineTraffic, which has been an ORBCOMM partner since 2013, uses ORBCOMM's satellite AIS data to track real-time and historical movements of ships as well as their arrivals and departures in harbors and ports around the world and also combines ORBCOMM's comprehensive AIS data with positional data from their extensive network of land-based receiving stations to provide actionable maritime intelligence solutions and improve the maritime ecosystem.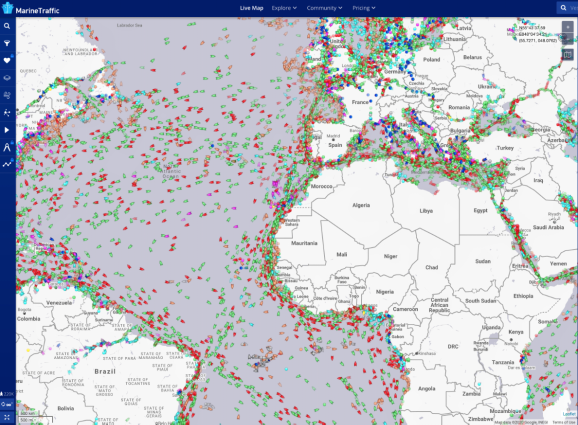 By leveraging ORBCOMM's reliable, high-performance AIS service, MarineTraffic helps their government and commercial customers enable maritime domain awareness, search and rescue, environmental monitoring and maritime intelligence applications.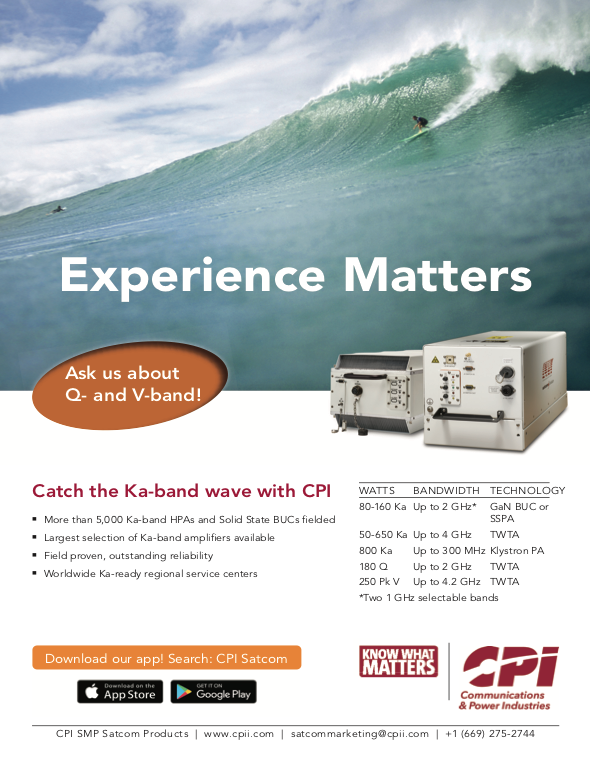 In addition, MarineTraffic will explore ORBCOMM's other monitoring solutions as part of their efforts to expand their offering for the shipping industry and provide complete supply-chain visibility.
ORBCOMM continues to advance its AIS business by enhancing its satellite AIS service with two new, next-generation AIS cubesats, which are expected to expand coverage of ORBCOMM's constellation, increase visibility to smaller Class B ships and extend its polar footprint with launches planned on separate missions within the next year.
In addition, ORBCOMM is working with AAC Clyde Space and Saab to develop a next-generation, space-based VHF Data Exchange System (VDES) satellite, expected to launch in 2022, which will revolutionize maritime communications by providing more extensive global coverage, increased bandwidth and enhanced versatility.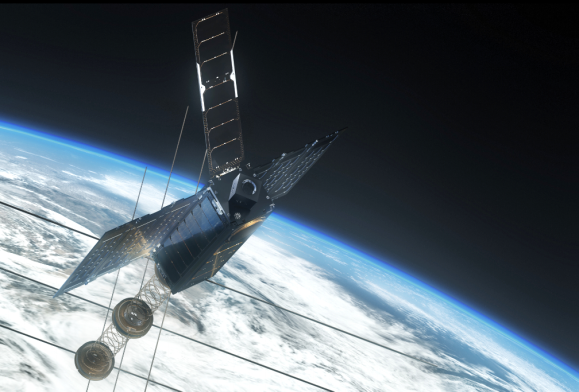 An artistic Rendition of an ORBCOMM
smallsat, courtesy of AAC Clyde Space.
Executive Comments
"We are excited to continue supporting MarineTraffic's efforts to improve the overall maritime ecosystem by harnessing the power of ORBCOMM's satellite AIS technology," said Greg Flessate, ORBCOMM's SVP and GM, Government and AIS. "As we collaborate on the next phase of our partnership, MarineTraffic will be able to leverage ORBCOMM's industry-leading IoT solutions to enhance the end-to-end view of the global supply chain."
"We are delighted to extend our long-standing relationship with ORBCOMM for another three years," said Demitris Memos, MarineTraffic's CEO. "MarineTraffic takes great pride in the collaboration with ORBCOMM and especially appreciates the reliability of ORBCOMM's satellite AIS service."
---
Viasat enlists New Link 16 Capabilities for Mission-Critical Ops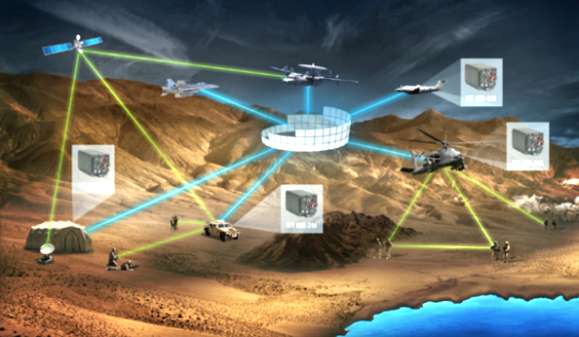 Viasat Inc. (NASDAQ: VSAT) has successfully integrated Link 16 Cryptographic Modernization (Crypto Mod) capability into its KOR-24A Small Tactical Terminal (STT), ahead of the U.S. Government mandate, to help ensure warfighters have assured access to mission-critical information when using Link 16 communications—regardless of location (air, land or sea) or platform (aircraft, ground vehicle, ship or dismounted warfighter).
The KOR-24A STT is the world's only multi-channel radio capable of performing Link 16 communications in a small form factor, and includes interoperable functionality to improve communications between U.S. and international coalition partners' military agencies requiring critical information from multiple networks.
Viasat's KOR-24A STT is a software-defined radio (SDR), which allows advancements like Crypto Mod to be accomplished via a software update without the need to take platforms out of service. The Company currently has more than 1,800 STT units in service on a wide variety of fixed-wing and rotary-wing aircraft as well as ground vehicles, expeditionary gateways and maritime vessels across all U.S. military services, special operations forces and five international partners to date.
Executive Comment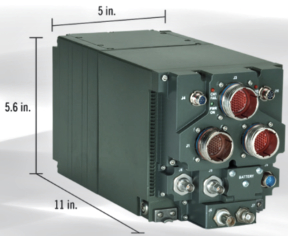 "By taking a proactive approach, Viasat's KOR-24A STT successfully achieved Link 16 Crypto Mod requirements ahead of the U.S. government mandate," said Andy Kessler, VP and Business Area Director, Next Generation Tactical Data Links business, Viasat. "As the reach, resiliency and relevancy of Link 16 grows, it will be important to expand these capabilities to help U.S. and coalition forces adjust to new mission needs."
Viasat's Trade-in/Trade-up Program
To ensure Link 16 users can easily migrate to a crypto modern solution, Viasat is offering a Trade-in/Trade-up program. Through January 1, 2022, military agencies can trade in any manufacturer's non-crypto modernized Link 16 terminal and receive a discount for the purchase of Viasat's Crypto Mod-enabled KOR-24A STT. The Trade-in/Trade-up program will help ensure warfighters have assured, uninterrupted access to mission-critical information when using Link 16 communications during any critical mission.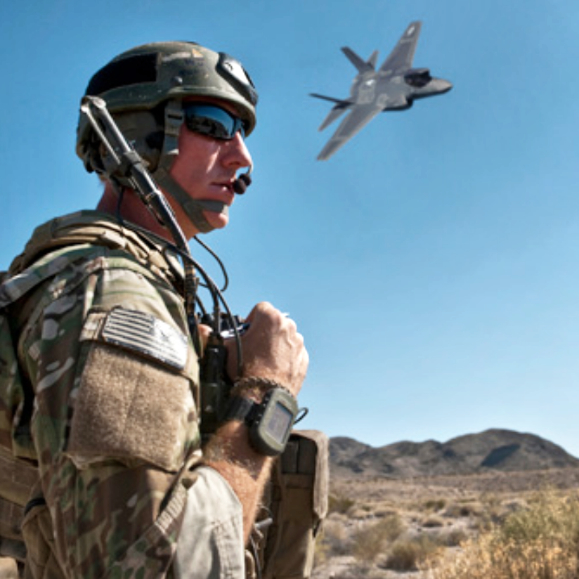 Viasat Inc. (NASDAQ: VSAT) has also released a new, advanced configuration of its handheld Link 16 Battlefield Awareness and Targeting System – Dismounted (BATS-D) radio.
This advanced version adds new security features to address emerging and expanded threats associated with the diverse operational use cases and new deployment scenarios where the radio will be used. Accordingly, this configuration has been certified by the National Security Agency (NSA) for immediate use by U.S. General Purpose Forces (GPF), Five Eyes (FVEY) partner nations and coalition forces.
BATS-D is the world's first and only handheld Link 16 radio. This radio bridges a critical gap between air and ground forces by providing warfighters at the tactical edge secure, reliable access to integrated air and ground information for improved situational awareness and enhanced close air support communications. Today, more than 2,000 BATS-D radios have been shipped worldwide and the units are currently in use by U.S. Special Operations Forces.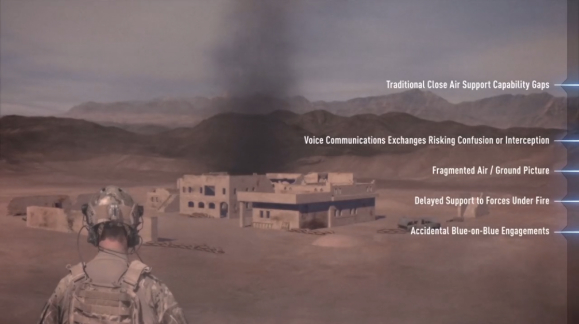 The BATS-D handheld Link 16 radio is known to the United States Department of Defense as the AN/PRC-161.
Executive Comment
"The initial success of the BATS-D radios in the field proves this capability to be a true game-changer in military communications," said Andy Kessler, VP and Business Area Drector, Next Generation Tactical Data Links business, Viasat. "We've seen tremendous interest to extend the use of the BATS-D radios to new applications and expanded concepts of operation that address specific needs and capability gaps of U.S. and international FVEY armed forces. The availability of BATS-D for GPF and FVEY partner nations will empower more warfighters with secure, interoperable, digitally-aided communications, which ultimately translates into significantly enhanced situational awareness and improved mission coordination across the multi-domain battlespace."
---
Elbit Systems to Provide Tactical Radios to APAC Customer
Elbit Systems Ltd. (NASDAQ: ESLT, TASE: ESLT) was awarded a contract valued at approximately $33 million to supply tactical radio systems to a customer in Asia-Pacific — the contract will be performed over a 12-month period.
Under the contract, the Company will equip the customer's Artillery and Infantry Forces with tactical radio systems that also include vehicular, man-packed and handheld configurations. The radio systems feature advanced networking capabilities enabling reliable and secure voice and data communication services over extended ranges.
This contract award follows a recent decision by the customer to equip its Army with additional networked combat solutions from Elbit Systems, including E-LynX Software Defined Radios (SDR) and TORCH-X Command and Control systems.
Elbit Systems' radio solutions have been selected by numerous Armed Forces around the world, including those of Switzerland, Sweden, Germany and Israel.
---
Wavestream Celebrates 20th Anniversary & Releases New Matchbox 50W GaN BUC
Wavestream has introduction the company's next generation solid state power amplifier (SSPA) for operation with GEO and NGSO constellations in the Wideband Ka-band category.
Wavestream's new Matchbox 50W Wideband Ka GaN BUC is the next generation of the world's most widely deployed solid state amplifier built at this power level.
Wavestream's next-generation Matchbox 50W Ka Wideband SSPA operates in both commercial and military frequency ranges. Existing military applications using narrow-band Ka-Band amplifiers will benefit from the wideband product that has been designed as a drop-in replacement, allowing immediate access to commercial NGSO and GEO satellite constellations.
The product features a very compact light weight design and provides the same power as its previous generation, but with 52% less volume and a 60% reduction in weight.
Executive Comment
"Wavestream is pleased to reinforce our technological superiority and leadership in the Wideband Ka-band SSPA category as we answer our customer's demands for broadband connectivity over both GEO and NGSO constellations," said Bob Huffman, General Manager at Wavestream. "As Wavestream celebrates its 20th anniversary this year, I am delighted to report that we have fielded over 40,000 products since our inception, for both commercial and military markets."
---
Optical COMMS Earth Station to Be Built in Western Australia

An optical communications station capable of receiving high-speed data transmissions from space is set to be built in Western Australia and will be installed by The University of Western Australia.
The advanced communications ground station will be able to receive data from spacecraft anywhere between LEO and the surface of the Moon. It has the potential to support ground-breaking space projects, including NASA's Artemis mission to land the first woman and next man on the Moon by 2024.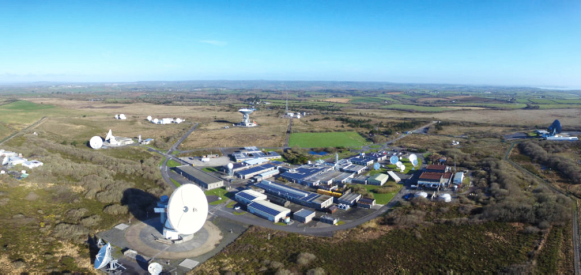 The 0.7 meter optical telescope donated by Colin Eldridge
that will be used for the ground station.
This is a joint initiative of UWA's Astrophotonics Group, which is part of the International Center for Radio Astronomy Research (ICRAR), as well as the ARC Centre of Excellence for Engineered Quantum Systems (EQUS) and UK industry partner Goonhilly Earth Station.
The ground station was launched to coincide with the International Astronautical Congress. It will be part of a larger Australasian optical ground station network, led by the Australian National University, and with partners in South Australia, and New Zealand.
The station will use make use of a 0.7 meter observatory-grade optical telescope donated to ICRAR by Perth local Colin Eldridge. It will be fitted with advanced atmospheric-noise suppression technology developed at UWA.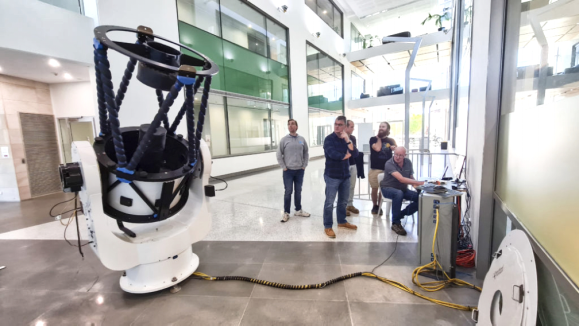 The station will be connected to Goonhilly's supercomputer data center in Cornwall via high-speed fiber. Goonhilly handles data traffic and supports secure communications links for the world's major satellite operators, including Intelsat, Eutelsat and SES Satellites. The company is also a partner in the European Space Agency's Lunar Pathfinder Mission, which is scheduled to launch in 2022.
communications rely on radio waves—it's the same technology that brought us the voice of Neil Armstrong when the Apollo 11 mission landed on the Moon in 1969. Free-space optical laser communications has several advantages over radio, including significantly faster data rates and hack-proof data transfer. It's the next-generation of space communications, and it's likely to be how we'll see high definition footage of the first woman to walk on the Moon." He noted that WA's ground station would help launch Australia's space communications capacity, stating, "This will cement Australia's position as a leader in optical data transmission, and position the nation to tap into the multi-billion-dollar space communications market."
EQUS Director, Professor Andrew White, said the project, which could be the first 'on-sky' optical communications ground station in the Southern Hemisphere, was a prime example of fundamental research delivering real-world outcomes. He said, "EQUS delivers major impacts by encouraging and enabling our people to translate their research into tangible technologies and applications. We are building a culture of innovation, translation and commercialization among quantum science researchers in Australia. In addition to space communications, the ground station could also be used for applications ranging from cutting-edge fundamental physics to precision earth science and resource geophysics."
Goonhilly Chief Executive Ian Jones said he was delighted to join forces with UWA, ICRAR and EQUS to establish an optical communications satellite ground station in Western Australia. He said, "We've been at the forefront of satellite communications since the start of the space age, and this is driving it into the next generation of systems and technologies to support the enormous data volumes emanating from space missions. This data arises from science and other missions and, in the future, will come from Lunar and Mars missions that involve remote operations, robotics and AI. We're proud to be joint trailblazers in the practical implementation of coherent optical communications."
---
Mercy Ships to Leverage SES Network's Signature Maritime COMMS Solution
Mercy Ships, delivering vital healthcare and medical training in some of the world's most economically deprived regions, will be using life-saving connectivity solutions provided by SES Networks to provide better healthcare services.

The Global Mercy, the newest and the world's largest civilian hospital ship, will leverage SES Networks' Signature Maritime Solution, bringing about a substantial change in diagnostics and treatment onboard for its patients. The high-performance connectivity services will enable the Global Mercy to fully implement remote viewing for a compact digital scope and CT scanner that enables specialist pathologists to remotely diagnose a raft of complex, life threatening, or deadly diseases onboard.
Mercy Ships will also leverage the connectivity to expand services and leave local communities with sustainable skills to care for their own. The Global Mercy medical staff will have the possibility to run live HD video training sessions from the operating room on board to deliver unparalleled medical training and support.
---
Space Foundation's Newest Space Report Now Available
In the newest quarterly issue of The Space Report, Space Foundation, a 501(c)(3) global space advocate for 37 years, announced that space investment in Q3 2020 gained strength with more than $6 billion gained through acquisitions, buyouts, and private equity financing.

Acquisitions and buyouts in Q3 totaled more than $3.3 billion in disclosed value across 17 announced transactions, significantly outpacing the 13 transactions and $265 million in disclosed value announced in Q2, according to analysis by Quilty Analytics published in The Space Report 2020 Q3. In private equity and venture capital investments, the Q3 total reached nearly $2.7 billion in 25 financings compared to Q2's $410 million raised in 32 transactions, Quilty analysis found.
Additionally, The Space Report 2020 Q3 includes analysis of 2019 commercial space revenue, and annual data there also shows gains over the prior year, as well as strong 10-year performance figures. Commercial space revenue, which represents about 80% of the global space economy, climbed 6.3% from 2018, growing to $336.89 billion. Over 10 years, the increase was 77.8%.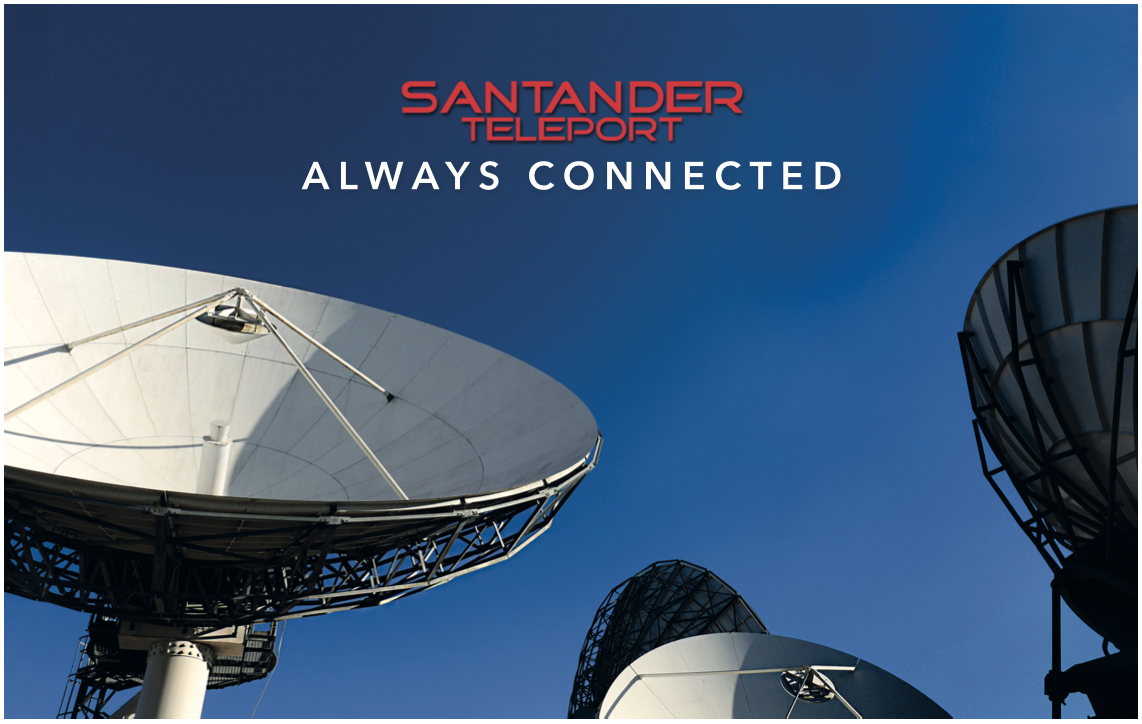 Commercial space products and services remained the largest percentage of the sector, and in 2019 those totaled $217.72 billion. Though up only 1.7% from the prior year, the sector was up 113% from its 2010 total of $102 billion.
In commercial infrastructure and support industries, revenues were up 16.1% compared to 2018, finishing at $119.17 billion in 2019. The decade's change was more modest compared to space products and services, rising only 36% since 2010. Some 2019 industry highlights include...
Satellite manufacturing reversed a downward trend in 2019 and is expected to remain strong through 2020. Airbus and Thales Alenia Space captured 10 of 17 orders in 2019, and this past summer won significant contracts valued at more than $1 billion with ESA and the UK, fueling confidence in the continued strength of the market.
Ground stations and equipment generated more than $112.45 billion, and a 10-year forecast from the European Global Satellite Services Agency predicted that the sector will grow significantly.
Earth observation satellite revenue also climbed to more than $3 billion. Almost 32% of revenue came from the sale of raw data collected by commercial satellites.
Approaching the 20th anniversary of continuous human habitation of the International Space Station, and with expected private launches by more commercial launch providers, The Space Report also examined some of the numbers behind nearly 60 years of space travel. Since 1961, 580 people from 41 countries have launched into orbit, according to the Association of Space Explorers (ASE). That's an average of 9.8 astronauts per year. In the nearly 60 years since astronauts have been launching into space, 62% have been U.S. astronauts. Russian cosmonauts, however, have spent the most cumulative time on the ISS with a combined 36.6 years.
Commenting on the release of The Space Report 2020 Q3, Space Foundation CEO Tom Zelibor shared, "Numbers such as these reflect the strength and enduring growth of the global space economy. Investors, entrepreneurs, and consumers can find confidence and opportunity in multiple sectors of the space economy, and that type of promise bodes well for everyone's future."
---