"Always-connected" could certainly be the motto of this generation. Whether on a plane, in a car, at the office, or on vacation, Internet access for digital devices is no longer a wish, but an expectation.
Cellular connectivity has moved forward quickly, with new technologies emerging every two to three years. Remember 3G? Now 5G is a new reality that is adopted in major cellular markets and Gigabit connections are leaving current broadband speeds in the dust.
---

---
With every step, hand-held devices have become more robust, on-the-move access more essential and data transfers more extensive. User dependency on continuous connectivity is at its peak.
These same phenomena apply to soldiers, and none more so than the Special Operations Forces (SOF) community. The wars they fight today are decidedly "fourth generation": the enemies are un-uniformed, networked, non-state actors that are highly mobile, highly connected and technologically savvy. These American adversaries are not operating from behind fortifications and operate in urban and rural environments.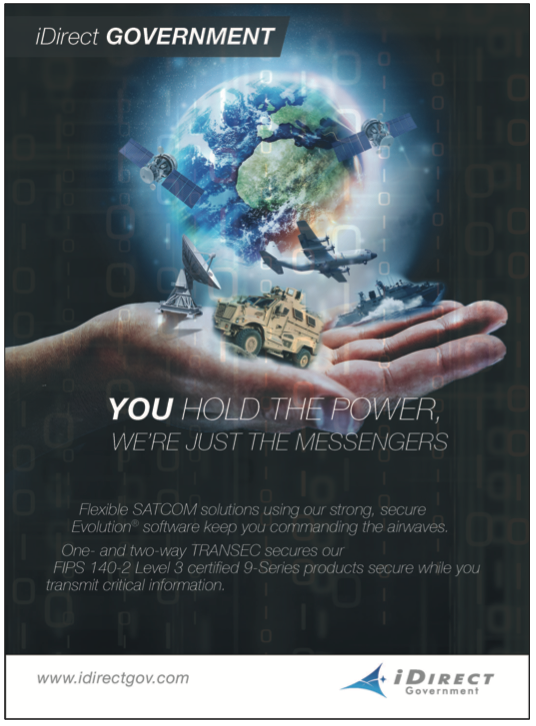 In order to maintain an advantage in such fluid, operational theaters, SOF users must have flat-panel access to low-profile Communications-On-The-Move (COTM) capabilities.
From the Ground Up
As global connectivity demand grows, mobile operators are upgrading and expanding infrastructure to match user needs. This expansion includes extending networks to more rural areas and improving failover and backhaul frameworks.
At the same time, the "new space" industry, financed by technology-focused investors and led by major players in the tech arena such as SpaceX, Facebook and Alphabet, is focused on expanding broadband connectivity around the world. New towers and satellite constellations are being hurriedly designed and built and they are frequently in competition with each other for tomorrow's users.
This investment-heavy economic environment presents significant opportunity for improving military connectivity options, particularly for vehicle-based COTM offerings.
Satellite-Based COTM Antennas
Unless a user is willing to install a maritime antenna on the roof of their vehicle, BGAN terminals have long been the only viable, mobile, satellite-based, COTM solution.
A limited number of BGAN hardware options can be used for true COTM connectivity with a maximum achievable (and never guaranteed) speed of less than 500 Kbps., and service comes at eye-popping prices. For anyone trying to maintain a low profile, a BGAN terminal, universally recognizable as an antenna, is a poor option.
Cellular antennas are certainly viable where mobile coverage exists. In the age of connected, self-driving cars, and those that run on software requiring a remote connection to the manufacturer, satellite integration is a must.
For SOF users, cellular capabilities in the field present threats and opportunities and the ideal scenario is to be able to harness or avoid cellular networks as needed.
Satellite connectivity provides a much more secure, if more limited, alternative. The flat panel revolution was started more than a decade ago, with Boeing leading the way. Since then, a few other players have joined the race to blend efficiency with affordability, and Kymeta is now at the forefront of such movement. These companies have attracted serious investment as the technology of tomorrow, with plans to remake entire industries.
For example, using metamaterials, the Kymeta flat-panel antenna can replace a typical L-band offering with higher-throughput, lower-profile Ku-band options, heralding a major step forward in the connected car movement.
---


MANTA+ and PIM interior control panel.
---
After producing a working VSAT flat-panel antenna, Kymeta set out to develop their product into a fully-integrated, satellite communications(SATCOM) terminal. The Seattle-based company teamed with Paradigm Communications Ltd., a U.K. manufacturer and integrator of VSAT terminals with their trademark integration component, the Paradigm Interface Module, or PIM®.
The PIM terminal controller was designed to provide a common terminal interface for a range of fixed and quick deploy terminals operating on all major satellite networks.
The PIM provides the modem, baseband switching, and assisted pointing and setup functions, and presents users with a quick and simple acquisition process. Paradigm took the Kymeta antenna and turned it into the MANTA®: a fully integrated, flat-panel system inclusive of all electronics, housing, and easy-to- use operator interfaces.
The PIM uses advanced pointing technology to search and lock onto satellites faster and with higher precision than other solutions. When compared with Kymeta's basic antenna unit with non-integrated electronics, the MANTA was able to acquire satellites at a faster rate and significantly improve re-acquisition times after encountering blockage.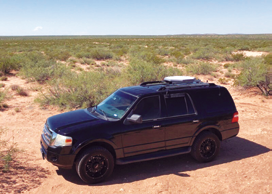 Border Patrol Vehicle outfitted with a Kymeta Terminal
Photo is courtesy of Kymeta.
The MANTA has since been successfully fielded in the SOF community and has heralded a powerful new communications capability to operators downrange. The same technology could be critical in myriad non-military applications, including disaster response and public safety.
The Next Iteration
In late 2018, during a demonstration with a SOF user at Ft. Bragg, Lepton Global's Rob Weitendorf asked what else the SOF community needed from a COTM VSAT perspective, now that MANTAs were in use. This soldier's suggestion was to add an integrated cellular capability to the MANTA terminal, a natural marriage of today's diverse and growing telecommunications solutions. While some users had experimented with rudimentary plug-in cellular connections, his request was for a sophisticated terminal system that could offer users complete autonomy over the backhaul method from a ruggedized, single user interface with smart routing and a VPN capability.
In response, Lepton Global worked with Paradigm and Kymeta to develop the MANTA®+, the first flat-panel COTM VSAT system with a fully integrated 3G/4G/LTE cellular capability. The resulting terminal is a discreet, plug-and-play unit that provides seamless network switching between cellular and satellite. The complete terminal comes in one ruggedized case, contains no moving parts, supports 10+ modem technologies, and can be ordered with BUCs from 8 to 40 Watts.
In June, the initial shipment of MANTA+ terminals was delivered to the SOF community and they have already been deployed for use overseas. In its first iteration, the MANTA+ solution revolutionizes comms-on-the-move capabilities for its SOF users by harnessing the best of both worlds in mobile connectivity.
With the integrated Cradlepoint router, a local SIM card is all that is required for cellular capabilities anywhere in the world. Combined with a satellite network, the PIM can instantly support whichever connectivity platform the user needs. Users interface with the PIM's simple GUI inside their vehicle, ensuring discreet operations and total security.
As a highly customizable product designed to meet end-users' nuanced requirements, the design and optionality are likely to grow; and as Kymeta's antenna technology improves, the number of High Throughput Satellite (HTS) networks increase and cellular coverage expands, the MANTA+ will act as a force multiplier for the U.S. military community.
leptonglobal.com
See MANTA+ at Lepton Global's exhibitor table 10 at the Satellite Innovation Symposium October 8-10.

Ms. Promyshlyayeva has experience in B2B and B2G business environments. She previously worked for manufacturing and distribution companies and joined Lepton Global in early 2016.
---