United States Space Command is formally established.
President Donald J. Trump, Vice President Mike R. Pence, Secretary of Defense Dr. Mark T. Esper, and U.S. Air Force General John W. "Jay" Raymond formally established the United States Space Command during a ceremony held on August 29 at the White House.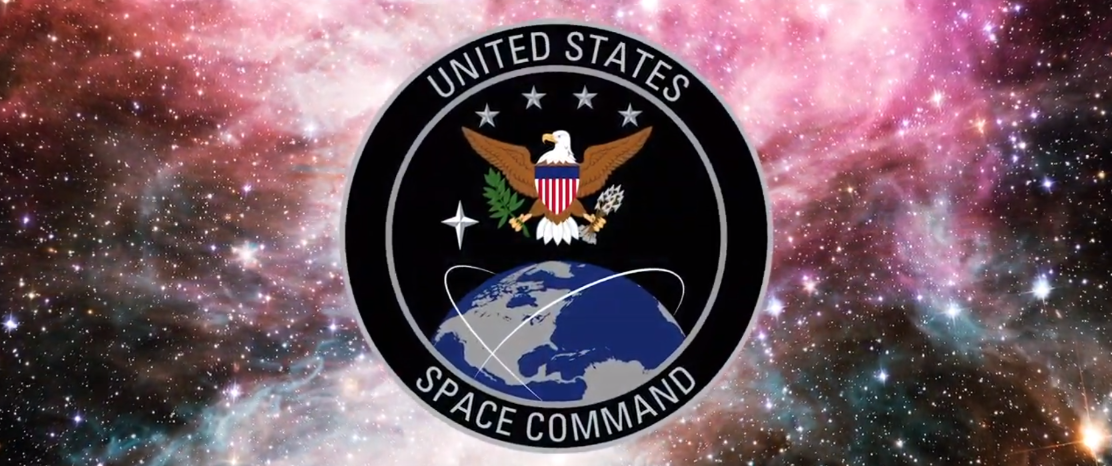 At the direction of the President of the United States, the Department of Defense (DoD) established U.S. Space Command today as the 11th Unified Combatant Command, with Raymond as its congressionally confirmed commander. Establishing USSPACECOM is a critical step that underscores the importance of the space domain and its strategic contributions to U.S. national security. The USSPACECOM establishment will accelerate the United States' space capabilities to address rapidly evolving threats to U.S. space assets and the importance of deterring potential adversaries from putting critical U.S. space systems at risk.
The president's National Security Strategy and the National Strategy for Space highlight space as a strategic domain, and the United States must earn and maintain space superiority. USSPACECOM's establishment will modernize and enhance our approach to space from a domain of an unchallenged environment to one of a warfighting domain.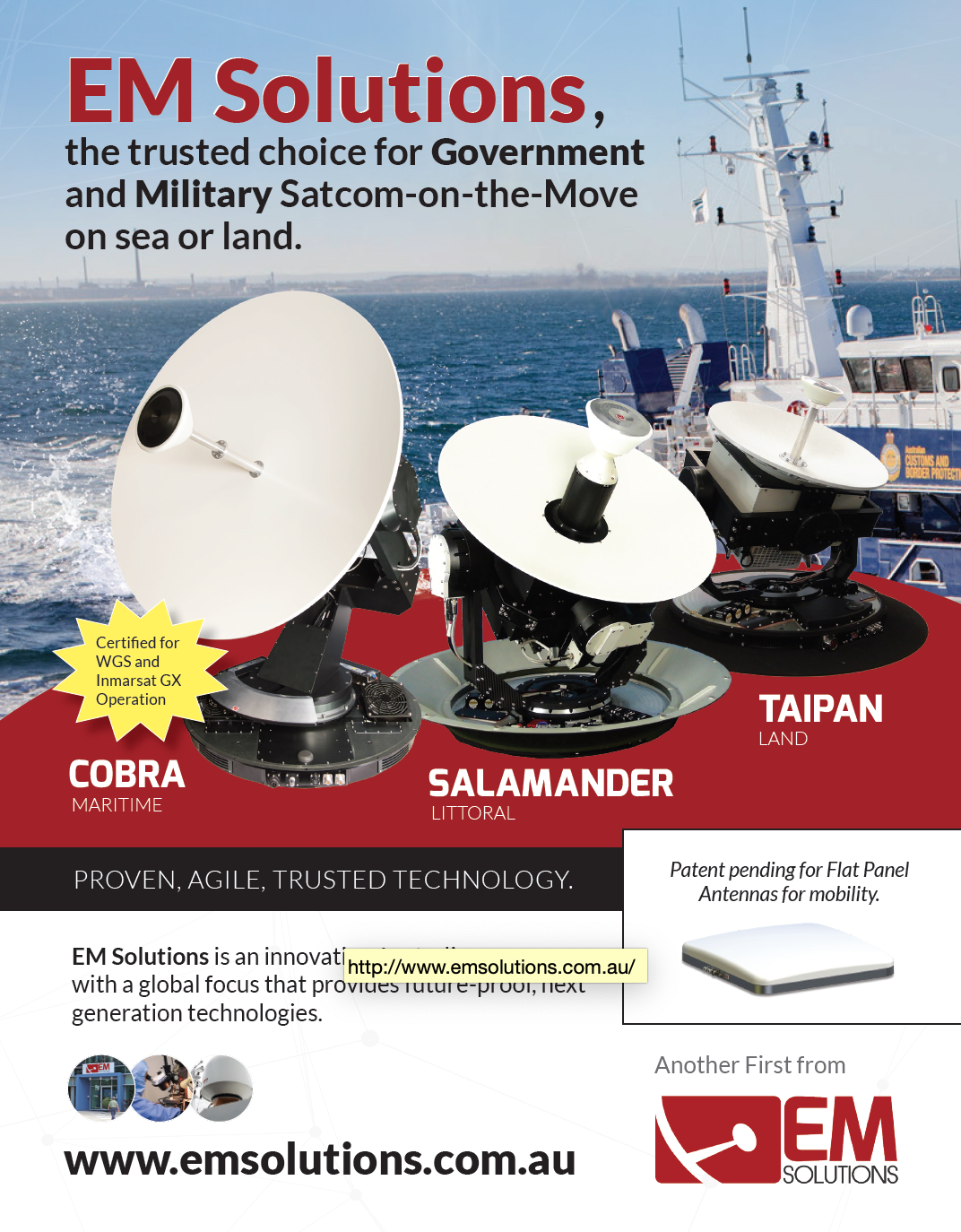 The USSPACECOM mission is to deter aggression and conflict, defend U.S. and allied freedom of action, deliver space combat power for the Joint/Combined force, and develop joint warfighters to advance U.S. and allied interests in, from, and through the space domain. The command will be postured to protect and defend, while increasing joint warfighter lethality by executing two primary missions focused on 1) unifying and leading space capabilities for the Combined Force, and 2) maintaining U.S. and Allied advantages in space through protection and defense.
USSPACECOM is a Geographic Combatant Command with a global Area of Responsibility defined as the area surrounding the earth at altitudes equal to or greater than 100 kilometers above mean (average) sea level. The new command is globally integrated with the other geographic combatant commands and prepared to support its partners to meet today's threat on a global scale.
From establishment to full operational capability, General Raymond will remain dual-hatted as the commander of Air Force Space Command and U.S. Space Command.
General Raymond said that the scope, scale and complexity of today's threat is real and it is concerning. The establishment of a Combatant Command solely focused on the space domain, demonstrates the United States' commitment to protecting and defending its space assets against that threat. He added that space capabilities underpin the security of the U.S., enable the nation's economic prosperity, provide for the nation's way of life, and secures the U.S. way of war. By establishing the United States Space Command, which is singularly focused on that warfighting domain, a very clear message has been sent to the world that the United States and the nation's allies will not assume away space superiority.
www.spacecom.mil
---
USAF's AEHF-5 satellite successfully launched by United Launch Alliance
The United Launch Alliance Atlas V 551 rocket lifted off at 6:13 a.m. EDT (1013 UTC) on August 8 carrying the fifth Advanced Extremely High Frequency (AEHF-5) communications satellite for the U.S. Air Force Space and Missile Systems Center from Cape Canaveral, Florida.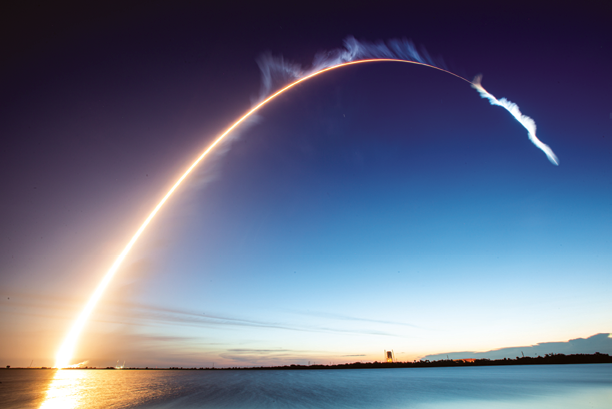 Photo of the United Launch Alliance liftoff of the USAF's AEHF-5
satellite. Image is courtesy of the company.
United Launch Alliance used an Atlas V 551 rocket to launch the fifth communications satellite in the Lockheed Martin-built Advanced Extremely High Frequency (AEHF) series for the U.S. Air Force Space and Missile Systems Center.
AEHF satellites provide highly-secure, jam-proof connectivity between U.S. national leadership and deployed military forces. Atlas V rockets successfully launched the first four AEHF satellites in 2010, 2012, 2013 and 2018.
The countdown began on August 7 at 10:54 p.m. EDT under the guidance of ULA Launch Conductor Scott Barney.
The rocket was powered up and underwent standard day-of-launch testing while crews finished configuring the launch pad.
The "go" for fueling was given by ULA Launch Director Lou Mangieri at 3:27 a.m. on August 8.
Tanking operations were successfully performed as 66,000 gallons of liquid oxygen and liquid hydrogen were placed into the rocket's tanks.
The clear to launch was given at 6:07 a.m. EDT by Air Force Mission Director Colonel Shane Clark.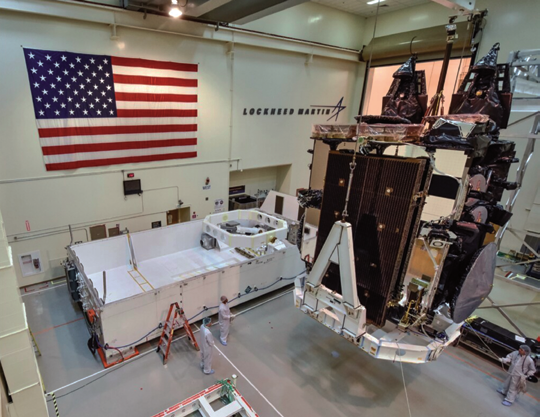 The AEHF-5 satellite. Photo is courtesy of Lockheed Martin.
Following the first stage of flight, the Centaur upper stage performed an initial burn that achieved a parking orbit.
A second burn then injected the rocket and payload into a standard geosynchronous transfer orbit. The cubesat secondary payload was then deployed.
At 1 hour, 40 minutes into the launch Centaur continued to coast away from the Earth. In this stage systems were reported nominal as the rocket performed a slow roll to keep the solar heating evenly distributed on all surfaces.
At two hours into the launch a typical rocket ascends to geosynchronous transfer orbit. This is the standard dropoff point for communications satellites, using just two firings by the upper stage to achieve the highly elliptical orbit to deploy the payloads. From there, the satellites use their own engines in the subsequent days to fly into the operational locations 22,300 miles above the equator.
The Atlas V is enhancing the AEHF-5 satellite's trip to space by using all of the vehicle's performance to deliver the payload with a much higher perigee, or low point of the transfer orbit, and substantially reducing inclination relative to
the equator.
Those actions by the launch vehicle will benefit the satellite and conserve its onboard fuel supply by getting AEHF-5 closer to geosynchronous orbit.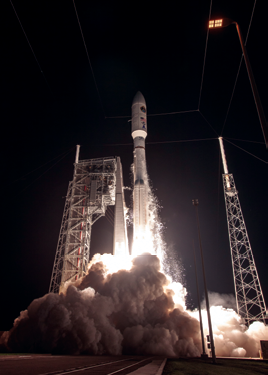 ULA and the AEHF program produced this ascent profile to maximize mission flexibility over the satellite's lifetime.
After 2 hours, 37 minutes Centaur telemetry showed nominal tank pressures, bus and battery voltages, and good body rates in the roll.
The vehicle continues in this quiescent coast away from Earth, heading to a point nearly 22,000 statute miles in altitude before the third and final engine firing is planned.
A further update at 3 hours, 6 minutes indicated that this launch successfully added one more to the total count making this the 251st flight of the Centaur.
This venerable, U.S. upper stage is the high-energy, hydrogen-fueled rocket that has unlocked access to the moon and every planet in the solar system for robotic explorer spacecraft.
The first operational payloads launched by Centaur were Surveyor missions that sent landers to touch the lunar surface.
Mariner missions went to Mars, Venus and Mercury, Pioneer 10 went by Jupiter, and Pioneer 11 visited both Jupiter and Saturn. Vikings 1 and 2 launched to Mars, Voyagers 1 and 2 explored the gas giants in our outer solar system, Cassini orbited Saturn, New Horizons flew by Pluto, and more recently the Mars Reconnaissance Orbiter, Curiosity rover, MAVEN orbiter and InSight lander all departed Earth for the red planet thanks to Centaur.
The stage has evolved considerably from its early days, becoming more capable, more powerful and more accurate. It has flown on numerous Atlas and Titan rocket configurations.
In addition to planetary exploration, Centaur has served as a linchpin in launching communications, weather and military satellites to various Earth orbits for decades.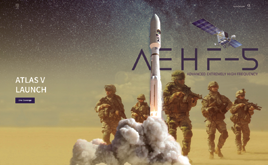 After a five-hour coast away from Earth to reach apogee, or the high point of the orbit, the Centaur performed a third and final burn to benefit AEHF-5 significantly by raising perigee, or the low point of the orbit, and reduced inclination relative to the equator. It is advantageous for the satellite to use the remaining performance of Centaur to put AEHF-5 closer to its final orbit as is possible.
The U.S. Air Force's 4th Space Operations Squadron at Schriever Air Force Base is now "talking" with the fifth Advanced Extremely High Frequency (AEHF-5) protected communication satellite after this successful launch.
Additionally, the Lockheed Martin-built AEHF-5 satellite is now responding to the squadron's commands, as planned.
The squadron began "flying" the satellite shortly after it separated from its United Launch Alliance Atlas V 551 rocket, approximately 5 hours and 40 minutes after the rocket's successful 6:13 a.m. ET liftoff.
AEHF-5 completed a geostationary ring of five satellites delivering global coverage for survivable, highly secure and protected communications for strategic command and tactical warfighters operating on ground, sea and air platforms.
In addition to U.S. forces, AEHF also serves international partners including Canada, the Netherlands and the United Kingdom.

AEHF-5, with its advanced Extended Data Rate (XDR) waveform technology, adds to the constellation's high-bandwidth network. One AEHF satellite provides greater total capacity than the entire legacy five-satellite Milstar communications constellation.
Lockheed Martin designed, processed and manufactured all five on-orbit AEHF satellites at its advanced satellite manufacturing facility in Sunnyvale, California. The next AEHF satellite, AEHF-6, is currently in full production in Silicon Valley and is expected to launch in 2020.
The AEHF team includes the U.S. Air Force Military Satellite Communications Systems Directorate at the Space and Missile Systems Center, Los Angeles Air Force Base, California. Lockheed Martin Space, Sunnyvale, California, is the AEHF prime contractor, space and ground segments provider as well as system integrator, with Northrop Grumman Aerospace Systems, Redondo Beach, California, as the payload provider.
Mike Cacheiro, VP for Protected Communications at Lockheed Martin Space, said this fifth satellite adds an additional layer of flexibility for critical strategic and tactical protected communications serving the warfighter. This added resilience to the existing constellation will help ensure warfighters can connect globally to communicate and transmit data at all times.
He added that in the weeks ahead, AEHF-5 will move toward its operational orbit, deploy all of its solar arrays and antennas, and turn on its powerful communications payload for a rigorous testing phase prior to hand over to the U.S. Air Force. Cacheiro added that individual data rates increase five-fold compared to Milstar, permitting transmission of tactical military communications, such as real-time video, battlefield maps and targeting data.
Cacheiro concluded by stating AEHF affords national leaders anti-jam, always-on connectivity during all levels of conflict and enables both strategic and tactical users to communicate globally across a high-speed network that delivers protected communications in any environment.
www.ulalaunch.com
www.lockheedmartin.com
---
South Australian SMEs win defense industry contracts
Defense industry SMEs from South Australia have won more than $8 million in contracts to provide the Australian Defence Force with a capability edge.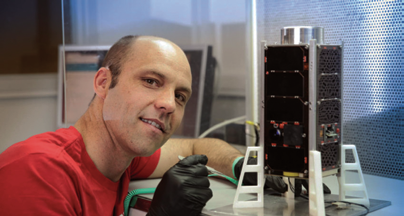 Dr. Matthew Tetlow of Inovor Technologies, based at Lot 14 in Adelaide,
South Australia.
Of the 15 contracts valued at more than $28 million awarded to Australian small businesses developing cutting-edge defense technologies, four are based in South Australia.
Australian Minister for Defence Industry Melissa Price said this tranche of investments from the Defence Innovation Hub included initial concept exploration and technology demonstration, through to prototyping and integrated capability demonstration and evaluation.
The South Australian companies are Inovor Technologies, Solinnov and Consunet, while QinetiQ, an international company with offices in Adelaide, was awarded $280,000 to develop an alternative electrical power micro-grid solution for deployed forces.
Inovor Technologies was awarded a $5.7 million contract to deliver a prototype smallsat to enhance space situational awareness (SSA), which is aimed at growing Australia's space capability and could contribute to the global space surveillance network.
Inovor designs and integrates smallsats, including their own InoSat nanosatellite, a turnkey surveillance pod to protect satellites from space junk.
The InoSat is a less expensive alternative to directing space traffic and can also be used to study climate change, natural disasters and general agriculture on Earth.
In April of this year, Inovor won a $272,000 Defence Innovation Hub grant to prove the company's algorithm can stabilize control systems to keep satellites fixed on specific positions.
"The stabilizing technology enables very fine pointing with as little jitter as possible, focusing on stars for long periods of time," Inovor CEO Dr. Tetlow said.
Electronics engineering company Solinnov was awarded $2.3 million to develop a software defined radio (SDR) system with applications across electronic warfare, communications and sensing domains.
The Australian Defence Force is interested in the technology because of its potential to replace multiple pieces of equipment with a single, lightweight, portable solution.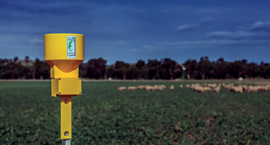 This Goanna Ag rain gauge will use Myriota's
direct-to-orbit satellite network to share data with its owner.
Photo: Julian Simon Nguyen.
Solinnov, established in 2010, is based in the in Mawson Lakes Technology Park, north of Adelaide, as well as are many other defense industry companies.
IT company Consunet, based in the Adelaide suburb of Thebarton, was given $180,000 to develop a software capability to enable electromagnetic battle management that integrates existing technologies.
"Each time the Defence Innovation Hub invests in a local company, it supports local jobs and gives Australian companies the opportunity to develop world-class capabilities," Minister Price said.
Then there's a device that could soon have Australian farmers looking to the stars, rather than the skies for their weather information following the development of a rain gauge that uses a satellite network to transmit remote rainfall data.
South Australian satellite communications company Myriota and Queensland AgTech business Goanna Ag have partnered to develop the 'everywhere' solution that they say will unlock the power of remote monitoring at a price and scale never seen before.
Myriota's direct-to-orbit satellite network for the Internet of Things (IoT) means data from the devices can be transmitted in remote areas without internet or mobile phone coverage.
Article by Jim Plouffe, The Lead
(theleadsouthaustralia.com.au/)
www.inovor.com.au
www.solinnov.com.au
consunet.com.au
www.qinetiq.com/au
myriota.com
www.goannaag.com.au
---
Kleos Space gains USAF SBIR Phase 1 contract
Kleos Space S.A. (ASX: KSS, Frankfurt: KS1) has been awarded a United States Air Force Small Business Innovation Research (SBIR) Phase 1 contract with a focus on "Innovative Defense-Related Dual-Purpose Technologies/Solutions with a Clear Air Force Stakeholder Need."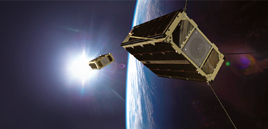 Artistic rendition of a Kleos Space Scouting
Mission smallsat
The Small Business Innovation Research (SBIR) program is a highly competitive program that encourages small businesses to engage in U.S. Federal Research/Research and Development (R/R&D) that has the potential for commercialization.
The special U.S. Air Force (USAF) SBIR topics, developed in partnership with the Air Force Research Laboratory, National Security Innovation Network and AFWERX, are experiments to increase the efficiency, effectiveness, and transition rate of the SBIR program.
Through a competitive awards-based program, SBIR enables small businesses to explore technological potential and provides the incentive to profit from commercialization.
Kleos was successful in its presentation of the Kleos' Scouting Mission under AF192-001 and is participating in Phase I of the program.
Phase 1 is to be completed by October 23, 2019, with delivery of a report including technical feasibility, financial sustainability and meeting defense needs serving as a gateway to a Phase 2.
The multi-satellite Scouting Mission system will form the foundation of a constellation that delivers a global picture of hidden maritime activity, enhancing the intelligence capability of government and commercial entities when AIS (Automatic Identification System) is defeated, imagery is unclear, or targets are out of patrol range.
Kleos' Head of U.S. Strategy, Karyn Hayes-Ryan, said that participation by Kleos in the SBIR program is a welcomed opportunity for the company to provide access to numerous Department of Defense entities.
The first scouting mission is made up of 4x smallsats built by GomSpace in Denmark.
www.kleosglobal.com
gomspace.com
---