SARLink Handheld Device With Immediate 406 MHz Emergency Access
ACR Electronics, Inc. has released SARLink, the first communication device that combines the global services of Iridium's Short Burst Data, and the Cospas-Sarsat 406 MHz emergency network into an ergonomically designed hand-held device.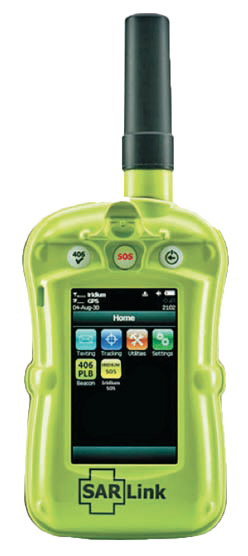 The Iridium based features of the SARLink fulfill the requirements for Blue & Friendly Force Tracking, as well as two-way messaging for command and control. The 406 MHz locator beacon leverages the proven reliability of the Cospas-Sarsat network, which has successfully aided search and rescue personnel around the world in saving over 37,000 lives since the mid-1980's.
SARLink can be provisioned to operate on the DoD Gateway utilizing the Defense Information Systems Agency (DISA), Enhanced Mobile Satellite Services airtime contract, or the Iridium Commercial Gateway, supporting 10, 30 byte, and PECOS formats. The 406 MHz beacon can be configured to standard or national protocol. SARLink incorporates a second battery dedicated to 406 MHz operation, providing more than 24 hours of distress messaging.
Military personnel equipped with a SARLink will benefit from the following distinct operational capabilities:
• Dedicated SOS Button—redundant emergency notification through the Cospas-Sarsat and Iridium networks with embedded Precise Location Information (PLI)
• Iridium Only Distress Alerting—option to engage the Iridium-only distress alert, user-defined notification to proprietary command centers and personnel
• Two-Way Data Communication—send and receive free-text and canned messages using the on-board QWERTY touch screen keyboard to verify and validate distress messages as well as routine operational command and control
Communicate via text with: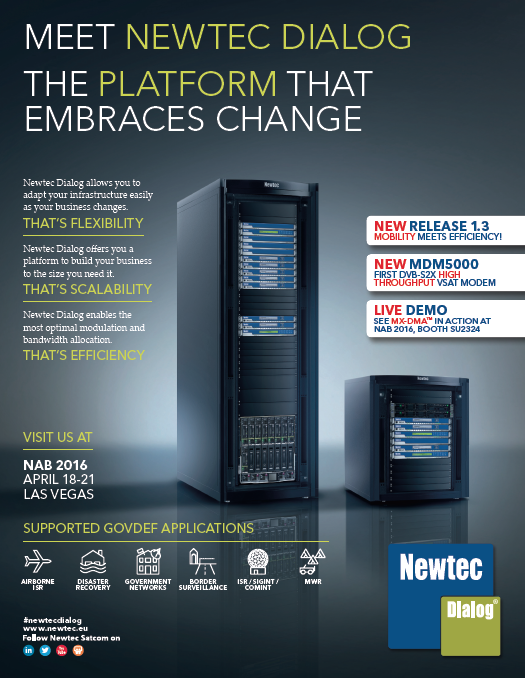 • Other mobile cellular and satellite devices
• Other SARLink devices + any email service.
• Contact lists can be pre-defined and can incorporate canned messages that are scripted and loaded across agency devices
• Friendly Force Tracking—transmit PLI at selectable intervals from once per minute to once per day. Create, save, and send waypoints as well as manual check-ins
Gerald Angeli, ACR Electronics President and General Manager, said, "Developing new products such as the SARLink to enhance the safety of military personnel brings further validation to the importance of what we do here at ACR."
acrartex.com/
*Sales of this product are limited to the U.S. Military and Government entities.
**This device has not been authorized for commercial sale and use as required by the rules of the FCC. This device is not, and may not be offered for sale or lease, or sold or leased, unless specific written authorization is obtained.
---
Partnerships For APAC Region MILSATCOM Developed By Airbus Defence & Space
Airbus Defence and Space is working with local service providers to develop new partnerships to deliver highly resilient Skynet military satellite communication services to the Asia Pacific (APAC) region, following the successful completion of Skynet 5A satellite move from 6 degrees East to 95 degrees East to provide global X-band and UHF coverage in this region.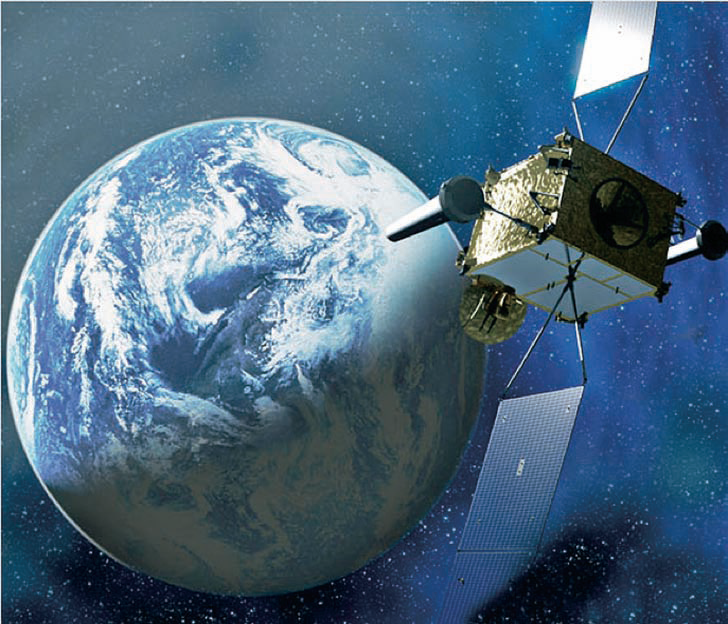 Airbus Defence and Space has signed an agreement with CopaSAT to become a new channel partner for Skynet services, primarily using the relocated Skynet 5A satellite.
CopaSAT will be offering Skynet services as part of a proven and assured portfolio to their US customers delivering innovative network services that combine the affordability, operational utility and scalability required to meet the complex scenarios experienced in global security and humanitarian operations.
Last year, Airbus Defence and Space worked with CopaSAT, and its terminal partner Tampa Microwave, to conduct a series of successful network tests using the Skynet 5A X-band satellite.
CopaSAT teams, using CopaSAT's teleport infrastructure and Tampa Microwave's remote manpack and fly-away terminals, as well as various other small terminals, conducted end-to-end testing to confirm operation of an entire network and the performance of Skynet 5A at the new orbital slot.
Airbus Defence and Space completed the move of the Skynet 5A to 95 degrees East over the Asia Pacific region in September 2015.
The relocation was initiated to extend the Skynet constellation's coverage and services from 178 West to 163 East, including the Indian Ocean and Western Pacific region.
The Skynet network now offers global military coverage, expanding core service reach for the UK military and augmenting coalition capabilities in the region.

Airbus Defence and Space owns and operates the hardened Skynet X-band satellite constellation of eight satellites and the ground network to provide all Beyond Line of Sight (BLOS) communications to the UK Ministry of Defence.
The contract also allows other NATO and allied governments such as members of the five-eyes community (besides UK, the USA, Australia, New Zealand and Canada) to use the Skynet system to augment their existing services.
Airbus Defence and Space also leases the X-band hosted payload on Telesat's Anik G1 satellite which covers the Americas and parts of the Pacific including Hawaii and Easter Island.
Obie Johnson, President of CopaSAT, said, "We have worked with Airbus Defence and Space for five years primarily as a terminal partner, but we are now positioned to provide CopaNET to our US troops throughout the PACRIM, Asia, and west to Arabia."
Steve Mills, Head of Global Sales and Marketing for Skynet 5 at Airbus Defence and Space, said, "This new partnership with CopaSAT will enable Skynet services to be delivered across new regions and to new customers. This capability provides allied governments with a significant new option for missions requiring assured communications, which can operate using light-weight, expeditionary terminals and is not susceptible to rain or snow fade."
airbusdefenceandspace.com/
---
Cobham Shows Smallest Solution... Enhances Tactical UAV's Capabilities
Cobham SATCOM has developed the smallest and lightest Inmarsat UAV satcom solution—the 1.45 kg AVIATOR UAV 200.

Redefining UAV SATCOM connectivity by integrating all components into one compact lightweight unit, the new system delivers Inmarsat Class 4 SwiftBroadband services in a low-SWAP package which is 76 percent lighter than existing comparable products on the market.
The AVIATOR UAV 200 has been introduced by Cobham to significantly enhance a Tactical Unmanned Aerial Vehicle's (TUAV) performance, range and payload capability by enabling operators to take advantage of the higher speed connectivity from today's satellite networks.
A cost-effective solution, the AVIATOR UAV 200 delivers greater operational flexibility for TUAVs in a number of applications, including military, border security enforcement, public safety, commercial use and scientific research.
Kim Gram, vice president of Cobham SATCOM's aeronautical business unit, said, "We are very pleased to introduce this revolutionary new solution for tactical UAVs, as it will provide these widely-used aircraft with a number of benefits for the first time and open up important opportunities within different applications in the field.
"Until now, the size, weight and power requirements of Inmarsat satcom hardware were too restrictive for smaller UAVs which depend upon lightweight components to maximize range, endurance and operational use. AVIATOR UAV 200 matches the connectivity and performance of larger, class-leading satcom systems, but in a far smaller, lighter and less power-demanding package."
With improved SATCOM technology, UAV operators can benefit from improved aircraft control and situational awareness, with the ability to make real-time route adjustments while simultaneously tracking the airframe.
Operators also have a constant overview of on-board systems and structural integrity with real-time health monitoring. Better connectivity allows access to BLOS situational data and live streaming of imagery and video which expands the role of real-time scene surveillance UAVs.
Mounted within the airframe and measuring 24cm x 16cm x 6cm, the Cobham AVIATOR UAV 200 delivers up to 200 kbps data and full, real-time control of data channels.
Andy Start, President, Inmarsat Global Government, said, "Today's announcement is a further example of Inmarsat's leadership in the UAV industry. We have seen a global demand from military and government customers looking to increase the operational effectiveness of their TUAV platforms. Enabling Satcom on these small airframes really is a game changer.
"Increasingly, we are finding that our government customers around the world need to do more with highly challenged budgets. This product allows beyond line of sight flight and payload control for a wide range of small UAV platforms where previously this has simply not been possible. Adding the ability to extend their operational range significantly and provide access to real time situational data and video, it is a truly compelling package."
---
SIA Leadership In Government Award Goes To Lt. Gen. John W. "Jay" Raymond
The Satellite Industry Association (SIA) presented their 2016 Leadership In Government Award at their 19th Annual Satellite Leadership Dinner held in Washington, DC.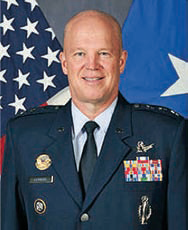 SIA President Tom Stroup presented the Award to Lieutenant General John W. "Jay" Raymond, Deputy Chief of Staff for Operations, Headquarters, U.S. Air Force, Washington, D.C.
"SIA is pleased to recognize Lt. Gen. Raymond for his advocacy, leadership and understanding of our industry's capabilities both now as Deputy Chief of Staff for Operations, Headquarters U.S. Air Force here in Washington and during his previous assignment as Joint Functional Component Commander Space and 14th Air Force Commander," said Tom Stroup, President of SIA. "His leadership was instrumental to improved coordination, communication, safety and security for the DoD and the commercial space community, notably within the Commercial Integration Cell of the JSpOC."
"I am honored to receive this prestigious award, and greatly appreciate the strong partnership we enjoy with the commercial industry," said Lt. Gen. Raymond when accepting the award. "We are an integrated multi-domain Air Force, and the commercial capabilities [the industry] provides are critical to our success."
SIA's Satellite Leadership in Government Award is traditionally presented to a current or former government official or member of Congress who has demonstrated long-term leadership and dedication to public service on issues affecting the satellite industry and has served as an example to others in government.
sia.org/
---
MUOS-5 Delivered By Lockheed Martin To Cape Canaveral AFS For May Launch
The U.S. Navy and Lockheed Martin delivered the fifth Mobile User Objective System (MUOS) satellite to Cape Canaveral Air Force Station, Florida, on March 3, prior to its expected May launch.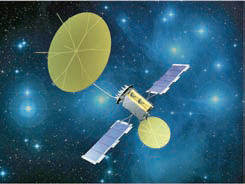 The spacecraft will be the third MUOS satellite launched in a 16-month span, a cadence that demonstrates the production line concept put into place for the delivery of this five-satellite build.
MUOS-5 is the latest addition to a network of orbiting satellites and relay ground stations that is revolutionizing secure communications for mobile military forces. Users with operational MUOS terminals will be able to seamlessly connect beyond line-of-sight around the world and into the Global Information Grid. MUOS' new capabilities include simultaneous, crystal-clear voice, video and mission data, over a secure high-speed Internet Protocol-based system, similar to today's smart phones.
MUOS-5 will complete the Navy's baseline constellation and serve as an on-orbit spare for the system, ensuring the network is always available to support U.S. and allied mobile forces.
Lockheed Martin manufactured MUOS-5 at its Sunnyvale, California facility. The satellite was loaded aboard a C-5 Galaxy aircraft at nearby Moffett Federal Air Field by the 60th Air Mobility Wing of Travis Air Force Base. Astrotech Space Operations, a Lockheed Martin wholly-owned subsidiary in Florida, will complete MUOS-5's pre-launch processing.
The satellite joins MUOS-1, MUOS-2, MUOS-3, and MUOS-4 already on orbit. All four required MUOS ground stations are complete. More than 55,000 currently fielded radio terminals can be upgraded to be MUOS-compatible, with many of them requiring just a software upgrade.
Once fully operational, the MUOS network will provide 16 times the capacity of the legacy ultra high frequency communications satellite system, which it will continue to support, and eventually replace.
lockheedmartin.com/muos
---
24/7 Overwatch In Afghanistan By USAF Jalalabad Predators
Editor's Note: The last names of certain Airmen are withheld in accordance with operational security requirements.
In a small, fenced-in compound on Jalalabad Airfield, an equally small unit of Air Force pilots and sensor operators are playing a large role in the Department of Defense's (DoD) intelligence, surveillance, and reconnaissance (ISR) mission.
Although the Air Force is progressing toward an all-MQ-9 fleet by fiscal year 2019 as the MQ-1s are phased out, the 62nd Expeditionary Reconnaissance Squadron Detachment 1's mission is very much alive in Afghanistan. The MQ-1B, an armed, multi-mission, medium-altitude, long-endurance remotely piloted aircraft is employed primarily as an intelligence-collection asset and secondarily against dynamic execution targets.
"We have two combat air patrols in support of Operation Freedom's Sentinel," said Capt. Steven, 62nd ERS Detachment 1 commander. "We provide full-motion video ISR as well as close air support capabilities to troops on the ground and feedback back to our home station and headquarters."
The Predator carries the Multi-Spectral Targeting System, which integrates an infrared sensor, color/monochrome daylight TV camera, image-intensified TV camera, laser designator and laser illuminator.
The full-motion video (FMV) from each of the imaging sensors can be viewed as separate video streams or fused.
The aircraft can employ two laser-guided missiles, Air-to-Ground Missile-114 Hellfire, that possess highly accurate, low-collateral damage, and anti-armor, anti-personnel engagement capabilities.
In Afghanistan, the MQ-1B provides a unique capability to perform strike, coordination and reconnaissance against high-value, fleeting, and time-sensitive targets.
"Here at Jalalabad, we do the launch and recovery aspect of the MQ-1," said Steven. "We don't fly any missions here. We launch a plane and then hand it over to a stateside mission control element crew who will fly the sortie and come back, and then we will land it."
The primary concept of operations, remote split operations, employs a launch-and-recovery ground control element for take-off and landing operations at the forward operating location, while the crew based in the United States executes command and control of the remainder of the mission via beyond-line-of-sight links.
Remote split operations result in a smaller number of personnel deployed to a forward location, consolidate control of the different flights in one location, and as such, simplify command and control functions as well as the logistical supply challenges for the weapons system.
That does not mean that the 62nd's mission isn't a critical one in Afghanistan.
"Without us here at JBAD, the planes don't get airborne and the missions don't fly," said Steven. "The importance of that is, it keeps costs down for the Air Force. It allows them to deploy a few pilots to launch and recover 24-hour operations verses deploying dozens of pilots who have to fly the constant sorties."
The basic crew for the Predator is a rated pilot to control the aircraft and command the mission, and an enlisted aircrew member to operate sensors and weapons as well as a mission coordinator, when required.
The crew employs the aircraft from inside the ground control station via a line-of-sight data link or a satellite data link for beyond line-of-sight operations.
This basic configuration is often one not known or understood by those outside of the remotely piloted aircraft community.
"The misunderstood aspect of this is that people often use the word 'drone,'" said Steven. "The Air Force doesn't like that term because it implies autonomy. Our planes are not autonomous in any way, shape or form. At all times a pilot and a sensor operator are in control of that aircraft. There is no point in time where there isn't a pilot in control."
In fact, any kinetic strikes performed by MQ-1B Predators are more coordinated that many would expect.
"As an RPA pilot, I've been over the same target for a week, watching the same building, watching the same person, every day, building patterns of life. If I've been watching a target for 10 hours on just a one day alone, I know who's in the area, what's safe, what's not safe, where children are, where the school is, where the mosque is, which buildings to avoid, and I know which people are the bad guys with utmost certainty. Any pilot or sensor operator that takes control of the aircraft at any given time is intimately aware of the layout of the village or location."
Sensor operators at the 62nd ERS Detachment 1 play an equally important role in the mission at Jalalabad.
"The sensor operators here act more as a copilot than they do a sensor operator. In the launch and recovery portion there's no ISR to do," said Steven. "They back us up when we do the engine run-ups. They scan temperatures, fluid levels and things like that. When we are airborne they are backing us up on making sure we are at appropriate air speeds for takeoffs and landings, checking altitudes, and boresighting lasers used for targeting."
Stateside, the sensor operators are in control of the camera and help find and develop targets.
Pilots and sensor operators work in unison to put the aircraft and camera in the best position possible to get the best view for ISR and weapons delivery.
"Stateside we'll run the camera and track targets. Here, we're more of a copilot," said Senior Airman Adam, 62nd ERS Detachment 1, MQ-1B sensor operator. "We're running checklists for the pilot, monitoring systems on the airplane and making sure everything is good to go, as well as calculating speeds and weights for the aircraft in flight."
All in all, the 62nd ERS acts as the tip of the spear by monitoring and mitigating enemy activity without adding unnecessary human risk to US military personnel.
"Our mission is real," said Steven. "We're flying full-sized aircraft with live ordinance on board, taking care of the mission and eliminating threats to the American people."
Story by Tech. Sgt. Robert Cloys, 11th Wing Public Affairs, 455th Air Expeditionary Wing, USAF
---
Juniper Cobra: Comm check 1,2,3
In Israel, Airmen and Soldiers from three combat communications units worked together to maintain communication for more than 1,700 US Total Force service members and civilians who participated in exercise Juniper Cobra.
Juniper Cobra used ballistic missile defense computer simulations to train U.S. and Israeli service members while reinforcing a strong military relationship.
For the first time, Airmen from the 1st Combat Communications Squadron (CBCS), 52nd CBCS and soldiers from the 44th Expeditionary Signals Battalion worked together to support U.S. European Command.
"In my 22 years working in a communications squadron, this is the first time three full comm units have ever worked together," said Col. Andrew D'Ippolito, United States Air Forces in Europe and Air Forces in Africa contingency and engagements division chief.
"It's very very rare for multiple [communications] squadrons to work together," said Staff Sgt. Shirim Bishop, 1st CBCS tactical network operations supervisor temporarily deployed from Ramstein Air Base, Germany.
"It normally only takes one unit, but with this large exercise they wanted to deploy multiple units to see how it works in the event that we would have to support a real-world situation."
For such a large scale computer-assisted exercise, maintaining communication is essential to the training.
"Without communication the joint task force will have no command and control, and will not be able to accomplish the mission," said 1st Lt. Kyle Kiriyama, 44th ESB platoon leader from Grafenwohr, Germany. "Communication is one of the most important pieces of this exercise."
"The exercise would come to a halt if the communications lines were to go down," said Senior Airman Joseph Smith, 52nd CBCS communications specialist from Robins Air Force Base, Georgia.
Supporting the JC16 mission brought comradery among the three units along with some challenging learning opportunities.
"The initial setup was challenging but we got over the hurdles pretty easily," Smith said.
For Kiriyama, it was figuring out the roles and responsibilities for each unit, that he found the most challenging.
"We needed to figure out which unit is responsible for each building, area and what services were provided to customers," Kiriyama explained.
Learning each other's methods of troubleshooting an issue and the different ways of handling a situation as a team is one of the challenges the units have overcome during JC16.
"For a lot of soldiers this is our first joint exercise," Kiriyama said. "We've learned a lot about how the Air Force functions, how they deploy their communications assets and support customer's versus how we support our customers in the Army."
For Smith, working alongside the Israeli's and learning new skills from his partner combat communications units was rewarding.
The team did an outstanding job working together and maintain communications throughout the exercise. I'm very proud of what they accomplished out here, D'Ippolito said.
"Our motto is 'First in, Last out,'" concluded Bishop. "We're usually the first unit in theater, and the last unit to leave. We setup before anyone else gets here, and we leave after everyone is gone. We provide the service that people need throughout the exercise."
Story by Staff Sgt. Stephanie Longoria, 48th Fighter Wing Public Affairs, 438th Air Expeditionary Wing, USAF, U.S. European Command
---