Design Reuse Plays A Crucial Role
Northrop Grumman Corporation has delivered the second of two payloads that will be hosted on government-owned satellites to bring next-generation protected, Extremely High Frequency (EHF) communications to users in the north polar region (above 65 degrees North).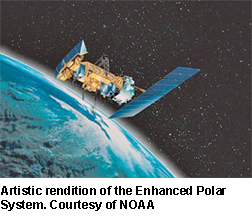 Developed for the U.S. Air Force's Enhanced Polar System (EPS), the payload efficiently leverages hardware and software designs Northrop Grumman originally developed for Advanced EHF (AEHF) protected military communication satellites.
"Reuse of existing hardware and software resulted in a highly successful EPS payload development, providing a significant value for Americans," said Stuart Linsky, vice president, Communication Programs, Northrop Grumman Aerospace Systems. "As we did with the AEHF payloads, both EPS payloads were delivered ahead of the government need. Like the first EPS payload, the second successfully used flight-proven components, dramatically lowering development risk, cost and schedule of the highly advanced anti-jam payloads. As a result, we kept nonrecurring engineering costs and other expenses associated with first article satellites to an absolute minimum."
The EPS network will replace the current Interim Polar System and serve as a polar adjunct to the Advanced EHF system. Both EPS payloads feature an onboard processing unit similar to those on AEHF satellites but scaled down to meet reduced mission capacity requirements.
The payloads integrate functions of the Configurable On-board Router, Demodulator and Resource Control Computer/Security Equipment Computer on AEHF payloads into a single eXtended Data Rate Processing Unit on EPS.
EPS payload development started in 2008. The Air Force plans final operational capability for EPS for calendar year 2018. EPS consists of two EHF payloads hosted on government satellites, a Gateway Segment to connect modified Navy Multiband Terminals to other communication systems, a User Terminal Segment and a Control and Planning Segment (CAPS). Northrop Grumman was recently selected to develop the EPS CAPS to operate the EPS payloads.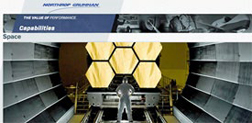 Northrop Grumman's foundational payload control and planning capability leverages proven technologies from various heritage programs and the Common Network Planning Software system the company developed for the Wideband Global Satellite program to provide an affordable, scalable ground control capability for future protected satellite communications (SATCOM) growth. The MILSATCOM directorate at the Air Force's Space and Missile Systems Center at Los Angeles Air Force Base, California, is acquiring the Control and Planning and Gateway Segments.
"The successful scaling of AEHF components demonstrated by EPS provides a low risk basis for affordable protected SatCom with AEHF levels of protection at the cost of vulnerable unprotected SatCom," said Tim Frei, vice president, Communication Systems for Northrop Grumman. "EPS proves that we can transition Technology Readiness Level 9, anti-jam, low probability of intercept communications into new platforms at low cost and risk, providing real protected SATCOM at no more cost than unprotected SATCOM. This will be a game changer for the government. This is part of Northrop Grumman's broad affordability initiative, which seeks to combine the best commercial technologies with TRL 9-level government technologies. These components include Low Cost Terminals, lower cost satellites, payloads, launch and ground control."
* * * * * * * * *

A CRADA Agreement
The Space and Missile Systems Center has signed a Cooperative Research and Development Agreement (CRADA) with Space Exploration Technologies Corp., better known as SpaceX, as part of the company's effort to certify its Falcon 9 v1.1 Launch System for National Security Space (NSS) missions.
This cooperative agreement facilitates data exchanges and protects proprietary and export-controlled data. The CRADA will be in effect until all certification activities are complete.
A CRADA enables the Air Force to evaluate the Falcon 9 v1.1 launch system according to the Air Force's New Entrant Certification Guide (NECG). As part of the evaluation, SMC and SpaceX will look at the Falcon 9 v1.1's flight history, vehicle design, reliability, process maturity, safety systems, manufacturing and operations, systems engineering, risk management and launch facilities. SMC will monitor at least three certification flights to meet the flight history requirements outlined in the NECG.
Once the evaluation process is complete, the SMC commander will make the final determination whether SpaceX has the capability to successfully launch NSS missions using the Falcon 9 v1.1. SMC anticipates entering into additional CRADAs with SpaceX to evaluate its Falcon Heavy rocket and with Orbital Sciences for its Antares launch vehicle.
"Certifying Evolved Expendable Launch Vehicle's for new entrants is in keeping with the Air Force strategic intent to promote the viability of multiple domestic EELV-class launch providers as soon as feasible," said Col. William Hodgkiss, Launch Systems director.
Currently, United Launch Alliance's Delta IV and Atlas V are the only certified launch vehicles capable of lifting NSS payloads into orbit. The addition of multiple certified launch vehicle providers bolsters assured access to space by providing more options for the warfighter to place needed capabilities on orbit. While certification does not guarantee a contract award, it does enable a company to compete for launch contracts. Those contracts could be awarded as early as Fiscal Year 2015 with launch services provided as early as Fiscal Year 2017.
* * * * * * * * *

DoD Doing All They Can...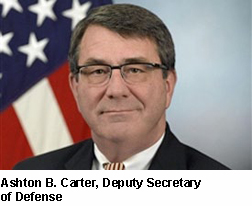 The Defense Department is doing all it can to minimize the effects of sequestration spending cuts, Deputy Defense Secretary Ash Carter told a "think tank" audience here today.
"We're doing everything we can to manage our way through this very difficult and abrupt circumstance," Carter said at the Center for a New American Security.
Carter said the $37 billion in fiscal year 2013 spending cuts would not be so bad for any one area if they were spread over all DOD accounts, but they cannot be, though DOD exempted warfighting accounts from any cuts."We protect that. We have to," Carter said. "It's a war."
The president exempted military compensation from sequestration, the deputy secretary said. "Then we exempted a number of critical functions from sequester, for example, nuclear deterrence, our ability to respond to crises ... and on down the line, taking some things off the table entirely," he added.
The department then tried to protect those things critical to the execution of U.S. military strategy, Carter said, and applied the $37 billion reduction to what was left.
"That hits particularly hard in the operations and maintenance accounts," he told the audience. "These are the accounts that support training, and as a result, military readiness plummets."
The Air Force has grounded 13 combat squadrons for the rest of the fiscal year. Navy officials have cancelled ship deployments and deferred maintenance. But the cuts hit particularly hard on the Army, Carter said. The Army has cancelled most of its major training events for the rest of the fiscal year. The deputy secretary said he does not know how long it will take to reconstitute this readiness following sequestration.
"At a minimum, [it's] embarrassing to be doing this, in the eyes of friends and foes alike, and at a maximum, [it's] unsafe," he said of the sequestration cuts.
The situation reinforces in the minds of national security leaders the necessity to be prepared for what might happen in the future, Carter said.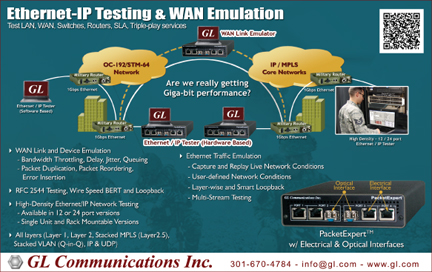 Story by Jim Garamone, American Forces Press Service
* * * * * * * * *

Persona Placed Into Orbit
A Soyuz-2.1B carrier rocket orbited a military satellite last week, the defense ministry's spokesman in charge of Russia's Aerospace Defense Forces said.
The rocket blasted off from the Plesetsk launch site in Russia's north at 22:37 Moscow time on Friday.
"The spacecraft separated from the third stage of the rocket as scheduled," Col. Dmitry Zenin said.
According to previous reports, the satellite is the second in the new Persona series of electro-optical reconnaissance satellites based on the Resurs DK remote sensing satellite.
The first Persona satellite (Kosmos 2441) was launched onto a sun synchronous orbit in July 2008 but reportedly malfunctioned in February 2009 due to a failure in electronic components.
Russia operates a network of about 60-70 military reconnaissance satellites, featuring updated imaging technology and an extended lifetime of up to seven years, according to open sources.
* * * * * * * * *

SDRs For The Middle East
Harris Corporation has received a $23 million order from a country in the Middle East as part of its tactical communications modernization program.
Harris will provide the country with Falcon III® radios, accessories, software, service and support as part of a transformational wideband tactical communications system. The system provides battlefield forces with greater command and control and situational awareness by transmitting tactical voice, video and data.
The system integrates a full suite of software-defined radios from the Harris Falcon III® RF-7800 family. This includes the lightweight RF-7800S, a soldier personal radio for full-duplex voice and data communications over 2 kilometers; the RF-7800M for wideband mobile ad-hoc networking; and the RF-7800W High-Capacity Line-of-Sight Internet Protocol radio for high-speed backhaul data communications. The order also includes networking components, accessories and spares.
* * * * * * * * *

Communicating With A Smaller Footprint
Communications Marines with the 22nd Marine Expeditionary Unit learned how to quickly establish communications using more efficient equipment and a smaller footprint at Marine Corps Base Camp Lejeune, North Carolina.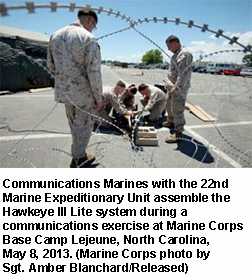 Setting up a small forward operating base, Marines from Joint Communications Support Element aboard MacDill Air Force Base in Tampa, Florida, introduced the MEU Marines to the Hawkeye III Lite system. The system is a lightweight communications satellite that provides a quick way to establish communications using a smaller footprint. The system is meant for missions that require a minimal amount of gear and personnel, such as a site visit. "If you have a small team that goes out, you don't need a big data package," said Staff Sgt. Christopher Webber, JCSE initial entry team chief and native of Altamount, Florida. "For us, we have three small suitcases and you can quickly give the team leader capabilities such as data, email and communication to the ship, to the MEU headquarters."
When the system is assembled and powered up, Marines can get remote Internet, live videoconferencing, surveillance or reconnaissance feeds as needed. The system minimizes the need to bring multiple vehicles and systems for small groups of Marines while allowing for appropriate security level communication between personnel. The system can operate on a range of security classification levels, depending on the task. The MEU employs a system similar to the Hawkeye III Lite that helps to streamline their capabilities as a quick reaction force."It gives us the ability to deploy with small teams and provide full network capabilities," said Sgt. Andrew Lee, 22nd MEU cyber security manager and St. Louis native. "It provides the same capabilities as some of the bigger equipment."
Story by Sgt. Amber Blanchard, 22nd Marine Expeditionary Unit