Rocket Lab's seventh Electron launch successfully lifts off
A Rocket Lab Electron launch vehicle successfully lifted off from Launch Complex 1 on New Zealand's Mahia Peninsula at 04:30 UTC, Saturday, June 29, 2019 (16:30 NZST).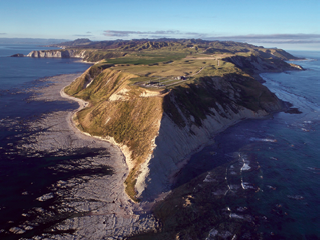 The Make It Rain mission launched seven satellites to orbit for rideshare and mission management provider, Spaceflight.
At approximately 56 minutes after lift-off, the Make It Rain payloads were successfully delivered to their precise individual orbits by Electron's Kick Stage.
The seven satellites on board included two U.S. Special Operations Command (SOCOM) Prometheus satellites, BlackSky's Global-3 as well as Melbourne Space Program's ACRUX-1 satellite.
The mission was Rocket Lab's seventh launch of an Electron rocket and the company's third launch for 2019.
The mission took the total number of satellites deployed by Rocket Lab to 35 and continues the company's record of 100 percent mission success for their customers.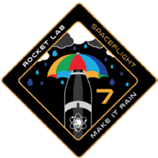 Rocket Lab's next mission is yet to be announced; however, a lift-off from the company's Launch Complex 1 in New Zealand could occur in the coming weeks.
Rocket Lab's manifest is booked with monthly launches for the remainder of 2019, culminating to a launch every two weeks in 2020.
Rocket Lab Founder and CEO, Peter Beck, congratulated the teams behind the payloads on this mission for another flawless Electron launch. It's a privilege to provide tailored and reliable access to space for small satellites like these, giving each one a smooth ride to orbit and precise deployment, even in a rideshare arrangement.
www.rocketlabusa.com
---
Rocket Lab launch information continued...
U.S. Special Operations Command (SOCOM) launched their first eight cubesats into orbit in November of 2013 to initiate the organization's project entitled, "Prometheus."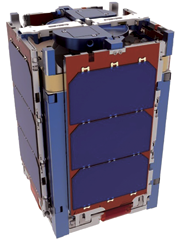 These smallsats were developed in partnership with the Los Alamos National Laboratory (LANL) in Los Alamos, New Mexico and the program was recognized with a Secretary of Energy Achievement Award during a special ceremony in Los Alamos, New Mexico.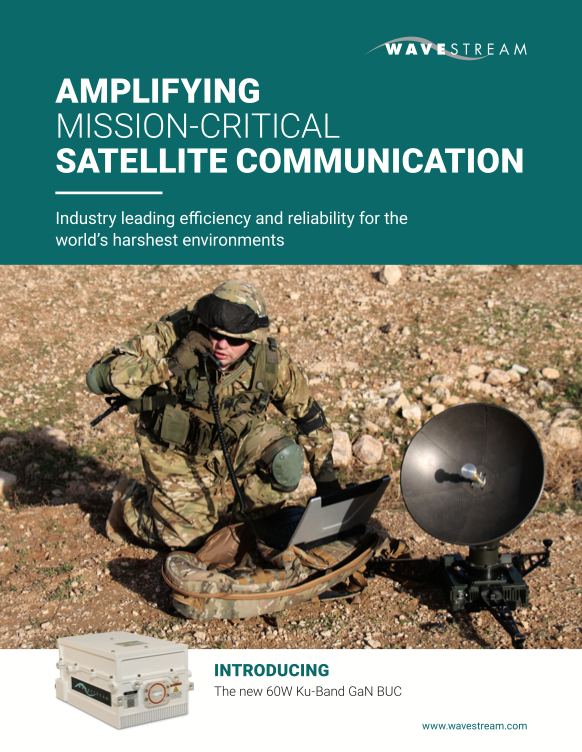 The Prometheus cubesats are part of a technology development and demonstration effort to explore the viability of using a smallsat constellation to meet existing special operations mission requirements. The Prometheus project is just one of a handful of initiatives are continuing to improve the responsiveness of space capabilities and provide SOF with tactically relevant information in shorter timelines.
"Our special operations forces are often deployed to locations that place them at the very edge of traditional satellite communications capabilities. This can present a serious challenge for our forces to effectively operate," said James F. "Hondo" Geurts, then the Acquisition Executive at USSOCOM. "Seeing this problem set, the Los Alamos team mobilized their significant expertise and mission focused mindset to invent, refine, and rapidly field a radically affordable and operationally responsive approach to solving this hard problem. In doing so, this team enabled new capabilities for our nation's deployed special operations forces. We congratulate them for this well-deserved and significant recognition and are fortunate to have them as part of the SOF team."
The technology developed by the Prometheus team has helped to shape the future direction of agile space systems for the U.S. military and the Department of Energy.

The cubesats are demonstrating the capability to transfer audio, video, and data files from man-portable, low-profile, remotely located field units, to deployable ground terminals, using over the horizon satellite communications.
The Prometheus demonstration will provide the critical information needed to evaluate the approach, technology, concept of operations, operational utility, and affordability of future space systems.
www.army.mil/usasoc/
---
Sitting in the middle of space history...
When Lieutenant Colonel Ryan Rose sat at her on console on July 2 to support NASA's Ascent Abort (AA)-2 flight test from Launch Complex-46, she'll was situated in the middle of 50 years of space history — the Hangar AE Control Center.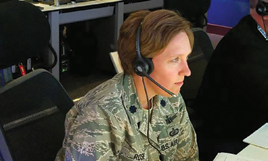 Lt. Col. Ryan Rose, chief of the Small Launch and
Targets Division at Kirtland Air Force Base, New Mexico,
sits on console during a countdown dress rehearsal prior
to the July 2 flight test of the launch abort system for the
Orion multipurpose crew vehicle.
Photo is courtesy of NASA.
As a member of the AA-2 mission's senior management team with NASA and contractors, Rose was the senior Space and Missile Systems Center representative during the in-flight test of the launch abort system for the Orion multi-purpose crew vehicle. The three-minute mission of the Orion MPCV test article and its safety system will be conducted from the historic control center.
"This place is nationally significant as the telemetry station for the Air Force's and NASA's unmanned expendable launch vehicle programs," said Rose, chief of the Small Launch and Targets Division at Kirtland Air Force Base, New Mexico, part of SMC's Launch Enterprise Systems Directorate.
Adjacent to NASA's John F. Kennedy Space Center, the Hangar AE Control Center has long been used by SMC, NASA and other customers as a communications center, to receive and monitor telemetry data from launch vehicles and spacecraft, both on the ground and during flight.
The Mission Director's Center, or MDC, is the premier control room within Hangar AE. The MDC is designed for Lt. Col. Rose and other senior launch professionals, to support launch vehicle ground testing and liftoff operations.
"This place is definitely getting a workout as part of SMC's 'Summer of Launch '19' campaign," said Robert Douglass, chief of the Launch Operations Branch within SMC's Small Launch and Targets Division. "It's being used for the integrated countdown exercises, or 'ICE' led by SMC teams handling the fifth Advanced Extremely High Frequency (AEHF-5) mission as well as our efforts to support NASA's Ascent Abort-2 flight test."
Built in 1959, Hangar AE first supported the U.S. Air Force's Thor missile program, which has a strong California connection. Forerunners of today's modern SMC conceived, developed and managed Thor under the guidance of General Bernard Schriever, father and architect of SMC and military space.
The intermediate range ballistic missile was built by the Douglas Aircraft Company in Santa Monica and Rocketdyne of Canoga Park and Simi Valley and was tested on instrumented stands in Rancho Cordova, outside Sacramento, and the Phillips Laboratory at Edwards AFB.
Over the next five decades, the Thor IRBM would evolve into the venerable Delta and Delta II space launch vehicle. A legendary workhorse of the American space program until its final flight from Vandenberg Air Force Base in Sept. 2018, the Delta variants launched rovers to Mars, sent robotic probes to the moon, comets and the asteroids, put astronomical observatories into orbit and deployed the Iridium global communications network as well as the first GPS satellites.
Originally known as Missile Assembly Building AE for the Thor IRBM, and later as the Spacecraft Assembly and Checkout Building, Hangar AE was acquired from the Air Force in 1960 by NASA and modified for unmanned missions. It contains a Class 10,000 horizontal laminar flow clean room complex, a telemetry ground station, an extensive communications center for data, voice and video, three launch vehicle data centers, the Mission Director's Center, and offices for payload and contractor personnel. Although located on Cape Canaveral Air Force Station, Hangar AE is maintained by NASA's Kennedy Space Center.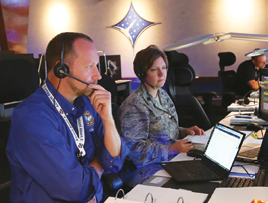 Lt. Col. Ryan Rose sits on console with Orion AA-2
Crew Module Manager, Dr. Jon Olansen, during a
countdown dress rehearsal ahead of the July 2 flight
test of the launch abort system for the Orion multi-
purpose crew vehicle. Photo is courtesy of NASA.
The MDC underwent a major upgrade in 2017 to provide 34-inch ultrahigh-definition monitors, allowing senior managers to see video, voice and data all on one screen. With the modular design of the systems, the MDC can support missions at both Cape Canaveral AFS on the East Coast and Vandenberg AFB on the West Coast.
Robert DeWitt, Jr., who is running the launch checklist as the Air Force's Abort Test Booster mission manager for AA-2, offered another perspective on how the MDC has changed over time.
"Over 50 years ago, a mission manager sat on this console using analog systems and vacuum tubes," said DeWitt. "For this mission, I used a digital computer system to manage launch data. I wonder what the next generation will be using when they are on console in the MDC."
Hangar AE allows independent verification and validation of vehicle and spacecraft telemetry for unmanned launch operations and provides real-time voice, data and video information for expendable vehicle checkout and launch operations. It provides connectivity to all launch pads at the Kennedy Space Center and Cape Canaveral AFS. Hangar AE can also obtain data from other launch sites beyond those at KSC and CCAFS. Launch sites for missions the facility has gathered telemetry on include Vandenberg AFB in California, the Reagan Test Site on Kwajalein Atoll in the Marshall Islands, NASA's Wallops Flight Facility in Virginia and the Kodiak Launch Complex in Alaska.
---
Space Norway, Kongsberg Satellite Services and Northrop Grumman combine forces for two, HEO satellites for Norwegian Defense and Arctic comms
Space Norway will work with Inmarsat and the Norwegian Ministry of Defence to offer mobile broadband coverage to civilian and military users in the Arctic.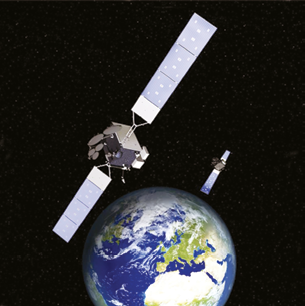 Northrop Grumman will design, manufacture and integrate two
satellites for Space Norway's Arctic Satellite Broadband
Mission systems in addition to providing critical ground
infrastructure.
Two satellites will be built by Northrop Grumman and are scheduled to be launched by SpaceX in late 2022 aboard a SpaceX Falcon 9 rocket into a Highly Elliptical Orbit (HEO), which will provide full coverage from 65 degrees North, which, in practical terms, is the area North of the Arctic Circle.
This limited liability company is owned by the Norwegian government and has established a new subsidiary company — Space Norway HEOSAT AS — to manage the program and operate the two satellites together with Kongsberg Satellites Services (KSAT) in Tromsø, Norway, who will be responsible for the ground stations to be established in North Norway and to ensure Norwegian control of this important capability.
Each of the two satellites will carry multiple payloads and the system is scheduled to be operational for at least 15 years, with users able to switch between current geostationary and HEO satellites. Each satellite will have a mass of 2000 kg. and provide 6 kWatt power through their sun arrays.
The program is fully financed with customer agreements in place for the service life of the satellites.
Northrop Grumman announced last year that it will provide two, Extremely High Frequency eXtended Data Rate (EHF XDR) payloads for the Enhanced Polar System-Recapitalization (EPS-R) to the U.S. Air Force for integration on the spacecraft. The systems are designed to improve secure and continuous communications in the North Polar Region. Additionally, Northrop Grumman was selected to provide critical ground infrastructure for EPS-R.
The ASBM satellites will carry multiple hosted payloads, including an X-band payload for the Norwegian Ministry of Defense and a Ka-band payload for Inmarsat.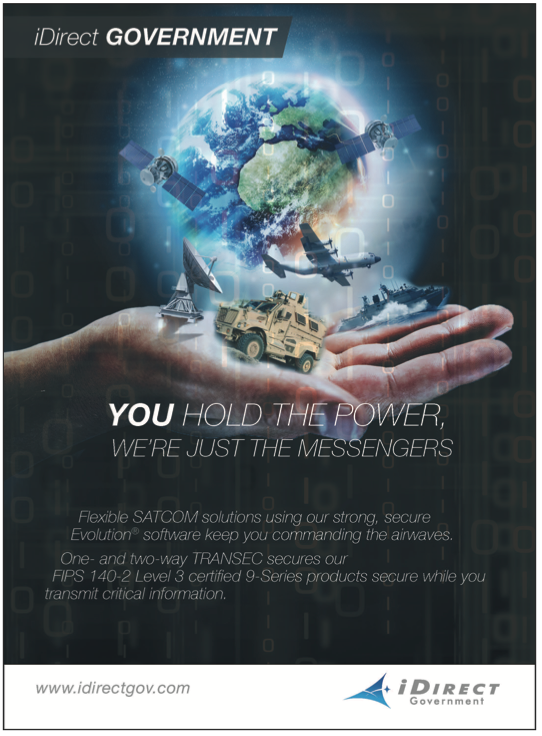 ASBM's satellite system will be designed, built and tested at Northrop Grumman's state-of-the-art satellite manufacturing facility in Dulles. The satellites will be based on the company's proven GEOStar platform which has been integrated on more than 40 spacecraft. ASBM is scheduled for a dual launch in late 2022.
Frank DeMauro, Sector VP and GM, Space Systems, Northrop Grumman, said this contract award marks the company's first mission with Space Norway and will deliver high quality communication satellites. Northrop Grumman is eager to demonstrate the firm's ability to provide innovative solutions that regularly exceed customer's mission needs.
KSAT reported their inclusion in this major SATCOM effort and stated the 15 year service agreement covers ground station and spacecraft operations requires the company to expand capacity and antennas in the Tromsø-region in Northern Norway.
Eirik Lie, President in Kongsberg Defence and Aerospace, noted that this award is an important milestone for Kongsberg Satellite Services. Providing broadband to the strategically important Arctic region demonstrates that the company is a world leading provider of satellite ground stations and services. This is an important step in ensuring the firm is a preferred partner for next generation space missions.
Rolf Skatteboe, President KSAT, added that this contract is of high strategical, as well as financial importance, for the development of KSAT. The contract confirms KSAT's strong position in this new space market and
further expands the company's offerings.
Jostein Rønneberg, Space Norway's CEO, said this will be a milestone for people in the Arctic who have very limited or no broadband access in the region. The company is building a robust communications capability in an area strategically important to Norway and partners. This will be vital for surveillance, fishery control and rescue operations in the vast sea area that is under Norwegian control, and will significantly improve our ability to operate in the High North.
Program Director Kjell-Ove Skare added that after a multi-year dedicated effort, the company has closed customer agreements with Inmarsat and with the Norwegian and U.S. militaries. This is an exciting, collaborative effort that ensures a cost effective solution for all parties. Now the company is eager to start the real work of building the satellites and the ground stations and looks forward to providing the world's first and only mobile broadband service in the Arctic region; something which has long been an important objective for the Norwegian authorities.
Space Norway was established in 2014 as a limited liability, governmentally owned company.
spacenorway.no/
www.northropgrumman.com/
www.kongsberg.com/ksat/
---
L3Harris awarded a Falcon SDR, BLOS radio prototype contract by the USAF
L3Harris Technologies (NYSE:LHX) has been awarded a development prototype contract from the U.S. Air Force (USAF) for the L3Harris Falcon® Wideband Airborne HF Radio and will now be part of a down-select competition to replace the service's AN/ARC-190 airborne HF radio.

The L3Harris Falcon Wideband Airborne HF Radio is a software-defined, digital multi-mode, wideband radio with the capacity to augment space-based Beyond-Line-Of-Sight (BLOS) systems, providing a much-needed alternative capability in a SATCOM-denied environment.
The radio addresses the USAF HF Radio Modernization requirement and will enable airmen to communicate data at speeds up to ten times greater than the legacy ARC-190 radios.
The L3Harris Falcon Wideband Airborne HF Radio features embedded encryption, electronic counter-counter measures (ECCM), low probability of intercept and low probability of detection (LPI/LPD) and is upgradable to accept new waveforms and software delivered capabilities.
The form factor combines three different pieces of equipment into a single package to reduce size, weight and power consumption, which is critical for airborne applications.
L3Harris was selected by the USAF in a competitive prototype effort and will now be part of a competitive down select. The initial development phase will lead to low-rate initial production followed by a full production decision.
Ryan McCarty, VP and GM, DoD Tactical Communications, L3Harris Communication Systems, said the capabilities provided by the L3Harris Falcon Wideband Airborne HF Radio will be a game-changer for the U.S. Air Force, with L3Harris' modernized software-defined technology that is designed to overmatch in contested and SATCOM-denied environments.
He added that this prototype development selection expands the company's airborne product line and brings L3Harris leadership in tactical HF radios to the airborne segment.
www.l3harris.com
---