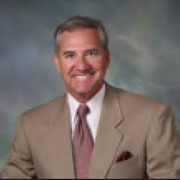 John Ratigan is the President of iDirect Government Technologies (iGT), a satellite-based IP communications company that transforms the way the Department of Defense (DoD) and civilian government agencies get and stay connected. He started the Federal group for iDirect Technologies in 2003 which resulted in establishing iGT as a wholly owned subsidiary in 2007. Under his leadership, the group has enjoyed tremendous growth and has deployed thousands of terminals in support of military operations throughout South West Asia, as well as well as many civilian networks.

John brings more than 20 years of experience in the satellite communications arena to the Company. Prior to joining iGT, he ran the east coast operations for Fairchild Data, and EF DATA, and eventually partnered in his own company that helped EF DATA grow from $20 million to $120 million in revenue and 700 employees between 1992 and 2000. EFDATA became the preeminent leader in SCPC satellite technology in the late 1990s and provided John the baseline knowledge and expertise that would later benefit him in his role with iGT and the migration of technology into TDMA. In addition to starting his own company, he held the position of Senior Vice president of North and South American sales for the start-up, Broadlogic, just as companies started to run IP directly over satellite.

Ratigan started his career in the U.S. Senate working for Senator Bill Armstrong (R-Colorado) and eventually moved into the sales field with the Xerox Corporation as a member of the legal sales team. He holds a Bachelor of Science degree in Marketing from the University of Maryland.
MilsatMagazine (MSM)
John, you have more than 20 years of experience in SATCOM related environments... how did you decide upon this field for your career?
John Ratigan
I don't know if I chose SATCOM or it chose me, but we've had a great time together for a long time. I started my career in the political environment and quickly migrated into sales at Xerox but one thing that was always clear to me was that I always enjoyed being around and working interactively with people. Sales was a natural path for me, and my aggressive nature led me to take risks with many start-up companies. One of the first start-ups I worked for after leaving Xerox was a satellite-based company called Multicomm where I truly enjoyed the risk and workload of a fledgling company and the impact that one person could have combined with some really innovative technology.
This early experience and success led me to other satellite-based companies including Fairchild Data and the formation of EF DATA with Bob Fitting and Steve Eyemann. Before I knew it, I'd spent more than 20 years in the industry and haven't regretted a single day. VT iDirect and subsequently iDirect Government Technologies (iGT) have been two highlights in my career as we started from nothing and were able to grow these two great companies into powerhouses with some spectacular people.
MSM
Given the constant changes in our industry, what have you seen or experienced as one of the most pivotal technological advances that moved the industry into the mainstream of communications?
John Ratigan
When I was interviewing at iDirect in 2002, I was amazed at what they were telling me was capable in a single box solution. I'd spent years in the SCPC part of the industry, and iDirect was doing what was clearly innovative. Technology had allowed circuit boards and chip sets to dramatically shrink in size, so the only thing that was left was to keep adding additional capabilities to the modems. iDirect figured out a way to build a satellite modem, an IP router, an accelerator, an encryption device and a complete network QOS system into one box. It was the dawn of the FPGA (Field Programmable Gate Array).
Satellite modems and other SATCOM products were moving from strictly hardware devices to dynamically programmable software devices that could be altered, not by adding new hardware, but by just a new load of downloadable software. The majority of the engineers now being hired are software engineers, and the greater amount of time is now spent in testing software and not hardware. I see this trend continuing. The chip guys will keep making the chips smaller, and the engineers will keep finding ways to improve performance, add features and capabilities, and improve the user experience.
MSM
Given the demands of MILSATCOM, how have your prior positions established your credentials within this tightly knit community?
John Ratigan
There are two contributors to this. The first is the extensive experience and history that I have not only within SATCOM but within the MILSATCOM arena. Having a deep knowledge of both the strengths and weakness of SATCOM and how this pertains to the military environment and specifically to the soldiers that have to use this is critical. This understanding has given me the foresight to hire a tremendously talented group of SATCOM, IP and military professionals who make up a highly motivated team of people. This team thinks of nothing else but how we can help the soldier on the ground and those involved in network and command operations.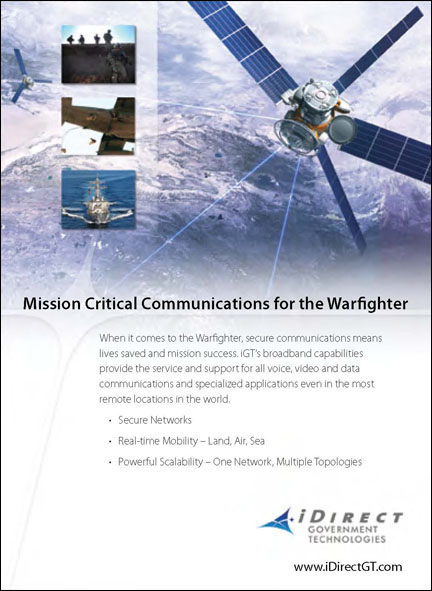 We have built our entire company around making sure our soldiers have all the best technology and assistance required to successfully complete their missions, and we take our role in the success or failure of these missions very personally. We consider ourselves partners with the U.S. military not just vendors or contractors.
The second factor is one that you can't buy, and that is trust. Our end customers know that our entire team will not fail in our mission to support our military. The foundation of trust can only be built over a long period of time and with the successful completion of many tasks together. This is really an area where actions speak much louder than words. I hope we have shown that, over these many years, they (our customers) can trust us to deliver a high-quality product, move with a great sense of urgency in a crisis, and come through with quality solutions.
MSM
The warfighter has to counter enemies, seen and unseen, on today's battlefield. What advances in MILSATCOM will assist them in the ongoing fight, both in command operations and for those whose boots are on the ground?
John Ratigan
All of us in the MILSATCOM industry continue to strive for more and more ways to assist the warfighter. One of the undeniable migrations of technology is that there continues to be a proliferation of data being generated by any number of conceivable devices. This data is used to prosecute the war and that data must be moved to a location for analysis or compiled into an easy to understand report or projection. The transport of information has always been critical, but there are two important changes that are being implemented.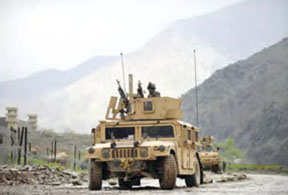 The first is the ability to transport larger amounts of data out of ever-shrinking devices closer to the battlefield. Broadband communications in a Man-Pack or Man-Portable device allows for the application and implementation of technologies previously unavailable to the soldier on the ground. These devices will allow both the transmission and receipt of high-speed communications into areas and devices that have never been available before. These devices and the corresponding technology also allow for more efficient and higher data speeds in the airborne environment for both ISR and normal voice, video and data application.
Second is the ability of software to quickly and efficiently process the information that is being received and give commanders a better situational view of what is transpiring, in real-time, and with interfaces that make it easier to quickly understand the data.
MSM
How did you become involved in moving from COTH, COTM to airborne communications?
John Ratigan
Like many great products, they were born from specific needs. COTH came into play with the logistics group under CSS SATCOM when they needed the logistics capability to have a terminal that could provide broadband communications capability but be quickly disassembled and quickly reassembled as they moved with the troops. We worked very closely with both the end-user and our integrator terminal partners to deliver the right modem product inside a high-quality terminal that was dependable in the harsh desert environment. COTM was the next logical migration as vehicular, seaborne and airborne platforms all had the requirements for broadband communications.
The more complicated part of COTM was the antennas that had to track the satellite from ever faster moving platforms, under and around obstacles, and in all types of weather conditions causing degradation in the satellite signal. iDirect has spent vast amounts of internal R&D funding in the creation of technology that accommodates for Doppler shifts and a system to rejoin the network quickly after encountering an obstacle.

We've been involved in maritime operations for many years and now have several groups using us in the vehicular environment. This month, we go operational with our first airborne platforms.

MSM
Given your expertise with TDMA, are there new security safeguards being implemented to negate unwarranted access by unauthorized parties?

John Ratigan
I was surprised when I first arrived at iDirect in 2003 that it already had encryption built into its devices. It seemed logical, but iDirect was the first to implement it. We've really become experts at protecting the payload and overhead structure and preventing unauthorized access. Since 2003 we've migrated from 3DES encryption to our current AES (advanced encryption standard), which is the strongest commercial encryption you can buy without going to a government-controlled type I encryption device. Additionally, iDirect has implemented a bevy of controls to prevent incursion and to protect our customers.

The first is to have our equipment certified through FIPS 140-2. This is a NIST qualification that ensures that the implementation of your encryption algorithm is done correctly and would default and shut down if it has been shown to have been tampered with. Secondly is our TRANSEC development. This is additional encryption that hides all of the overhead of a data packet, which denies the adversary from identifying anything about the sender, the receiver, the data, the location or any other data point that could provide an advantage. Additionally, many other software and hardware gates are in place to safeguard the security of our end customer.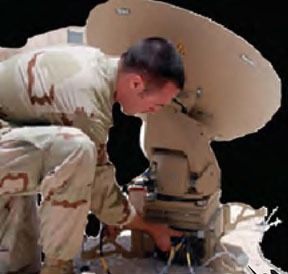 Security is a huge issue for our customers and subsequently a huge focus for iGT. To negate unwarranted access from the IP side of the network, iGT has developed a software engine designed to quickly implement the latest STIG security recommendations. The STIG engine removes the pain previously felt by network operators when implementing the latest Information Assurance recommendations.

MSM
What recent advances has iGT made in the airborne communications segment?

John Ratigan
iGT and our parent VT iDirect have diligently worked to improve the performance of our product in the military and first responder environment. We've worked closely with our partners to seamlessly integrate into an airborne platform so that the modem, antenna and aircraft are all working in concert. This has enabled our collective solution to substantially increase the data rates available, anticipate the transit between satellite footprints, accommodate the rapid Doppler shifts that occur during flight, aand allow the antenna to react more quickly to aircraft movement and integrate into many of the ISR systems that are in use today. Additionally, we've designed our solution to accommodate hundreds of aircraft in one network and track their movements dynamically if required.

MSM
Are there any immediate benefits to using airborne communications in the ISR arena as opposed to ground COTM?

John Ratigan
The ISR arena requires that a system be able to transmit large amounts of data back to either an analyst or directly to soldiers on the ground. iGT brings the ability to work in either the ISR or ground COTM arena and to provide a platform that allows for tremendously efficient satellite communications. Bandwidth is a very valuable and limited commodity, and the iGT system allows for our end customers to use bandwidth for multiple tasks without any degradation in performance or throughput.

MSM
What real-world implementations of airborne satellite and video have transpired recently, and were they successful?

John Ratigan
Most recently, we were able to work with the Coast Guard in helping to monitor the oil spill in the Gulf of Mexico. iGT worked with our contractor partners to provide the SATCOM network component on an airborne platform.

Our work enabled airborne SATCOM to send video images of the extent of the Deepwater Horizon oil spill and track where the oil was spreading in the Gulf of Mexico. The images were transmitted to the U.S. Coast Guard and cleanup workers over a secure satellite communications backbone developed by iGT. It felt great to be a part of this effort.

MSM
What is the outlook for airborne SATCOM in 2011?

John Ratigan
I expect many good things to happen in 2011 as both vehicular and airborne COTM networks seem to have some funding and motivation behind them.