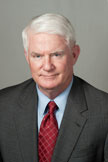 General Campbell joined Iridium from Applied Research Associates (ARA), where he served as Principal, Defense and Intelligence, since 2004. General Campbell joined ARA following his retirement from the U.S. Air Force after a 32-year career. In the U.S. Air Force, General Campbell served in a variety of operational and staff assignments worldwide.

From 1998 to 2000, he was Vice Director of the Defense Information Systems Agency (DISA) and was the first commander of the Joint Task Force - Computer Network Defense. From 1997 to 1998, he served on the Joint Staff as Deputy Director for Operations.

Between 1971 and 1997, General Campbell served around the world in a variety of operational assignments as an F-15 and F-16 fighter pilot and commander.

General Campbell is the recipient of numerous military and intelligence community awards, including the Defense Distinguished Service Medal, the Legion of Merit, the Air Medal, the National Imagery and Mapping Agency Award, the National Reconnaissance Distinguished Medal, and the National Security Agency Award. He is a graduate of the University of Kentucky with a degree in Computer Science and a Masters of Business Administration.

General Campbell is responsible for all aspects of Iridium's relationship with its U.S. government customers.
MilsatMagazine (MSM)
Iridium is one of the companies involved in the newly formed Hosted Payload Alliance (HPA). Can you give us a description of this organization and why it was founded?
John Campbell
The HPA is a satellite industry alliance formed to increase awareness of the benefits of hosted payloads on commercial satellites. The U.S. National Space Policy, published in 2010, calls for an increasing role for commercial space to meet government requirements. It also explicitly directs the use of non-traditional options for the acquisition of space goods and services, and cites hosted payloads as one of these non-traditional options. The policy notes that public-private partnerships with the commercial space industry can offer timely, cost-effective options to fill government requirements.
MSM
When was the group formed?
John Campbell
The Steering Committee held its first meeting at the Satellite 2011 conference in Washington, D.C., March 17, 2011.
MSM
Who are the members of the Steering Committee for the organization?
John Campbell
HPA Steering Committee members are
Boeing Space and Intelligence Systems
,
Intelsat General Corporation
,
Iridium Communications Inc.
,
Lockheed Martin Space Systems
,
Orbital Sciences Corporation
,
SES WORLD SKIES U.S. Government Solutions
, and
Space Systems/Loral
.
Membership in the HPA is open to satellite operators, satellite manufacturers, system integrators and other interested parties.
MSM
John, what are the goals of the Alliance?
John Campbell
The goals of the HPA are to:
1. Serve as a bridge between government and private industry to foster open communication between potential users and providers of hosted payload capabilities.
2. Build awareness of the benefits to be realized from hosted payloads on commercial satellites.
3. Provide a forum for discussions, ranging from policy to specific missions, related to acquisition and operation of hosted payloads.
4. Act as a source of subject-matter expertise to educate stakeholders in industry and government.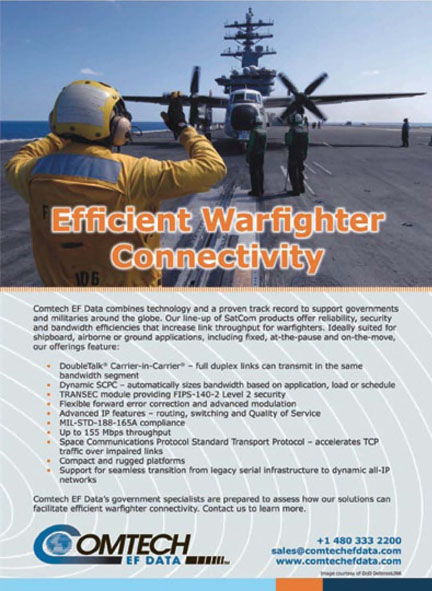 MSM
Why is the subject of hosted payloads so timely for our industry?
John Campbell
Budgets of the DoD and most other agencies and departments are being reduced and access to space is expensive: NASA estimates a price tag of $450 million for a space shuttle mission, and unmanned missions are also costly. Less expensive access to space is important to the future of the U.S. space program.
Consider, for example, space-based data collection missions to build a comprehensive picture of the effects of climate change. Many organizations involved in global warming research — such as
NASA
,
the National Oceanic and Atmospheric Administration
(
NOAA
), the
National Science Foundation
(
NSF
) and various international space agencies — may require continuity and even expansion of space-based data collection.
Hosted payloads present an opportunity for the U.S. Government to leverage commercial investments to provide access to space at significant savings over the cost of traditional dedicated missions. It is far less expensive for the government to get into space with a partner than it is to go it alone. Hosted missions are estimated to cost about one-quarter of dedicated missions, according to Bethesda, Maryland-based Futron, a leading aerospace consulting firm.
The private sector is offering affordable access to space — and the pace is accelerating as a result of President Obama's space policy recommendations. Further, by sharing launch costs with the private sector, the policy initiatives may help free up funds for NASA to focus on a myriad of other space projects, such as going to Mars.
It is important to understand, however, that decisions on scientific missions such as these need to be made in commercial time frames, which are typically shorter than government acquisition and development cycles. While government schedules often slip, and requirements and budgets sometimes grow, commercial business imperatives can help ensure on-time and on-budget access to space.
For example, we're finalizing the design of
Iridium NEXT
satellites between now and late 2012, at which time the design — and our hosted payloads — will be frozen and satellite construction starts in earnest. No doubt other companies planning to launch new satellites are under similar time constraints. Rather than a constraint, commercial cost and schedule discipline can be an advantage.
MSM

Would it then, be fair to describe the HPA as a lobbying group?
John Campbell
HPA is definitely not a lobbying organization. It is strictly an industry organization made up of companies with an interest in hosted payloads. Its primary mission is to serve as a forum connecting representatives from government and industry to further the goals set forth in the National Space Policy. It also has a strong educational focus, providing a source of industry expertise to provide information on issues relating to hosted payloads for stakeholders in the public and private sectors.
MSM
Can you give us a few examples of some of the potential payloads that might be hosted on commercial satellites in the future?
John Campbell
Hosted payload applications include air traffic safety, communications, Earth observation, remote sensing, research and development, space situational awareness and forecasting electromagnetic solar storms in space.
MSM
Then what's holding up progress on the wider use of hosted payloads?
John Campbell
Any new idea takes time to percolate down from policy to program level in the government, and, although there are numerous examples of government payloads hosted on commercial satellites, they've all been one-offs, which came to fruition as a result of inspired leadership and heroic efforts. There's no process in place to consider hosted payloads as a regular way of doing business, to evaluate them as an alternative to traditional ways of doing business.
MSM
But the concept of hosted payloads is not something new, is it? There are precedents, correct?
John Campbell
There are a number of examples of how government has made use of commercial satellites for hosted payloads. A classic use of a government hosted payload, for instance, is the
Federal Aviation Administration's
(
FAA
)
Wide Area Augmentation System
(
WAAS
) used for
air navigation.
Let me offer some more examples...
The
Commercially Hosted Infrared Payload
(
CHIRP
) flight demonstration program represents an arrangement between the
U.S. Air Force Space and Missile Systems Center
and
SES WORLD SKIES U.S. Government Solutions
, to host a wide field-of-view, infrared starring sensor, on board the
SES-2
spacecraft scheduled for launch in August of 2011. The SES-2 spacecraft has been built by
Orbital Sciences Corporation
and the sensor was designed and built by
SAIC
.
The
Internet Router in Space
(
IRIS
) program is a
Defense Department Joint Capability Technology Demonstration
(
JCTD
) managed by
Cisco
and
Intelsat General Corp
. The IRIS hosted payload was launched aboard the
IS-14
satellite, which was built by
Space Systems/Loral
, in November 2009, and is the first IP router in space.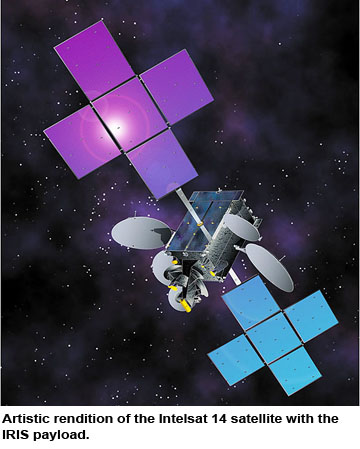 The
Active Magnetosphere and Planetary Electrodynamics Response Experiment
(
AMPERE
) is a combined effort of the
NSF
,
Johns Hopkins Applied Physics Lab
,
Iridium
and
Boeing
. AMPERE uses sensors aboard Iridium satellites to continuously monitor space weather data in real-time, enabling high-quality forecasting of space-based solar storms, which can disrupt aviation and terrestrial telecom and satellite systems. All these initiatives promise new capabilities at significant savings.
Let me add that the U.S. government is not the only customer for hosted payloads. For instance,
Space Systems/Loral
is building a satellite for SES that has a WAAS-like payload for the
European Union
, and the
Australian Defence Force
is purchasing a UHF payload on the
Intelsat IS-22
communications satellite, which has a launch date in 2012.
Despite these precedents, there is a lingering perception that hosted payloads are a new and an unproven concept. They're not, but they do require a new way of thinking.
MSM
What's next for the Hosted Payload Alliance?
John Campbell
We just conducted our first organizational meeting at the
National Space Symposium
in April, which included presentations from senior government officials from the DoD as well as by civilian agencies of the federal government. The meeting furthered our goal of fostering an open dialogue between the public and private sectors to facilitate and streamline wider deployment of hosted payloads to meet commercial launch schedules in the coming years.