The commercial satellite industry has long been a crucial enabler of civil government functions.

With new satellites and networks coming online every year, the industry is offering new and creative solutions to meet the evolving requirements of NASA and other civil government agencies.
From the WAAS payload for the FAA to the NOAA GEONETCast network, civil agencies have long used commercial systems to meet their satellite communications requirements.
As new weather payloads and tracking systems such as TDRS (Tracking and Data Relay Satellite—(artistic rendition displayed here) move ahead, the commercial satellite industry can provide optimal value through regularly-scheduled launches, efficient program timelines and competitive pricing.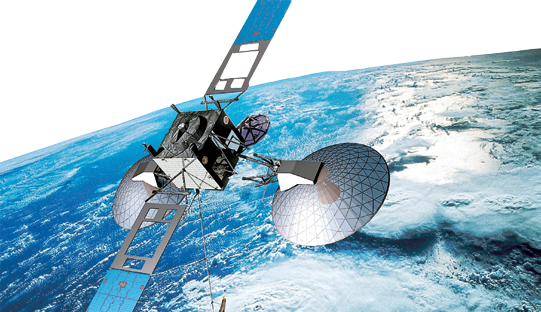 This column's question for HPA Members is…
How can hosted payloads on commercial satellites benefit NASA/NOAA and other civil agencies?
"NASA has definitely taken the lead on implementing the benefits of hosted payloads. NASA's TEMPO program, for measuring air quality over North America, was the first payload hosting study awarded under the U.S. Air Force HoPS IDIQ. This demonstrates how our government agencies are working together to reap the economic benefits of hosting government payloads on commercial spacecraft. NASA benefits from the persistent synoptic coverage available from GEO, the same as our commercial communications missions desire. NASA Goddard's Laser Communications Relay Demonstration (LCRD) is another great example of NASA making a commitment to and gaining benefit from the hosted payload approach.

"Hosting the LCRD payload on a GEO ComSat will get the payload into space faster and at a fraction of the cost of a dedicated mission. SSL sends more commercial satellites to GEO orbit each year than any other satellite manufacturer. By working with SSL to first develop the payload interfaces to the spacecraft, NASA has the benefit of then pairing LCRD with the best host mission with confidence in meeting the delivery date. This is a proven method to align the government payload development schedule with a commercial GEO satellites schedule.
"SSL is considering a variety of satellite operators when the timing is right to host LCRD on their GEO missions. We believe other US government agencies can build on the approach that NASA has taken."—Al Tadros, Vice President of DOD and Civil Business, SSL

"Hosting civil payloads on commercial satellites takes advantage of all the benefits of hosting to include lower cost; more opportunities for access to space; improved architecture resilience, and operational flexibility. But civil agencies partnering with commercial companies provides unique opportunities for joint ventures and technology exchange that can advance the satellite industry as a whole.
"While meeting civil requirements, these agencies can leverage taxpayer investments in technology to create commercial alternatives for future cost savings, improved capability and domestic job growth. This in turn would accelerate and diversify many civil space missions to include advancement of global health, environmental situational awareness, and space exploration."—Andrew Handinger, Associate Sales Engineer, Intelsat General Corporation

"Commercial hosting of government payloads provides an affordable, rapid solution path for important missions that might not otherwise warrant a dedicated satellite. Hosted payload solutions can also readily leverage NOAA/NASA investments in enterprise ground architectures, facilitating low-cost addition of new missions within a scalable ground framework. Reducing the expense and time required increases the ability to rapidly deploy and leverage technology advancements and expanded data sets, contributing to improved weather-preparedness and environmental intelligence."—Romy Olaisen, Vice President, Global Weather Solutions Business Area, Government Communications Systems, Harris Corporation.
Hosted Payload Alliance: www.hostedpayloadalliance.org/
Established in 2011, The Hosted Payload Alliance (HPA) is a satellite industry alliance whose purpose is to increase awareness of the benefits of hosted government payloads on commercial satellites. The HPA seeks to bring together government and industry in an open dialogue to identify and promote the benefits of hosted payloads. The HPA (www. ww.hostedpayloadalliance.org/):
• Serves as a bridge between government and private industry to foster open communication between potential users and providers of hosted payload capabilities
• Builds awareness of the benefits to be realized from hosted payloads on commercial satellites
• Provides a forum for discussions, ranging from policy to specific missions, related to acquisition and operation of hosted payloads
• Acts as a source of subject-matter expertise to educate stakeholders in industry and government.
---