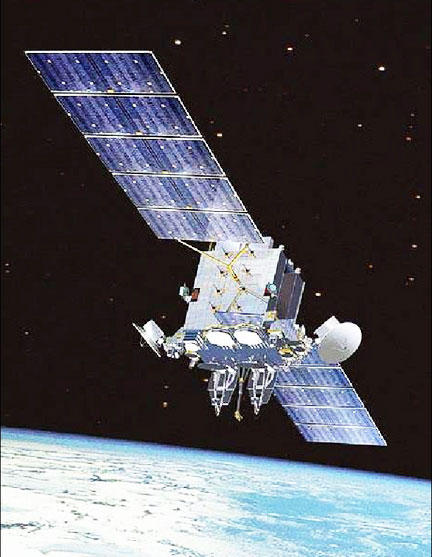 With comsats (communication satellites) and weather satellites in geosynchronous orbits 23,000 miles above the Earth, and photo recon satellites ranging in altitude from hundreds to thousands of miles (depending upon the resolution required for viewing the target area), the purposes of the various military satellites operated by various countries are as varied as they are secret. Additionally, the latest flock of military satellites also carry civil bandwidths for government, non-military use — multi-tasking of the MILSATCOM kind.
AEHF
Set for launch this year is the
U.S. Air Force
's
Advanced Extremely High Frequency
(
AEHF
)
System
. Courtesy of
SMC Public Affairs
at
Los Angeles Air Force Base
, we learn that AEHF is a joint service satellite communications system that will provide survivable, global, secure, protected, and jam-resistant communications for high-priority military ground, sea and air assets.
Advanced EHF will allow the
National Security Council
and
Unified Combatant Commanders
to control their tactical and strategic forces at all levels of conflict through general nuclear war, and supports the attainment of information superiority.
The
AEHF
System is the follow-on to the
Milstar
system, augmenting and improving on the capabilities of Milstar, and expanding the MILSATCOM architecture. AEHF will provide connectivity across the spectrum of mission areas, including land, air and naval warfare; special operations; strategic nuclear operations; strategic defense; theater missile defense; and space operations and intelligence. Part of the MCSW's
Protected SATCOM Group
, the system consists of four satellites in geosynchronous Earth orbit (GEO) that provides 10 times the throughput of the 1990s-era Milstar satellites with a substantial increase in coverage for users. The first launch of AEHF is scheduled for late 2010.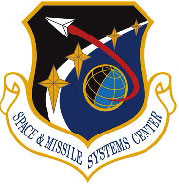 The AEHF system is composed of three segments: space (the satellites), ground (mission control and associated communications links) and terminals (the users). The segments will provide communications in a specified set of data rates from 75 bps to approximately 8 Mbps. The space segment consists of a cross-linked constellation of three satellites. The mission control segment controls satellites on orbit, monitors satellite health and provides communications system planning and monitoring.
This segment is highly survivable, with both fixed and mobile control stations. System uplinks and crosslinks will operate in the extremely high frequency (EHF) range and downlinks in the super high frequency (SHF) range.
The terminal segment includes fixed and ground mobile terminals, ship and submarine terminals, and airborne terminals used by all of the Services and international partners (Canada, Netherlands and U.K.). MCSW is responsible for acquisition of the space and ground segments as well as the Air Force terminal segments. The Army and Navy will acquire their own terminals. The general characteristics of AEHF are:
Primary Function: Near-worldwide, secure, survivable satellite communications
Primary Contractor: Lockheed Martin Space Systems Company
Payload: Onboard signal processing, crossbanded EHF/SHF communications
Antennas: 2 SHF Downlink Phased Arrays, 2 Crosslinks, 2 Uplink/Downlink Nulling Antennas, 1 Uplink EHF Phased Array, 6 Uplink/Downlink Gimbaled Dish Antenna, 1 Each Uplink/Downlink Earth coverage horns
Capability: Data rates from 75 bps to approximately 8 Mbps
GPS
The U.S. Air Force will also be improving Global Positioning System (GPS) capabilities via a new ground system software release. The new capabilities include telemetry, tracking, and commanding for the new GPS IIF space vehicle as well as security improvements. The planned transition is the result of extensive testing to ensure this upgrade is transparent and has no impact to military and civil users.

GPS is a space-based, worldwide navigation system that provides users with highly accurate, three-dimensional position, velocity, and timing information — 24 hours a day — in all weather conditions. Boeing has been the prime contractor for most GPS satellites and is under contract to build 12 next-generation GPS Block IIF satellites.

With the pending mid-2010 launch of the first GPS IIF space vehicle, the ground system is prepared to command the new on-orbit GPS IIF capabilities that include a new navigation signal for civil users, encrypted military code, crosslink enhancements, improved navigation signal accuracy and signal power increases. The new software also provides robust security improvements to include "over-the-air" distribution of encryption keys to properly equipped military users.

Preparation for activation of the new software included rigorous developmental and operational testing events including five transition exercises.

The new ground system software commanded current individual GPS satellites during numerous testing events and rehearsals. In November and December of 2009, the new software successfully uploaded operational GPS IIA and IIR space vehicles with navigation data and completed normal operational functions.

This improvement initiative continues the Air Force's commitment to the global community of GPS users. The Air Force will continue to pursue an achievable path maintaining GPS as the premier provider of positioning, navigation and timing for military and civilian users around the world.

Boeing
The Boeing Company has instituted a number of changes within the Company's Integrated Defense Systems' unit, with the realignment effective immediately. The unit will now operate under a new name: Boeing Defense, Space & Security. In announcing the changes, Boeing Defense, Space & Security President and CEO Dennis Muilenburg stated the realignment is part of a continuing effort to successfully compete in a rapidly evolving global defense and security marketplace. Muilenburg said that reshaping the unit positions Boeing for further growth in new and adjacent markets, while continuing to serve existing defense and space customers. While Boeing Defense, Space & Security will retain its current operating units — Boeing Military Aircraft (BMA), Network and Space Systems (N&SS), and Global Services & Support (GS&S) — the realignment consolidates some divisions and makes a number of leadership changes. Chief among the moves is consolidation of two divisions in N&SS: The Combat Systems division and the Command, Control & Communications (C3) Networks division will be unified as the new Network and Tactical Systems division.

EADS Astrium
Astrium Services has been awarded a contract by the European Defence Agency (EDA) for a new preparatory study aimed at coordinating the future military communication needs of the European Union (EU). The single year pilot project aims at creating a centralized system for the procurement of satellite communications (SATCOM) on commercial space capacity, such as Ku-, Ka- and C-bands. Over the next year, Astrium Services will map out the SATCOM requirements of the European Member States' respective armed forces, while developing an operational framework for the European Satellite Communication Procurement Cell (ESCPC). The aim of the ESCPC will be to coordinate and aggregate EU Member States' orders for satellite communications services — ultimately ensuring the best and most cost-effective access to commercial capacity for military purposes.

Once the ESCPC is in place, Astrium Services will be able to offer its unique one-stop-shop 24/7 approach, via its London Satellite Exchange (LSE) subsidiary, and will be ready to manage and execute a full catalogue of services.

NASA
The latest Geostationary Operational Environmental Satellite, GOES, developed by NASA for the National Oceanic and Atmospheric Administration (NOAA), called GOES-P, arrived on Thursday, December 17, on a C-17 military cargo aircraft at the Kennedy Space Center's Shuttle Landing Facility from its manufacturing plant in El Segundo, California. The GOES-P satellite is targeted to launch on February 25 onboard a United Launch Alliance Delta IV expendable launch vehicle.

Once in geosynchronous orbit, GOES-P will be designated GOES-15 and NASA will provide on-orbit checkout and then transfer operational responsibility to NOAA. GOES-P will be placed in on-orbit storage as a replacement for an older GOES satellite. After arriving, the satellite was transported to Astrotech in Titusville, Florida, where final testing of the imaging system, instrumentation, communications and power systems will be performed.

These tests will take approximately six weeks to complete. Then the spacecraft will be fueled with the propellant necessary for orbit maneuvers and the attitude control system. When the fueling is completed, the spacecraft is encapsulated in the Delta IV nose fairing and prepared for transport to the launch pad.

GOES-P is the third and last spacecraft to be launched in the GOES N-P series of geostationary environmental weather satellites. The GOES satellites continuously provide observations of 60 percent of the Earth including the continental United States, providing weather monitoring and forecast operations, as well as a continuous and reliable stream of environmental information and severe weather warnings.

GOES-P carries an advanced attitude control system using star trackers and Hemispherical Inertial Reference Units. The imager and sounder instruments are mounted on a stable optical bench, which provides enhanced instrument pointing performance for improved image navigation and registration. This means better location of severe storms and other events important to the NOAA National Weather Service.

The Imager on GOES-P, as on the GOES-O before it, has improved resolution from previous GOES missions in the 13 micron channel from 8 km to 4 km. The finer spatial resolution allows improved estimates of horizontal distribution of cloud-top, height of atmospheric motion vectors, and volcanic ash detection. Similarly to the GOES-O mission, the GOES-P image navigation accuracy of about 2 km from an orbit altitude of about 22,300 miles, or 35,700 km, is superior compared to the previous series of GOES satellites. GOES-P only differs from GOES-O in the channel configuration for the solar Extreme Ultraviolet (EUV) telescope. The EUV will be the same 5 channel configuration that flew on GOES-N/13.

A United Launch Alliance Delta IV expendable launch vehicle will be erected in early January at Space Launch Complex 37-B, Cape Canaveral Air Force Station, Florida. NOAA manages the operational environmental satellite program and establishes requirements, provides all funding and distributes operational environmental satellite data for the United States. NASA's Goddard Space Flight Center in Greenbelt, Maryland, procures and manages the development and launch of the satellites for NOAA on a cost-reimbursable basis. United Launch Alliance will conduct the commercial launch with a Federal Aviation Administration launch license. They will also oversee launch service duties that include oversight of the launch vehicle processing activities, integration of the GOES-P spacecraft with the Delta IV rocket, and the launch countdown activities.

COM DEV International
COM DEV International Ltd. (TSX:CDV) has been awarded follow-on contracts totaling more than CDN$7 million to provide passive microwave equipment for a military communications satellite. COM DEV will supply UHF diplexers, switch and filter assemblies, standalone switches and ancillary components. The Company expects to complete work on the contracts by the end of its 2011 fiscal year at its facility in Cambridge, Ontario.

Spirent Communications
Continuing on its path of innovation in LBS performance testing, Spirent Communications plc has introduced the industry's first solution to test Assisted GLONASS (A-GLONASS) capability on UMTS mobile devices and chipsets. Supported on Spirent's 8100 UMTS Location Technology Solution (ULTS), the new A-GLONASS testing capability gives early adopters of A-GLONASS a competitive edge by enabling the delivery of better-performing devices and improved user experiences.

The addition of A-GLONASS to the list of available LBS enabling technologies such as GPS is set to make a major impact on mobile device positioning in 2010 and beyond. GLONASS is a Russian navigation satellite system with recently-formalized open civilian access. Using both GPS and GLONASS offers a mobile device receiver almost twice the number of usable satellites in the sky compared with GPS alone. This can significantly improve the performance of location-based applications in challenging environments such as urban streets, where much of the sky can be obstructed and multiple signal reflections from tall buildings can confuse satellite receivers.

Providing assistance data over the cellular network (A-GLONASS) further improves the speed and reliability of position fixes, in the same way as A-GPS. A-GLONASS device testing on the 8100 ULTS is built upon the expertise gained from Spirent's PLTS, which was introduced into the CDMA market in 2001 and ULTS, the first commercially-available UMTS A-GPS test system. Since then, most of the world's largest network operators, together with all the major mobile device and A-GPS chipset manufacturers, have relied on the Spirent 8100 ULTS for design, test and certification of their LBS solutions.

U.S. Air Force + Lockheed Martin
This team, who is developing the Space Based Infrared System program, has achieved two key milestones: a testing milestone demonstrating the ground system is on track to support launch of the first SBIRS geosynchronous GEO-1 satellite in the constellation; and a maturity milestone moving the ground system into the next level of integration. The testing milestone, known as the Combined Day-In-The-Life Test, validated the functionality, performance and operability of the SBIRS GEO ground system for its planned operational use.

The campaign included testing of more than 1.5 million source lines of code and 133 ground segment requirements. The new SBIRS ground system includes software and hardware necessary to perform activation, checkout and initial operations of the GEO-1 satellite after launch. SBIRS uses "Day-in-the-Life" test events to validate the integrated ground system following successful verification at the segment level.

The CDITL test integrated several geographically separated sites used for command and control, factory engineering support and direct interface to mission data users. The 17-day test included the use of high fidelity spacecraft simulators to complete the launch and early orbit test processes and products that will be used for the GEO-1 launch. Each site contributed significantly to the observed stability, robustness and operability of the SBIRS system. Completion of the ground segments verification process and the CDITL led to the readiness milestone, known as the System Integration Readiness Review.

This event, completed on January 12th, officially moves the ground segment into the next level of integration. The Sunnyvale-based System Engineering, Integration and Test group formally accepted SBIRS' approved completed ground component delivered for system level integration to include multiple end-to-end test and rehearsal events with space vehicle simulators and the GEO-1 vehicle itself. This series of events are the final efforts leading to system operations readiness for launch of the GEO-1 space vehicle.

The first SBIRS GEO spacecraft recently completed thermal vacuum testing, the most comprehensive and the largest risk mitigation component of the integrated spacecraft environmental test program. The satellite is planned for delivery to Cape Canaveral Air Force Station in late 2010 where it will then undergo final processing and preparation for launch aboard an Atlas V launch vehicle. SBIRS will deliver unprecedented, global and persistent infrared surveillance capabilities by providing early warning of missile launches and simultaneously support other missions including missile defense, technical intelligence and battlespace awareness.

TS2 Satellite Technologies
The company is introducing new broadband services on Eutelsat EB4 & W6 satellites to the Afghan market. The broadband service offer two-way high-speed Internet access with no phone lines, no cable, no dial-up modem.

The offered satellite system is ideally suited for broadband requirements such as Internet and VPN access to enterprise networks, as well as real-time VoIP and video conferencing. The Internet connection can be shared with other users via wireless or wired network. Most soldiers deploy with a laptop in hand and a hookup to the Internet in their barracks. This is especially important for the many who are married, and have young children. The Internet access has resulted in major morale improvements. Troops no longer feel cut off from home.

Not all the Internet connectivity is just for staying in touch with the folks back home. The troops in Afghanistan use the Internet a lot for professional tasks, and not all of them are official business. Some troops blog, and many other stay in touch with military friends and associates in other parts of the world. The Internet has made possible many online communities composed of military professionals.