The U.S. Air Force delivers global satellite communications (SATCOM) capabilities that are foundational to joint warfighter operations across the range of military operations, and will only become more critical in preparation for the battlespace of the future.
With potential adversaries continually seeking to deny, degrade and destroy U.S. asymmetric advantages in space, the U.S. Air Force (USAF) is evolving SATCOM capabilities for the nation's warfighters and strategic
allied partners.
The entire SATCOM enterprise (military, commercial, and international partners) is transitioning an integrated architecture that is more robust, resilient, flexible, and capable of fighting through a contested, degraded, and operationally-limited (CDO) environment.
Disaggregating for Resilience and Flexibility
A major step toward this new architecture is to implement a disaggregation strategy in the military satellite communications (MILSATCOM) space tier to improve resiliency while maintaining backward compatibility.
---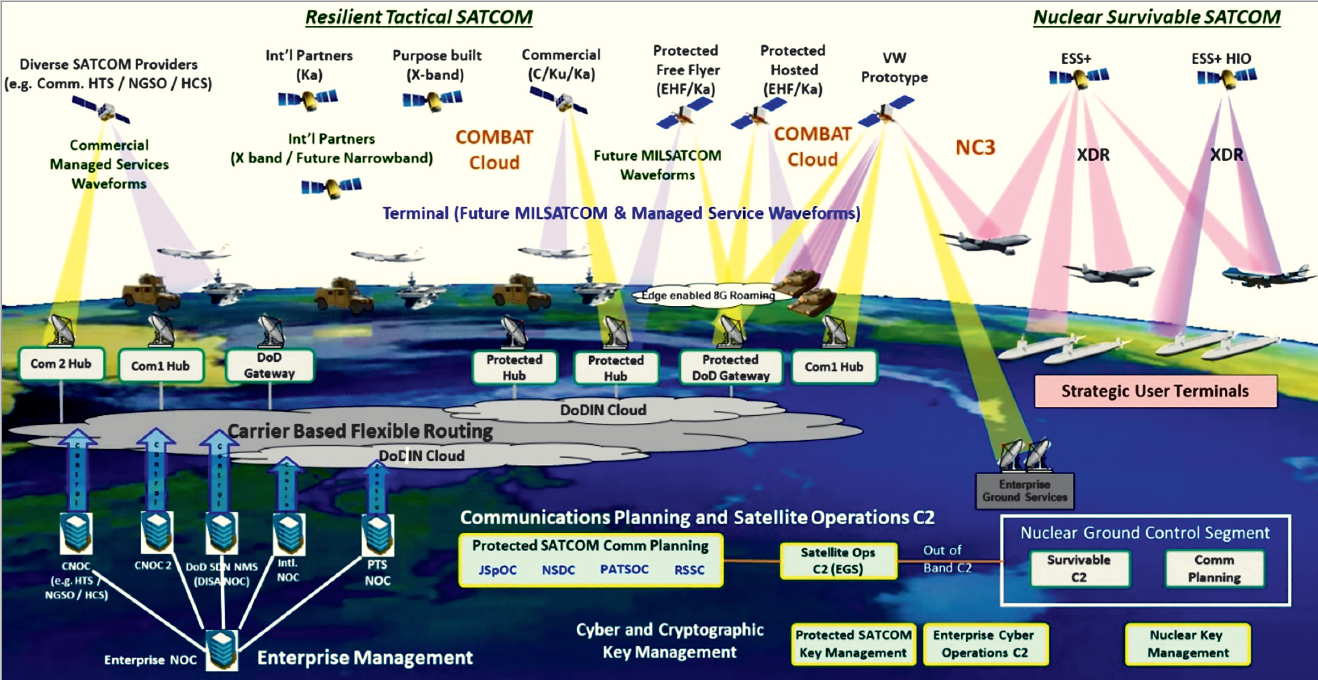 ---
The Advanced Extremely High Frequency (AEHF) satellite constellation, in concert with its predecessor, the Milstar system, currently provides both protected tactical communications and strategic, nuclear-hardened communications for the President and other decision makers.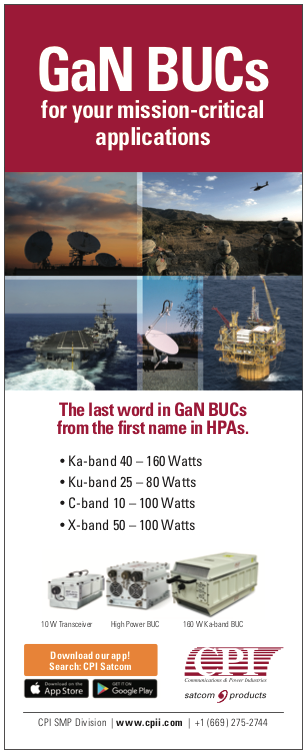 The next-generation of space systems disaggregates the AEHF strategic and tactical SATCOM missions into the Evolved Strategic SATCOM (ESS) and Protected Tactical SATCOM (PTS) programs, respectively.
This disaggregation improves resilience by reducing inherent single-point-of-failure vulnerabilities associated with multi-mission satellites while also providing increased architectural flexibility via payload
hosting opportunities.
Dedicated "free-flyer" satellite solutions are also subject to fewer technical trade-offs that may marginalize mission-specific capability in order to accommodate a multi-mission satellite design.
Moving Toward an Integrated SATCOM Architecture
U.S. Air Force Space Command (AFSPC) Commander General John W. "Jay" Raymond's vision for SATCOM is that AFSPC provide an operationally effective, affordable, resilient, and secure satellite communications architecture that supports global mission priorities and is adaptable to rapidly changing requirements, technologies, and threats.
This architecture delivers enterprise SATCOM capabilities to the Commander, United States Space Command in order to support joint warfighters across the full spectrum of conflict, at the speed of relevance, and in CDO environments. AFSPC refers to this operational vision of the future as "Fighting SATCOM."
The key building blocks for achieving Fighting SATCOM are a management and control framework to coordinate assets/tasking, flexible terminals that can operate in military platforms/environments, flexible networks to rapidly restore network connections, and a
diverse pool of space assets to provide path redundancy and operational flexibility.
As the operational environment evolves, the flexible terminals can "roam" across multiple waveforms, bands and other elements of the architecture including commercial and intern tional partner systems.
The USAF's Space and Missile Systems Center is furthering the advancement of Fighting SATCOM by awarding development contracts for enterprise management and control prototypes to members of the Space Enterprise Consortium, a team of industry leaders, academic research institutions and innovative early-stage and start-up companies that are working together to develop next generation space technologies.
Prototype solutions will demonstrate key attributes required of the enterprise to include rapid, resilient, sustainable and global access to SATCOM capabilities; terminal, modem and network agility; cyber, link and operational security; and data interoperability with joint command and control systems.
This year's prototyping efforts are focused on delivering situational awareness capabilities and providing a common operating picture that assists users in conducting enterprise SATCOM planning, brokering, and orchestration functions. These prototypes will be important steps toward defining the architecture, conducting risk reduction, and identifying early technologies and capabilities that can quickly be transitioned into operations.
Defining the enterprise architecture will allow future programs and capabilities to quickly and seamlessly integrate with legacy systems while bringing together the full spectrum of SATCOM service capabilities.
For SMC, 2019 was a critical year for the MILSATCOM portfolio. With the decade concluded, the roadmap for the next decade has come into clear focus. The existing global communication constellations are healthy and being fortified,
Simultaneously, the next generation of ground and space communication systems are getting into gear. The enterprise envisioned will maintain the strategic communications vital to defending American Sovereignty while meeting the growing demand for protected communications and increased bandwidth across the globe.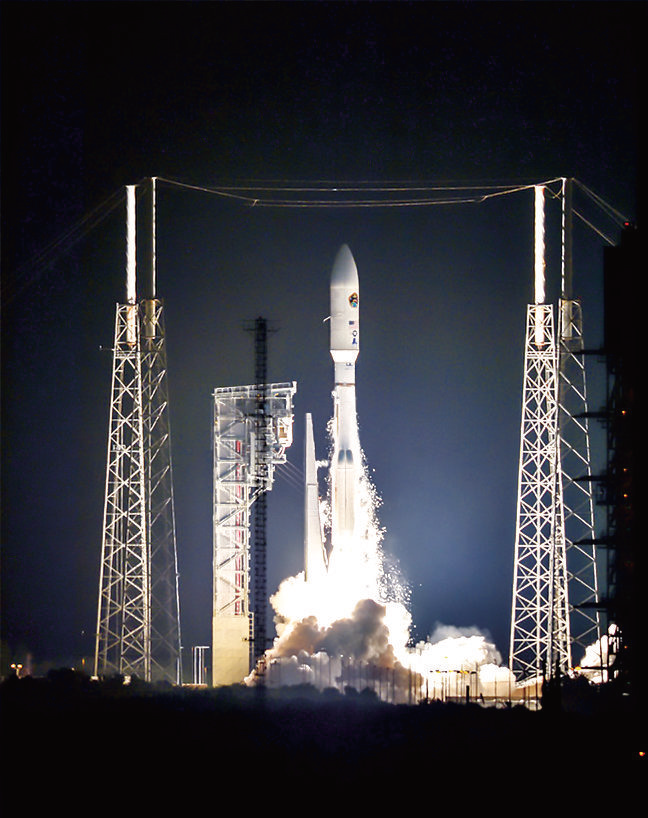 The fifth Advanced Extremely High Frequency (AEHF-5) satellite from
the U.S. Air Force Space and Missile Systems Center successfully lifts
off at 6:13 a.m. EST from Launch Complex-41, Cape Canaveral Air
Force Station, Florida, atop a United Launch Alliance Atlas V 551
rocket on Thursday, August 8, 2019.
Photo is courtesy of the U.S. Air Force photo — Van De Ha
The Advanced Extremely High Frequency (AEHF) systems fourth satellite, AEHF-4, was the star of the show at the start of 2019 when the satellite successfully arrived on-orbit after its launch in October of 2018. This strategic communications satellite was the first in six years to join the existing Milstar and AEHF operational constellation designed to provide survivable, global, secure, protected, and jam-resistant communications for high-priority military ground, sea, and air assets.
Within four months of arrival on-orbit, the team completed a satellite checkout and successfully transferred AEHF-4 to 4th Space Operations Squadron (4 SOPS) for operational use by the warfighter. While AEHF-4 was wrapping up, the team immediately transferred focus to AEHF-5, holding multiple rehearsals in preparation for launch and
early operations.
Their efforts were rewarded when AEHF-5 was successfully launched on August 8 in a beautiful, pre-dawn show. The satellite reached orbit in November and the teams worked during Thanksgiving and Christmas and they will have delivered two strategic communications satellites to America in one year
The sixth and final planned AEHF satellite completed its final major test event in August and was shipped to Cape Canaveral in Florida before the close of 2019, meeting the final program milestone. The AEHF team has taken additional pride in knowing that an additional resiliency capability was added to the AEHF constellation throughout the production cycle while avoiding issues associated with requirements creep and schedule delays.
In 2019, the program added a 4th international partner in Australia to the existing list of highly-valued partners: Canada, the Netherlands and the United Kingdom. No doubt 2020 will be a bittersweet year for SMC as, after the completion of AEHF-6, the program transfers into sustainment.
The Enhanced Polar System (EPS) is the polar adjunct to the AEHF system that provides continuous protected communication (low probability of interception and detection) over the North Polar Region using two communication satellites in highly elliptical Molniya orbits.
In 2019, EPS completed a flawless 8-week, Multi-service Operational Test and Evaluation that followed more than 12 months of rigorous troubleshooting and testing with 17 joint organizations. The EPS test reports from U.S. Air Force Operational Test and Evaluation Center and Director, Operational Test and Evaluation, declared EPS operationally suitable and effective with no liens.
On September 19, EPS achieved U.S. Air Force Space Command Operational Acceptance and Initial/Full Operational Capability with no liens or deficiencies, a rare feat in delivering operational capability to warfighters.
The 4th SOPS at Schriever Air Force Base, Colorado officially took command of EPS following a ceremony during which the EPS materiel leader, Lt. Col. Kenny Smith, passed a ceremonial "Arctic" key to Lt. Col. Tim Ryan, the 4th SOPS commander.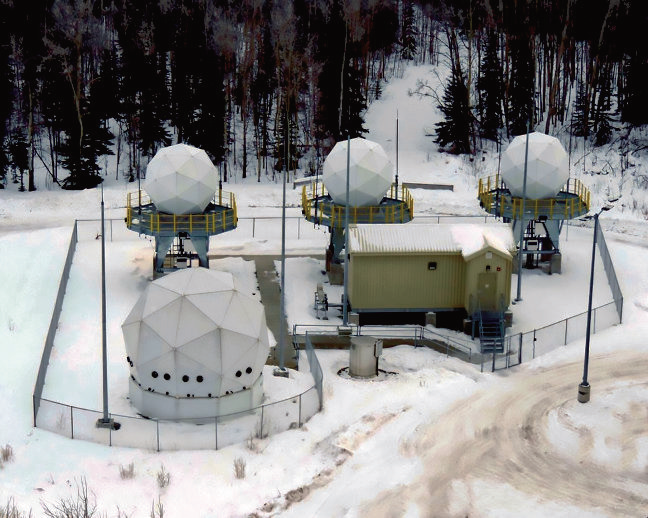 The Enhanced Polar System Gateway at Clear Air Force Station, Alaska.
Photo is courtesy of the U.S Air Force.
EPS brings multiple capability enhancements over the legacy Interim Polar System, including larger capacity, higher data rates, and improved connectivity through the EPS Gateway at Clear Air Force Station, Alaska.
The EPS Recapitalization (EPS-R) program is a follow-on to EPS that prevents a coverage gap in protected polar satellite communications for warfighters in the North Polar Region (in both benign and contested environments) until the future Protected Tactical SATCOM and Evolved Strategic SATCOM polar variants are available in the 2030s.
The EPS-R payloads, built by Northrop Grumman Aerospace Systems, will fly in a three apogee orbit and will be a hosted payload on Space Norway-procured space vehicles.
During 2019, EPS-R solidified its partnership opportunity with Norway, an effort unprecedented in its ambition, delivering a rapid, 4-year launch schedule and at significant cost savings. The Arctic Memorandum of Agreement was signed between the United States Air Force and the Ministry of Defence of the Kingdom of Norway in May of 2019.
SMC advised and assisted Space Norway in solidifying its contracts with Northrop Grumman Innovation Systems as the space vehicle developer and with SpaceX as the commercial launch provider. SMC awarded a contract for the EPS-R Control and Planning Segment (CAPS) to Northrop Grumman Mission Systems in fewer than 40 days from receipt of the contractor's proposal.
The program office conducted several major technical reviews including EPS-R CAPS System Requirements Review and Preliminary Design Review as well as EPS-R Payload Critical Design Review. The program remains on track for a dual-launch of both EPS-R payloads in December of 2022.
The Evolved Strategic SATCOM (ESS) program continues the strategic SATCOM mission of the Advanced EHF (AEHF) program. The next-generation ESS will replace AEHF and EPS to provide the National Command Authority and Combatant Commanders with highly-reliable, secure MILSATCOM.
The ESS program leverages Middle Tier Acquisition authorities from the National Defense Authorization Act of 2016 to employ an innovative strategy for the space segment acquisition. This approach energizes how the Government develops and fields strategic SATCOM through rapid prototyping, reducing higher risk technologies early, driving innovation and open systems architectures supporting future technology and resiliency enhancements, while shortening development timelines.
Since this strategy was approved in December 2018, the program office released its rapid prototyping Request for Proposals in August, has already received multiple proposals and is moving quickly to award rapid prototyping contracts in early 2020.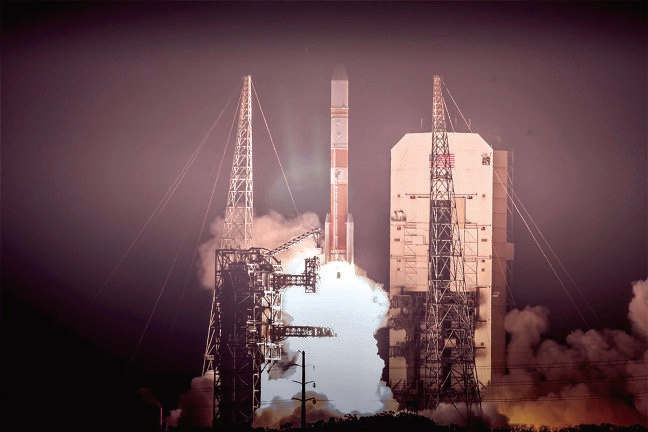 The U.S. Air Force's 10th Wideband Global SATCOM communications
satellite (WGS-10) atop a Delta IV rocket lifts off on from Space Launch
Complex-37B at Cape Canaveral Air Force Station, Florida, March 15.
Photo is courtesy of Van Ha.
For the ESS ground segment, the program office released a Broad Area Announcement to industry in August of 2019 to explore Strategic Communication Mission Planning (SCMP) architectural design options, based on ESS requirements, and the feasibility of evolving the current AEHF mission planning architecture for open systems architectures, agile software development, ground system integration, and resiliency.
The ESS program office has received significant interest from industry. The program is on track to award study contracts by the end of this year to begin an effort that will inform the future SCMP. The ESS program is making tremendous strides and is on track to support the users' strategic need.
Wideband Global SATCOM (WGS) serves as the backbone of the U.S. military's global satellite communications, providing worldwide flexible, high-capacity, long-haul communications for marines, soldiers, sailors, airmen, the White House Communication Agency, the U.S. State Department, international partners and other special users. WGS provides essential communication services, allowing Combatant Commanders to exert command and control of their tactical forces, from peace time to military operations.
WGS-10 was launched on March 15 and concluded Payload Characterization Verification and Special Testing on September 5. During July and August, numerous activities helped optimize performance for the WGS-10 spacecraft and ground equipment. Additionally, the team demonstrated new and emerging capabilities that can be used with the WGS constellation.
WGS-10 is now in the process of operational acceptance by USSPACECOM, at which point all 10 WGS satellites will be in service as long as they remain mission capable.
In FY18, Congress appropriated $600 million above the FY18 President's Budget to procure WGS-11 and WGS-12. SMC proposed to procure a single space vehicle with double the capacity of a legacy WGS satellite.
An Undefinitized Contract Action was awarded to Boeing on April 19 to build a single WGS satellite (WGS-11+) with double the operational capacity of a WGS Block II Follow-On (B2FO) Satellite. The program office continues to work closely with Boeing and our mission partners to ensure WGS-11+ meets warfighter requirements.
Several technical interchange meetings and design trades are currently being navigated and the program passed its System Requirements Review on October 24. The SMC Production Corps is in the process of definitizing the contract for the WGS-11+ satellite and associated ground enhancements.
This acquisition effort aligns with SMC's tenets of innovation, culture, and speed by rapidly implementing commercial technologies and respecting
Boeing's commercial model and practices. The WGS-11+ capabilities were briefed during panel discussions at the 2019 Wideband Working Group—its capabilities were well received by warfighters, operators, and planners across the Department of Defense. While WGS-11+ will add additional capacity to the existing constellation, the WGS Program Office is also exploring collaborative efforts to posture WGS-11+ as a viable government host platform for rapid prototyping efforts.
The Mitigation and Anti-Jam Enhancement (MAJE) program is a ground-based anti-jam upgrade that will use the existing capabilities of the WGS satellites to locate interference sources on the Earth and shape beams to mitigate the interference. MAJE is currently in software development and has successfully completed two test events in 2019 to keep it on track for operations by early 2021.
The Protected Anti-Jam Tactical SATCOM (PATS) family of programs was created to fill a capability gap between AEHF and WGS by increasing protection in contested environments with higher data rates than available on legacy systems. This capability centers on the Protected Tactical Waveform (PTW) — a frequency-agnostic, anti-jam waveform designed to mitigate the effects of advanced jamming in Anti-Access/Area Denial environments. The Department of Defense (DoD) plans to implement PTW to ensure delivery of protected tactical SATCOM to the joint and coalition warfighters in contested, degraded environments.
In August and September of 2019, SMC completed successful PTW demonstrations on contractor-built modems integrated with existing U.S. Army, U.S. Navy, and U.S. Air Force SATCOM terminals as part of the Protected Tactical Service Field Demonstration (PTSFD) program. These terminals were used to transmit PTW signals over both WGS satellites and Intelsat's EchoStar 9 satellite, proving the waveform can be operationalized for government and commercial use with a terminal modem upgrade.
The first phase of this operational capability will be provided by the Protected Tactical Enterprise Service (PTES), a software-intensive ground system awarded to Boeing in November 2018 providing satellite communications with enhanced Anti-Jam and Low Probability of Intercept capabilities to the nation's armed forces tactical warfighters in contested environments. It is comprised of mission management, cryptographic key management, and joint hub communication systems. PTES will be the enabling Joint Ground System for future large-scale PTW operations and the PATS architecture and will include a future phase over commercial SATCOM systems.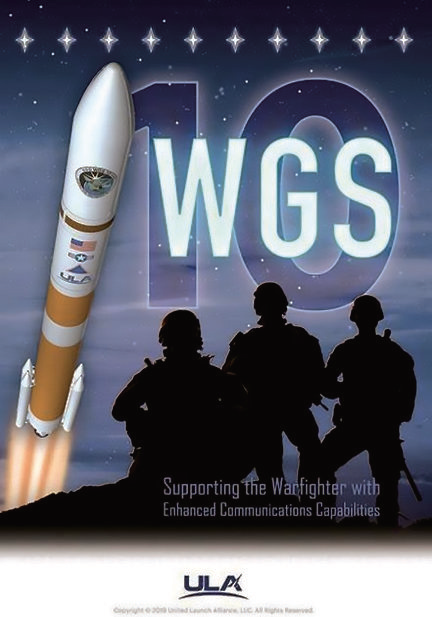 As the DoD's first Middle Tier Acquisition rapid prototype program, PTES uses innovative and non-traditional acquisition approaches to deliver an operational prototype capability 18 months faster than a traditional acquisition, largely due to its application of Agile Product Management.
Since awarding a $382 million development contract in November of 2018, PTES:
• Stood up nine Agile Product Development teams
• Established a state-of-the-art DevSecOps pipeline
• Started writing and automatically testing secure code two years earlier than traditional DoD software programs.
The program was invited to join the DoD's DevSecOps Initiative and became a pilot program for operational testing of Agile
Software Programs.
The Protected Tactical SATCOM (PTS) program will build upon the PTW architecture in the next phase by delivering a space-based fully processed SATCOM payload.
PTS is the capstone capability of the PATS enterprise, which will provide resilient, worldwide, beyond line-of-sight, anti-jam communications to tactical warfighters. PTS will use new, on-orbit payloads with onboard PTW processing to enable single hop, direct user-to-user connectivity for secure, reliable, anti-jam satellite communications for tactical warfighter operations in close proximity to jammers.
The USAF plans to use an evolutionary approach to meet the full PTS system requirements for payload development, starting with a Rapid Prototyping Spiral. A Request for Prototype Proposal was released in May of this year and the DoD expects to award up to four Other Transaction Agreements for PTS payload design, build and on-orbit demonstration in the next few months.
During the Rapid Prototyping Spiral, each payload vendor will design a modular, scalable, hostable payload that demonstrates key PTS requirements. Understanding the challenge of requiring multiple vendors to individually develop and simultaneously achieve National Security Administration certification of the End Cryptographic Units (ECU) required to provide transmission security of information to and from the PTS satellites, the DoD decided to execute a separate acquisition for the Space Hub ECU. This effort was awarded to L3Harris in June of this year.
The U.S. Army Anti-Jam Modem (A3M) program capped off a busy 2019 for PATS when the DoD released a Request for Proposal in October. This joint U.S. Air Force/U.S. Army Indefinite-Delivery/Indefinite-Quantity (IDIQ) multi-award modem contract will build on the work done by the PTSFD program and operationalize PTW on the USAF Ground Multiband Terminal and U.S. Army Satellite Transportable Terminal, allowing for fielded capability in FY2023.
In summary, 2019 was a year of great successes for SMC in delivering capability and developing an integrated SATCOM enterprise architecture to meet the demands of the future. The USAF is accelerating delivery of this enterprise to ensure warfighters receive the operational benefits of SATCOM effects in CDO environments.
SMC is embracing faster acquisition processes and faster command and control constructs to maintain the advantage in any conflict. Delivering fighting satellite communications for our nation's warfighters will be a major step toward maintaining MILSATCOM dominance on
the battlefield.
---