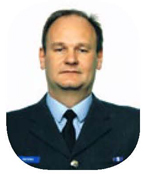 Giles Peeters spent 19 years working as a communications specialist for the United Kingdom Ministry of Defence, before moving to the private sector to consult for organisations such as NATO, on Blue Force Tracking (BFT) requirements. Now Defence Sector Director at Track24 Defence, Peeters is the driving force behind the launch of the company's new, commercial-off-the-shelf (COTS) Blue Force Tracking solution, Situational Command & Control (SCC).
MilsatMagazine (MSM)
As the Defence Sector Director for Track24, would you enlighten our readers as to your duties with the Company?
Giles Peeters
My main responsibility is running the defence group within Track24; this covers a wide range of duties from business strategy and development and overseeing sales and marketing, to technology innovation and development.

MSM
Having spent nearly 20 years with the U.K.'s Ministry of Defence (MoD), what projects did you undertake there that prepared you for your move into the commercial MILSATCOM world? Would the same apply to your experience while working with NATO when you were with EMS Technologies?
Giles Peeters
While I can't talk about specific projects, my initial post at GCHQ was where I first came into contact with commercial high-tech solutions for the intelligence community. Up until then, like most personnel, my only experience of military comms had been 'combat network radios'; however, working at GCHQ exposed me to the wonderful technology that was available commercially and which, more importantly, actually worked where and when we needed it.
As the Commercial Satellite Service Delivery Officer with the Satellite Integrated Project Team (IPT) at DCSA Corsham, I was the 'go-to' man for anyone with a satellite communications requirement MoD-wide. We were effectively the MoD's procurement agency for commercial satellite service delivery; military personnel would come to me with requirements and I would approach commercial providers to fill that capability gap. That was where I started to develop a more in-depth understanding of what commercial technology could do – particularly through my responsibility for the satellite contracts between Inmarsat and the Navy.
My final three years as the joint communications subject matter expert, at Joint Helicopter Command (JHC) included communications and command and control responsibility for all U.K. MOD helicopters entering Afghan and Iraqi airspace – an operation that required the use of the first home-grown Blue Force Tracking (BFT) equipment engaged by the British military.
My experience with NATO involved project managing the integration of a Blue Force Tracking system into the international peacekeeper's communications system.
MSM
How do you see MILSATCOM evolving over the next year or two in efforts to support warfighters? What major goals in this area would you like to see accomplished?
Giles Peeters
There has been a major comms. change in the operations of recent years – the environments in which troops are engaging with the enemy are a challenge for radio and GPRS – beyond line-of-sight (BLOS) communication is still a critical capability gap.
Troops are being deployed more quickly and at shorter notice than ever before, and joint operations are becoming more common (such as Libya), meaning that system interoperability must be a key aim for satellite communications.
MSM
Please explain Blue Force Tracking and how such is so crucial to front-line missions.
Giles Peeters
Even on the battlefields of old it was necessary for commanders to have a good overview of deployed military assets. In modern warfare it's even more important as the conflict is no longer taking place in line-of-sight, but hundreds of miles from forward operating bases. A commander cannot effectively engage the enemy unless they have a complete understanding of the force available to them; BFT offers that Common Operating Picture (COP), and metrics on everything from available ammunition to the local environment. Exciting developments in commercial systems and machine-to-machine communications mean we're now seeing integrated red force contact and telemetry from deployed machines. We're watching battle management evolve from simple BFT to integrated situational command and control.
MSM
How does Track24 involve themselves in Blue Force Tracking projects/products and other areas of military defence?
Giles Peeters
There are organisations already in Afghanistan using something similar to BFT – these guys on the ground are using old technology, and are starting to realise that there are other capabilities available at a fraction of the price. We're currently in talks with many security companies active in that region, and are offering tactical solutions to the U.S. military. Existing users of BFT with expensive systems are starting to look at alternatives, and military organisations are reassessing their existing capability and realising there are lower cost alternatives – this is where Track24 Defence comes in.
MSM
Track24 describes themselves as being involved in the Security Tracking and Risk Management Sector (STRMS) — what areas of defense does this sector cover, and how does your Company project their offerings against competitive products?
Giles Peeters
With the STRMS side of the business, the technology is similar but the customer is different – instead of military and defence sector organisations looking for command and control, the customer might be a high-level CEO travelling to high-risk countries or ensuring civilian safety whilst involved in re-construction efforts.
Track24 has seen the market change over the years and has adopted a more technical approach to service provision, allowing it to offer customised solutions to companies and military organisations. We're involved in strategic product development with manufacturers to ensure exclusivity in core markets; that means that the product and service offered by Track24 is of the highest quality and fit for purpose in often-demanding environments.
MSM
Was the transition from the military to the commercial world challenging for you?
Giles Peeters
Many military personnel struggle to integrate into the civilian, commercial world, but I didn't really find it a challenge – mostly because I already had experience of dealing with private satellite companies. The commercial sector has changed drastically from when I was with the military; since the recession, companies are struggling, so everyone is working extremely hard and being more flexible in their business transactions.

Concurrently, the forces have also changed – if you compared the military I joined to the one I left, you would not recognise the two. Whereas the majority of personnel had no understanding of the commercial world (with the army's own communications systems, they believed there was no need), the constant developments overseas and the austere environments in which troops are fighting, means that they are being forced to find solutions from within the commercial sector. The two worlds are not so different and this is proven by the U.S. military; 80 percent of their combat ready-satellite capability is from the commercial sector.
MSM
How do you think your military command experience has prepared you to work with military organizations now that you are with Track24? Do you find the process to be more difficult on the "other side of the fence?"
Giles Peeters
When I go into military organisations, I see a lot of them at the same stage I was several years ago, when I started to look at new technologies – my experience allows me to pass on the lessons I have learned – both the successes and the mistakes. They are trying to solve a problem, and I have experience of problem-solving at the highest levels on the front line, in Afghanistan and Iraq. I was in the right place at the right time to learn about commercial satcom technology, and will always be able to help people. In South America, for example, we're seeing organisations just starting to think about how could BFT could benefit them, what it could give them and how they'd integrate it – our experience and military background means we're well respected and perfectly placed to help them make those decisions.
I tell everyone the same thing: The key consideration is the concept of operations. It's not necessarily about the technology itself, it's about how you implement it and get it to work with everything else. For example, how do you enable an Apache helicopter to communicate with a Chinook when they are using different systems? My military command experience can guide them in the right direction.
MSM
Having worked with the MoD and NATO, did you find yourself working with the militaries and government agencies from other countries as well? Do you find such helpful today as you engage in more and more global activities?
Giles Peeters
Rarely. My work has mostly been with U.K. personnel, and some from the U.S. My consulting work with NATO involved some interaction with other organisations at a very high level, and in my last role at my previous company, I worked on projects with organisations in Romania and Poland.
MSM
What do you see as the most dire communication and security needs for today's warfighters? Will these needs be addressed soon, or are they merely "wish lists" for the future that may never see the light of day?
Giles Peeters
The biggest security need at the moment is a communication path/bearer that works beyond line-of-sight, offers the right data capacity and is secure. We believe that the Track24 offering comes closest out of anything on the market to fulfilling this need, at a fraction of the cost of other systems.
MSM
How important was it for the Company to open a new office in North America? What are your lead goals for this office, and for your own success?
Giles Peeters
It has been crucial. There is a considerable technology divide between North America and the rest of the world, in terms of brand recognition. There are massive European companies in our sector that few people have heard of in America, and vice-versa. I've seen companies try to break into North America without having an office there, and it never works; you can't sell to the U.S. from Europe. It works the other way, as well, as there are several big American BFT companies doing very well with the U.S. military who can't sell anywhere in Europe.
Our Canadian office allows us to exploit our business and military connections on the continent (we could not sell to the U.S. military without a North American office) as well as giving us an additional conduit to bring our technology to the rest of the world, alongside our U.K. and Dubai offices. It also allows us to offer 24/7 support to our customers across three time zones: GST, GMT and EST.