Mr. Robert Tipton (Tip) Osterthaler joined the SES family in December 2006 when he became the President and CEO of AMERICOM Government Services. Since then, the independent corporation and wholly-owned subsidiary of SES WORLD SKIES has grown and integrated with other USG business elements within SES to become SES WORLD SKIES, U.S. Government Solutions. During his tenure at SES, the U.S. Government business has transformed from a product oriented sales channel into an end-to-end satellite solutions company, and now to an entity that is directly aligned with the global assets and resources available on the SES fleet of 44 communications satellites.

From 1998 until 2006, Tip was a Senior Vice President at Science Applications International Corporation (SAIC), a large systems, solutions and technical services company serving the needs of the U.S. government. His last assignment at SAIC was Deputy General Manager of the Strategies, Simulation and Training Business Unit, a 2,300 person organization that provides government and commercial clients with advanced modeling, simulation and training solutions.

Prior to joining SAIC, Tip served in the U.S. Air Force for 28 years, retiring as a Brigadier General and Deputy Assistant Secretary of Defense for European and NATO Policy. Earlier assignments included Vice Commander of the Air Intelligence Agency, NATO Staff Officer, and numerous command and senior staff assignments. Mr. Osterthaler is a Command Pilot, having accumulated over 3,200 hours of flying time in fighter aircraft including multiple models of the F-4 Phantom II and the F-15 Eagle.

Tip holds a BS in Economics from the U.S. Air Force Academy and an MBA from Texas A&M University. He is also a graduate of Harvard University's Senior Executives in National Security Program as well as their National and International Security Management course, the Royal College of Defense Studies in the United Kingdom, the Air War College, and the Marine Corps Command and Staff College.

MilsatMagazine (MSM)
Good day, Mr. Osterthaler. Your 28 years of service to our nation as a Brigadier General in the USAF was replete with numerous command responsibilities. Additionally, you served as the Deputy Assistant Secretary of Defense for European Policy. How did you manage the conversion from military and government leadership roles to becoming involved in the commercial environment? How do you apply your military and government experiences to leading the programs of SES UGS?

Tip Osterthaler
The differences between the two organizations are not as great as some may think. One of the things I discovered very early in my second career in business was that the same sort of leadership characteristics and traits work well in a civilian world as they do in the uniformed world.

I think there's a general assumption that the military's hierarchical structure is what drives leadership. What I've found is that formal authority is actually less influential as compared to your ability to articulate where you're trying to go, and encourage people to perform well as a team. This essentially becomes the most valuable leadership skill in any organization — private and military alike.

In terms of making the transition from military to the private sector, it certainly doesn't happen overnight. It took me several years to gain an understanding of the important differences that exist. While the way in which people operate in organizations can be very similar, the way machinery works in the private sector is quite a bit different than it is in the government. When you're trying to create bottom-line results, techniques you employ are different. In most cases with the government, you are responsible for executing programs that are not necessarily bottom-line cost driven, and quite often, cost is a dependent variable. In the business world, cost is never a dependent variable. You have to produce bottom-line results or you don't stay in business. It takes time to figure out the metrics, the tools and the processes that are required in order to create these results.

MSM
What do you see as the most challenging aspect of running SES UGS?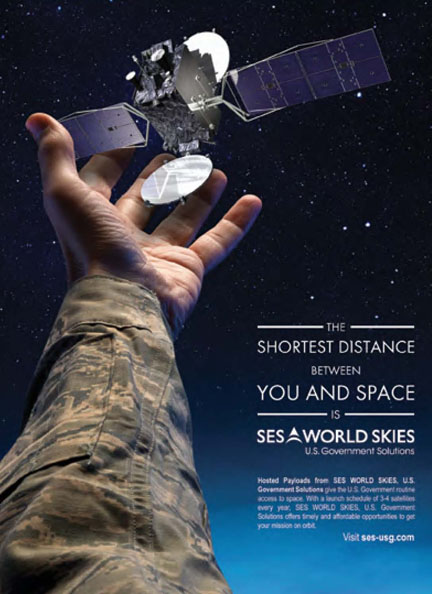 Tip Osterthaler
The commercial satellite industry is an infrastructure business at its core and is not necessarily driven by the needs of the government. While the very charter of our company is based upon serving the needs of the U.S. Government, our parent company, as well as the other major commercial satellite operators share a predominantly commercial mission. They're driven by metrics of return on investment, which really is the obligation of the Board of Directors and senior leadership to the shareholders. With that in mind, any decision to create a capability or product that may be of interest to the U.S. Government is going to be driven primarily by the business case it presents to the parent company. That's where my group comes in as the advocate for the U.S. Government in the fleet development process.

MSM
What do you enjoy most about your role with the Company?

Tip Osterthaler
The qualities I enjoy most about my company, as well as the commercial satellite industry, is that it's technically challenging, fast-moving and exciting. The capabilities that we bring to our customers are of tremendous importance to them. In the case of our U.S. Government customers, we take great pride in knowing that the capability we provide enables connectivity in remote and disparate locations, communications between deployed service members and their families and mission-critical communications that are saving time, money and lives on a daily basis.

MSM
In recent months, FCSA or the Future Commercial SATCOM Acquisition has been a big topic within the SATCOM industry, specifically for those providing products and services to the U.S. Government. How did this program come about?

Tip Osterthaler
Over a period of about 10-years, the primary purchasing approach for the Department of Defense was through a series of contracts with three SATCOM reseller-integrators. That contract, referred to as DSTS-G, was in essence a way to organize the market and allow DoD to purchase capabilities on commercial satellites.

Over that 10-year period, there was a revolution in demand for commercial capacity as new systems were fielded, such as remotely piloted vehicles. With this increase in demand, the limitations of only using three companies and excluding other purchasing channels became clear, and the need to develop a process that worked in the best interest of the government was apparent.

Over time, the DISA and GSA collaborated on a new purchasing approach for the U.S. Government. This new approach, referred to as the Future Commercial SATCOM Acquisition (FCSA), offers flexibility to the government in the way they're able to purchase SATCOM capability. With FCSA, the government can go directly to satellite operators, work through the integrators, or go through a managed service provider depending on the type of capability they are seeking to buy. This new program has opened the playing field for many more providers to bring their capabilities to the market, which in turn, provides the government with greater choices than they had previously.

MSM
What will FCSA mean for the industry in terms of the competitive landscape? Are you seeing an increase in entrants to the SATCOM market, or has the vehicle reduced the number of providers able to do business with the U.S. Government?

Tip Osterthaler
In the area of Transponded Services, we're seeing a tremendous increase in the number of players in the market. This is largely due to the fact that we have not only satellite owners and operators offering direct capacity options to the government, the integrators and resellers are bidding on opportunities to present capacity from the operators as well. In terms of new entrants to the market, where the previous DSTS-G vehicle was limited to three companies, FCSA has created opportunities for most of the owner-operators plus a large number of new reseller-integrators to participate. Though we're in the early stages of this new process, we have seen awards both to satellite operators as well as integrators.

MSM
As a global satellite operator offering service to the government for more than three decades, what do you believe will change in the way you do business with the new FCSA?

Tip Osterthaler
During the DSTS-G era, satellite owners and operators were essentially insulated from the end-user in a way that was not entirely in the best interest of the U.S. Government. Our business is a long-cycle business and the more we can find out about future government requirements, the types of applications they will employ that require our capacity, and such, the better chance we have to groom our fleet to better serve their needs.


When providing capacity exclusively through integrators and resellers, the direct relationship and conversation is inhibited. The ability of the satellite operators to sell directly to the U.S. Government creates an immediate day-to-day relationship. This direct conversation builds confidence on both sides and furthers the operators' ability to support investments in capacity and services specifically to meet the needs of the government.

MSM
SES created a proxy structure around its U.S. Government business. With FCSA, how important is this proxy to the government? Will operators without such a structure be able to offer bandwidth directly?

Tip Osterthaler
There's no requirement to have a proxy structure in order to sell through FCSA. The proxy arrangement is required for foreign owned companies to hold facility security clearances which in turn enable companies to host personal security clearances for employees so that they may engage in classified conversations with the government and perform classified work. To the extent that customers have classified requirements and they chose to satisfy them through FCSA, American-owned companies with security clearances will be able to bid. Likewise, foreign-owned companies who operate behind a proxy structure, or who are run by proxy boards, are essentially treated as American companies. The extent to which FCSA will require individuals to have security clearances is not yet clear. It's more likely to be a topic for consideration for the Custom Satellite Solutions, or CS2 portion of FCSA to be awarded later this year.

MSM
As the government will be able to contract directly with SES USG for capacity and services vs. going through another party, what are the benefits and costs to doing business more directly?

Tip Osterthaler
The benefit to the government is the direct relationship with their service providers within the satellite operating companies. We can gain a clear understanding of what their needs are, what works well with our existing infrastructure, and what they'd like us to improve upon or change as we plan for future satellite developments.

This direct conversation is tremendously important. It's the way you come to understand the customer's problem from the customer's perspective. When you're going through third parties, it's very difficult to achieve this level of understanding. It's important to keep in mind that in government contracting, it is common for the subcontractor to be precluded from direct conversations with the customer. In some cases, the requirement to go through the prime to investigate future needs of the end-user is often not productive. Many times both parties find the business interest of the prime are not identical to those of the subcontractor. The new FCSA creates the opportunity for open conversation between service providers and government end-users which will work to the benefit of both.

MSM
Has the direct FCSA channel to commercial operators such as SES posed a threat to the previous DSTS-G providers and integrators?

Tip Osterthaler
From my perspective, if it works to the best interest of the government, all participants in the commercial SATCOM market should acknowledge and appreciate that fact and seek to operate within a framework that better serves this important customer. Trying to protect market share and what often can be the narrow interest of one single company is not a good long term strategy.

We ultimately have to look at what the government needs; we must be willing to do what it takes to meet these needs. Additionally, it's critical that all of the players deliver what they promise. This is what will determine whether or not there is and will be a healthy government business for any of us who participate in this market.

MSM
SES USG was recently awarded SINS 54 and 55 with FCSA, enabling SES UGS to provide Transponded Capacity and Subscription Services directly to the government, while the third leg of the table, custom satellite solutions or CS2, has yet to be awarded. Is this an area where SES USG plans on providing service as well?

Tip Osterthaler
Yes. As CS2 is yet to be awarded, we don't know the exact kind of work that will come through this vehicle. In circumstances where a solution largely includes SES capacity, we plan to provide prime bids to the government. It's not our intention to grow our business as a reseller. It is our intention though to have a direct relationship with the customer wherever we can to provide them with the benefits of SES capacity through CS2, or any other part of FCSA, and to use this relationship to gain a better understanding of the capacity they need in the future.

MSM
Do you envision the CS2 program encompassing large scale programs such as the Trojan network you currently support? Can you tell us about the Trojan network and how it will assist Military Intelligence?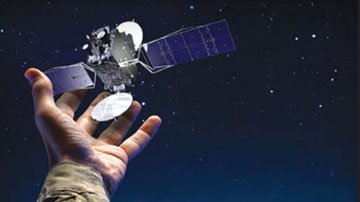 Tip Osterthaler
As CS2 has not yet been awarded to industry, it is unclear as to whether it will include opportunities on the scale of Trojan. It's certainly conceivable that a large network such as the Trojan project could fit within the scope of work of a CS2 RFP; however it is too soon to tell at this point.

The customer for the Trojan network is the U.S. Army. Our company has been providing capabilities associated with this program for quite a few years. As the requirements of these users continue to evolve, it has become quite a substantial program. At USGS, we have a number of people that are dedicated to delivering this program and customer capability and we spend a lot of time ensuring that the services the Army depends on through the Trojan network are going to be up and running wherever and whenever they're needed.

MSM
Can you tell our readers a little about recent awards to SES USG via FCSA? How have you been using this program since receiving SINs 54 and 55?

Tip Osterthaler
We have been evaluating the opportunities that have been coming through FCSA, and in particular those associated with Transponded Services as that is the core of our business. We have bid capacity where we had it, in some cases directly to the government and in other cases, through third parties or integrators who have asked us for capacity. One of our very first awards through FCSA was with our long time industry partner, Artel, Inc. where we offered two C-band transponders to meet an Air Force mission in the U.S. Since the first of the year, we've seen a tremendous amount of activity on FCSA and our team has been hard at work designing solutions to meet the various government needs that have been identified.

MSM
A crying demand for capacity affects commercial and government segments — how do you see the role of hosted payloads progressing for the military aboard commercial satellites? What challenges need to be overcome in this regard?

Tip Osterthaler
In recent years, we've seen some innovative thinking on the use of commercial satellites to provide non-traditional capabilities to the U.S. Government. SES will host the a wide field-of-view infrared sensor on board its SES-2 spacecraft to launch later this year, in support of the U.S. Air Force's Commercially Hosted Infrared Payload (CHIRP) flight demonstration program. There can be a compelling economic argument for commercial owner operators providing the USG with timely and affordable access to space on commercial satellites.

As to how commercially hosted payloads could evolve in the future, I suppose time will tell. At this point, much of the conversation surrounding the topic of hosted payloads tends to be focused more on the traditional paradigm of what commercial satellites should do, and what government satellites should do. We need to further examine this dividing line and start a conversation not only about how to do things more efficiently, but how we can do different things. As an industry, we must examine the entire architecture and explore ways we can use the capabilities of commercial industry to provide more capabilities to the USG with less risk, and at less cost.

For example, in the case of EHF, is it actually the case that these special capability payloads can only be owned and operated by the government, or is that just the way we've always done business in the past? As we look at the fact that space is no longer an uncontested environment for the United States, shouldn't we be asking ourselves whether or not a distributed EHF architecture makes more sense than a highly concentrated one? I think there's scope for a lot of new thinking on hosted payloads and we're starting to enter into conversations with the government about doing things differently than we have in the past, examining the entire architecture and seeing if we can't use the capabilities of commercial industry in a new, innovative, and cost effective way.



MSM
One area of concern to many companies in this highly competitive industry is that of finding talented and educated professionals to continue to build product. How would you like to see the industry assist and encourage youngsters to pursue STEM courses? Is SES UGS involved in any such programs?

Tip Osterthaler
SES certainly has been involved in encouraging the development of a talent pool because in this industry, we have a demand for highly skilled engineers and people with very strong science backgrounds. Within our company, we have provided the most intensive development programs that I've ever seen in a private company where we build the skills of an individual over the course of a two year timeframe where they are provided with exposure to various aspects of the business.

The commercial satellite industry is one of the more diverse industries when it comes to looking around the globe for technical skills that we need as an international company. We have people from different cultures and background with a unifying theme that they're all technically very well trained and highly skilled.

In terms of USGS investing in our talent pool, our internship program has been increasingly active in recent years and we're continuing to look at opportunities to encourage others within the private sector to participate in similar programs.

MSM
Where do you see MILSATCOM heading over the next year? How will this effect warfighters whose boots are on the ground or pilots with joysticks in the air?

Tip Osterthaler
There are several important MILSATCOM programs that are in the process of execution right now, such as WGS. We'll continue to see the deployment of this fleet, which will help reduce the pressure on the warfighter to get the bandwidth they need to support operational requirements. We're seeing the continued deployment of next generation government operated IR systems as well. We've seen challenges with this system, both in terms of cost and performance, however enhancements continue and the program is moving forward. The next generation UHF program for the government, referred to as MUOS, also continues to move forward. These programs, together with the AEHF, constitute the next generation of on-orbit capabilities owned and operated by the U.S. Government.

Many of these MILSATCOM systems have common characteristics that in addition to posing challenges to the government, they tend to be extremely expensive because they are very specific. With the exception of WGS, these systems have a demanding set of requirements and are built in small quantities which as a result, can be difficult to get on orbit, on cost, and on time.

In the years ahead, it's difficult to envision a lot of new resources being made available to support these kinds of programs; the current and near-future budget environment simply will not support many multi-billion dollar new starts. With the increased pressure on the USG, we're going to need to develop innovative ways to provide the capabilities our customers need. It's likely we're not going to see nearly as many government-owned and operated systems at least for the next several years.

When it comes to specialized capabilities however, such as those required for the support of our worldwide intelligence needs, I think we'll continue to see resources going to those, though it's certainly possible these programs will experience budget constraints as well, even if to a lesser degree. Operating within this budgetary environment presents industry with the opportunity to be creative and innovate solutions that are outside of our traditional way of doing business to ensure mission critical communications capabilities are available for our customer.