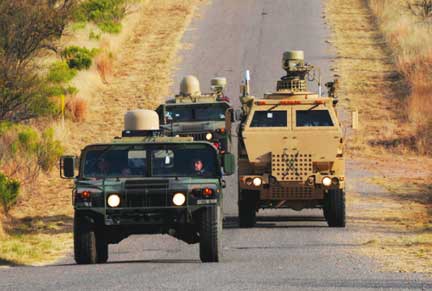 Providing mobile warfighters with broadband communications over satellite is an uphill battle as military forces must establish tactical networks that connect hundreds of remote locations quickly and under the most stressful of conditions.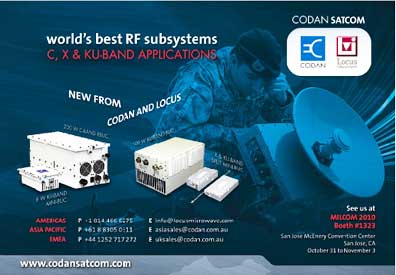 Using satellite links, armed forces can transfer millions of networked applications and services, including video and
Voice over IP
(
VoIP
),
Global Positioning Systems
(
GPS
), email, instant messenger, even news feeds from news networks, with high reliability. Effective collaboration and communication across thousands of miles between military and governmental agencies is not simply an option anymore... such needs are a crucial "must-have."
With flexible operational services and compact ground terminals, SATCOM services offer attractive solutions for military users in theater and those operating via global links. When deployed in theater, SATCOM offers communications across varying terrains, flexible networking, and direct links to the various destinations — all without reliance on radio relays.
Military Satellite Communications
(
MILSATCOM
) has become a necessity over recent years as the technology offers flexible access to various levels of command and control for global military operations. The well designed
iNetVu
® satellite antenna systems bring
Communication-On-The-Pause
into play, providing continuous connectivity under adverse conditions in many parts of the world. The system is capable of automatically and rapidly recovering from signal blockages caused by terrain/foliage, weather, and other obstructions.
Fast, Reliable + Secure Communications
Mobile satellite communication systems have proven to be quite reliable for the military, where the use of wire services is simply not an option. For users, it is extremely important to keep missions undisclosed for national security reasons. Satellite communication service meets this requirement — none of the calls or any other communication made via satellite communication can be tracked, as extremely high encryption technologies are employed by MILSATCOM providers.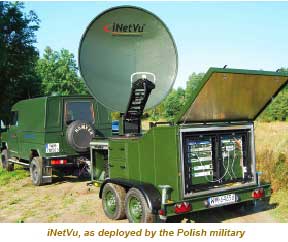 A pioneer in mobile SATCOM technology,
C-COM
has been delivering such high-speed Internet services to military forces worldwide. Automatically deployable iNetVu® antenna systems the company allow for the delivery of broadband services into military vehicles while stationary virtually anywhere one can drive.The iNetVu® systems can also be configured to operate from transportable cases, making it possible to deploy them anywhere, and at anytime.
Supporting mobile satellite Internet, broadband connectivity, streaming video and VoIP, the iNetVu® mobile VSAT antenna systems have become the choice for Emergency Response, Military, Police, Fire and Disaster Recovery applications around the world. In the most remote locations and under most adverse conditions, the iNetVu can quickly locate the satellite, automatically repeak (if required), and deliver instant broadband communication, cost effectively.
C-COM's design and development team's expertise in electronics and software development bring the latest industry features to the iNetVu® controller technology. Field feedback and specific requests have been rapidly developed into working customer solutions.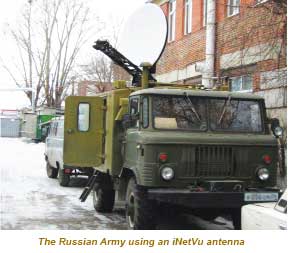 The iNetVu® antenna systems have been deployed by the Canadian, US, Russian, Polish, Czech, Danish, Chinese, and British military forces, as well as by South African, Vietnamese, UK, Russian, and Canadian police forces. C-COM's dealer — INTV, a leader in providing SATCOM solutions in the Czech Republic, has been providing iNetVu terminals since 2008. The main customer who benefits from high mobility and other advantages of these selfdeployable units is the Czech Army.
"The C-COM terminals are widely used by the Military, Geography and Hydrometeorology Services, by troops deployed in field missions abroad and by some special remote units as deployed throughout the Czech Republic. Besides the Army, there are also some civilian users already. For instance, an iNetVu terminal was deployed in late 2009 within the Crisis Management System of the Capital City of Prague, to serve in case of need as a quick-deployable mean of communication with the Crisis Management authorities in the Centre." says Mr.
Pavel Podhorny
,
INTV
.
The iNetVu® technology has also proven to be helpful during natural disasters, such as Hurricane Katrina in the state of Louisiana, Mexican floods, and the Sichuan earthquake, when wired services failed. The units enabled an easy to deploy, versatile, and transportable solution that supported all of the required communication applications such as VoIP, video, e-mail and critical data transfer.
Providing reliable communications to the remote warfighter through the iNetVu® mobile satellite antenna systems can make a huge difference, especially when split-second decision making is the key to the success of the mission.