Right On Target
AeroVironment, Inc. (NASDAQ: AVAV) and Australia-based Sentient have signed an exclusive global license agreement that allows AeroVironment to distribute Sentient's automatic target detection software for full motion video for use with small unmanned aircraft systems (UAS).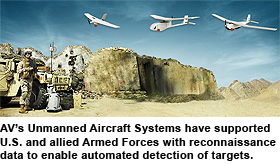 Sentient's Kestrel Land MTI Tier I is specifically designed to enable automated detection of targets, in real time, from small UAS. Over the past 18 months Sentient and AeroVironment have optimized and integrated the software with AeroVironment's existing common Ground Control System (GCS), which serves the Puma™, Raven
®
and Wasp™ small UAS.
"The Kestrel software adds capability to our existing small UAS by automatically detecting moving objects on the video screen and presenting that information visually to the operator," said Tom Herring, AeroVironment senior vice president and general manager of Unmanned Aircraft Systems. "This software makes it much easier to detect and track multiple moving objects in the battle space, thus delivering improved situational awareness to the system operator and tactical commander."
Military forces frequently deploy AeroVironment's small UAS in dynamic and complex operating environments. Kestrel has the ability to give operators an immediate cue to potential threats. This capability enhances situational awareness on the ground, which can help save lives.

"Kestrel Land MTI is deployed in a variety of theaters all over the world," said Simon Olsen, sales and marketing manager at Sentient. "The automated cueing capability has proven to be a decisive edge in a number of operational missions. This extensive operational experience was a key prerequisite for this relationship to proceed."
The license agreement between AeroVironment and Sentient does not include Sentient's automated target detection software solutions Kestrel Land MTI Tier II, Kestrel Land MTI Tier III and Kestrel Maritime.
* * * * * * * * *
Strategic Alliance Combo Brings UAS + SATCOM Together
AAI Unmanned Aircraft Systems (UAS), an operating unit of Textron Systems, a Textron Inc. (NYSE: TXT) company, and ViaSat Inc. (Nasdaq:VSAT) now have a strategic alliance that will align AAI's advanced unmanned aircraft and command and control technologies with ViaSat integrated airborne and terrestrial satellite communications, as well as its Internet Protocol-based networking and security technology.
Under the agreement, the organizations intend to develop and mature beyond-line-of-sight satellite communications capabilities for current and next-generation AAI Unmanned Aircraft Systems aircraft. Along with fellow Textron Systems business Overwatch, AAI Unmanned Aircraft Systems and ViaSat collaborate on the Forward Airborne Secure Transmission and Communication, or FASTCOM™, system. FASTCOM is an end-to-end, mobile cellular network that accommodates Top Secret smartphone communications. Through this strategic alliance, the two companies can build on the FASTCOM system's maturity with additional third- and fourth-generation, or 3G and 4G, capability to further enhance battlefield communications.
"The performance and affordability of tactical UAS like our Shadow
®
system make them an invaluable battlefield asset with a growing mission spectrum," says Senior Vice President and General Manager Steven Reid of AAI Unmanned Aircraft Systems. "Our customers' unmanned assets need to be as flexible and capable as the troops who utilize them, and this new strategic alliance with ViaSat is one way that we're staying on the leading edge of system development and integration."
"This new phase of the AAI Unmanned Aircraft Systems relationship is completely in-sync with our intent to continue delivering industry-leading broadband performance over ultra-small-aperture airborne satellite communication systems," said Vice President and General Manager for ViaSat Global Mobile Broadband Paul Baca. "And our private satellite network services can deliver the dedicated bandwidth needed to distribute tactical UAS video throughout the battlespace."
* * * * * * * * *
A Total Fabrication
Aurora Flight Sciences has been awarded a contract by Boeing Defense, Space & Security to design and fabricate structural components for the revolutionary Boeing SolarEagle unmanned aircraft.
The Company will design and fabricate the ribs and skins for the 400 foot long wing and the solar collection panels. The work includes components for both a subscale test article and a flight demonstrator.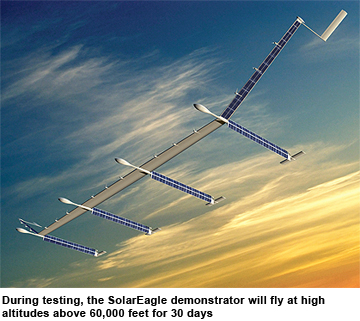 "Aurora will have to push the limits of materials and the imagination to create answers to the demanding requirements of this very large yet gossamer aircraft," said Tom Clancy, Aurora's Vice President and Chief Technology Officer. "We are delighted to have been chosen for such an important role. Boeing recognized the value that Aurora brings to the program through our combination of experience in rapid prototyping and our expertise in composite structures."
SolarEagle is being developed under the Defense Advanced Research Projects Agency (DARPA) Vulture program. During testing, the SolarEagle demonstrator will fly at high altitudes above 60,000 feet for 30 days, harvesting solar energy during the day that will be stored in fuel cells and used to provide power through the night.
Aircraft that can stay aloft for extended periods can function as pseudo-satellites for intelligence, surveillance, reconnaissance (ISR) and communication applications.
Aurora has more than 20 years of experience with gossamer aircraft. The company's background in human powered aircraft directly translates to the current lightly-loaded, low Reynolds number solar powered airplanes. Aurora recently converted one of its early human powered aircraft into a solar powered UAV.
* * * * * * * * *
Awarding + Rewarding
Avwatch Inc. has been awarded the U.S. General Services Administration Schedule 66 contract for scientific equipment and services.

The contract, a product of a detailed application process, signifies Avwatch's dedication to putting its innovative technology into the hands of national law enforcement, homeland security, and military responders in a cost effective way. Avwatch has already forged a rich portfolio of operational successes with the U.S. military, Department of Homeland Security, and other state and local responders.
During the Mississippi River flooding in April and May 2011, Avwatch provided real-time, full-motion video of 150 miles of the river to the Federal Emergency Management Agency, the Mississippi Emergency Management Agency, the National Guard, and the Pentagon, delivering vital situational awareness to each. During Hurricane Irene in August 2011, Avwatch flew over affected areas from New York to New Hampshire. A team of federal, state, and local responders linked by Avwatch's signature network detected a person in distress aboard a sailboat. Coordination by Avwatch ensured the operator and sailboat were safely and quickly recovered. Following the Deepwater Horizon oil spill in 2010, response leaders tapped Avwatch to assist with recovery operations. Rapidly installing an extensive data network, and canvassing more than 10,000 square miles by air, Avwatch streamed high-quality video and real-time data to operational commanders on the ground who remotely controlled the onboard imaging system while identifying oiled areas and prime booming locations.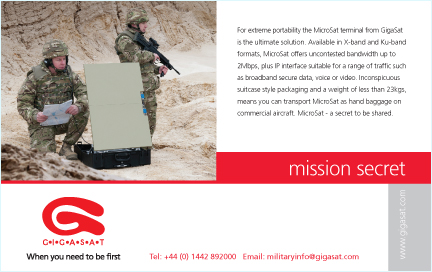 Avwatch also flew before and after several tropical storms in the cleanup zone, allowing commanders to complete comprehensive pre and post-storm assessments. Further, Avwatch was first on scene during multiple search-and-rescue cases in the response area and delivered real-time video to responders.
Working with MIT Lincoln Labs in 2009, Avwatch provided breakthrough advances in battling forest fires by equipping a California Department of Forestry and Fire Protection aircraft with Avwatch technology. Using infrared to see heat concentrations and burn patterns through smoke plumes, the team provided aerial video to surface responders, which served as an indispensable tool for coordinating mission-critical airdrops and a valuable record for prosecution and training.
Looking ahead, Avwatch aims to further enhance the government's ability to respond in areas where the company has proven most effective, namely search and rescue, disaster reconnaissance, and homeland security missions.
"Historically in all of these, the speed and efficiency that tactical information is gathered, disseminated and processed ultimately determines the overall effectiveness of the response," said Avwatch president Chris Kluckhuhn. He said the GSA contract, something he has envisioned from the very beginning of Avwatch, makes it considerably easier for decision makers in government to take advantage of the company's technology and expertise.
* * * * * * * * *
BACN Bits
Northrop Grumman Corporation has been awarded $47.2 million by the U.S. Air Force for the acquisition of two additional Battlefield Airborne Communications Node (BACN) payloads to be integrated on existing Block 20 Global Hawk aircraft.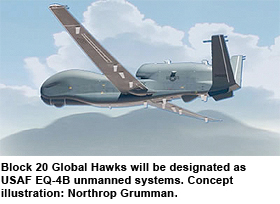 The U.S.A.F. currently operates the Bombardier Global Express E-11 platform fitted with BACN payloads, to provide an airborne communications and information gateway system in support of operations in Afghanistan.After the BACN payloads have been integrated on the Block 20 Global Hawks, the aircraft will be designated as USAF EQ-4B unmanned systems.
Deployed on the high altitude Global Hawk unmanned platform, BACN maintains continuous operational communications support. The persistent connectivity that BACN provides improves situational awareness and enables better coordination between forward-edge warfighters and commanders. BACN bridges and extends voice communications and battlespace awareness information from numerous sources using a suite of computers and radio systems.
The BACN payload carried by the aircraft bridges between different radio frequencies and "translates" among incompatible communications systems to enable information sharing and enhanced situational awareness. The system employs gateway manager algorithms and Internet protocols to support ground elements a consistent and reliable communications in all types of terrain, using different radio waveforms.
After the BACN payloads have been integrated on the Block 20 Global Hawks, the aircraft will be designated as USAF EQ-4B unmanned systems, providing long endurance and high persistence gateway capabilities.
Northrop Grumman is the prime contractor for the development, fielding and maintenance of the BACN system and the RQ-4 Global Hawk aircraft. Northrop Grumman developed BACN under a $276 million Defense Microelectronics Activity contract as part of the Interim Gateway program, meeting urgent requirements operational need.
The company was awarded the first BACN contract in April 2005 by the Air Force Electronic Systems Center, Hanscom Air Force Base, Massachusetts. The Global Hawk program is managed by the Air Force Aerospace Systems Center, Wright-Patterson Air Force Base, Ohio.
* * * * * * * * *
Stabilized Imaging Payload for MicroUAVs
Aeryon Labs has debuted their Photo3S™—the industry's only integrated 3-axis stabilized high resolution camera for micro Unmanned Aerial Vehicles (UAVs).
Combined with the Aeryon Scout's automated control system, active 3-axis payload stabilization ensures that the Photo3S™ remains on-target to capture precise imagery in the most demanding conditions.
"Three-axis stabilization in the new Photo3S™ marks yet another industry-first for Aeryon Labs" said Dave Kroetsch, President of Aeryon Labs. "Designed as a software and payload platform, we continue to enhance the Aeryon Scout system with advanced capabilities previously only available to large manned and unmanned aircraft, and make these innovations available to our customers at a fraction of the cost."
The stable imagery and precise tracking of the Photo3S™ high resolution camera is achieved through independent adjustment of both the Scout's position and camera orientation through 3-axis of rotation (yaw, pitch, and roll). The Aeryon Scout's automated control system makes these adjustments dynamically, hundreds of times per second, enabling the operator to consistently capture the desired imagery.
Like the Aeryon Scout, the Photo3S™ is weather-sealed and ruggedized to operate reliably in any weather or environment with high-performance capabilities that are incredibly easy-to-use. Advanced imaging features include precise Click-to-Aim™ camera control, as well as the ability to easily adjust camera settings on-the-fly, automatically geo-reference images and video, and encrypt transmissions.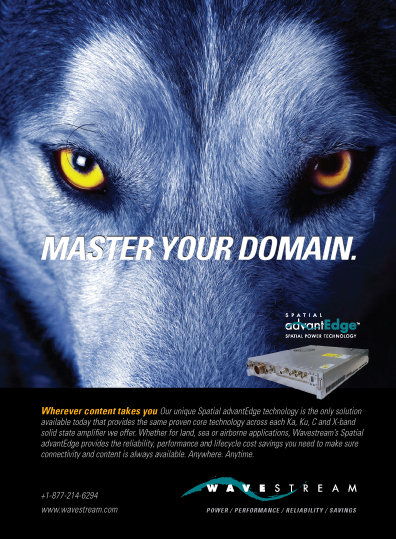 Using the Photo3S™ with the Scout's AutoGrid™ flight planning software allows fast collection of imagery over large geographic areas and automatically geotags images to facilitate seamless processing by industry standard tools into stitched image mosaics, map overlays, and 3D models.
"Our mission continues to be to deliver state-of-the-art aerial intelligence," says Ian McDonald, VP of Product Marketing. "Developed with end-user in mind and with the most capable environmental performance of any vehicle in its class, the Scout system and the new Photo3S™ are designed to get the job done where other small UAVs simply cannot operate."
Aeryon's full line of integrated all-digital, weather-sealed, mechanically stabilized imaging payloads are hot-swappable to allow fast switching for specialized applications. Aeryon also develops custom payloads for a wide range of commercial and military uses including communications, gas and chemical sensing, sound and signal detection, and more. For more information, please visit:
http://www.aeryon.com
* * * * * * * * *
SHOUT To Be Heard

Enhanced Mobile Satellite Services (EMSS) provides secure global satellite communication services under the Commercial Satellite Communications (COMSATCOM) Center.
EMSS offers a breadth of services to include voice, secure voice, Distributed Tactical Communications System (DTCS), messaging, and data to Department of Defense (DoD), other Federal departments, agencies, state and local governments, and approved foreign and allied Government users.
EMSS offers Short Burst Data (SBD) with automatic billing using the "usage based tiered" pricing structure. The pre-negotiated SBD service and Iridium SHOUT Nano device pricing are exceptionally competitive with the commercial sector and also offers two key advantages—users have the flexibility of tiered data usage, to include UNLIMITED data, and the added assurance of secure communications through the EMSS Gateway.
The SHOUT Nano is a portable, handheld two-way outdoor satellite messaging and GPS device for emergency/rescue, text-messaging applications, and location-based services. The SHOUT Nano's SBD service is enabled by the Iridium satellite constellation which offers global pole to pole coverage.
The Nano has a high resolution color LCD with menu options displayed as icons. The device is designed with ultra-low power consumption electronics drawing less than 35μA during sleep. With an internal 1.95 A-Hr rechargeable Lithium Ion battery, it can send a position report every hour for up to two months (about 1,200 reports) on one charge. The SHOUT Nano offers a variety of other features including:
– Normal Tracking—programmed to automatically wake up and send a position report at a set interval ranging from continuous to once every seven days

– Emergency Alert—sends alerts using a 911 button and also allows messaging to communicate emergency specifics

– Free-Text Messaging—sends free-text via three different sets of on-screen keyboards

– Canned Text Messaging—sends canned (pre-defined) messages in short codes to save bandwidth instead of the entire message body

– Waypoint Tracking—sends and/or saves waypoints (that are interested landmarks) for later retrieval

– Check-In—allows a quick check-in message to be sent using a single soft key
EMSS devices and services can be purchased through the DISA Direct Order Entry (DDOE) website at:
https://www.disadirect.disa. mil/
* * * * * * * * *
An International Audience
Israel has pioneered the field of unmanned aerial vehicles since the mid 1970s.
The country's aerospace industries have maintained their world leading position for four decades, developing a broad range of systems, platforms, mission payloads, subsystems and services centered around unmanned systems applications.
The International Conference on Unmanned Systems, taking place at the David Intercontinental Hotel in Tel Aviv, March 20-22, is promising to be a groundbreaking event in this field, endorsed by the countries' most prominent academic, research and development centers, and defense companies. Organized by AUVSI's Israel chapter the event will be an exceptional opportunity for reviewing, assessing and discussing the current state of unmanned systems in Israel, and provide a unique insight to the development and future directions of Israel's unmanned systems technologies development and operational use.
Among the prominent speakers presenting at the conference are senior officers from the Israel Ministry of Defense Department of defense research and Development (DDR&D), including Brigadier General Ofir Shoham, Head of DDR&D and Colonel (ret) Dubi Lavi, Director UAV-PEO in the Israel MOD DDR&D;
International guest speakers include Mr. Chuck Thorpe, Assistant Director for Advanced Manufacturing and Robotics, The White House Office of Science and Technology Policy, USA. Major Mark Whittel, 2IC 32 Regt RA, United Kingdom. Dr. Ron Diftler, Robonaut Project Manager, Robotics Systems Technology Branch – NASA, USA. Prof. Johann Borenstein, The University of Michigan, USA. The sessions will focus on the following topics:

– Unmanned Ground Vehicles
– Unmanned Airborne Systems
– Unmanned Marine Surface Vehicles
– Autonomous Underwater Vehicles
– UAS Regulation and Certification
– Unmanned Vehicle Systems and UVS Sub-Systems
– Propulsion and Operational Missions
– UVS Civil Applications, Homeland Security
– Simulation and Training
– European R&D Project: PPLANE
– Unmanned Hovering Platforms, Operational Lessons Learned
– Unmanned Airborne Systems—Design Considerations

At the adjacent exhibition, 30 Israeli companies are expected to show, demonstrate and discuss Unmanned Vehicles and related technologies.
The organizers have also dedicated a day for a tour of some of Israel's leading UVS industries. Reserve your place at the conference now.
https://event.pwizard.com/auvsi2012/register.py
* * * * * * * * *
First Flight Experience
Marines witnessed the first flight of the service's newest small unmanned aircraft January 22nd at the Marine Corps Air Ground Combat Center in Twentynine Palms, California.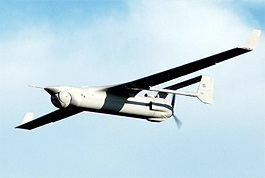 As part of the RQ-21A Small Tactical Unmanned Aircraft System (STUAS) Early Operational Capability (EOC), personnel from Marine Unmanned Aerial Vehicle Squadron (VMU) 2 and 3 and Insitu operators exercised the current configuration of Insitu's Integrator for the two-hour maiden flight.
"The lessons learned from this flight and all operations that will be conducted at Twentynine Palms are invaluable," said Lt. Col. John Allee, STUAS integrated product team co-lead at Pax River. "It will help our Marines fully understand how to operate the system when in theater."
Insitu delivered one EOC system, which is the current configuration of the company's Integrator, to Twentynine Palms early in January. The EOC contract option allows for up to 30 months of contractor-provided training and logistics services for the Integrator system. The team at Pax River received the second EOC system January 12th.
"This is a substantial achievement for the team" said Heather Bromley, STUAS IPT co-lead. "To go from contract award to an operable system in 16 months is a testament to the responsiveness of both the government and contractor personnel."
Small Tactical Unmanned Air System Executes Early Operational Capability. A CONUS-based deployment for EOC allows the Navy and Marine Corps to train operators, collect additional performance data and support development for Initial Operational Capability (IOC). The government-industry team will continue to develop the RQ-21A configuration for initial and full operational capability while the EOC system is deployed with VMU-3.
RQ-21A will have payload capacity to support multi missions in a single sortie. Its sensor package will include Electro-Optic, mid-wave infrared cameras with an infrared marker and laser rangefinder.
"We are very excited to deploy an asset that has a greater performance capability with a significantly larger payload, mass, volume and power than intelligence, surveillance and reconnaissance services available in theater today," said Marine Col. Jim Rector, Navy and Marine Corps Small Tactical UAS program manager.
RQ-21A will eventually replace the Navy and Marine ISR services contract in which current ISR missions are conducted in Iraq, Afghanistan and shipboard. The system will provide battlefield commanders with an organic capability 24/7, for real-time, actionable intelligence, surveillance and reconnaissance.
"The appetite for ISR has been insatiable," Rector said. "There is an increased demand for ISR capability in theater; and with fewer boots on the ground, we need this asset more than ever."
* * * * * * * * *
Scouting With Skylark
A combat team of the Israel Defense Forces (IDF) opens the bag and takes out the first plane. Then a second, and then a third.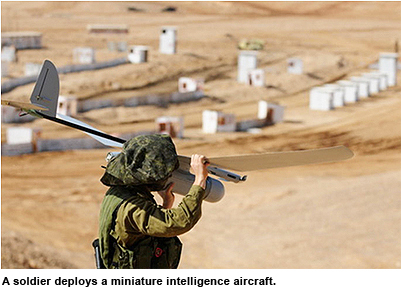 Another soldier procures the ground antenna and the computer display from his bag, which will control the unmanned aerial vehicle (UAV) and display reconnaissance on the hostile village. Four soldiers have just deployed a miniature intelligence aircraft in enemy territory.
Ten minutes after reaching their position, the squad already has a UAV hovering silently between the green hills of Ramot Menashe, simulating Lebanese territory, under January's heavy grey skies. The soldiers are at the end of their training, and already stand far beyond the imaginary border. In the nearby village of Elyakim, other soldiers pretend to be the Hezbollah operatives they are keeping an eye on via their UAV. This is the final exercise before becoming an operational squad.
"Our goal and "Skylark's" goal, is to provide tactical information and photographs of the field to infantry commanders. Our tools fill the intelligence gap between reconnaissance efforts of larger planes. Skylark can fly beneath clouds, even in this weather," explains the company commander of the course, Capt. Aviv, against the howling wind. "We can see what no one else can see. Skylark can see over the next hill for the fighters."
When the soldiers finish their course, their squad will join different units for various tasks. "One day it's the 13th battalion, the next it's tanks, then paratroopers. Our team is a brother in arms to every battalion, going in with them and fighting with them without distinction. You have to constantly adapt yourself to new tasks, each with a different character. You have to accompany a force and make sure their path is clear, guarantee that there is no one around the corner, track the movement of terrorists who can plant explosives in the road and get a photo ID on them. The tactical intelligence we have delivered has thwarted a lot of terrorist activity, from stone-throwing to attacks.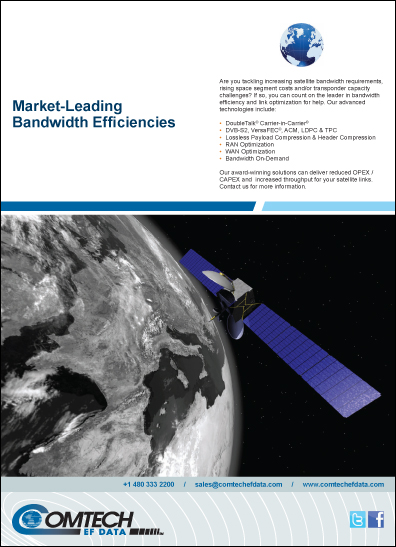 After the first couple minutes of testing the wind in the air, the squad begins navigating the complex coded maps and leading the UAV towards its next goal, the village. Each soldier knows how to take on every role in the team—the person who launches could be manning the computer next time, it's all up to the officer. The battalion commander responsible for the squad follows the entire training exercise with a high-tech watch that delivers the images from the plane, giving him all the information he needs. He knows what's over the next ridge and what lies two or three miles down the road.
Despite the heavy winds, the UAV performs reconnaissance for more than half an hour. When the team decides to land the craft, it moves in wide circles and flies over the hill to the soldiers' location. After a few minutes you can hear the buzz of the UAV in the air, and shortly afterwards the craft lands in the wet grass with the assistance of an airbag. Shortly after, they will be able to insert a new battery in the plane and start a whole new mission (during the course, the soldiers are trained to carry half of their body weight). However, now the soldiers store all the equipment within minutes and begin moving again.
A video of the Skylark in action can be viewed at the IDF Youtube channel at:
http://goo.gl/f2HKS
* * * * * * * * *
Marketing Moves
World Surveillance Group Inc., a developer of lighter-than-air unmanned aerial vehicles ("UAVs") and related technologies, has closed on a Securities Purchase Agreement with a California-based institutional investor (the "Investor") for an aggregate of $5.5 million (the "Financing").

The $500,000 initial tranche of the Financing, which was funded at the closing, was issued in connection with a Convertible Debenture due in January 2015 and an Equity Investment Agreement (the "EIA").
Pursuant to the EIA, the Investor agreed to invest an additional $5.0 million in monthly tranches beginning on the effectiveness of a registration statement the Company will file with the Securities and Exchange Commission, but not prior to 91 days following the closing. The Investor also has the right to purchase an additional $5.0 million of our common stock at an exercise price of $0.21 per share for a period of three years, for a total potential investment of $10.5 million.
The Company plans on using the proceeds of the Financing to expand the operations of both WSGI and its subsidiary, Global Telesat Corp. ("GTC"), as well as to commercialize and further market our Argus One line of UAVs. The Company expects to deploy resources to continue the Government sponsored flight testing and demonstration of our Argus One UAV in Nevada where the aircraft currently resides, inflated in a hangar.
A portion of the proceeds from the Financing will also pursue GTC contracts for the construction of satellite ground stations, as well as to expand GTC's sales and marketing efforts to both potential Government and commercial customers.
The Company also expects to advance its partnership with Oklahoma State University—University Multispectral Laboratories, LLC ("UML"), to support additional technical development of our airships as well as flight testing and demonstrations at UML's Oklahoma Training Center-Unmanned Systems ("OTC-US") within the U.S. Army's Fort Sill restricted airspace. WSGI and UML recently completed certain required flight safety procedures and are in the process of finalizing a series of flight exercises in Oklahoma following the Argus One UAV flight exercises in Nevada. For further information on the Financing, current events and technical updates, visit:
http:// www.wsgi.com
* * * * * * * * *
NRL's Spacecraft Research Challenges
It takes a team to get to space, and John Schaub knows that.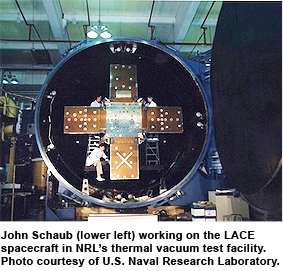 As superintendent of the Spacecraft Engineering Department in the Naval Research Laboratory's Naval Center for Space Technology, Schaub leads a highly skilled team of engineers, scientists, and technicians in the execution of cutting-edge spacecraft research and development programs relevant to the needs of the Department of the Navy and Department of Defense.
John Schaub and two colleagues working on the LACE spacecraft in NRL John Schaub (lower left) working on the LACE spacecraft in NRL's thermal vacuum test facility in 1989. (Photo: U.S. Naval Research Laboratory)
Schaub has more than 26 years of federal service, all of it at NRL. During these years, Schaub has contributed to the successful launch of 19 satellites or space instruments, with several more under development. He has seen the changes in the ways that systems are built.
"When I started in the mid 80s, the nation was producing very large and very capable space systems. Unfortunately these systems were also massive and therefore very costly to launch."
Schaub describes how NRL has made a concerted effort to drive down the size and cost of these systems.
"By applying strong systems engineering principles, exploiting the commercial miniaturization of electronics, and entrusting the quality of the product that we are producing to each individual team member, we are producing today very capable systems in much smaller packages, much faster and less costly."
Before being appointed to his current position, Schaub served as associate superintendent and then acting superintendent of the Spacecraft Engineering Department from November 1998 to December 2006. On a detail to the National Reconnaissance Office, he directed the Space Technology Experiment Satellite Program Office from May 1994 to November 1998. There, he led a multi-million dollar, "first of a kind" advanced technology demonstration space mission to accomplish challenging program objectives of national significance within severe cost and schedule constraints.
Schaub likes to make the case for NRL being a good place to work.
"NRL's retention statistics make the case that when folks come to NRL, they stay... My theory is it is because of the work. NRL offers exciting opportunities to materially contribute towards solving 'real' problems. The personal satisfaction that comes from knowing that the work that you do 'makes a difference' is underrated. I promise recruits that they will be challenged every day they come to work."
Editor's Note: This article was originally published in the September 2011 Limited Edition issue of SPECTRA, the magazine of the Navy's Corporate Laboratory.