Communications On The Move (COTM) continues to be a vital technology to help the warfighter achieve mission success. Broadband Internet Protocol (IP) connectivity in a mobile environment on the ground, at sea, and in the air, provides instant access to information, which is paramount to military organizations for reconnaissance, situational awareness and critical communications needs.
By providing real-time, secure and reliable video, data, and voice transmission via satellite for warfighters and military support organizations, satellite communications enables military groups to carry out important national security missions in areas that lack supporting communications infrastructure. Satellite COTM routers are ideal for battlefield ISR missions as they require limited setup time; and are ready for rapid deployment in any theater of operations around the world. Satellite COTM routers are extremely compact and scaled to fit in a soldier's pack. Additionally, COTM remote routers designed for military applications are ruggedized for continual operations in adverse conditions and when soldiers are on the move. COTM enabled satellite networks allow COTM routers and itinerant terminals to operate seamlessly around the world.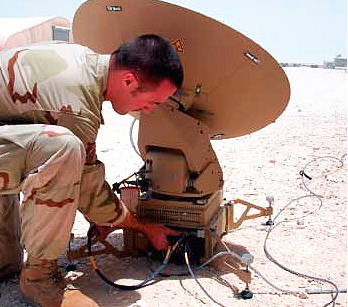 Mobile communications over satellite is not a new idea, but a number of technological advancements in the past few years have made widespread deployment more cost effective and transparent to the end user. Smaller satellite dishes, globally persistent IP addressing and the efficient use of spread spectrum technology have all enhanced the mobility of communications over satellite.
Airborne Acquisition
The greatest developments in COTM technology are taking place in terms of airborne communications.
The need for
high-definition
(HD)
video from mobile military aircraft communications has long been a requirement for
Intelligence Surveillance and Reconnaissance
(
ISR
). In the past, achieving this goal has been difficult due to the requirement for very high in-bound data rates through ultra small antennas. Further complicating ISR is the use of high-speed aircraft which introduces the
Doppler Effect
, where high speeds, turbulence and rapid shifts in altitude create problems in receiving satellite signals.
Recent developments in airborne COTM, however, are making reliable HD video a reality for critical airborne communications. Airborne COTM can be just as reliable as ground-based COTM with the use of specialized wave forms that support increased vehicle speeds. By using automatic beam switching and persistent IP addressing for airborne communications, an aircraft can be flown from the United States to Europe and on to a final destination in Southwest Asia and maintain a seamless global network of advanced communications while switching satellites throughout its journey. This network even extends to soldiers departing the aircraft with communications-equipped manpacks that include mobile satellite router boards. Paratroopers can quickly and easily set up communications on the ground to suit any mission.
The stringent security requirements of the military are particularly challenging in SATCOM because of the broadcast nature of the medium. Recent upgrades in
Transmission Security
(
TRANSEC
) include the ability to obfuscate any traffic volume or remote terminal acquisition activity, which either on its own, or when coupled with other intelligence information, may prove useful to an adversary.
TRANSEC ensures an adversary cannot detect traffic types, patterns or network acquisition activity. The challenge of obfuscating acquisition activity is particularly daunting for COTM applications since transient blockages necessitate frequent reacquisition.
To address these critical issues,
iGT
has developed a unique acquisition algorithm as part of their TRANSEC offering. Airborne COTM that supports high-definition video communications continues to evolve and be tested to meet the most stringent military standards. An important demonstration of enhanced mobility via COTM occurred earlier this year.
The Exercise
In June 2010, nearly 70 military, government and industry members took part in the annual worldwide
Joint User Interoperability Communications Exercise
(
JUICE
), demonstrating reliable satellite technology in conjunction with military operations. JUICE, a
Department of Defense
exercise sponsored by the
Executive Agent Theater Joint Tactical Networks
and hosted by the
U.S. Army
's
CECOM Life Cycle Management Command Software Engineering Center,
evaluated new and emerging technologies in a joint task force operational environment. The exercise occurred at 11 locations in eight states, as well as, Germany. JUICE set out to accomplish six key objectives, including optimizing mobility for tactical networks in limited bandwidth battle space.
A
Coalition Warfighter Interoperability Demonstration
(
CWID
) forward-operating site successfully participated in several SATCOM-on-the-move
video teleconference
(
VTC
) bridge sessions with JUICE command and control and the
Fort Monmouth
SATCOM-on-the-move vehicle.
The purpose of the VTC sessions was to advise
JUICE C2
that the CWID unit was ready to deploy and begin its observation run of the local area. Once Fort Monmouth was notified and the CWID mission was acknowledged, the VTC session was dropped and periodically reestablished in five-minute and 10-minute increments.
Another test scenario involved
U.S. Army Special Operations Command Paratroopers
from the
112th Signal Battalion
(Airborne) who were scheduled to parachute from an Air Force C-130 aircraft into a
Fort Bragg
, NC, training area. The paratroopers were to be equipped with an
iDirect
iConnex e850mp
SATCOM modem embedded in a Ku-band micro-terminal. Once on the ground, the plan was for the paratroopers to set up a live,
Everything over IP
(
EoIP
) video teleconference session with an Army vehicle traveling in Fort Monmouth, New Jersey, over the JUICE 2010
Time Division Multiple Access
(
TDMA
) SATCOM
Non-classified Internet Protocol Network
(
NIPRNet
).
A scheduled Fort Bragg parachute jump from the C-130 was preempted at the last minute. As an alternate plan, the jump package was trucked over to the landing zone and unpackaged as though it had been dropped. The
Special Operations Command
unit successfully deployed the EoIP communications system, which performed with the network and joined in the Satellite VTC bridge sessions with JUICE C2 and the SATCOM-on-the-move vehicles at Fort Monmouth and CWID Dahlgren, Virginia.
After the
112th Airborne
forward-operating unit joined the satellite network, it participated in regular VTC bridge sessions with JUICE C2 and the Ft. Monmouth and Dahlgren COTM vehicles. They reported on their mission's observations of the area and the environmental conditions encountered.
JUICE provided an excellent opportunity to evaluate the latest advances in military communications technology. These advances offer greater efficiency, increased mobility and lighter, more ruggedized technologies that will improve the safety and agility of our troops in combat situations.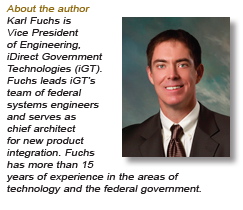 The JUICE demonstrations particularly show that COTM is greatly enhancing mobility for the warfighter on the ground and in the air. COTM improvements will continue in the future and should include greater connectivity, bandwidth, speed, reliability and availability. In addition, improvements in TRANSEC technology will help ensure that transmissions are safe and secure. These upgrades will make increased mobility a reality and lead to even more safe and successful missions.