BAE Systems Unveils Their New, Ultra-Small, GPS Receiver With M-Code Military GPS Signals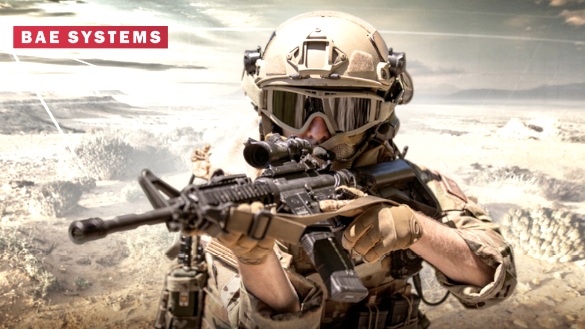 BAE Systems, Inc. has unveiled their ultra-small MicroGRAM™-M global positioning system (GPS) receiver that is compatible with next-generation, M-Code military GPS signals that are resistant to jamming and spoofing.
About the size of a postage stamp, MicroGRAM-M is, according to the company, the world's smallest, lightest, and most power-efficient M-Code embedded GPS receiver – delivering assured positioning, navigation, and timing (PNT) for size-constrained and other micro-applications.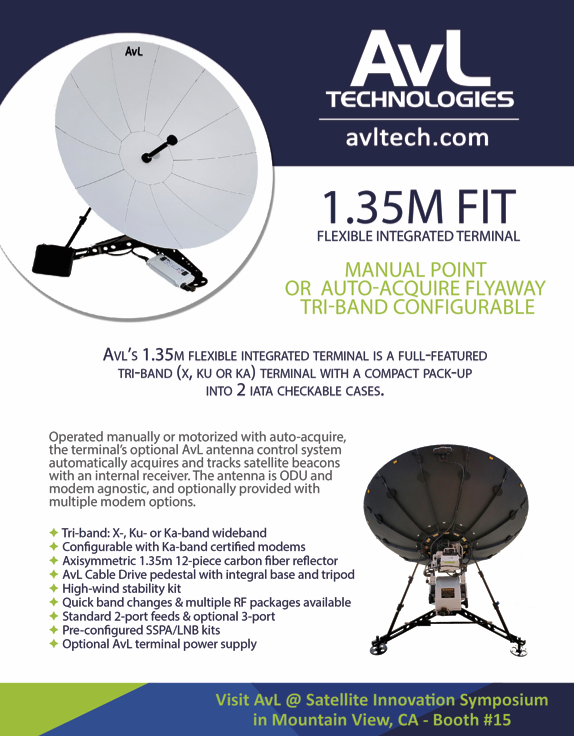 MicroGRAM-M features rapid secure GPS signal acquisition, enhanced security and resiliency, anti-jamming and anti-spoofing capabilities, and the industry's lowest power consumption for an M-Code device.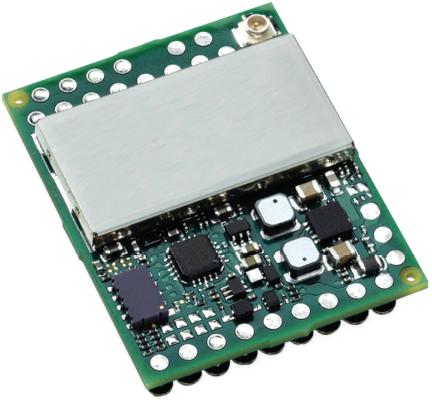 The 1.0" x 1.25" x 0.275" MicroRAM-M has the same physical dimensions as its predecessor, enabling quick upgradability to M-Code and reduced system integration costs. At its core is a proven, tamper- proof M-Code Common GPS Module that encapsulates classified data and signal processing.
"We're delivering reliable PNT where our customers need it – from soldiers' handheld devices to small unmanned aerial vehicles," said Greg Wild, director of Navigation and Sensor Systems at BAE Systems. "MicroGRAM-M provides our armed forces and allies with a low-SWAP M-Code GPS solution that's resistant to adversaries' disruption efforts in highly contested environments."
"MicroGRAM-M is the latest BAE Systems M-Code military GPS product, joining MPETM-M and NavStrikeTM-M, which deliver enhanced awareness in highly contested environments and precision munitions guidance," said John Watkins, vice president and general manager of Precision Strike & Sensing Solutions at BAE Systems. "Qualification of MicroGRAM-M is underway, with full-rate production expected in 2022."
---
Kratos Delivers First Order to Northrop Grumman for U.S. Army's TITAN Prototype Program
Kratos Defense & Security Solutions, Inc. (Nasdaq: KTOS) has successfully delivered the first set of products to support the U.S. Army Tactical Intelligence Targeting Access Node (TITAN) space-ground system prototype, which is being developed by Northrop Grumman.

The purpose of the TITAN system will be to provide near-real time data to commanders at all levels for timely targeting solutions. Northrop Grumman was selected by the Defense Innovation Unit and the U.S. Army Tactical Exploitation of National Capabilities (TENCAP) office to develop prototype Space to Ground TITAN systems.
As part of this effort, Kratos' OpenSpace quantum and SpectralNet products will provide virtualized downlink processing for the TITAN space-ground prototypes. Kratos was selected to the Northrop Grumman TITAN team due to the OpenSpace products' ability to virtualize uplink/ downlink processing while meeting Space, Weight, and Power (SWAP) requirements. The Kratos products will enable the demodulation of downlinks from multiple commercial satellite systems.
quantum products are software replacements for traditional hardware components, such as modems, that operate at lower cost and with greater scalability to adapt more rapidly to changing missions and conditions. For example, where it can take weeks to deploy traditional ground system hardware, quantum products can be deployed and configured to support different missions in just hours.
Kratos' OpenSpace Platform, the most advanced line in the OpenSpace family, can go even further, enabling satellite operators to deploy, configure and adapt entire networks in just minutes using its orchestrated software-defined network (SDN) architecture. OpenSpace SpectralNet products digitize the satellite's Radio Frequency (RF) signals, acting as the on-ramp to digital transformation of ground systems.
In addition, Kratos will provide engineering and manufacturing of the modified tactical shelter and related subsystem hardware for the TITAN prototypes. Kratos' FMTV-mounted ground station platform will house and protect mission critical TITAN system components. One of Kratos' core strengths is providing custom mobility platforms that feature power and thermal management systems, rack-ready C5ISR equipment integration, and Electromagnetic Interference (EMI) shielding up to High Altitude Electromagnetic Pulse (HEMP) level requirements.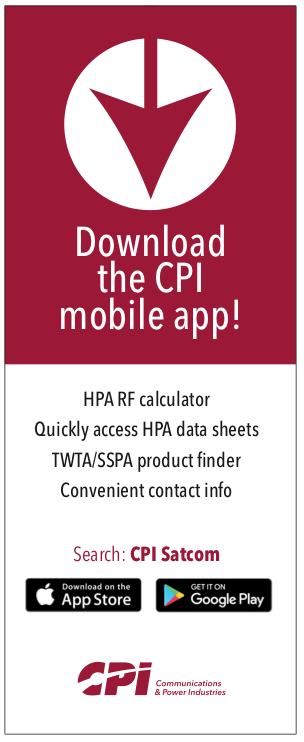 "OpenSpace technology is leading efforts across the satellite industry, both among commercial and government operators, to capitalize on the ability of virtualization and modern networking techniques to realize digital transformation goals," said Frank Backes, Kratos' Senior Vice President of Federal Space Solutions. "TITAN is the newest application of OpenSpace in the DoD that can better support the timely tactical of OpenSpace in the Do needs of the warfighter."
---
Long Range C&C Connectivity Demo'd By Northrop Grumman
Northrop Grumman Corporation (NYSE: NOC) successfully demonstrated a data link for connecting aircraft in highly contested airspace for long-range command and control through an open architecture network.

This experiment is a critical milestone in the evolution of a distributed multi-domain battle management command and control architecture that maintains decision superiority for the U.S. military and allies.
The flight demonstration is the first integration of a new mission-specific military transceiver, multi-level security data switches, and open architecture wide-area networking, utilizing commercial technology into the observe, orient, decide and act loop – the decision-making chain for threat engagements. This is a key step toward harnessing the power of a network into critical domains for national security missions.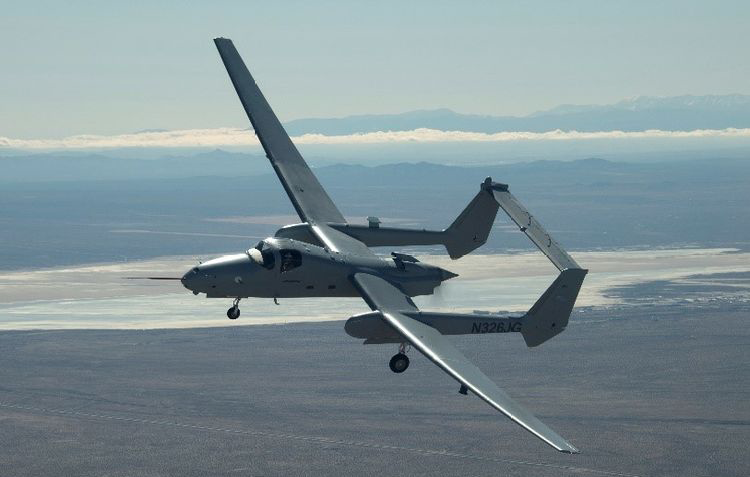 The flight demonstration linked the Scaled Composites Proteus, a High-Altitude, Long-Endurance research aircraft, with a Firebird, an unmanned air vehicle with the capability to be flown manned, through an advanced line-of-sight data link with low probability of intercept/low probability of detection characteristics that includes anti-jam properties.
The aircraft established a link, performed a simulated ISR mission, and connected back to a cloud-based 5G network testbed through a novel prototype multi-level security switch.
---
L3Harris Technologies Missile Tracking Satellite Prototype Development For The Space Development Agency Accomplishes Key Milestone

L3Harris Technologies (NYSE:LHX) has accomplished a key milestone in the development of a missile tracking satellite prototype for the Space Development Agency (SDA).
The completed Preliminary Design Review (PDR) defines the spacecraft's design baseline for delivery to SDA and allows the program to move to the next stage of delivering ground-breaking new capabilities at speed.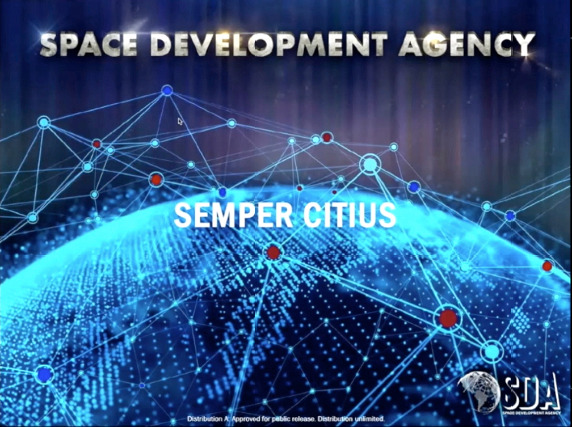 When completed, the satellites will provide the capability to detect and track ballistic and hypersonic missiles via overhead persistent infrared sensing from LEO.
L3Harris received the tracking layer prototype award in 2020 to develop and integrate an end-to-end satellite system under a $193 million firm fixed-price contract. Total period of performance runs through 2025 and covers four space vehicle launches.
L3Harris is prioritizing investments in end-to-end satellite solutions in spacecraft, payloads, ground software and advanced algorithms. L3Harris is also developing a prototype for the Missile Defense Agency's Hypersonic and Ballistic Tracking Space Sensor.
"We've worked closely with SDA to ensure our design taps proven technology that can scale to address the changing mission," said Ed Zoiss, President of L3Harris Space and Airborne Systems. "We Ed Zoiss, President of L3Harris Space and Airborn understand the threat and are focused on delivery."
---
The Space Report 2021: 36th Annual Space Symposium Special Edition Executive Summary
Article by Lesley Conn, senior manager of Research and Analysis at Space Foundation

This edition, a special publication for the 36th Annual Space Symposium, examines where we are as a global space industry and considers the steps still to be evaluated and taken to transform into reality what is envisioned for the future of the industry.
The long-anticipated return of Space Foundation's Space Symposium comes on the heels of two events that renewed public interest in space flight.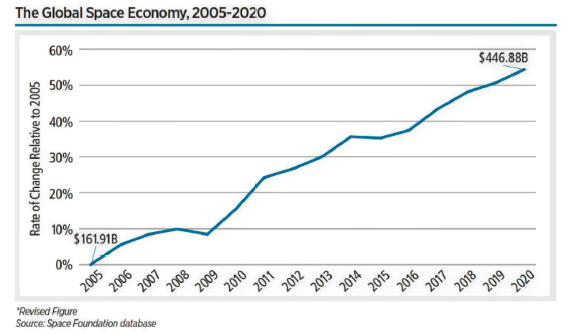 With the July 20, 2021, flight of Blue Origin's New Shepard, Jeff Bezos became the second billionaire that month — after Virgin Galactic founder Richard Branson — to fulfill a lifelong dream of going into space. Bezos and Branson represent the growth and growing influence of private commercial space enterprises.
Wally Funk, a passenger on the New Shepard flight, and in 2010 the first person to buy a ticket for Branson's suborbital spaceplane, represents sheer perseverance and a singular vision to venture beyond Earth. At 82, she became the oldest person to rocket from the planet. She was eager to go 60 years earlier, when, in 1961, she was the youngest volunteer in the First Lady Astronaut Trainees program. Her dreams were repeatedly dashed, but she never lost confidence in her belief that she would one day reach space. And in that, she is not unlike so many other people around the world whose personal hopes and dreams are wrapped into a larger goal of scientific achievement, overcoming every obstacle, and becoming part of a new future in space.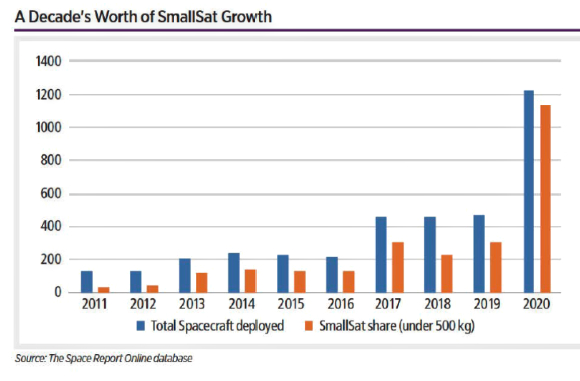 This special edition examines other facets of how the future of space is unfolding:
1 | Space Economy
Commercial spending remained the significant driver of the overall global space economy, representing almost 80 percent of total revenue. Commercial Infrastructure and Support Industries is the smaller of two sectors — the other being Commercial Space Products and Services — but in 2020, Infrastructure and Support Industries showed the greatest growth, increasing 16.4 percent from 2019. Ground stations and equipment, valued at $118.45 billion, captured more than 86 percent of the sector, but developing industries, such as on-orbit satellite servicing and human spaceflight, have captured more public attention and investor interest.
In February, Northrop Grumman subsidiary SpaceLogistics docked its Mission Extension Vehicle-1 (MEV-1) to a geostationary satellite to provide fuel and thruster capability. Two more MEVs have since launched to extend service to other satellites. As for space tourism, Virgin Galactic before Branson's flight had sold more than 600 tickets, each costing as much as $250,000, to people in 58 countries. After the flight, as demand grew, some industry observers expect new passengers to pay upward of $500,000.
Commercial Space Products and Services, the largest commercial sector, grew only slightly last year, easing up 1.2 percent to $219.44 billion. Earth observation satellites showed the strongest growth in the sector, increasing 9.1 percent to $3.7 billion. The Space Economy section also provides a recap of 2020 government spending, detailed more extensively in The Space Report 2021 Q2, released in July. The majority of nations reviewed, largely influenced by the global pandemic, reduced space spending last year, resulting in an overall 1.2 percent decline in 2020 to US$90.2 billion.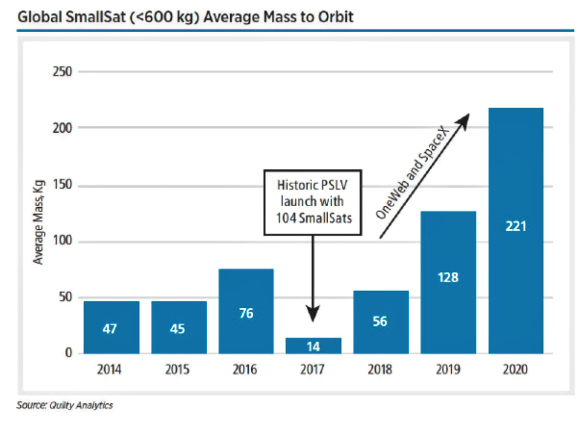 Compiling global space economy data that Space Foundation has tracked since 2005 finds that in the last 15 years, however, government and commercial spending have propelled total revenue to a 176 percent gain.
2 | Space Workforce
The U.S. space workforce grew more than 5 percent from 2019 to more than 192,000 workers. The European space workforce included 50,388 employees in 2020, an increase of 3.3 percent from 2019. In Japan, the space workforce included 8,725 workers in 2019 (the most recent year for which data is available), a 1.9 percent decrease from the previous year but a 10 percent increase over five years. India employed approximately the same amount of people within its Department of Space in 2020 as in 2019, totaling 17,099.
3 | Space Infrastructure
In this section, two articles probe what will be needed to move beyond initial exploration of the Moon and space. The United States' Artemis program has 11 partners, but China, Russia, Israel, and Turkey also have missions planned, as do a growing number of companies that are public partners or working as independent operators.
As they look to establish permanence on the lunar surface, these nations and companies must consider sustainability on three major fronts — economic, environmental, and infrastructure. Ian Christensen, director of private sector programs at Secure World Foundation, leads the of private sector programs at Secur examination of lunar sustainability.
Nuclear power and propulsion are parts of that equation. Chris Beauregard, the former director of commercial space policy at the White House National Space Council, offered a primer on the nuclear applications, some already long in use, that offer the most promise for efficient, powerful solutions for sustainable energy.
This section also features two pieces that examine recent shifts in small launch vehicle and smallsat development. More than 1,100 smallsats deployed in 2020, comprising 92 percent of all spacecraft deployed. This strong majority represents a reversal from a decade ago, when only 27 percent of spacecraft launched were smallsats.
4 | Space Policy
As space infrastructure and applications develop, so too must international policy related to government and commercial activities on the Moon and in the rest of space. Michael K. Simpson and Elias de Andrade, both affiliated with the Global Expert Group on Sustainable Lunar Activities (GEGSLA), outline the work of the group, provide examples of how similar initiatives have shaped global policy, and explain how GEGSLA is encouraging participation and input from around the world.
To purchase The Space Report, or to subscribe to The Space Report thespacereport.org/subscriptions
---
USAF Contract For A PNT Solution To Be Developed By Xplore For Advanced Lunar Missions + Cislunar Space
Xplore Inc. has announced a follow on contract with the U.S. Air Force, (USAF) to continue developing their positioning, navigation and timing (PNT) solution as a commercial service for cislunar space.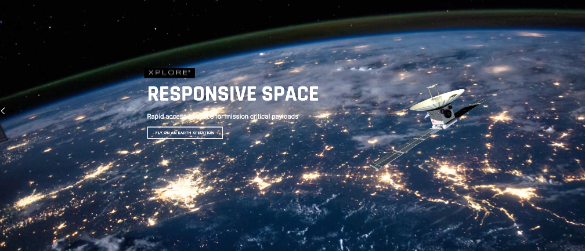 Xplore's current Phase II effort culminates in a hardware in the loop testbed that will demonstrate the required performance to enable precision cislunar missions while laying the foundation for a subsequent on-orbit test of the PNT system. This Phase II SBIR, awarded for commercial and technical innovations between the Earth and the Moon, provides the USAF with the necessary capabilities to extend precision operations to the Moon and across cislunar space.
The PNT system Xplore is developing enables exploration, operations and commercial activities in cislunar space — a vast region that extends past the Moon to the edge of interplanetary space and is more than ten thousand times the volume than nearly all space operations around the Earth. An equivalent GPS-like navigation and timing solution for this expanse does not currently exist, and Xplore's revolutionary solution leverages its internal platform development to provide critical infrastructure services beyond geosynchronous orbit.
Xplore's innovative solution to providing PNT services across cislunar space was developed by Xplore Founder and Chief Technology Officer, Dr. Darren Garber, who is leading the Phase II effort.
Navigation and communication considerations are core to Xplore's strategy to accelerate the commercial space economy and expand it beyond Earth orbit. The company's game changing PNT capability speaks to the USAF SBIR program goals to fund revolutionary, relevant and responsive technology. Xplore's PNT system is enabled and will deploy by the Xcraft®, their multi-mission, ESPA-class space vehicle capable of supporting missions across cislunar space and operating from Venus to Ceres; missions include Earth-Sun Lagrange points and near- Earth asteroids (NEAs).
In parallel, Xplore has been advancing the design of the LightCraft™, an advanced solar sail-based vehicle with L.Garde as another potential deployment option for the cislunar PNT system.
Xplore will offer a multi-tiered services solution to customers operating in the cislunar region. The architecture's objective is to be extensible to accommodate current and future systems, and options for expansion are in alignment with current internal efforts and contracted work for other in alignment with current inter U.S. government customers.
---
USSF's Next Gen OPIR Program Completes Block 0 GEO Space Vehicle CDR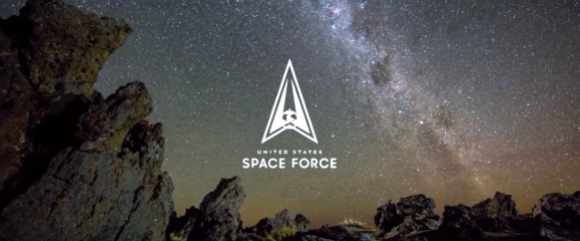 The United States Space Force's Space Systems Command, Next Generation Overhead Persistent Infrared program, successfully passed a major milestone, completing its Block 0 Geosynchronous Earth Orbit Space Vehicle Critical Design Review (CDR) on August 20, 2021.
This CDR milestone, the culmination of 34 subsystem and payload reviews, locks the space vehicle technical baseline, a key step in validating satellite design maturity and readiness to proceed with flight- unit fabrication, assembly, system integration, and test.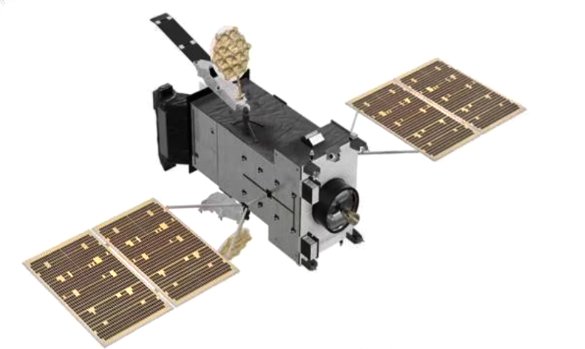 Artistic rendition of the Next Gen GEO OPIR
space vehicle.
Image is courtesy of Lockheed Martin.
The Next Gen OPIR program will succeed the Space Based Infrared Systems program. Next Gen OPIR is designed provide a resilient space- based global missile warning capability against emerging missile and counter-space threats.
The Next Gen OPIR GEO space vehicles integrate a new OPIR sensor with an enhanced Lockheed Martin 2100 common satellite bus. Early integration demonstrations on engineering developmental units were conducted to support this CDR. These demonstrations indicate that critical satellite components will meet the requirements established by the Department of Defense. The Next Gen OPIR Block 0 GEO System Critical Design Review is expected later this fall.
---
Satellite Production Site Expansion By L3Harris
Plus The Addition Of An Unclassified Satellite Line For Nat'l Defense

L3Harris Technologies (NYSE:LHX) is expanding its satellite production site to include advanced production of unclassified satellites, which will deliver experimental capabilities for national defense.
The Central Florida location is home to more than 100,000 square feet of space used for development, manufacturing and testing of full satellites and components which already deliver complex, classified capabilities for national defense.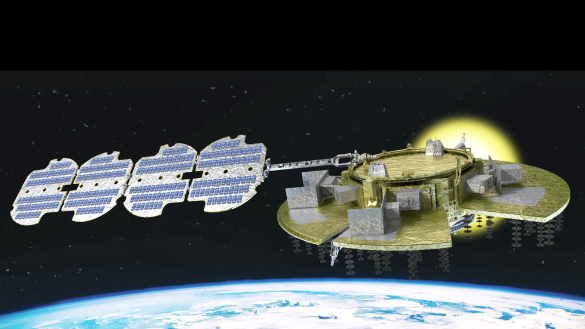 Artistic rendition of the U.S. Air Force's first
Navigation Technology Satellite-3.
Image is courtesy of L3Harris.
The increased production capability allows L3Harris to develop and test the experimental Navigation Technology Satellite-3 (NTS-3), which is a priority program for the U.S. Air Force. Facility investments also make it possible to develop and integrate three sizes of small-to-medium responsive satellites in support of urgent U.S. Department of Defense missions addressing evolving threats.
Two of the company's eight buildings have recently been upgraded to manufacture multiple end-to-end satellites per month. L3Harris has built eight satellites at the expanded Palm Bay facility that are currently on- orbit and another 10 are in various stages of development. The company plans to add more production capacity by the end of the year to produce six satellites per month.
An L3Harris engineer works on the Navigation Technology Satellite-3 (NTS-3), a U.S. Air Force vanguard program that will examine ways to augment the military's positioning, navigation and timing capabilities.
"Our customers face urgent threats that must be addressed in months rather than years," said Ed Zoiss, President of L3Harris Space and Airborne Systems. "We prioritized facility investments to meet their Airborne Systems. "We accelerating timelines."
---
An Alternative RF Navigation Simulator Debuts From Spirent Federal Systems
Spirent Federal has launched an alternative RF navigation simulator. As GPS jamming and spoofing continue to rise, interest in complementary sources of positioning, navigation, and timing (PNT) data has likewise increased.

Recent government directives recommend a layered, multi-source approach, with much of the attention focused on non-GNSS radio frequency signals. These RF signals, coined alternative RF navigation, offer unique PNT capability in GPS-degraded or denied environments. The signals are secure and resilient and can act as an effective complement to GPS signals.
Spirent Federal's product can simulate resilient alternative RF navigation signals on its own or concurrently with GNSS signals. Testing can be static or dynamic, with stationary, pedestrian and ground vehicle trajectories available. The company is actively engaged with several alternative RF navigation technologies and technology providers to incorporate signal simulation capability.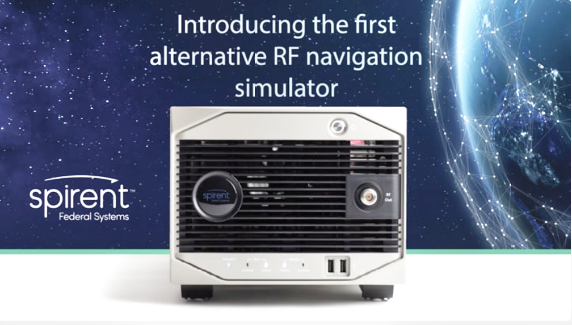 "As a result of our extensive research and development incorporating a variety of Assured PNT technologies, we're pleased to be the first to provide this capability to our customers," said Roger Hart, director of engineering. "Our product enables developers to test early and often, from the first stages of R&D to integration and field testing. Solutions can be tested with edge cases, hardened against interference, and deployed faster with greater confidence they will work for our warfighters.
---