Your Vigilance Is Showing @ Hawaii National Guard Makani Pahili 2015 Exercise
Among the many agencies that represent the brick and mortar that support command during the Exercise Vigilant Guard/Makani Pahili 2015 in Hawaii, the 199th Weather Flight represents a keystone that provides critical weather forecasts to decision makers.
Vigilant Guard is a United States Northern Command and National Guard Bureau sponsored exercise program. Exercises are held in a different state each year test the homeland response. Makani Pahili is Hawaii's yearly statewide hurricane preparedness exercise is being held in conjunction with Vigilant Guard.
The Hawaii Air National Guard 199th Weather Flight's primary mission is to provide weather forecasts for the Hawaii Army National Guard's 29th Infantry Brigade Combat Team.
Represented by Hawaii Air National Guard, Maj. Dana Uehara, the weather flight "predicts weather conditions at a point in time that will determine when command will launch recovery and relief efforts. They will plan the mission based on the information the weather flight provides."
Uehara is a staff weather officer for the weather flight as a traditional guardsman and also serves as a civilian satellite analyst for the 17th Operations Weather Squadron on the active duty side. Before the Guard, Uehara had served 10 years of active duty as a weather analyst in Travis Air Force Base, Korea, U.S. Army, Pacific (USARPAC) and finally the Air Force Weather Agency in Offutt Air Force Base, Nebraska.
The observations generated by Uehara are derived from Terminal Aerodrome Forecast (TAF) reports released by the National Weather Service and the Central Pacific Hurricane Center. Uehara decodes the TAF data and extracts wind speed and direction, temperature, and weather elements such as showers, thunderstorms and lightning.
These factors are used to determine when to begin relief efforts, send out surveillance teams to assess damage, and release air reconnaissance and recovery teams.
Aviators specifically request visibility conditions, cloud heights and ceilings to assist in determining flight plans. Uehara reports the storm's current position and path, determines impacted areas, and the strength of tropical storm force winds.
Last year, Uehara was activated for the state active duty in response to the real-world threat of Hurricane Anna. He set up shop at the Joint Operations Center (JOC) and put to use what he is now practicing in the Exercise Vigilant Guard/Makani Pahili 2015.
There are many challenges when interpreting the various models produced by the data. "Each forecast begins with an analysis of the hurricane's current location and intensity. If the models give different results, the forecaster has to decide which one to use for the official forecast or compute a median result," says Uehara.
The JTF 5-0 gathers information from many agencies to make decisions during catastrophic events. The 199th Weather Flight provides critical input that will guide leadership's decisions and keep everyone safe through the storm.
Story by Airman 1st Class Robert Cabuco, 154th Wing Public Affairs, U.S. Air Force
---
NAL Research + Naval Surface Warfare Center
NAL Research Inc., Manassas, Virginia, is being awarded an $8,840,563 cost-plus-fixed-fee contract to support integrating existing, new or modified Iridium devices and Iridium network capabilities such as global data broadcast.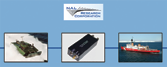 This Iridium support also includes training and documentation on the use of these sensors and the dissemination of data to the user.
Naval Surface Warfare Center, Dahlgren Division (NSWCDD) provides various government agencies and activities with persistent intelligence, surveillance, and reconnaissance (ISR) capabilities.
The persistence in detecting, identifying, and characterizing changes in a target's status anywhere and anytime requires a new set of devices.
The persistent ISR capability provided by this acquisition will provides NSWCDD with the ability to provide new tagging, tracking and locating devices and surveillance capabilities of the Iridium network capable of continued observational access to multiple targets operating in their area of responsibility.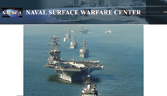 Work will be performed in Manassas, Virginia, and is expected to be completed by May 2020. Fiscal 2015 research, development, test and evaluation funding in the amount of $100,000 will be obligated at the time of award and will not expire at the end of the current fiscal year.
This contract was not competitively procured in accordance with FAR 6.302-1 and DFARS 206.302-1 - full-and-open competition need not be provided for when the contractor is the sole responsible source that is able to satisfy agency requirements. The Naval Surface Warfare Center, Dahlgren Division, Dahlgren, Virginia, is the contracting activity (N00178-15-D-2013).
www.nalresearch.com/index.html
www.navsea.navy.mil/nswc/default.aspx
---
GEOINT Team @ Hanscom AFB Hosts Technical Exchange Event
Hanscom Air Force Base' Geospatial Intelligence, or GEOINT, team hosted a Technical Exchange Meeting June 17 at the Conference Center and discussed initiatives and new technologies in the area, along with how the team can assist Air Force Life Cycle Management Center program offices.
As the National Geospatial-Intelligence Agency defines it, GEOINT is "intelligence about the human activity on Earth derived from the exploitation and analysis of imagery and geospatial information and data that describes, assesses and visually depicts physical features and geographically referenced activities on the Earth."
"GEOINT answers the main question of 'where?'" said Jay Vaughn, team lead. "Where you are, where others are located."
Many of Hanscom's programs use or depend on GEOINT data, and not only ones within the intelligence, surveillance and reconnaissance portfolios that immediately come to mind.
"Often personnel don't realize that they are using GEOINT," said Master Sgt. Elisabeth Wells, geospatial analyst. "For example, programs that use coordinates and maps are using GEOINT."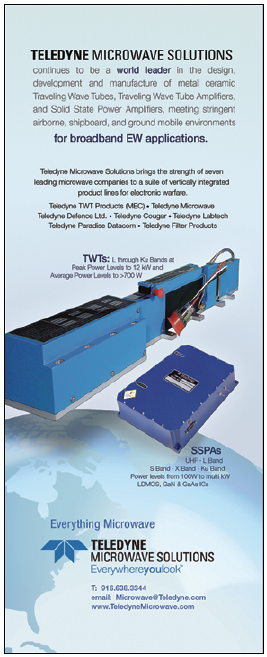 Programs from command and control to foreign military sales and cyber all have potential GEOINT requirements. The team here can provide guidance on maturing Acquisition Intelligence requirements for those programs to achieve required milestone documentation and identify any program deficiencies early within the acquisition life cycle.
Vaughn explained that as organizations, including NGA, are looking to increase efficiencies, update products and provide effective services, Hanscom programs will need to keep pace with those agency changes and technology.
Using GPS as an example, he said if the company you bought your GPS from decided not to update its maps anymore, you could easily find yourself lost. He doesn't want that to happen to LCMC programs.
"In this environment, it's more important than ever before to ensure you're knowledgeable about the GEOINT requirements within your programs, and the INH team here can be the conduit," Vaughn said.
This is the main reason they hosted the GEOINT day. Topics included an ISIS Operations Update, the World Magnetic Model, Immersive GEOINT and Analytics and the GEOINT and Targeting Demonstration, Innovation, Collaboration and Engagement Laboratory (GT-DICE Lab).
John Burkert, chief for Targeting and GEOINT Capabilities for the Air Force, provided a presentation on the current state of
AF GEOINT.
In addition to Hanscom and NGA participants, representatives from the MITRE Corp., MIT Lincoln Laboratory and academia, including Harvard and Boston University, are scheduled to attend. VTC connections have also been made available for other LCMC bases to tie into the GEOINT TEM presentations.
"We want to ensure the topics address how GEOINT affects programs, what programs need and how to get involved," said Tech Sgt. Justin Calvaruzo, geospatial analyst.
A unique tool that the team here offers is the GT-DICE Lab. Located in the Hanscom Collaboration and Innovation Center, or HCIC, with a secondary location for higher classification projects, it provides access for collaboration, engagement and development among acquisition programs with GEOINT and NGA-supported capabilities or processes. Current systems are: GEOINT Product Library, a GEOINT ESRI machine, a Targeting Analyst Workstation and a Common Geopositioning System.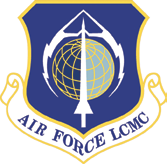 "We want this effort to be an engineering sandbox where various program offices can collaborate on, utilize and leverage GEOINT needs, ultimately gaining efficiencies," said A.J. Bonoldi, Acquisition Intelligence Division deputy.
Hanscom is also only one of two locations within Air Force Materiel Command where an NGA liaison is located who can assist in advocating for stronger GEOINT planning, programming and integration.
For program personnel who might not know where to begin, the GEOINT team can provide Intelligence Sensitivity Surveys to see if a program produces, consumes, processes or influences intelligence information. From there, the team can provide deep dives as to what extent a program is GEOINT-dependent and what data, products and services the program requires.
"We are hosting this day and offer these services to ensure the Hanscom and LCMC community is aware of GEOINT requirements," said Bonoldi. "We want them to be informed about GEOINT early in the acquisition process so we can help them identify program requirements and develop a sustainable roadmap for program development and sustainment."
---
X-Band Satellite Provisioning For Norwegian Forces By Airbus Defence & Space
Airbus Defence and Space has signed a four-year framework agreement with the Norwegian Defence Logistic Organisation (NDLO) for the provision of X-band satellite capacity and has committed to deliver up to 30Mhz of capacity annually on the Skynet military satellite constellation.
Skynet will augment the Norwegian forces' existing secure communications in maritime, land and aeronautical applications across Northern Europe, the Arctic and for Allied nations missions globally.
Under the Skynet PFI (Private Finance Initiative) contract, Airbus Defence and Space owns and operates the hardened Skynet 5 X-band satellite constellation and the ground network to provide all Beyond Line of Sight (BLOS) communications to UK Ministry
of Defence.
The contract also enables other NATO and Allied governments to use Skynet to augment their existing services and to benefit from the unique Skynet performance attributes, especially when associated with small and disadvantaged terminals, ensuring reliable communications even on the edge of cover.
Airbus Defence and Space's ability to deliver secure, high bandwidth X-band capacity for defence customers meets all requirements presented by the NDLO based on its current national and international needs in addition to its future scope.
Anders Øygarden, Head of Sales GC Nordic at Airbus Defence and Space, said, "All divisions within Norwegian Defence, located both in Norway and in international theaters, will now have the opportunity to procure the most powerful satellite capacity available in the market today via the Skynet X-band satellite constellation. The solution is specifically designed for the Norwegian Defence operational requirements."
---
LMC's MUOS-3 Gains The OK
Following successful completion of on orbit testing, the U.S. Navy has accepted the third Lockheed Martin-built Mobile User Objective System (MUOS) satellite.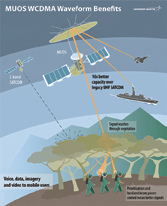 Launched on January 20, MUOS-3 is the latest addition to a network of orbiting satellites and relay ground stations that is revolutionizing secure communications for mobile military forces.
Users with operational MUOS terminals can seamlessly connect around the globe, beyond line-of-sight, with new smart phone-like capabilities, including simultaneous and crystal-clear voice, video and mission data, on a high-speed Internet Protocol-based system. With on-orbit testing complete, MUOS-3 is being relocated to its on orbit operational slot in preparation for operational acceptance.
The MUOS network is expected to provide near global coverage before year end. MUOS-1 and MUOS-2, launched respectively in 2012 and 2013, are already operational and providing high-quality voice communications. Lockheed Martin handed over the last of four required ground stations to the Navy in February. MUOS-4 is expected to launch later this year.
"MUOS is a game-changer in communications for every branch of our military, which all have mobile users who will benefit from these new capabilities," said Iris Bombelyn, Lockheed Martin's vice president for narrowband communications.
---
Proposals Requested By SMC
The Space and Missile Systems Center released a formal solicitation seeking proposals for shared public-private investments in rocket propulsion system prototypes.

This solicitation is part of a comprehensive Air Force plan to transition off the Russian supplied RD-180 propulsion system used on the Atlas V rocket by investing in industry launch solutions with the ultimate goal to competitively procure launch services in a robust domestic launch market.
The Air Force will award a portfolio of investments on a rolling basis in up to four of industry's Rocket Propulsion System (RPS) solutions. These investments, which will last approximately 12-18 months, will build the foundation for awarding separate investments in industry's launch system solutions and secure launch service commitments from invested companies.
Concurrently, the Air Force will continue to competitively award launch services contracts to certified providers who demonstrate the capability to design, produce, qualify, and deliver launch systems and provide the mission assurance support required to deliver national security space satellites to orbit.
"The end goal of our strategy is to have two or more domestic, commercially viable launch providers that also meet national security space requirements," said Lt. Gen. Samuel A. Greaves, the Air Force's Program Executive Officer for Space and the Commander of SMC. "This is essential in order to solidify U.S. assured access to space, transition the EELV program away from strategic foreign reliance, and support the U.S. launch industry's commercial viability in the global market."
---
MIDS JTRS For ViaSat
ViaSat Inc., Carlsbad, California, is being awarded a maximum potential $478,600,000 indefinite-delivery/indefinite-quantity contract (N00039-15-D-0008) for the production, development and sustainment of the Multifunctional Information Distribution System (MIDS) Joint Tactical Radio Systems (JTRS) terminals.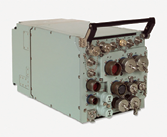 The MIDS JTRS terminal is a four-channel software defined radio that delivers existing Link 16 with concurrent multi-netting-4 and tactical air navigation functionality, as well as three channels for future growth, including JTRS advanced networking waveforms such as tactical targeting network technology, multifunction advanced data link, intra-flight data link and other advanced networking waveforms.
The MIDS JTRS terminal is a line-of-sight radio system for collecting and transmitting broadband, jam-resistant, secure data and voice across a variety of air, sea and ground platforms.
The MIDS program office mission is to develop, field and support interoperable, affordable and secure MIDS tactical data link and programmable networking technologies and capabilities for the joint, coalition and international warfighter.
Work will be performed in Carlsbad, California, and work is expected to be completed by May 27, 2020.
---