Welcome to MilsatMagazine's annual YEAR IN REVIEW issue. A few, leading companies have offered their insights and an examination of their experiences regarding their operations during 2013... offered in alphabetical order, these major representatives of the MILSATCOM offer an overview of the challenges and successes for the past year.
---
By Richard Burt, President
A technology first introduced in the 1950's is now providing an important piece of the complicated communications puzzle for modern-day global situations.

Comtech Systems has spent over 40 years designing and implementing cutting-edge solutions for some of the toughest communications challenges worldwide.
Often used as a complement or replacement to microwave and satellite networks, troposcatter technology—or "tropo"—can be a cost-effective solution for point-to-point, beyond the line-of-sight data transmission. The tropo terminals scatter microwaves signals off the troposphere to create high-bandwidth communication links at ranges well beyond line-of-sight, and are especially suited for operations in areas with challenging terrain.
Comtech Systems is especially proud of the 2014 rollout of the world's first 50Mbps digital troposcatter modem, the CS67500A. The CS67500A provides a single modem capable of 50 Mbps links for the first time while incorporating Comtech's advanced troposcatter features including troposcatter-specific Forward Error Correction (FEC) with embedded Turbo Product Coding, Automatic Code Rate (ACR) and Adaptive Link Power Control (ALPC) to maintain performance under the most adverse conditions.
The first CS67500A modems in conjunction with the Comtech MTTS transit case tropo terminals were fielded by a U.S. Army Expeditionary Signal Battalion for test and evaluation as a replacement for the legacy TRC 170 troposcatter system. These tests demonstrated the interoperability of the Comtech Systems tropo with other communications equipment to be used by the U.S. Military going forward. The highly successful tests were conducted in networks using various baseband and wireless technologies including satellite, Wi-Fi and 4G.
Our troposcatter systems play a vital role in the U.S. Military C4I operations, providing intra-theater high-bandwidth range extension over beyond-line-of-sight distances. This not only reduces the demand on limited satellite bandwidth, but also provides additional capacity that may not be attainable utilizing other technologies. This allows satellite bandwidth to be allocated more efficiently, and provides service in situations where other terrestrial alternatives are not an option.
The very low latency characteristics of these troposcatter systems are ideal for the critical, time-sensitive information used in missile defense. The U.S. Army Integrated Air and Missile Defense program has purchased the technology for use with Patriot Missile Battalions during global deployments, allowing them to maximize the coverage of these systems by untethering them from the limitations of their previous line-of-site base communication links.
Working closely with our military clients to meet their requirement for a lighter weight, more maneuverable Troposcatter terminal as a replacement for the aging fleet of AN/TRC-170s has resulted in Comtech System's field proven Modular Transportable Troposcatter System (MTTS).
The MTTS is fully modular, rapidly deployable and provides the flexibility of configuring terminals to meet specific mission requirements. This helps save transport cargo space and reduces logistical support. As a result of our advancements, MTTS orders have reached in excess of 60 terminals and more orders are programed for fiscal 2015. Other countries are also recognizing the benefits of the new generation of tropo. In the past few years, modern tropo systems have been provided to customers in Europe, North Africa, the Middle East, and Asia.
Comtech Systems has built upon our experience in the design and development of troposcatter systems, to become a leading communications systems company. Many foreign government customers now rely on Comtech Systems to provide best-in-class communications solutions for all parts of the communications network. This is demonstrated in contracts to upgrade satellite systems for the Brazilian military, as well as continuing contracts for country-wide military communications networks in the Middle East and Asia oil field systems, we expect to continue this trend into 2015 and beyond.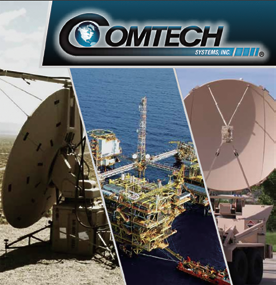 The demand for reliable communications systems is rapidly increasing for commercial as well as government purposes. Comtech's commercial customers are enjoying the benefits our technology as well. In 2014, we filled large orders from major international oil companies one of which was to deploy the world's first over the horizon communication system to be used on a deep water, floating production system (FPS), and are in the process of providing a similar solution for a second floating platform.
Comtech was selected for the project because of the innovative antenna stabilization design which allows the offshore floating platform to be able to keep locked to shore located antennas in a variety of sea states. The high-speed digital modems enable both voice video and data traffic which is critical to the energy company's off-shore operations.
In the decades since it was first introduced, troposcatter technology has evolved from large, heavy, low capacity terminals to smaller, lighter, higher capacity network systems capable of transmitting digital voice, video and data over a secure link.
The resurgence in the use of tactical tropo has been dictated by situations that involve wider areas of operations, increased operational tempo and the growing importance of high bandwidth tactical networks.
Comtech Systems' ability to adapt the technology and make improvements to data throughput, antenna technology and innovative configurations make it a viable and increasingly sought out solution to network managers seeking a low cost, easy to deploy, high bandwidth system that can easily be integrated into an existing network of various technologies or as a standalone solution.
Troposcatter technology's proven record in a variety of military and commercial applications further elevates Comtech System's position as a global leader in this realm.
Richard Burt is the President of Comtech Systems and has held a number of senior leadership roles within the company over the last 30 years. A graduate of Iowa State University, Richard's career experience includes roles at Westinghouse, Page Communications, R.E.L., and Rockwell International preceding his current position as President of Comtech Systems. Under Richard's leadership, Comtech Systems has become a trusted brand in the international defense and commercial energy industries through strategic investment in R&D, acquisition of top industry talent, and the anticipation of end-user needs.
---
By Anthony J. Navarra, President, Space Operations
Globalstar had a breakthrough year in 2014. We continued to build on the momentum sparked by the completion of our second generation global network in 2013.

We launched several important products that included the Globalstar 9600, our new affordable hotspot for keeping groups of people online while in remote places. We also debuted Sat-Fi, our solution that enables people who find themselves outside of cell coverage to use our satellite network from their smartphones, tablets or laptops.
2014 was a year in which the company placed additional focus on providing our military customers with support and solutions for a more diverse range of missions and applications. We worked in close partnership with numerous branches of the U.S. military, namely the Army and the Navy, as well as international military groups and we gained further understanding of their needs.
We revised the features and settings of our consumer product offerings to create new solutions that fit these military missions. For example, we customized our SPOT and GSP-1700 menus, and reconfigured the functions and settings of buttons and displays.
We changed the way our products present data to our military customers' command centers and headquarters, making the information more relevant and useful. We revised graphical displays, and made other software changes that enable faster, more precise use of our products and the Globalstar network, and enhance back-office functionality.
We also made modifications to the method in which transmissions take place which enable longer battery life for more in-field reliability on various missions.
The requirements of military customers are, for obvious reasons, our most demanding. We are proud of our successes in taking our already highly functional offerings and customizing them to meet the exacting needs of this group. The innovations and expertise gained in satisfying their requirements, like the smarter use of batteries, is feeding into our overall product development pipeline—all Globalstar customers, therefore, benefit.
We saw greatly increased usage of the Globalstar network within the military and government space in 2014. More military organizations are using the system, in more locations and to support new kinds of missions. A key development, and likely a contributing factor to the additional uptake of our network by military groups, was a much greater willingness for these organizations to share knowledge with each other.
For instance, we saw Army and Navy personnel sharing their experiences of how SPOT helped in various operations, and suggesting to their counterparts how features and bespoke modifications might assist in their operations, as well.
Obviously, they are not sharing exact details of how and where they are using the devices, as that's classified. However, they are proactively endorsing the solutions to one another, improving knowledge among all concerned. Thanks to this informal collaboration, they have also helped Globalstar better understand their needs which helps us provide additional innovations for them.
Globalstar is all about bringing satellite communications to the mass consumer market, with the lowest prices available. As you might expect, price has a somewhat different weight when a government procurement team makes their purchasing decisions. Nonetheless, even government departments have a ceiling as to how much they can spend. A couple of years ago, sequestration in the U.S. was the number one worry among SATCOM providers, as many are subject to the U.S. government's single-year, supply contract term, which is standard in their RFPs. Our low pricing has certainly helped us win contracts.
Much more important to our longer term success in the military space, however, is our widely recognized willingness to listen to our customers' needs and our flexibility to change the way our products work in order to satisfy their needs and help them carry out their missions. That is really embraced by the command structures.
Globalstar is not a big DoD defense contractor—we are not a Lockheed Martin, or an L3 or BAE Systems. As we are a small commercial organization, we can respond quickly to our customers' needs, both from an engineering and commercial standpoints. Estimating conservatively, we have expanded our international reach in the Military and Government market by more than 50 percent since 2013.
U.K., French, Spanish and other NATO forces have established mobile headquarters and command operations in new locations around the world. They absolutely need more mobile communication tools, for voice and data communications as well as for safety and security.
Europe and the Middle East have seen a lot of activity, but meeting the needs for African coverage and support from our sensor-based tracking products in all remote locations, will be a real focus for Globalstar in 2015. The company has broken ground on our Botswana teleport and we're also busy upgrading our gateway in Aussaguel to meet these growing needs.
In the latter part of 2014, we announced the latest milestone in our already successful relationship with Spain's Ministry of Defence. The Spanish MoD approved the use of the GSP-1700 satellite phone and procured additional SPOT Gen3 messengers.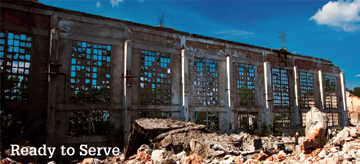 On the first responders, fire and government agencies sides we garnered success in numerous missions and emergency operations.
Making predictions for 2015 is somewhat difficult in such a dynamic landscape, but we do foresee increased use of space-based technology, in general, by the military.
A few years ago, we began to see SPOT tracking products being sent into space, effectively enabling improved communications and tracking of assets in orbit, such as on cubesat research satellites.
Russia took the lead with this smallsat approach. Since then, the U.S. and other military research groups, as well as universities, have been actively exploring how the Globalstar network can be put to use for space-based tasks, such as on science rockets launched into low atmosphere and in reconnaissance missions, with communications directly back to field operation centers. Small Globalstar devices for tracking and communications, originally designed to be carried in backpacks or mounted in armored vehicles, are now being launched into space to manage the same functions there. That is definitely a trend I see continuing.
Working closely with our military customers in 2014 was highly satisfying. Whether it was to help locate soldiers for the Army, or track assets for the Navy with SPOT devices, or helping to optimize data transmission and management processes, we were entrusted with their needs and acted as a day-to-day resource for them.
We look forward to supplying product for, and increasing the scope of these crucial relationships during 2015 and beyond.
Anthony J. Navarra is President of Space Operations at Globalstar, the world's leading provider of mobile satellite phone services, offering high-quality voice and data communications in 120 countries.
Mr. Navarra has been working with Globalstar for over 20 years. Prior to his appointment to his current position in September 1999, Mr. Navarra was executive vice president of strategic development and acting chief operating officer for Globalstar. In this position, Mr. Navarra was responsible for the acquisition of partners for Globalstar, developing the business plan and marketing the company's satellite mobile services. He also oversaw functions of all corporate departments including international business development, marketing, engineering, corporate development and production, finance and administration, regulatory affairs and system applications.
---
Hughes DEFENSE & Intelligence Systems
By Rick Lober, Vice President and General Manager
Today, many companies claim to support the military with commercial SATCOM solutions that are merely repackaged versions of their products that lack the capabilities necessary to satisfy government customers.

At Hughes Defense and Intelligence Systems Division (DISD), we are solving the government's toughest SATCOM challenges by delivering solutions rooted in our best commercial platforms and utilizing our most advanced technologies.
In 2014, much of Hughes DISD's success was derived from innovations in ground and terminal systems, waveforms/coding, and network management capabilities that collectively differentiate the Hughes name from the rest of the industry. For example, Hughes DISD engineers developed several key SATCOM technologies including VSATs, airborne-qualified modems, software definable modems and network management techniques for protected communications systems.
Two trends underpinned Hughes' defense business growth in 2014, and we expect them to remain key drivers in 2015. First, as the military landscape grows ever more reliant on broadband to turn data into actionable information, we saw the demand for intelligence, surveillance and reconnaissance (ISR) on manned and unmanned platforms continue to expand. Second, the United States and other nations continue to recognize and expand their need for protected, but affordable, satellite communications, including assets already in orbit.

To meet these challenges, Hughes DISD continued to advance the technologies that aligned with our customers' mission-specific, or requirement-specific, needs, focusing on ISR capabilities and affordable protected SATCOM:
Advanced waveform technologies that can transmit effectively beyond the line-of-sight (BLoS) through rotary wing aircraft. In 2014, our team designed an airborne-packaged modem with an ARINC-style enclosure to qualify for airborne operations and developed some of the smallest terminals available for use on both fixed and rotary wing aircraft.
Announced development of the XeBRA terminal in partnership with Airbus. XeBRA terminals and services provide BGAN-like services and terminal size in a very small package capable of operating at X-band frequencies on satellites such as WGS at very low costs. We are also actively developing a Comms-On-The-Move (COTM) version at Ku-band that will use antennas much smaller than those used on current ground systems.
Successfully demonstrated advanced network management capability, highlighting dynamic resource allocation in conjunction with Space Systems Loral (SSL) for the U.S. Air Force Space and Missile Command (SMC) Protected Tactical System (PTS) study. SMC should be praised for its ongoing efforts to define requirements and develop solutions using the best technologies available – commercially-based or otherwise.
Continued our thrust into software-definable modems that will run our open standards-based waveforms. These modems are becoming the primary engine in our growing product line.
Looking forward to 2015, Hughes DISD will continue developing end-to-end solutions for its growing customer base. We have repeatedly heard of the need for affordable protected tactical SATCOM from our customers and fully expect to expand our work with the U.S. Air Force to deliver capabilities in this area, anticipating that other countries will follow suit whether via a consortium or individually. We hope that the new Congress supports PTS by removing any roadblocks to funding.
In summary, Hughes is proud to serve our country and is dedicated to applying our expertise to continue supporting defense-related missions. Our open, collaborative and highly responsive culture has proved an asset to our customers and partners alike, bolstered by a strategic, confident team of experts with unparalleled technical capabilities.
Looking into the future, Hughes will maintain its successful course to seek efficiencies in designing and building new and advanced ground segment and terminal segment solutions that utilize our most advanced waveform technologies that can be integrated with our proven network management techniques.

Rick Lober is the Vice President and General Manager of the Defense and Intelligence Systems Division (DISD) at Hughes Network Systems, LLC. In this role, he is responsible for applying the company's broad range of SATCOM technologies and services to the worldwide defense marketplace and intelligence community. This includes both fixed Ku-, Ka- and X-band VSAT and mobilesat products and systems. Applications cover satellite communications on the move for both ground based an airborne platforms along with numerous classified development programs. He has more than 25 years experience with both COTS-based and full MIL communications and intelligence products, systems and major programs starting as a design engineer and progressing to a P&L executive.
Mr. Lober previously worked at Cubic Corporation as Sr. VP/GM of the Communications Business Unit. In this role he led the company's development of the Tactical Common Data Link (TCDL) for application to both manned and unmanned military ISR platforms. Program wins included the U.S. Navy's Common High Bandwidth Data Link (CHBDL) for large deck ships, TCDL for the U.S. Navy's Firescout Rotary Wing UAV, the data link subsystem for the U.K. MOD's Watchkeeper Fixed Wing UAV and a miniature version of TCDL for the U.S.A.F. These programs resulted in total orders of over $150 million just a few years after the system's introduction. In addition, Mr. Lober's business unit managed the data link system for the U.S.A.F./U.S. Army's Joint STARS program, the Personnel Location System used in Special Operations search and rescue missions, high power HF amplifiers for military communications systems and a line of receivers and direction finders for signal intelligence applications.
---