A Danish Evolution... From iDirect
VT iDirect, Inc. (iDirect), a company of Vision Technologies Systems, Inc. (VT Systems), has signed a framework agreement with specialized procurement center and logistics authority Danish Acquisition and Logistics Organization (DALO) to deliver hardware, software, and services to the Danish Armed Forces.

Using the iDirect defence portfolio, the Danish Armed Forces can ensure high quality support for multinational missions quickly and efficiently at all times and in any location.
In order to carry out a wide range of missions, the Danish Armed Forces require a communication system that can deliver secure, effective Command, Control, Communications, Computers, Intelligence, Surveillance, and Reconnaissance (C4ISR). The iDirect Evolution portfolio enables the Danish Armed Forces to leverage the Wideband Global SATCOM (WGS) program, along with partner nations defence satellites, and commercial satellites.

The advanced Quality of Service (QoS) capabilities of the iDirect platform allows the Danish Armed Forces to dynamically balance traffic between operational and welfare requirements, and mobile and static deployments depending on the varying levels of priority.
iDirect's TRANSEC capabilities will help to build added security into their networks, and the technical expertise of the 24/7 iDirect Technical Assistance Center (TAC) provides a high level of reliability to the Danish Armed Forces.
The rollout of new products in the iDirect defence portfolio will provide the Danish Armed Forces with a highly efficient and resilient portfolio of remotes, designed to lower operating costs.
idirect.net/
---
IGC To Support AFCENT
Intelsat General Corp., a wholly owned subsidiary of Intelsat, has been awarded a contract to provide satellite services to the U.S. Air Force Central Command (AFCENT).
The one-year contract calls for 144 MHz of Ku-bandwidth to support U.S. military operations in the Central Command (CENTCOM) Area of Responsibility (AOR). The service, which began in September 2015, has three one-year renewal option periods and one six-month renewal option period.
Under the previously disclosed contract, Intelsat General will provide coverage all across the Middle East as far eastward as Afghanistan and Pakistan, including reach-back to European teleport facilities.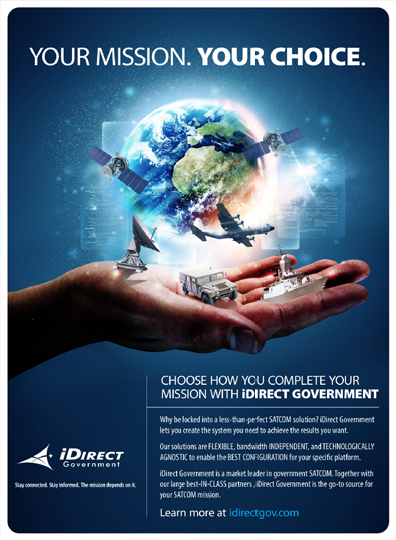 "The deployed Airmen are operating satellite ground terminals supporting C4ISR networks at numerous remote and expeditionary locations requiring a single-satellite solution that was not readily available," said Skot Butler, Vice-President, Satellite Networks and Space Services, Intelsat General.
"With our vast global network we had the ability to re-groom capacity, creating a unique solution that precisely accommodates the customer's single-satellite requirement."
intelsatgeneral.com/
---
ETL Systems Amps Up For The Military
ETL Systems has launched a new range of RF power amplifiers for military use.
The range is designed for electronic warfare applications such as broadband frequency jamming or EMC testing. These can be on mobile or fixed terminals and used in terrestrial point-to-point and point-to-multipoint. It offers a broad range of operating frequencies, including 20-500 MHz, 500-2700 MHz and 2500-6000 MHz.
The design of the amplifiers is based on advanced Gallium Nitride (GaN) high electron mobility transistor (HEMT) technology for high efficiency, good thermal conductivity, high breakdown voltages and low energy consumption.
The modules benefit from high efficiency and gain, with 20, 35, 40, 60, or 100W saturated power options. Each amplifier module is integrated into a compact housing, designed for easy integration, to a broad range of transmit antennas, filters and multiplexers.
The high power RF amplifier products are available as standalone components or mounted in a 2U high 19" rack chassis, which offers dual redundant hot-swap power supplies, local and remote control and monitoring.
www.etlsystems.com/
---
More Than A Half Decade Of Vandenberg Launches
December 16 will marked the anniversary of the very first launch from Vandenberg, when a Thor Intermediate Range Ballistic Missile, nicknamed "Tune Up," departed Launch Facility 75-1-1, in 1958.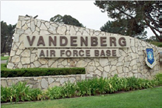 Demonstrating operational capability, the successful test was conducted only a year after the base was activated—and ignited a launch legacy spanning more than five decades.
"That launch represented what can be done when a group of dedicated professionals choose to find solutions to problems and overcome adversity, even when there are no standards to guide the way," said Jay Prichard, 30th Space Wing curator of Vandenberg's Space and Missile Heritage Center.
"That's the difference between leadership and management. It was all new and they were literally figuring it out as they went."
For some, the anniversary of such a momentous occasion is an opportunity for current space and missile Airmen to pause and reflect on their occupational origins.
"Air Force Space Command has always had such an eye to the future, and sometimes I fear Airmen can forget that," said Shawn Riem, 30th Space Wing historian. "The Air Force got involved in the space business within ten years of its creation, and long before AFSPC was even activated."
Although technology has made great strides in the years since the first launch, much of the processes, procedures and hardware are still used today.
"There are many elements of that original launch that are still present in current operations," said Prichard.
"Physics hasn't changed, but our understanding has, as well as the evolution of materials and material processes. I think we are at the beginning of a new public space renaissance that will normalize the space dialogue into our human evolution.
"In reality we aren't separate from the subject—we are part of it. We are ever-present on a piece of space as we spin through it, so we shouldn't be thinking of the space enterprise like it's something unachievable—or out of reach."
As space and missile operations from Vandenberg continue into the future, a firm grasp on how, and why, it all starte is imperative.
"If we don't have a working understanding, not just a familiarity, but a comprehension of our past and history, we cannot understand why we are where we are today," said Riem. "It's that comprehension of the past that provides a link to our present."
With nearly 2,000 space and missile launches from Vandenberg since it all started, remembering the past in order to understand the present and preserve the future—is a priority for Vandenberg and its Space and Missile Heritage Center.
"When people talk about heritage, or museums, they often think it's just about something that 'was' but sadly they have missed the point," said Prichard. "Heritage is something that 'is' and it's yours. It is the foundation upon which every bit of our Air Force culture is built.
"Museums are not just collections, they are about inspiring people and that is the continuing mission at Space Launch Complex-10, just like the early days, we keep pushing forward. We just happen to use the past to do it."
---
XCOR Develops Lynx Simulator With Protobox + AFRL
XCOR Aerospace announced today that it has completed work on its Lynx simulator system, built by Protobox LLC in conjunction with the Air Force Research Lab (AFRL) at Wright Patterson Air Force Base in Dayton, Ohio.
"Dedicated aerodynamic modeling of the vehicle in the LAMARS (Large Amplitude Multi-Mode Aerospace Research Simulator) at AFRL (Air Force Research Laboratory) in Dayton, Ohio has provided XCOR with valuable insight into Lynx spacecraft performance and handling qualities." said XCOR Chief Executive Officer Jay Gibson. "As a result, we contracted with Protobox to provide an in-house version of the simulator at XCOR's Hangar 61," in Mojave, California.
AFRL-developed modeling and simulation software, including a Government Open Source Image Generation (IG) software package known as "SubrScene, was integrated into a mockup Lynx cabin and nose at Hangar 61.
Protobox provided integrated flight and engine controls, along with a representative pilot's instrument panel.
Four 80-inch, high-resolution LCD screens that mimic the pilot's expected field of view throughout the mission profile provide a 180 degree field of view.
A control station behind the simulator can create many different flight scenarios. It also has the ability to alter a variety of vehicle performance parameters that will help train the crew in hypothetical emergency situations.
Besides validating the simulation model of the Lynx vehicle, writing operational procedures and performing flight test rehearsals, our pilots are giving feedback on the pilot vehicle interface (PVI) during their flights in the simulator. Through this, engineers can optimize the interface design based on true pilot insight and simulation experience.
"The sim is a great asset and has awesome graphics," remarked XCOR Experimental Test Pilot Harry Van Hulten. "I thought I was flying an F-16 test mission in the skies over Mojave and Edwards AFB again. This will significantly accelerate development of modeling and simulation and operational procedures."
The simulator was made possible through a Cooperative Research and Development Agreement (CRADA) that allowed XCOR test pilots and engineers to utilize AFRL's unique simulator.
The LAMARS is maintained and operated by the Aerospace Vehicles Technology Assessment & Simulation (AVTAS) Branch
of AFRL.
The day-to-day maintenance and operation of the LAMARS simulator is supported by Protobox LLC, which then built XCOR's in-house version.
"We look forward to further collaboration with AFRL, AVTAS and Protobox. This is just the beginning," Gibson noted.
xcor.com/
---
USAF Satellite Control Network Goes To Harris Corporation
The United States Air Force has awarded Harris Corporation (NYSE:HRS) a $40 million, nine-month extension of the Network and Space Operations and Maintenance contract.
This support is for the Air Force Satellite Control Network at two network control locations in the U.S. and at antenna sites throughout the world—the contract was awarded during the first quarter of Harris' fiscal 2016.
Under the contract, Harris will provide operations, maintenance and logistics support to Air Force satellite operations at the 50th Space Wing at Schriever Air Force Base, Colorado, and other worldwide locations, including:
• Colorado Springs, Colorado
• Vandenberg Air Force Base, California
• Diego Garcia Station; Guam
• Tracking Station at Andersen Air Force Base
• Hawaii Tracking Station at Kaena Point
• New Boston Air Force Station, New Hampshire
• Eastern Vehicle Checkout Facility, Cape Canaveral Air Force Station, Florida
• Thule Tracking Station, Thule Air Base, Greenland.
"We have helped the 50th Space Wing provide critical information to decision makers and those on the front line reliably and cost effectively for more than 19 years," said Wayne Lucernoni, president, Harris Mission Sustainment.
"The Air Force Satellite Control Network is crucial to our national security, and Harris is committed to providing mission excellence."
harris.com/
---