An Equity Stake By Boeing In SoftBank's Disaster Response Satellite System
Boeing has taken an equity stake in SoftBank Satellite Planning, which will develop concepts for a satellite-based disaster response communications system for Japan.
The group will evaluate the concepts and propose them to Japan's Ministry of Internal Affairs and Communications.
Boeing's background in providing satellite-based disaster response systems started in the 1990s with the Thuraya satellite system, which delivers mobile telephone, data, fax and messaging services throughout the Middle East, North and Central Africa, Europe, Central Asia and the Indian subcontinent.
Boeing is currently under contract for Mexsat, a communications system for Mexico that will provide disaster response, emergency services, telemedicine, and telecommunications access for remote areas when it becomes fully operational in 2016.

The Boeing portfolio includes a version of the Boeing 702HP (high-power) satellite that is designed for mobile communications.
Boeing comes to the SoftBank team with knowledge of system technical requirements and a track record of on-orbit experience.
Boeing infosite: www.boeing.com/
Softbank Satellite Planning Corp: www.softbank.jp/en/corp/group/sbsat/
---
Upgrades For U.S. Army Manpacks Resultant Of General Dynamics Upgrades Work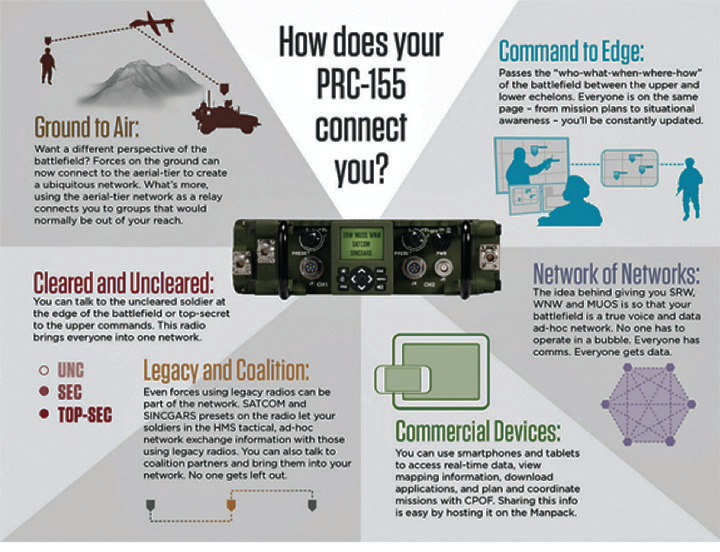 General Dynamics received a contract from the U.S. Army to support upgrades to the Mobile User Objective System (MUOS) waveform used in the Army's AN/PRC-155 two-channel MUOS-Manpack radios.
The waveform is the digital 'dial-tone' needed to connect with the U.S. Navy's new MUOS satellite communications network that will provide U.S. military and government personnel smartphone-like voice clarity and data connectivity.
The total potential value of the contract is approximately $13 million and includes waveform integration into the PRC-155 radios, radio/waveform testing, field support and soldier training.
MUOS waveform upgrades will enhance voice clarity and cyber security of voice and data communications across the MUOS communications network.
Other waveform enhancements include improved connectivity with other MUOS-Manpack radios, the MUOS ground system and satellites.
The MUOS communications network is expected to achieve global communications coverage in 2016.
"From developing the MUOS waveform and the PRC-155 MUOS-Manpack radio, to building the four MUOS ground stations located around the world, General Dynamics Mission Systems provides what soldiers need to connect with the game-changing MUOS tactical communications system," said Chris Marzilli, president of General Dynamics Mission Systems.
General Dynamics (NYSE: GD) combined the resources of Advanced Information Systems and C4 Systems into "General Dynamics Mission Systems" on January 1, 2015.
General Dynamics infosite: gdmissionsystems.com/
---
America's Army Facing Sequestration 'Enemy' at Home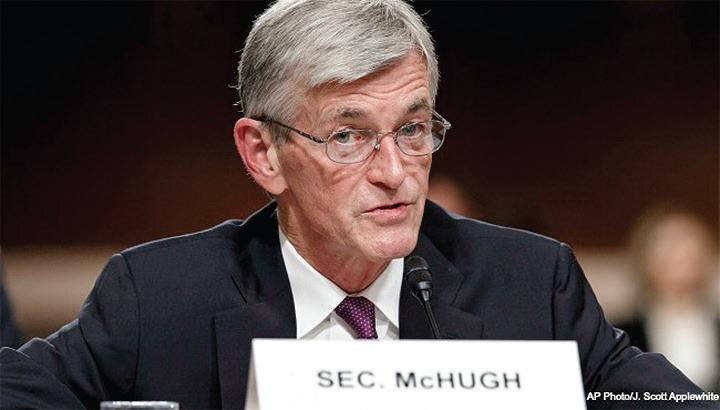 Not only does the U.S. Army face rapid, unpredictable changes in the geopolitical landscape, but also the uncertainty of an adversary—sequestration—here at home, Army Secretary John M. McHugh said recently.
Testifying before the Senate Appropriations Committee's defense subcommittee, McHugh, joined by Army Chief of Staff Gen. Ray Odierno, discussed the Army's fiscal year 2016 budget request and challenges imposed by sequestration's return as demand for the Army grows.
"It is amazing how much can change in a year," McHugh said. "Over the last 12 months, we've seen the geopolitical landscape morph, really, at an astonishing pace."
From renewed aggression by Russia and increased threats from North Korea to gains by radical terrorists in Iraq, Syria and Yemen, to the fight against Ebola, he said, "the demand for your Army to tackle contingencies around the world have grown at an alarming rate."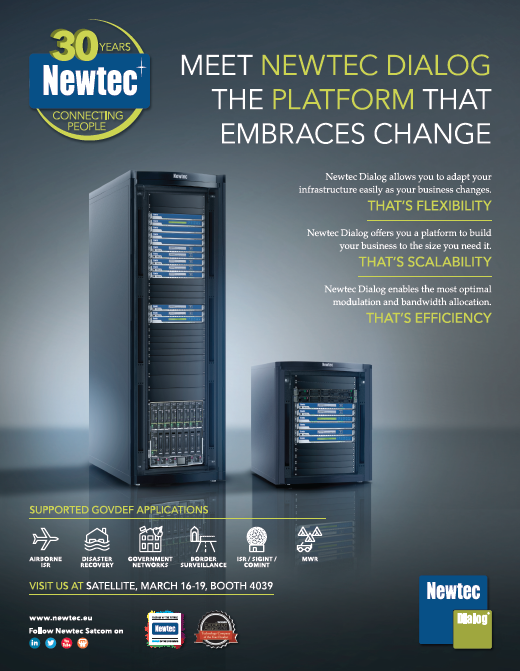 "Far from being foreseeable," McHugh said, "our requirements have been more unexpected, our enemies more unpredictable and our ability to handle multiple, simultaneous operations more uncertain. And yet, with such volatility and instability around the world, America's Army is faced, yet again, with an enemy here at home—the return of sequestration."
Citing unprepared units, unmaintained equipment and untrained soldiers, McHugh said the Army faces a "dark and dangerous" future unless Congress acts now to end "these ill-conceived and inflexible budget cuts."
He added, "Moreover—and I want to be clear here—every installation, every component and nearly every program will feel the brunt of these cuts."
Under sequestration, McHugh said, by 2019 the Army will reduce its end strength to "unconscionable levels," likely losing another six brigade combat teams and potentially a division headquarters, along with associated affects to support infrastructure.
"It is our shared responsibility to jealously preserve the gains in readiness, modernization and training that we've achieved through your critically important support," he said.
The Army secretary shared some of the Army's achievements over the past year to illustrate the service's impact.
"As Russian-backed forces rolled into Crimea and threatened regional stability," McHugh said, "our soldiers rapidly deployed to Eastern Europe [as] a demonstration of U.S. commitment. From Latvia and Lithuania to Poland and Estonia, soldiers from 173rd Airborne and the 1st Cavalry showed the world that America would stand with our NATO allies and respond to unbridled aggression."
Led by the 101st Airborne Division, McHugh noted, several elements acted to assist thousands suffering from Ebola in West Africa, providing command and control, equipment and expertise to support efforts to stop the disease.
Turning to the Islamic State of Iraq and the Levant, McHugh said, "Your soldiers quickly returned to Iraq to advise and assist security forces and turn the tide on this barbaric [group] of radical terrorists."
The Army secretary noted that in the Pacific region, thousands of soldiers and civilians support operations strengthening U.S. partnerships and providing increased presence.
While Army formations become leaner, more agile and more lethal, he said, the headquarters of nine active Army divisions and two Guard divisions are currently committed to combatant commands, and 144,000 soldiers are deployed, forward stationed or committed -- including 19,000 mobilized reservists.
In the end, McHugh said, the Army's "extraordinary" success comes at a price. "The stress of war, multiple deployments and unpredictable requirements doesn't change in
the face of indiscriminate funding cuts," he said. "Through it all, we have, and we will, remain committed to supporting the needs of our warriors."
McHugh said the Army will keep faith with its soldiers, but "rest assured," the return of sequestration will have a direct, Army-wide impact on critical installation and family programs. "Simply put," he said, "we need the president's budget. Our $126.5 billion request is some $6 billion over the potential sequester level and is specifically designed to preserve our modest gains ... over the last year and take care of your soldiers. If approved, we'll invest $3.4 billion above the fiscal year '15 funding levels in training, sustainment and installation programs that directly support combat readiness; and $2.6 billion in research, development and acquisition to equip soldiers, to protect key parts of the industrial base and support new innovations."
The Army's funding request seeks vital reforms to compensation and force structure, he said, which will support near-term readiness and help place the service on a predictable path to balance. "I cannot emphasize enough how these critical reforms and funds are necessary to ensuring that your Army has sufficiently trained and ready soldiers to protect our nation," McHugh said.
McHugh said this is a "historic moment," and called for congressional action to end sequestration. "We need to stop talking and start acting," he said. "We need wisdom—not words. We need results—not rhetoric. And as I said last year, we need predictability—not politics."
As the Army faces "extreme" instability around the world, McHugh said, there must be certainty here at home. "Your soldiers—and I know you agree—deserve no less. "We must have an end to sequestration this year, and we must have this budget."
Article by Army Sgt. 1st Class Tyrone C. Marshall Jr., DoD News, Defense Media Activity
---
Vulcan From ETL Systems Brings RF Signal Distribution Into A Defensive Position
ETL Systems will provide RF equipment to a large U.S. Government Defence contractor.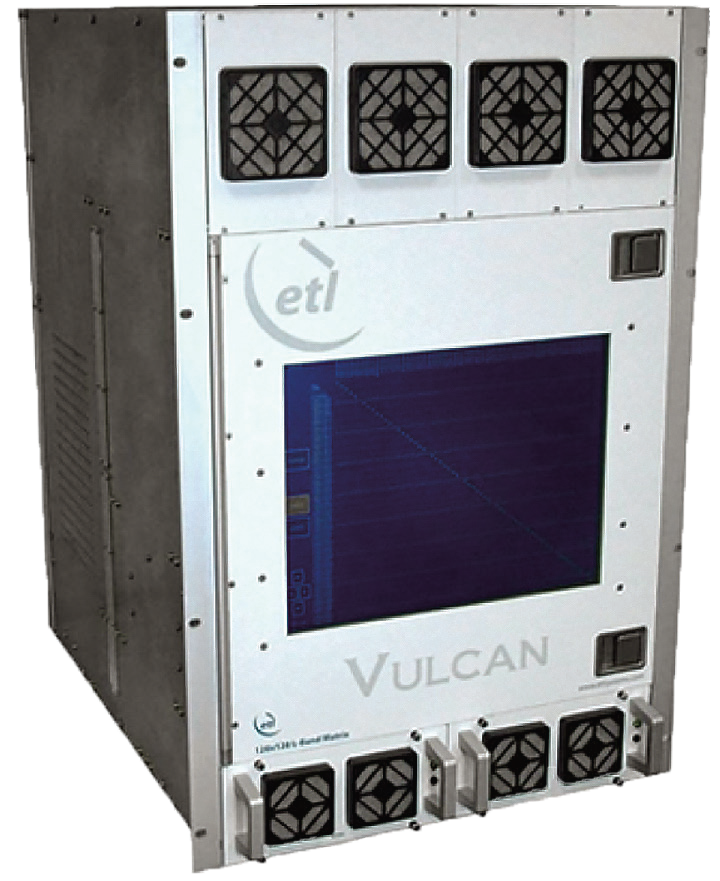 This was a highly competitive bid and ETL was selected after providing a successful equipment demonstration at the agency's facility which showed the unique form factor and performance attributes of its Vulcan matrix system.
The Vulcan is a compact 16U high 128 inputs x 128 inputs distributive matrix with dual redundant power supplies and CPU's, and hot-swappable RF components.
The unit also features remote control and monitoring facilities that give the user the ability to set alarms if any levels drop below pre-determined thresholds.
Susan Saadat, Vice President of ETL's North American Sales and Operations, said, "This further proves that our equipment is trustworthy and reliable as well as unique enough to stand out from the competition."
As well as the Vulcan matrix, which is installed at a location outside the U.S., ETL has been working closely with the customer to design a customized rack that will contain the matrix and auxiliary equipment, and the customer's preferred cabling system.
ETL is also providing an onsite Factory Acceptance Test (FAT) at ETL's UK facility in Hereford, along with lengthy training for the US government Agency. This will give the agency hands-on experience with the product and teach them troubleshooting strategies for seamless integration in to their system.
Ms. Saadat added, "Our Factory Acceptance Tests ensure the customer understands the equipment's full functions and operations while our in-depth training procedures make sure they can use the equipment to its full capabilities."
---
Kosovo Is The Training Ground For Calvary Scouts & Their Comm Systems
Cavalry scouts loaded helicopters and headed towards the mountains for an air assault-training mission near Camp Maréchal de Lattre de Tassigny (CMLT), Kosovo.
Cavalry scouts are responsible for being the eyes and ears of the commander during combat and keeping their skills sharp is essential for their mission.
Sgt. Robert Adarna, a cavalry scout with 1st Squadron (Airborne), 40th Cavalry Regiment, 4th Infantry Brigade Combat Team (Airborne), 25th Infantry Division, and a native of Kailua-Kona, Hawaii, participated in the training. "The objective of today's mission was to secure a helicopter-landing zone," said Adarna. "We had to find it using land navigation and then ensure it was safe for helicopters to land there."
The Soldiers hiked the mountainous terrain with snow waist deep at some parts of the trail. "It was definitely deep snow out there," said Adarna. "We were hoping it would melt before the mission but we adapted. It is all a part of the training."
Spc. Kevin Smith, a signal support system specialist with the 1-40th Cavalry and a native of Dallas, Texas, was in charge of communications for the mission. "Communication was great today," said Smith. "All of the radios were good today and nothing went down, which is nice." For this mission Smith stayed in constant contact with the troop back at base and transmitted information from the commander to the troop.
"I think my job is vital for the scouts," said Smith. "They have to be able to communicate with each other in order to accomplish their mission. Communication is important in the Army period. I am there to ensure the commander has constant lines
of communication."
The scouts completed their training and loaded back into the birds to head home to CMLT.
"I think over all this training went well," said Adarna. "A lot of the training we did today was perishable skills. Land navigation is a vital skill that we all need to rehearse constantly so it was good that we were able to do that today.
Story and photo by Sgt. Melissa Parrish, 4th Brigade Combat Team, 25th Infantry Division Public Affairs Multinational Battle Group - East (KFOR)
---
For Battle Success, Space planning Is essential
"Space, the final frontier," means a lot to people in different careers, but is the vast blackness filled with mesmerizing intergalactic-lights important to today's warfighter?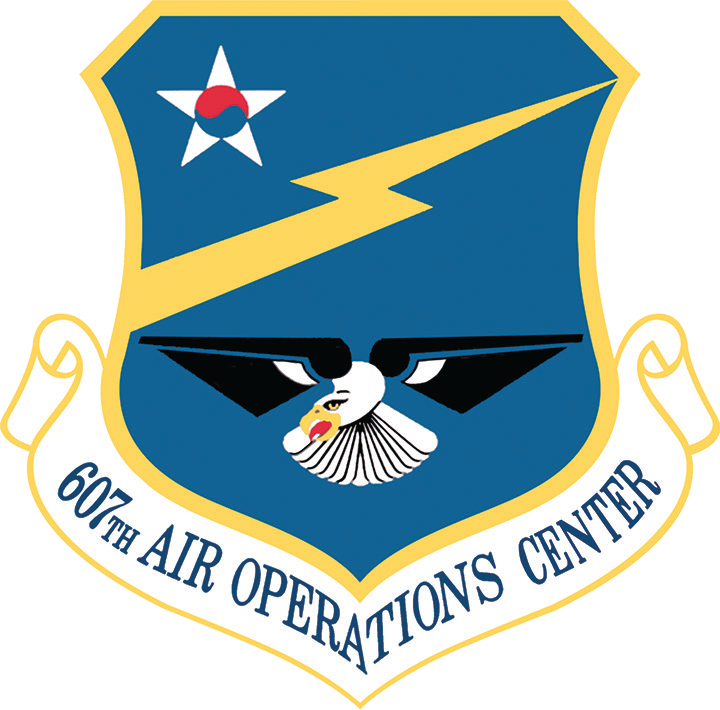 According to Air Force Capt. Jamil Brown, the 607th Air Operations Center chief of space plans, space is a newer concept to warfighting and his team is working to integrate the concept into exercise Key Resolve 15.
"As chief of space plans I'm in charge of integrating space into the air tasking order cycle, making sure the plan that's put together has both the space support it needs and also the estimated space effects to make sure the mission goes along as planned," Brown said.
Over the past few exercises, integrating space effects into KR scenarios has been an evolutionary process.
"One of the nice things about working with our Korean counterparts is we're beginning to not only educate everyone here what space has to contribute, but we're also integrating it into the plans so space is as essential and integral as everything else," he said.
During the exercise process, Brown found that planners' interest in space has increased as they seek to understand how space effects fit into their planning and maneuvers.
"It's great they have that thirst, but now we're catching up to that to making sure we can satisfy that interest in space knowledge," Brown said. "That's a challenge I'm pleased to have to overcome."
U.S. Army Capt. Otis Ingram, a space coordination officer from the 3rd Battlefield Coordination Detachment, said space technology isn't just applicable to flying and air combat; it's essential to troops on the ground.
"Although solar flares and space dust aren't directly related to what troops on the ground are doing, it directly affects elements of warfare such as GPS and satellite communication," he said.
Brown said generating and implementing knowledge of space effects is sure to help KR run smoother, but more importantly play a role in future combat and humanitarian operations around the world.
"Space has been around for a while but, in regards to integrating it into the overall theater of operations, we will continue to improve and develop to better assist our counterparts and warfighters around the globe," he said.
Article by U.S. Air Force Staff Sgt. Shawn Nickel, 354th Fighter Wing, Seventh Air Force Public Affairs
---
L-3 Communication Systems-West Gets The Nod For Nodes

L-3 Communication Systems-West (L-3 CS-West) has been selected by Laser Light™ Communications, LLC (Laser Light™) to be the prime contractor in providing its StarEdge™Ground Node Systems for Laser Light's SpaceCable™network, the first all-optical commercial satellite system with a global hybrid communications infrastructure.
SpaceCable combines the power of satellites with the power of free space optics ("lasers") to transmit data at rates 100 times faster than conventional radio frequency (RF) satellite systems. L-3's innovations will allow SpaceCable to deliver fiber-equivalent bandwidth connections while maintaining carrier-grade performance with low operating costs. The all-optical network is scheduled for deployment in late 2017.
The network connections that L-3 CS-West will provide for the program, referred to
as Global Access Circuits™, enable direct communications to over 100 Points of Presence (PoPs) around the globe and will be seamlessly integrated with today's ground service networks.
L-3's advanced networking technology also manages multiple StarEdge ground node locations to eliminate slowdowns from network congestion, outages or potential weather interruptions, ensuring dependable customer communications equivalent to global carrier services.
Robert Brumley, CEO of Laser Light Communications. "L-3's StarEdge units are planned to be the key point of integration
between Laser Light's Optical Satellite System and its global terrestrial network, intended to ensure seamless connectivity and network management between the two."
Andrew Ivers, president of L-3 CS-West, said, "This contract also benefits our valued military customers as they consider laser technology for advanced wireless networking applications."
Laser Light's all-optical network, with no service dependency on the congested radio frequency spectrum, will deliver six terabits per second of global communications system bandwidth. L-3's StarEdge Ground Node System enables SpaceCable to be fully integrated with the existing global terrestrial and submarine fiber telecommunications infrastructure of carriers, enterprises, governments and virtual private networks.
L-3 Communications Systems-West infosite: www2.l-3com.com/csw/
---
Airbus Defence & Space.. You're On To Build Three CERES Satellites For France's DGa
Airbus Defence and Space has been selected by the DGA (Direction générale de l'armement) to build the three CERES satellites, which will provide France with its first operational SIGINT capability.
"The fact that the DGA has entrusted Airbus Defence and Space with the construction of the CERES satellites demonstrates the quality of our expertise and technology, acquired through our successful development of the ESSAIM and ELISA demonstrators," said François Auque, Head of Space Systems.
"Signals intelligence is flagged as a top priority in the French Defence and National Security white paper. Airbus Defence and Space, which started working with Thales through CERES, is proud to provide France with its industrial and technological expertise, thus confirming its position as the prime contractor for all French space-based intelligence systems."
The CERES (Capacité de Renseignement Electromagnétique Spatiale or Space Signal Intelligence Capacity) system comprises three closely positioned satellites that are designed to detect and locate ground signals, along with ground control and user ground segments. CERES is due to enter service towards 2020.
Airbus Defence and Space has been entrusted with the space segment comprising the three satellites, while Thales is responsible for the payload and the user ground segment.
The two manufacturers are the joint prime contractors for the entire system. In addition, Thales Alenia Space acts as a subcontractor to Airbus Defence and Space in supplying the platform.
Intelligence is one of four priorities identified by the white paper. The 2014-2019 Military Planning Law has translated this priority into programs and funding, which include signals intelligence and one of its operational uses, the CERES program.
This satellite system will give France a capability that few countries possess. In designing and building CERES, Airbus Defence and Space and Thales will draw on the experience they acquired jointly from the ESSAIM and ELISA demonstrators.
Airbus Defence & Space infosite http://airbusdefenceandspace.com/
---
U.S. Assists Ukraine... Flys In The Ravens, Radar, Radios + Humvees
Perhaps it's overdue, but at least the help is finally coming through—U.S. lawmakers from both sides of the aisle have voted to send non-lethal military assistance to the Ukraine to help defend themselves against the Russian-backed rebels.
The fighting began in April, a month after Russia annexed the mostly Russian-speaking Crimean Peninsula.
News was delivered in the form of a White House statement that revealed Vice President Joe Biden had spoken with Ukraine's president Petro Poroshenko and had confirmed that the U.S. will send more aid to the country.
Concerns are growing as Russian-backed separatists are violating cease-fire agreements in eastern Ukraine and are keeping out international monitors.
Lethal assistance is not out of the picture as Victoria Nuland, assistant secretary of state for European and Eurasian affairs, told the Senate Foreign Relations Committee Tuesday that administration officials are still discussing forceful assistance. They are observing the so-called Minsk agreements, which led to last month's cease-fire, that they are implemented.
There have been new transfers of Russian tanks, armored vehicles, heavy artillery and rocket equipment over the border to the separatists in eastern Ukraine quite recently.
The items to be sent, according to U.S. officials speaking on a condition of anonymity as they weren't authorized to discuss the aid on the record, include small Raven drones that can be hand launched, 30 heavily armored Humvees and 200 other regular Humvees, as well as radios, counter-mortar radars and other equipment.
All of the aid is nonlethal and the drones are not armed. The sum total, minus the expense of the Humvees, is $75 million.
Denials come from Vladimir Putin, the president of Russia, regarding his government's support of the rebels in the war in eastern Ukraine, which has killed more than 6,000 people and forced more than a million to flee their homes.
The fighting started in April of 2014, one month after Russia annexed the mostly Russian-speaking Crimean Peninsula.
---
UK MoD's Greatest Defence Is Airbus Defence & Space
The UK Ministry of Defence (MoD) has selected Airbus Defence and Space to provide satellite airtime for air and ground tracking of ground assets and helicopters on a worldwide basis.

The contract is for the provision of Iridium Short Burst Data and Iridium Rudics Data Minutes for the MOD's established Asset Tracking System (ATS), Helicopter ATS (HeATS) and Ground ATS (GrATS).
The business line Communications, Intelligence & Security is the new one-stop-shop for satellite and terrestrial communications systems, intelligence and security solutions.
The UK ATS meets Operational Command situational awareness requirements by providing the location of tracked ground and air assets in near real-time.
The strategic importance of the ATS requires reliability across all of its components including the satellite airtime provided by Airbus Defence and Space to transmit GPS data from assets in the field.
"This service further extends our close co-operation with UK MOD, beyond the Skynet satellite network. Remote tracking and monitoring of critical assets is a rapidly expanding area and we are delighted to be able to support ATS," said Paul Millington, Head of Government Communications UK Airbus Defence and Space.
Airbus Defence and Space is a satellite services provider with complete control over its own fleet of military satellites and teleports as well as an end-to-end service provider for both military and commercial fixed VSAT and mobile bandwidth and network services.
The UK MoD infosite www.gov.uk/government/organisations/ministry-of-defence
Airbus Defence & Space infosite airbusdefenceandspace.com/
---
O3b Selects AvL Technologies
O3b Networks has selected AvL Technologies to design and build the Transportable Terminal Antenna System for use with O3b's Medium Earth Orbit (MEO) satellite network.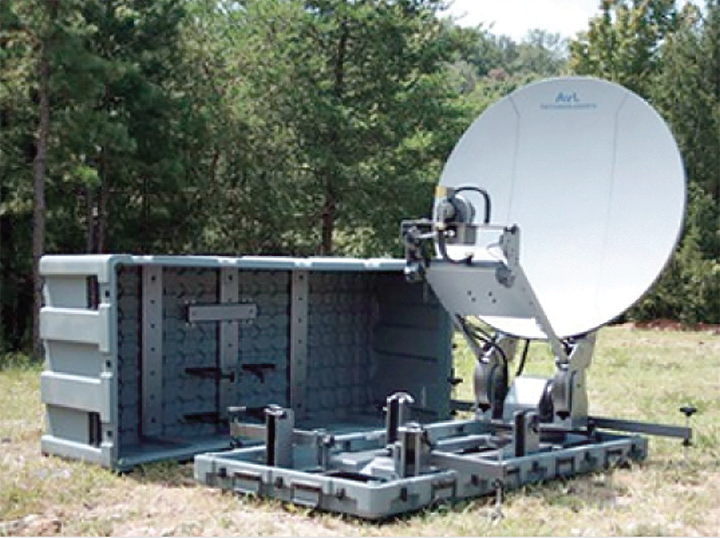 This program calls for AvL to develop and manufacture the hardware and software for a family of Earth station antennas with reflector sizes of 0.85m, 1.0m, 1.2m, 1.8m and 2.4m. These Transportable Antenna Systems will enable O3b's customers to rapidly deploy systems to take advantage of O3b's "Fiber Speed with Satellite Reach."
The O3b network is unique in that its use of multiple satellites in MEO and Ka-band frequencies will allow for extremely wideband digital traffic with minimal latency, effectively doing away with the delay inherent in traditional satellite communications. The AvL Transportable Terminal Antenna System will enable users to realize the benefits of this technology with the ability to move and rapidly deploy the network's capabilities to meet changing requirements and evolving needs.
The Transportable Terminal Antenna System is designed to be transported in durable transit cases and to be set up and on-the-air within two hours. The 0.85m transportable terminal will be shown in AVL's booth at Satellite 2015.
"These high performance transportable antennas are designed to acquire and track the O3b satellites as they move across the orbital arc. AvL Technologies was selected by O3b because of the high quality of our antennas and our engineering expertise to design and manufacture antennas that can work in tandem to accurately follow the satellites" said Mike Proffitt, President of AvL Technologies.
---
To Build A Constellation Of 24 BitSats, That Is the Plan
Jeff Garzik, Bitcoin pioneer and CEO of Dunvegan Space Systems (DSS) has signed a contract with Deep Space Industries (DSI) to build a 24 BitSat satellite constellation as the first element of a new strategic alliance between the two firms.
The nanosats to be used in the Dunvegan constellation designed by DSI provide an order of magnitude cost advantage over traditional telecommunication satellites.
The Dragonfly concept vehicle—Deep Space Industries is developing innovative spacecraft for long-duration deep space missions, including the Firefly- and Dragonfly-class vehicles. The Dragonfly is designed to capture and transport resources of various shapes and sizes. Image Credit: Bryan Versteeg, DSI.
Based on the industry standard Cubesat form factor, BitSat enables a cost and performance framework that supports the open platform business model employed by Dunvegan.
Deep Space Industries is a technology and spacecraft design company, currently developing efficient means of utilizing the resources of outer space. DSI will locate, harvest, and refine asteroid materials and then manufacture and distribute products, propellants and technology solutions to in-space customers.
"Just as Bitcoin is revolutionizing financial exchanges, Dunvegan will do the same for space systems with this project," said Garzik. "To do it right we needed a partner that was both visionary and technically capable. Once I began to work with Deep Space we realized we had found that partner."
Building on expertise in open-source software and democratized financial systems, Garzik launched this new company to capitalize on the rapidly emerging commercialization of space and advancements in technology platforms. Dunvegan specializes in distributed applications and computing solutions for the space based market, including Software-as-a Service (SaaS) platforms and financialization of space resources.
"DSI's long term goal of harvesting space resources is well known, and our first steps involve developing nimble, low cost spacecraft that turn out to be very similar to the needs of Dunvegan," said DSI CEO Daniel Faber. "Partnering with DSS on the BitSat project allows DSI to ramp up production of our spacecraft avionics suite and implement several improvements. It's a perfect match all around."
The DSS constellation will be the first-ever constellation of communication satellites based on open platform principles, with a focus of providing communications, data processing, storage and broadcasting capabilities in space. The deal to build and fly the spacecraft was signed after a several months long interaction between the two firms, including a detailed constellation and spacecraft design project completed last summer by Deep Space at its Silicon Valley based NASA Ames facility.
"This is the first of a number of efforts we have planned with DSI," said Dunvegan CEO Jeff Garzik. "Dunvegan is focused on providing software and data solutions for our customers, while the partnership with DSI will provide the hardware for this and several upcoming projects. Together we believe we can help transform the ability of people around the world to benefit from space activities, be it in terms of communications or resources."
Dunvegan Space Systems is preparing to launch the first-ever constellation of communications satellites based on open platforms and computing systems, with a focus on providing data processing, storage and broadcasting capabilities in space.
Dunvegan believes that the rapidly emerging commercialization of space represents an untapped market for open-source communication and computing systems that can provide unique advantages over current terrestrial solutions.
---
Comtech Xicom Technologies—Superpower Products Debut, Capes Not Included...
Comtech Xicom Technology, Inc. HAS introduced new, highly efficient, very high power Ku-band and DBS-band SuperPower™ traveling wave tube amplifiers (TWTAs) that can double available TWTA output power and provide direct replacement for Klystron power amplifiers (KPAs) in satellite communications uplink applications.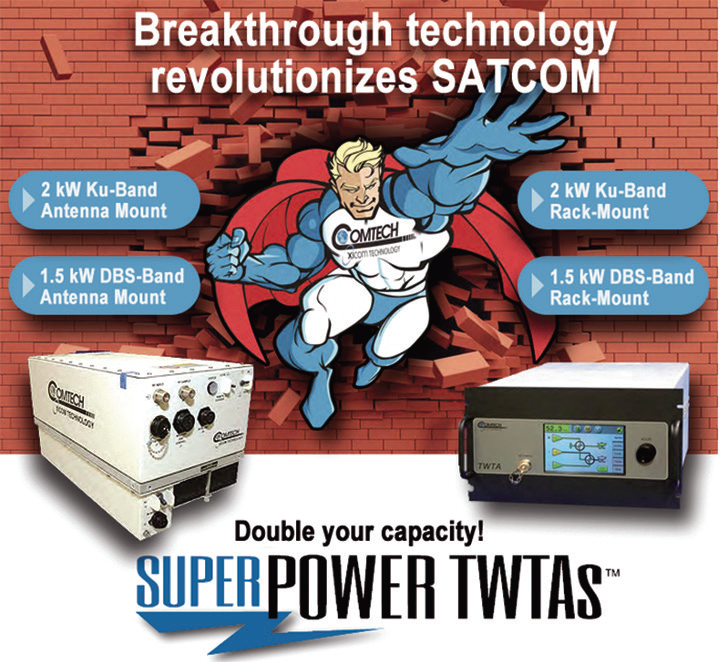 These TWTAs were made possible thanks to Xicom's development of new SuperPower technology that brings proven space designs down to the ground and takes established millimeter-wave designs and scales them for use at Ku- and DBS-band frequencies.
The result is the highest power helix TWT ever offered for SATCOM uplink bands as well as an extremely efficient, compact and reliable amplifier that can dramatically lower capital and operational expenses.
The SuperPower TWTAs at both frequency bands are available as rugged outdoor antenna-mount units that can withstand -40 to +60 C operating temperatures or as indoor rack-mount configurations that incorporate Xicom's LCD TouchScreen front panels for ease of use and access. Either way, the operator saves space, prime power consumption, and money by incorporating this new breakthrough technology.
Xicom Technology also introduced their new SuperPower TWT amplifiers...
The Model XTD-2000KHE Ku-band TWTA provides the user with 750W of linear power in a compact, rugged package weighing only 92 lbs. and drawing less than 3200 watts of prime power.
The Model XTD-1500DBSHE DBS-band TWTA provides the user with 560 watts of linear power for Direct-to-Home (DTH) applications in the same rugged 92 lb. package and draws only 2500 watts of prime power.
Both units are small enough to be mounted in the antenna hub and are designed to operate over -40 to +60C temperature range.
They have built-in predistortion linearizers, output protection circuitry, SNMP-based Ethernet monitor and control interfaces, and built-in redundancy switch control capability.
Options are also offered for extended frequency bands, internal upconversion from L-band, and liquid-cooling for low acoustic noise. Companion redundancy and phase combining systems are also available.
In addition to the new SuperPower TWT technology, these TWTAs incorporate Xicom's Life Xtension with Constant Current control mechanism for dramatically extending the useful life of the TWTA with very low risk, while providing the operations team with valuable and accurate predictive information on end-of-life for long-term replacement planning.
This feature saves on reduced capital expenditures from extension of TWTA use as well as reduces the uncertainty of replacement timing, allowing capital to be allocated more efficiently by SATCOM system operators.
"It's exciting to see our commitment to this challenging development and this incredible product line come to fruition," said John Branscum, President of Comtech Xicom Technology. "We could not be more pleased with initial customer reactions. Interest in the SuperPower products is the highest we've seen on any new development, because it really does change the business case for SATCOM uplinks. Xicom has a long history of pushing the limits of HPA technology, and we plan to continue that legacy of innovation in advancing amplifier technology to solve our customers' hardest problems."
Comtech Xicom Technologies infosite www.xicomtech.com/
---
Orbit Logic's Solutions Heading To U.S. Government Customer For Undisclosed Program
Orbit Logic has announced they will provide their Collection Planning & Analysis Workstation (CPAW) software and Order Logic software product and associated engineering services to a U.S. government customer for an undisclosed program.
CPAW will be deployed for operational planning while Order Logic will be used for task order management and plan visualization.
Orbit Logic's Collection Planning & Analysis Workstation (CPAW) software solves the difficult problem of satellite imagery collection planning through a spacecraft simulator coupled with scheduling algorithms that generate valid and optimized high fidelity imagery collection plans for use in satellite operations, analysis, or imagery ordering.
CPAW covers everything from contact scheduling and recorder management to power and antenna modeling while accounting for satellite maneuverability, system availability, timing constraints, and sensor capabilities.
Planning can be completely manual, fully automated, or anywhere in between to plan for anything from a single image on a single satellite to extensive order decks collected by a constellation of multiple EO and SAR spacecraft with varying capabilities.
Order Logic is an add-on to CPAW for web-based management and tracking of imaging requests.
Order Logic provides visualization of imaging plans, allows users to understand when new images of their targets are likely to be available, and tracks fulfillment status of requests for new imaging.
Logins and configurable permissions ensure that users are limited to the order management capabilities and data for which they are authorized.
Orbit Logic infosite: www.orbitlogic.com/
---
U.S.A.F. Space and Missile Center + Lockheed Martin Officials Dig Dirt...
Space Fence is designed to provide assured coverage at LEO for objects as small as 10 centimeters.
The system will also support cued searches and uncued surveillance at MEO and above.
The increased Space Fence sensitivity, coupled with the improved computing capabilities of the JSpOC Mission System, will yield a greater understanding of the space operating environment and its associated threats.
"The Air Force is pleased to partner with Lockheed Martin in providing a system that will transform how we view the space operational environment," said David Madden, SMC's executive director.
Space Fence will significantly improve space situational awareness by more accurately detecting and tracking objects such as commercial and military satellites and space debris. "Space is becoming more congested and contested so it is critical that we deliver this system on time and on schedule," Madden said.
The Air Force Life Cycle Management Center, located at Hanscon AFB, Massachusetts, originally awarded the engineering, manufacturing and design contract valued at $914 million to Lockheed Martin on June 2, 2014.
Lockheed Martin and their subcontractors AMEC, GDST, Merrimac Industries, Wolf Creek and San Juan Construction will be working on Kwajalein with activities ranging from power generation, communications and radome installation and facility construction.
Approximately 250 workers will live on the island during construction.
Once the construction is complete, the Air Force will conduct system acceptance testing.
The projected date for the system's initial operational capability is January 2019.
---