Peter Shaper has been the CEO of CapRock Communications since its acquisition from McLeod in 2002. Mr. Shaper is also a founding partner of Houston-based private equity group Genesis Park. Previously, Mr. Shaper was the president of Donnelley Marketing, a division of First Data Corporation. He was directly responsible for the turnaround and eventual sale of the $100 million revenue database marketing company to a strategic buyer. In 1996, Mr. Shaper helped found the Information Management Group (IMG) as its Executive Vice President of Operations and CFO. IMG grew to more than $600 million in revenue during his tenure. Prior to joining IMG, Mr. Shaper was with a Dallas-based private equity firm where he was responsible for investments in numerous technology oriented companies, as well as assisting those companies with developing long-term strategies and financial structures. Mr. Shaper also has several years of experience with the international consulting firm McKinsey & Company.
Mr. Shaper holds a Master of Business Administration degree from
Harvard University
and a Bachelor of Science degree in Engineering from
Stanford University
. He currently serves on the board of directors of
CapRock Communications
,
Genesis Park
,
Alpheus Communications
and
US Fiduciary
as well as the
Greater Houston Community Foundation
and the
Texas Business Hall of Fame
.
Over the past two years, Peter Shaper has led
CapRock Communications
through a large-scale transformation through many challenges. In 2007, Shaper guided CapRock through a virtually seamless acquisition of government contractor,
Arrowhead Global Solutions
, which operates today under
CapRock Government Solutions
. By the end of 2008, Shaper and his executive team were able to leverage CapRock's core capabilities with those of their newly acquired government group, growing the company organically to produce significant double-digit growth. The company's focus on efficiency and cost control has delivered earnings that will help CapRock achieve close to 30 percent growth over last year's revenue. The acquisition and continued revenue growth led to CapRock's recognition on both the Inc. 5000 list of the fastest growing private companies and Space News' list of the top 50 companies in the space industry. For this and all of CapRock's significant milestones, Peter Shaper was recently honored as a finalist for the annual
Satellite Executive of the Year Award
.
MilsatMagazine (MSM)
Mr. Shaper, can you briefly describe CapRock's business for us and how the company is faring in this recent economic climate?
Peter Shaper
CapRock is a leading provider of remote communications. Founded in 1981, CapRock focused on providing remote communications to oil and gas customers, primarily U.S. based companies. Since its inception, CapRock has grown and diversified into multiple vertical markets and today serves the energy, maritime, government, engineering & construction, mining and disaster recovery markets. The company has also expanded geographically and is proud that that nearly 70 percent of its revenue is derived from client operations outside of the United States. While customers in these sectors have unique requirements, they all share the common need for reliable communications in some of the harshest and most isolated locations in the world.
The government division, which was recently rebranded CapRock Government Solutions, provides communications to the U.S. defense, intelligence and government organizations. For decades, CapRock provided services to the government market through major U.S. government contractors and the acquisition now allows the company to directly serve the government segment.
As far as today's economic climate, I can tell you that CapRock is proud to serve some very strong institutional customers via its three core markets; the energy market, the maritime business which has expanded to serve other vessels beyond just energy transport, and most recently added, CapRock Government Solutions, which serves the government sector. With the economic times we find ourselves in, we are very happy to be serving customers with essential, mission-critical requirements.
The acquisition of Arrowhead further diversifies CapRock's customer base and better positions CapRock to grow, despite the cyclical nature of some of the markets it serves.
MSM
The company's government group that you've mentioned — CapRock Government Solutions — is actually the recently rebranded Arrowhead Global Solutions, correct?
Peter Shaper
Yes, CapRock acquired Arrowhead in 2007 to expand its overall market penetration as well as its strategic reach into the government sectors. During the two years since the acquisition, Arrowhead has evolved significantly — forming a new management team, implementing a visionary long-term strategic plan, and launching a comprehensive value-add product and service portfolio. Fully integrating Arrowhead as its own business unit of CapRock was the next logical step, which led to the rebrand and CapRock Government Solutions.
MSM
How has the government market responded to the acquisition and have customers been loyal through the transaction?
Peter Shaper
We've found that customers are responding very well to the acquisition and recognizing the sizeable benefits that it brings them. On top of CapRock's robust infrastructure, the company now has the additional benefit of a strong balance of commercial and government business. This means that CapRock is able to carry inventory and space segment that can be used to meet the needs of customers in each vertical.
The government team is now a fully managed service provider, supporting its customers with mission-critical communications services from the GIG to the foxhole. Before the acquisition, there was little more occurring than the acquisition of satellite bandwidth. Since that time, the government team has migrated from meeting single requirements to providing fully managed services. The growing mix of services has been hugely well received by customers. We are helping them to make more use out of less bandwidth and providing them with near on-demand communications when they need it most. Recognizing this need, the government team was able to partner with our customers to develop an online bandwidth portability system that has dramatically cut the provisioning cycle. Whereas the normal provisioning cycle for satellite capacity is typically 30-45 days, the portability tool that we developed allows us to provision bandwidth in as little as 12 hours. This provides greater flexibility for the U.S. Military, which may need to move troops to a new region or theatre quickly.

MSM
What is CapRock doing to stay abreast and ahead of its customers' needs?
Peter Shaper
Our customers' requirements and market conditions are constantly evolving and we've employed several processes to ensure that we are always capable of meeting and exceeding their needs.
One measure that we've recently put into practice is the implementation of the first CapRock Customer Advisory Board (CAB) in 2008. The CAB's purpose is to gain customers' input on CapRock's technology roadmap and earn their trust by executing on deliverables they prioritized. Through this process, CapRock has been able to develop true partnerships with multiple customers across our markets. Because of the strong relationships we have with our customers, we've been able to develop an intimate understanding of their requirements. This has allowed us to make significant investments in technology, people and infrastructure to put assets in place so CapRock can meet the critical needs of its clients at any given time.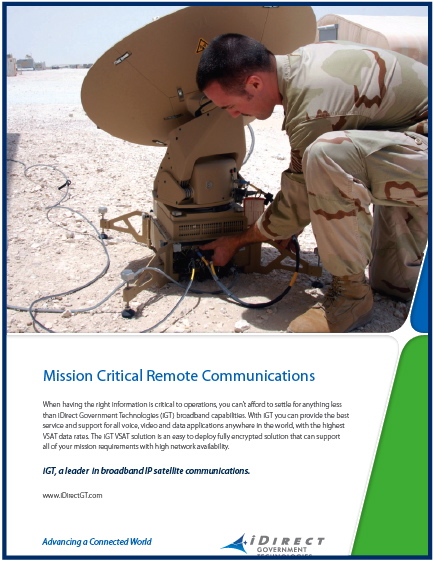 We recently did just that when CapRock's government team made significant investments ahead of winning contracts in X-band teleport infrastructure and satellite capacity to provide a suite of communications solutions including fixed and rapid deployment packages and field services among other offerings. We knew that this new service would answer calls from our defense and intelligence customers for much-needed capacity. At the same time, we understood that our customers were spending significant portions of their budgets on capacity and that this solution would also offer them government specific frequencies at much more affordable commercial prices.

MSM
What additional services or capabilities were provided through the acquisition?

Peter Shaper
For both commercial and government customers the acquisition provided a combined set of broader suites of products, services and support including stronger engineering and systems integration capabilities, and an expanded team in more countries. Specifically for government customers, the acquisition provided new resources through the CapRock infrastructure to better support their operations. This includes additional worldwide points of presence through CapRock's four self-owned and operated teleports, eleven regional support centers and four 24/7 Network Operation Centers located around the globe. In addition, the global network established to serve CapRock's customers is also one that can serve our customer base on the government side.

MSM
What was the importance of the name change from Arrowhead Global Solutions to CapRock Government Solutions?



Peter Shaper
From a very basic level it is important for us to always integrate as a singularly focused company with our customer's mission as our mission. It is good for our internal focus as well as that of our customers. From a deeper level, the complete integration of Arrowhead into CapRock allows us to leverage the power of the CapRock brand, utilize our global infrastructure, and support both our existing and potential customers with greater focus, resources, better service and expanded capabilities. Our customers continue to look to us for innovative, value-added solutions and creative deployment of our industry-leading technology. This integration has allowed us to expand significantly on this on-going mission.

MSM
Is CapRock looking at any more acquisition targets as a strategy to grow your business unit?

Peter Shaper
We are doing extremely well growing the business organically. CapRock is privately held, so we are not at liberty to release numbers, but I can say that our business is expanding with double-digit growth organically.

Overall, we are open to the possibility of appropriate acquisitions should any present themselves. The company is very opportunistic in that regard — we are open to selective opportunities that would help grow the business in complementary ways to what we are already doing. This is always something that is looked at by our executive team.