2079571108
AeroVironment's Raven B UAS Goes Dutch
AeroVironment, Inc. (AV) (NASDAQ: AVAV) has announced the Military Aviation Authority of the Netherlands (MLA-NLD) has issued a Military Type Certificate (MTC) for the Raven® B NLD MUAS, the first such certificate issued in the Netherlands in the Micro-Unmanned Aerial Vehicle category. This certificate permits Dutch military personnel to operate Raven systems in designated Dutch airspace.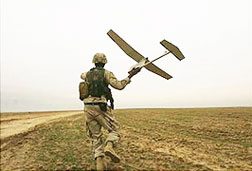 The AeroVironment Raven B system was selected by the Netherlands Ministry of Defence, acting through its Defence Materiel Organization (DMO), after performing an open competition in 2007. Key elements resulting in its selection were hand-launchability, reliability, ease of use, robustness, and demonstrated in-theater operational performance and logistics support. The DMO subsequently purchased Raven B systems and support services, including training of military users.
The Raven unmanned aircraft is a 4.2-pound, backpackable, hand-launched sensor platform that provides day and night, real-time video imagery for "over the hill" and "around the corner" reconnaissance, surveillance and target acquisition in support of tactical units. U.S. armed forces use Raven systems extensively for missions such as base security, route reconnaissance, mission planning and force protection.
Boeing + U.S.A.F. Celebrate WGS' Winning Ways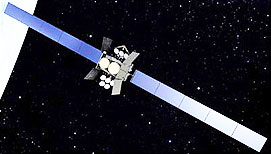 Boeing [NYSE: BA] and the U.S. Air Force have received a Department of Defense (DoD) "Top 5" excellence award for systems engineering on the Wideband Global SATCOM (WGS) program. WGS is the DoD's highest-capacity communications satellite and provides assured, high-data-rate connectivity to U.S. warfighters and their allies around the world.
WGS satellite Members of the Air Force-Boeing WGS team accepted the award on October 28 at the National Defense Industry Association's (NDIA) Systems Engineering Conference in San Diego. Each year, the Department of Defense and NDIA recognize up to five defense programs that have demonstrated superior systems engineering practices that result in outstanding program performance.
WGS satellites address the military's growing need for high-bandwidth communications, ranging from transmission of full-motion video and sensor data gathered from unmanned aerial vehicles, to video teleconferencing among military leaders around the world, to provision of quality-of-life services such as e-mail, news, and special event broadcasts for deployed troops. Boeing is currently under contract to build six WGS satellites for the Air Force. WGS-1 was placed into operation over the Pacific Ocean in April 2008 and WGS-2 entered service over the Middle East in August 2009. Both satellites are meeting and, in some cases, far exceeding mission requirements. WGS-3 is scheduled for launch later this year.
Bundeswehr Bets On Heron UAV For Afghan Ops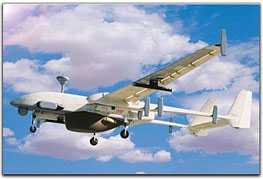 IAI Heron UAV Germany has added itself to the countries leasing UAV services for the Afghan conflict — the country signed a contract with Rheinmetall Defense and their partners at Israel Aerospace Industries to provide an unspecified number of Heron UAVs as the SAATEG (System zur Abbildenden Aufklarung in der Tiefe des Einsatzgebietes). Rheinmetall's KZO tactical UAV began operating in Afghanistan in 2009, but the Heron is a larger UAV with much better endurance and payload.
The "multi-million Euro" contract will see the Bundeswehr lease the UAV system and support from Rheinmetall for 1 year, with an option for a 2 year-extension. Flight operations will commence by mid March 2010, backed by an in-theater 24/7 maintenance and support center.
CapRock's New Paradigm
CapRock Government Solutions assigned a multi-year, multi-transponder strategic purchase agreement with UK based Paradigm Secure Communications Ltd. making CapRock the company's first Network Service Provider to the U.S. military and Intelligence community. Paradigm owns and operates a fleet of military hardened geosynchronous communications satellites with both X-band and UHF payloads. Although Paradigm has signed on other distributors of capacity on its Skynet 5 satellite fleet, this agreement makes CapRock the company's first Network Service Provider to the U.S. military and Intelligence community.
Access to commercially provided X-band communications has become increasingly important as a means to augment military satellite capabilities, the demand for which continues to outpace supply. With the addition of access to Paradigm's hardened and protected X-band capacity, CapRock (formerly Arrowhead Global Solutions) now has the ability to offer a wider variety of X-band services tailored to each unique government requirement.
In December 2008 CapRock signed a similar multi-year, multi-transponder purchase contract with another commercial X-band provider. The initiative has been highly successful, resulting in the deployment of over 200MHz of bandwidth and multiple protected networks for the U.S. Government. When combined with other agreements, CapRock is now the single largest network provider of commercial X-band services to the U.S. Government.
"To support our clients' expanding requirements for in-theatre communications, we've taken a proactive approach and prepositioned both bandwidth and infrastructure in areas of high demand," said CapRock Government Solutions President, Tom Eaton. "We've expanded our strategic investments in X-band infrastructure and new services so they will be available when and where our government clients need them. This pioneering arrangement with Paradigm exemplifies CapRock's strategy of anticipating, investing in, and then meeting the demand for innovative remote communications solutions."
"At Paradigm, we continuously look for partners who not only understand the unique challenges of government missions and how to deliver trusted end-to-end solutions, but also have the ability to add their own value to our X-band capacity," said Paradigm Managing Director, Keith Norton. "CapRock has a proven reputation as a premier provider of managed satellite network solutions operating in some of the world's toughest environments. We are very pleased to add CapRock to our family of distributors and to have them as our first Network Service Provider to the U.S. military and Intelligence communities."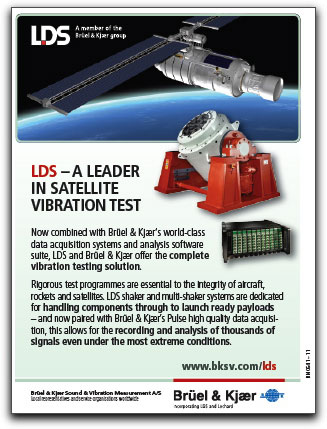 CapRock's Paradigm-based services are designed for sensitive missions that may require resilient, operationally secure, military-grade solutions. Originally commissioned under contract with the British Ministry of Defense, Paradigm owns and operates a state-of-the-art military grade satellite fleet which includes electromagnetic-pulse hardened satellites, built-in anti-jamming capabilities, configurable global and spot beam coverage and MAC Level I security certification.
As Paradigm's Network Service Provider to the U.S. military and Intelligence community, CapRock will offer both off-the-shelf subscription services and custom-designed satellite networks. As part of its end-to-end X-band services, CapRock provides complete remote terminals, including man-portable, quick deploy and communications-on-the-move systems, as well as space segment and teleport services. These offerings are unique in that they are commercially available solutions designed from inception to support military and intelligence missions.
In addition to the recent Paradigm agreement, CapRock currently provides over 3.5GHz of managed communications services across some 40 satellites in X, C, Ku, and Ka bands. CapRock is a facilities-based service provider and owns and operates a global infrastructure of five teleports, four 24x7 network operations centers and eleven regional field service centers.
Comtech Converters' Contract Capture
Comtech EF Data's Converters Comtech Telecommunications Corp.'s (Nasdaq:CMTL) Tempe, Arizona-based subsidiary, Comtech EF Data Corp., received a US$1.0 million order for SATCOM equipment from a government contractor. The equipment will be used by the United States government to support military communications.
The order specified a variety of Comtech EF Data's frequency converters, including the UT-4514 Ku-Band Up Converter, the DT-4513 Ku-Band Down Converter and the LBC-4000 L-Band Up/Down Converter System. Comtech EF Data's lineup of indoor converters provides frequency conversion between the traditional IF frequencies of 70/140 MHz and L-band, as well as translation from these IF frequencies and C-, X-, Ku- and Hotbird RF bands. Based on rack mountable chassis, the products feature low phase noise, high gain, gain compensation, redundancy and the patented daisy chain switching.
Harris MILSATCOM Efforts Has A Terminal View
Harris Corporation (NYSE: HRS) has successfully completed system qualification testing of a satellite terminal that will provide U.S. Navy personnel onboard frigates, cruisers and destroyers with access to the Internet, video and other broadband services. Completion of the testing moves the Commercial Broadband Satellite Program (CBSP) Unit Level Variant (ULV) contract into the initial production phase.
Under the contract, Harris will supply as many as 55 advanced, 1.3-meter satellite terminals with X- and Ku-band capabilities. With 10 times the bandwidth currently accessible onboard Navy ships, the terminals will enable the Navy to augment MILSATCOM by supporting essential mission requirements and providing high-speed Internet access and video communications to frigates and other Unit Level classified ships.
Harris was awarded the five-year, potential US$77 million, Indefinite Delivery/Indefinite Quantity (IDIQ) contract in 2008, and delivered the first terminal for qualification testing in just six months. The CBSP program is a Rapid Deployment Capability acquisition designed to reduce the time required to deliver critical/emerging warfighting capabilities.
ICS + Squire Tech's Interactivity Inclusions
Incident Communications Solutions, LLC (ICS), an IP-Centric mobile and tactical communication solutions provider, has delivered its self-contained communication solution in partnership with Squire Tech Solutions, LLC. The ICS pCom™ 355 is the latest in a line of comprehensive, turnkey communications solutions which include the TICS® Tactical Incident Communications System, the Comms-ONE® SUV and other Mobile Command Systems featuring advanced IP networking and communications.
ICS + Squire incident trailer Building upon the strengths and versatility of the pCom™ 300, developed by Squire Tech Solutions, this first-of-its-kind self contained site power, lighting, tower, and communications mobile infrastructure system offers a seven day on-board diesel fuel supply, power generation system, auto-acquisition satellite antenna, NEMA4X equipment enclosure, and pneumatic tower on a robust, small, trailer-based platform. The ICS pCom™ 355 builds upon this platform and adds features and functionality providing comprehensive communications interoperability and key capabilities for Public Safety, Military and Civilian Federal markets.
The ICS pCom™ 355 offers a complete incident response communications suite including: Cisco Unified IP communications, ICS Outrigger™ Network Extension Module (for expansion of services into fixed facilities), Analog FXO and FXS ports, Cellular voice gateway modules, Raytheon's ACU-M Interoperability Switch with 4 Motorola XLT mobile base units, and integrated on-board MTR-2000 VHF Continuous Duty Repeater.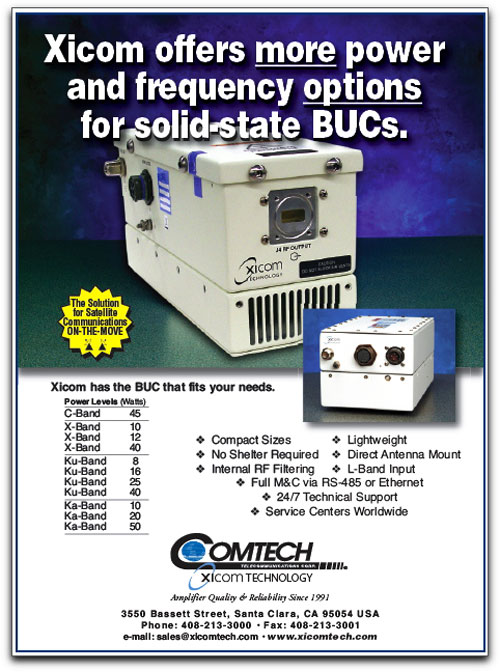 The entire system is designed to be deployed in under 15 minutes by frontline public safety personnel with no intervention from IT. Once operational, the system provides ICS Tactical-IP™ high-speed broadband satellite connectivity capable of 3Mbps downlink and 1Mbps uplink, ICS Tactical-Voice™ VoIP services, Radio Interoperability and On-scene radio communications in the most austere environments.
Lockheed Martin Spurs SBIRS Testing Onwards
GEO-2 satellie (USAF) U.S. company Lockheed Martin has initiated new testing on its geosynchronous orbit satellite to support missile threat defense capabilities. The Company says its Space-Based Infrared System, or SBIRS, GEO-2 spacecraft designed to provide early warning of missile launches is undergoing a series of tests known as the Baseline Integrated System Test phase.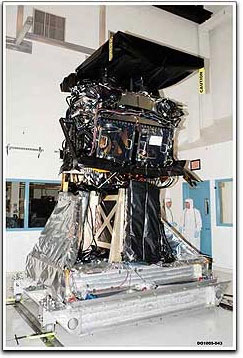 The tests are all part of an effort to demo the satellite's readiness ahead of the environmental test phase, the phase critical in preparation for future launch. "Getting our second satellite integrated and into system testing is a major accomplishment for the program," Lt. Col. Heath Collins, commander, SBIRS Space Squadron, said in a statement.
"It couldn't have happened without the skill, professionalism, and dedication of the combined SBIRS team. This is yet one more step towards providing revolutionary missile warning capabilities to the warfighters and national decision makers in the coming years."
Lockheed Martin's GPS IIR-3 Packs In 10 Years Of On-Orbit Ops
GPS IIR-M photo (LMC) The third Global Positioning System Block IIR (GPS IIR-3) satellite, designed and built by Lockheed Martin [NYSE: LMT] to provide significantly improved navigation capabilities for military and civilian users worldwide, has reached 10 years of successful on-orbit operational service. The satellite was launched on October 7, 1999, and is one of 30 GPS spacecraft currently on-orbit, providing critical situational awareness and precision weapon guidance for the military. The constellation also supports a wide range of civil, scientific and commercial functions — including air traffic control, ATM banking, and the Internet.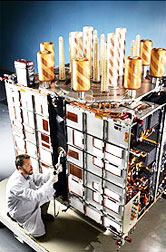 As the prime contractor for the GPS IIR program, Lockheed Martin Space Systems, Newtown, Pennsylvania, designed and built 21 IIR spacecraft for the Global Positioning Systems Wing, Space and Missile Systems Center, Los Angeles Air Force Base, California. The final eight spacecraft, designated Block IIR-M, were modernized to enhance operations and navigation signal performance for military and civilian GPS users around the globe. The current fleet of Block IIR and IIR-M satellites within the overall GPS constellation has reached more than 100 cumulative operational years on-orbit.
The U.S. Air Force's next-generation GPS spacecraft, known as GPS III, being built by a Lockheed Martin-led team that includes industry partners ITT of Clifton, New Jersey, and General Dynamics of Gilbert, Arizona, is proceeding on-schedule in the Critical Design Review (CDR) phase of the program. GPS III will improve position, navigation and timing services and provide advanced anti-jam capabilities yielding superior system security, accuracy and reliability. The nexgen GPS IIIA satellites will deliver significant improvements over current GPS space vehicles, including a new international civil signal (L1C) and increased M-Code anti-jam power with full earth coverage for military users. The team is in the process of executing 70 individual CDRs for all GPS III Space Vehicle subsystems, assemblies and elements. The review phase will culminate in the third quarter of 2010 with a final Space Vehicle CDR that will validate the detailed GPS III design to ensure it meets warfighter and civil requirements. The team is on track to launch the first GPS IIIA satellite in 2014.
ViaSat's Down Under Development
ViaSat Inc. (NASDAQ: VSAT) has been selected by BAE Systems Australia to supply satellite ground stations for a high-speed upgrade to Australian Defence Force (ADF) MILSATCOM. The ViaSat X- and Ka-band satellite antenna systems are part of a network designed to provide Australian forces with enhanced access to the Australian Defence Wide Area Network, ADF headquarters, and support elements.
The network will be using bandwidth capacity on the Wideband Global SATCOM (WGS) system in cooperation with the U.S. Department of Defense, and other Australian defense satellites. The US$9.4 million contract order is for multiple 9-meter Ka- and 16-meter X-band Earth terminals and services, with delivery scheduled for the third quarter of calendar 2011. The new terminals will be installed at the ADF Satellite Ground Station in Western Australia (SGS-West). The SGS-West facility, being built by BAE Systems, is a complement to a similar system in Eastern Australia. In addition to faster data throughput, the new system is designed to increase the survivability and mission coverage needs of the ADF.