CPI Antenna Systems Division
During the past year, the Antenna Systems Division (ASD) of CPI has reached major milestones as the company moves further in building a diverse antenna portfolio with the quality brand that's expected worldwide from CPI.
---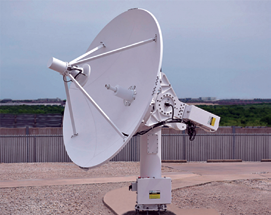 CPI ASD's three-axis 5 meter S- and X-band antenna
system with a Cassegrain X-band feed and prime
focus S-band feed.
In the first full year of operation of the consolidated Antenna Systems Division, which includes the former Malibu Division, ASC Signal Division and recently acquired Orbital Systems and Quorum Communications, the combined talent has yielded enormous synergies from R&D collaboration as well as realizing significant operational benefits.
____________________________________
Melding two competing companies into one consolidated team is a complex mission — and it's extremely satisfying whenthe parts come together.
Orbital Innovations
One of the major areas of focus in FY19 was the integration of Orbital Systems into ASD, following the August 2018 acquisition. Orbital Systems continues to be a leading supplier of full-motion TT&C (Telemetry, Tracking and Control) and EOS-DB reception antenna systems. In 2019, they expanded their technical capabilities by designing dual-band antennas using dichroic sub-reflectors that minimize the need for combiners, which in turn allows for best-in- class G/T performance.
Two new designs were completed and shipped; first a three-axis 5 meter S- and X-band antenna system with a Cassegrain X-band feed and prime focus S-band feed, and a second system design consisting of a 3 meter, three-axis, Ka-band antenna with integrated S-band. The latter antenna incorporates a Ka-band Cassegrain feed, with the S-band feed mounted at prime focus.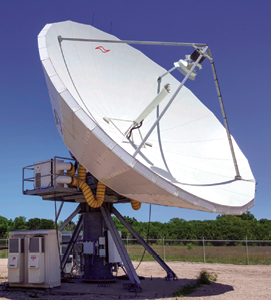 A frequency selective (dichroic) surface sub-reflector is used to split the bands between the feeds. Today, Orbital Systems is able to ship these new products with similar lead times to the legacy product designs, with typical delivery averaging four to five months.
In addition, Orbital Systems has developed a new "RF over fiber" option that is integrated into these antenna systems. This capability provides superior performance in dynamic range, and adjustable matching of the range to the antenna, compared to aftermarket "RF over fiber" solutions.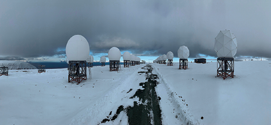 Plus, Orbital Systems has shipped antenna positioners to radar systems developers for specialty radar applications in use today to help fight wild fires in California.
Internal Collaboration Continues to Pay Off
ASD has focused on technology and service enhancements. The company has advanced their development of products for high bandwidth SATCOM at Q- and V-bands by collaborating across the pools of expertise within their three operational facilities in Texas and California.
ASD's advanced, multi-disciplined simulations have validated their technical approach toward an optimized system from IF to RF. As a testament to their efforts to exceed customers' expectation on project execution, this year they have deployed two, turn-key, Ka-band large-aperture gateway systems in record times.
The company's mobile solutions have become the products of choice for many demanding applications. Sophisticated features such as ARSTRAT compliance and low PIM operation have distinguished their 2.5, 4.0, and 4.6 meter products.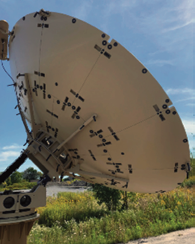 The company's manufacturing facility in Whitby, Canada, is now able to produce antenna up to 13 meters in diameter.
Whitby operations has made significant strides towards streamlining their manufacturing operations and have now demonstrated their capability to produce large quantities of LEO/ MEO antennas, having shipped more than 100 during 2019 for a leading LEO constellation.
Some of these antennas have been in active service for TT&C since February 2019. ASD believes that the experience gained from such
a large undertaking will serve them well on future pursuits of a similar nature.
Popular Trifold System Update
The ASD Trifold trailer-mounted antenna continues to set the standard for versatility and reliability and has been widely adopted by commercial and military end customers.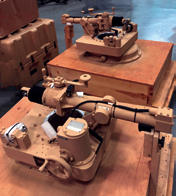 The company has commenced Trifold deliveries to satisfy commitments made as a result of a significant award from an existing customer on a major program of record, with expected duration of 10 years.
ASD has had a long history of using composite materials in the firm's antenna solutions and expects the market demand for composite materials to increase due to their unique thermal and mechanical properties.
CPI has been incorporating proprietary techniques in the composite material reflectors to meet certain required specifications, such as the stringent low PIM (passive intermodulation) performance requirements for ARSTRAT. These sophisticated features that facilitate ARSTRAT compliance and low PIM operation have distinguished ASD's 2.5 to 4.0 meter products from competing systems.
ASD's Camarillo, California (Malibu), operations has followed a similar strategy in 2019 as they did in 2018; build upon the existing customer base by focusing on the core technologies for ground and airborne Line of Sight (LOS) data terminals.
The Camarillo operations have won several major programs this year, including solutions for the coveted MQ-25 program with Cubic, which will introduce a new variant of their AT-2 airborne terminal with a short-can configuration, plus the Sentinel program with Raytheon, which will incorporate their custom- designed high precision Radar pedestal.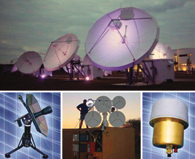 ASD continues to manufactures the complete line of the former Andrew/GRANGER brand HF antennas operating in the 2 to 30 MHz frequency range. CPI ASD is one of a few remaining suppliers of such antenna systems in the world and continues to supply these systems to NATO and several foreign governments.
Additionally, the company received a major order for their L-band ATC (Air Traffic Control) Radar antennas, with additional orders expected in 2020.
Continuing to Strengthen the CPI Brand
On August 5, 2019, CPI announced that the company had entered into an agreement to purchase SATCOM Technologies, the antenna systems business of General Dynamics Mission Systems, a business unit of General Dynamics.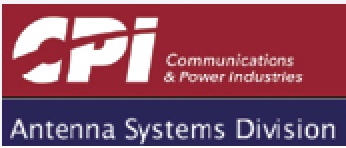 SATCOM Technologies designs, manufactures and installs satellite communications antenna systems used in commercial, defense and scientific applications.
This business will complement CPI's existing portfolio of communications products for government, military and commercial applications and enables them to provide their customers with a wide range of complementary products, capabilities and resources to support this dynamic and growing market, making it an excellent fit for CPI.

Author Tony Russell is the President of CPI Antenna Systems Division and possesses 36 years of experience in the RF industry, primarily serving airborne and maritime radar, ground and airborne communications, and millimeter-wave science segments.
Mr. Russell has been with Communications & Power Industries (and its predecessor) for more than 25 years, serving in technical and management roles in CPI's electron device solid-state HPA and antenna businesses. Currently, he serves as the president of the CPI Antenna Systems Division. Mr. Russell has an Honors degree in Physics from the University of York (UK) and an MBA from York University (Canada).
---
iDirect Government
We were fortunate to have a tremendous amount of growth in the year of 2019 at iDirectGov.
We hit the ground running in March of this year when we received our wideband global SATCOM certification for the 9-Series Defense portfolio of satellite routers and line cards on the Evolution 3.4 software. The new WGS certification validated our 9-Series Defense line and Evolution 3.4 as the "go to" communications solutions for military communications requirements worldwide, and we are committed to play a part in keeping the military connected as they defend our nation.
---

---
In May, we had the esteemed honor of being awarded the Mobile Satellite Users Association (MSUA)'s 2019 Annual Mobility Innovation Award (Top Cybersecurity Solution) for our TRANSEC capabilities.
We also received the 8th ranking on the Washington Business Journal's Best Places to Work within the Large Company category. This is a special accomplishment for us as our company recognizes that people are instrumental in helping our customers to meet mission success via our product engineering, our onsite professional services engineers, our Technical Assistance Center (TAC) and customer service.
We pride ourselves on hiring veterans and were happy to present one of our military service members for a Distinguished Service Award, and we celebrated his recognition as Veteran Employee of the Year by the Northern Virginia Chamber of Commerce. Our veterans have contributed to the building of exceptional, high-performance products that work effectively during missions.
Anti-Jam Technology
Last, but certainly not least in any of our eyes, is our exciting acquisition of Glowlink in September. This is truly acting as the catalyst for our newest products to come in 2020.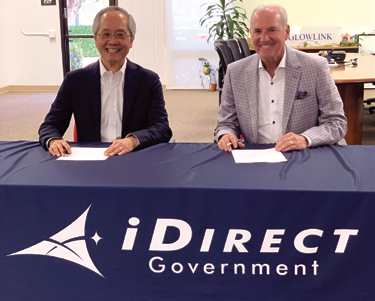 The iDirect Government and Glowlink acquisition signing
event. Jeffrey Chu, President of Glowlink (l) and John Ratigan,
President, iDirectGov (r).
Glowlink's robust technology and engineering prowess are ideal additions for both our organization and our customers. A great consternation for all our military around the world is satellite signal interference. About 85 percent of interferences are caused by the "good guy" who interferes inadvertently with a signal. However, adversaries purposely try to disrupt communications channels as well.
Glowlink has manufactured a technology to pinpoint and eliminate any kind of interference whether intentional or unintentional. They have a mathematical algorithm that looks at the RF waveform and determines whether anomalies exist. If those anomalies are in existence, the technology removes them.
Glowlink's sophisticated technology has been developed over many years and can be used beyond the SATCOM world in any digitally modulated carrier, including Bluetooth communications and Wi-Fi. We think the biggest market it can address — if properly executed — is 5G, the next generation of cellular communications.
Glowlink products (including the earliest product) both monitor satellite spectrum and determine where signal interference is occurring.
Another Glowlink product — a geolocation product — provides the location of the interfering signal, allowing users to learn who is causing the interference. The anti-jam technology, Communication Signal Interference Removal (CSIR™), functions to remove the interference. All of these products are immensely valuable to our nation's military and government users.
Our strategy is to integrate the Glowlink products into our existing core flagship products. We will be taking this powerful technology and delivering it to our customers.

iDirect Government Tactical Hub imagery.
Putting Tactical Hub to the Test
When it comes to MILSATCOM products working effectively in the field, real-world testing is critical. That is why we make it our mission to tag team with our defense customers whenever possible and participate in joint exercises.
We did this with the Series 11000 Tactical Hub, which was field tested as part of the Saber Guardian joint exercise that took place throughout Germany, Bulgaria, Hungary and Romania.
Co-lead by Romanian land forces and the U.S. Army Europe, troops from the 35th Signal Brigade (35th ESB), Fort Gordon, Georgia, home to the U.S. Army Cyber Center of Excellence, U.S. Army Signal Corps and U.S. Army Cyber Corps, took part in the international military field tests.
As part of the testing, the 35th Theater Tactical Signal Brigade (35th TTSB) deployed our Series 11000 Tactical Hub for the exercise using FIPS-certified Transmission Security (TRANSEC). The hub was connected to multiple iDirect Satellite Routers throughout Europe in six different countries.
Designed with ideal size, weight and power (SWaP) considerations, the Tactical Hub provides a smaller alternative to the much larger – and heavier — 20-slot hubs, keeping tactical operations in mind on the engineering front with this new design. Two new Defense Line Cards, the DLC-T and DLC-R, come embedded in the Tactical Hub, packaged neatly in a single 2RU (rack unit) rack-mount chassis.
By conducting real-world tests in complex environments, it was demonstrated that iDirectGov's Tactical Hub was up for the challenge of SATCOM security, efficiency and performance to bring the best information sharing to defense and government users wherever they are communicating across land, sea and air platforms. The tests showed how the hub's size makes it ideal for a wide array of missions for military personnel, first responders and disaster recovery personnel.
__________________________________________
The year of 2020 is going to show
iDirect Government making some big moves
and providing fresh and innovative products for the government sector and maybe even beyond.
With the Tactical Hub, military users were able to connect safely and effectively for their field performance, showing how the hub is well-suited for mission-critical applications.
2020 Outlook
2020 is going to be a busy year for iDirectGov.
We are continuing to develop and engineer faster, smaller and more powerful remote technology now with the added features and benefits of the Glowlink products. Glowlink products deliver innovative solutions for fighting satellite interference and improving the quality and integrity of satellite communications. Products span carrier and spectrum monitoring, interference detection and mitigation, geolocation and satellite capacity planning which will directly complement the iDirect Government product line.
We plan to first start with taking the CSIR anti-jam product to market first as a standalone product. Our next step is to integrate this into our 9-Series hardware and Defense Line Cards. We expect this to be an extremely popular and well received among our customers.
The CSIR signal excision anti-jam solution provides immediate benefits to our user community. The CSIR technology does not require additional bandwidth compared to other technologies. This saves our customers bandwidth investment while helping the military overcome threats.
We also see expansion of the Tactical Removable Airborne Satellite Communications System (TRASC).
We teamed up with our partners to unveil the TRASC System, a commercial off-the-shelf (COTS) solution that was reviewed for its flight worthiness and viability for the C-130 aircraft. The partners tested the COTS solution for the aircraft to bring cutting-edge technology to the warfighter much more quickly.

The year of 2020 is going to show iDirect Government making some big moves and providing fresh and innovative products for the government sector and maybe even beyond.
Our product portfolio and enhancements will bring flexibility, agility, transmission security and efficiency to warfighters, first responders, disaster recovery personnel and field operators.
Author John Ratigan serves as President of iDirect Government, Herndon, Virginia.
---
Paradigm
Paradigm has continued with their industry leading goal to make SATCOM simple and used their expertise in technology, manufacturing and integration to swiftly respond to market requirements.
Central to this progress has been the popular PIM® (Paradigm Interface Module) which allows an unskilled user to easily and rapidly point a VSAT by using onboard audio cues with a visual cross-hair LED target.
The PIM provides the modem, baseband switching, power management, assisted pointing and setup functions for VSATs. Temperature management and maintenance-free operation is achieved with fanless convection cooling or heating. This makes it ideally suited for the harshest of extreme environments proven by its successful deployment in the sub-zero climate of Antarctica and the dust and high heat of the African desert.
The PIM is already certified for use on all major satellite networks using a range of RF, antenna and modem combinations. By integrating the PIM into existing and new terminals, the time needed for network testing and certification is drastically reduced thus shortening a product's development time. All of Paradigm's terminals below are PIM-enabled and present a range of terminals all linked by a common operation process which also minimizes training requirements.
---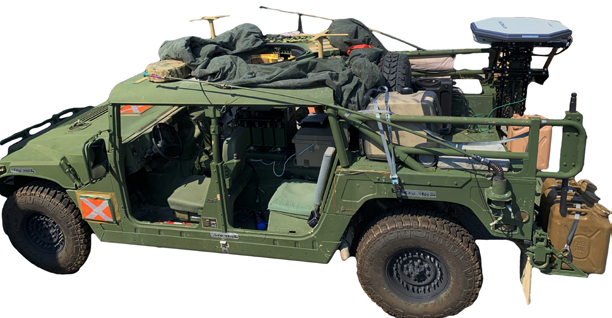 ---
MANTA®
Launched in 2018, the MANTA is Paradigm's solution to satellite Comms-On-The-Move (COTM) and Comms-On-The-Pause (COTP). In less than a year, it has transformed mobile SATCOM
and become the most reliable, proven solution for COTM and COTP applications.
Its rapid adoption is partly due to it requiring no specific satellite skill set from the user and, once fitted to a vehicle or used straight from its case, you just need to add power to be transmitting and receivin in minutes.
Even the vehicle or vessel fitting process has been made simple by Paradigm with the MANTA quickly attaching to standard roof bars using the supplied quick deploy vehicle kit.
Global roll-outs of the MANTA have been achieved over 2019 with high levels of demand from aid agencies and governments. Following trials and feedback from operational customer deployments over the year to date, demand is expected to increase even further.
MANTA®+
During a demo of the MANTA in late 2018, a user suggested adding an integrated cellular capability to the terminal. Rather than just a rudimentary plug-in cellular connection, this request was for a sophisticated terminal system that could offer users complete autonomy over the backhaul method from a ruggedized, single user interface with smart routing and a VPN capability.
__________________________________________
Additional feature sets for all terminals will continue to be released by Paradigm, working closely with partners and key customers to deliver enhancements and developments to suit specific requirements.
and providing fresh and innovative products for the government sector and maybe even beyond.
In response, and by end of Q1 2019, Paradigm had developed and launched the MANTA+, the first flat-panel COTM/COTP VSAT system with a fully integrated cellular capability. An impressive turnaround in an industry traditionally slow to respond to technological advancements.
Paradigm's MANTA+ offers all the advantages of the MANTA but with the added benefit of services either connected via various satellites or routed via available 2G/3G/4G LTE, 2.4/5GHz Wi-Fi services, with UHF/VHF radio connection options also available.
The MANTA+ is a discreet, plug and play unit that provides seamless network switching between cellular and satellite to offer an 'always connected' service. The user can 'weight' their operational services depending on their specific needs for availability, least cost routing, load balancing and failover/ fallback.
As the MANTA+ transitions between cellular, Wi-Fi and satellite (or any other sequence), the IP (Internet Protocol) path automatically routes without the need for any user intervention (e.g., creating of routing tables or port re-wiring) and, depending on the weighting rules implemented, will keep the user's services connected.
In addition, VHF and UHF solutions can also be connected to the MANTA+ to provide extended reach communications for the connected operator.
The MANTA+ has revolutionized COTM capabilities for its users by harnessing the best of both worlds in mobile connectivity.
As High Throughput Satellite (HTS) networks grow and cellular coverage expands, the MANTA+ will act as a force multiplier for the NGO and first responder communities.
It is ideally suited for border protection, coastal surveillance and any areas of critical operation where constant connectivity is required through communication blackspots.
HORNET
Paradigm's PIM-enabled HORNET terminals are designed to be lightweight, portable and simple to use. They are ideal for situations where a tough and rugged solution is needed without compromising simplicity and throughput.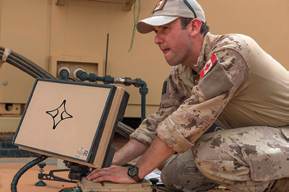 Paradigm's SWIFT terminal in action.
In 2019 the HORNET was developed further so as to be available as an interchangeable modular system operational on Ka-, Ku- and X-band frequencies.
This provides a highly flexible solution for users needing to configure antenna size and frequency bands either in the field or at the planning stage. This interchangeable solution is available on all major network providers.
The HORNET terminals are extremely rugged and weatherproof with low power consumption.
They are modem agnostic, supporting all high performance modems and provide single case solutions which are IATA compliant for
easy transportation.
Using the integrated PIM, pointing HORNET terminals is very fast and simple using the audio and visual cross-hair cues and target of LEDs. The PIM also integrates adjustable legs to provide a low and wide operational footprint to maintain stability.
By fulfilling requirements for flexibility, cost reductions, rapid tool-free deployment and portability, the HORNET is the ideal solution for first responders, government and broadcast users.
HORNET deployments during 2019 include providing fast, reliable and critical communications for the Argentine Antarctic Summer Campaign at a number of sites including Argentina's southernmost permanent base; a fantastic example of how 'internet at the Earth's extremes' is a reality.
As Paradigm's MD Ulf Sandberg remarked, "not only can our PIM-enabled terminals be operated by anyone, this also proves that location is no longer a restriction."
SWARM
Demand for this discreet and powerful terminal continues to grow, with key 2019 global deployments.
The SWARM terminal provided broadcast-level communications for a 6,000 km. African continent motor rally and a television production company filming in the sparsely populated Patagonian region of South America.
Once more, the SWARM was able to provide vital communications channels to aid agencies: in Mozambique following Cyclone Idai and in the Bahamas after the devastation caused by Hurricane Dorian.
The SWARM and the CONNECT100T terminal have now been adopted by the UN and other NGOs.
Together, they enable assessment teams to respond rapidly to emergency situations, using the ultra-portable SWARM to provide critical emergency communication channels with the co-ordination teams following up with the larger CONNECT100T to provide higher throughput for longer-term setups.
Developments at Paradigm
As Paradigm continues to grow, the company's main facility in the UK expanded further during 2019 to accommodate an increase in manufacturing and staff.
Paradigm's website was updated in Q4 to give prominence to the latest PIM-enabled terminals and to underline the company's ethos of Making SATCOM Simple.
Additional feature sets for all terminals will continue to be released by Paradigm, working closely with partners and key customers to deliver enhancements and developments for the terminals to suit specific requirements.
2020 Plans and Opportunities
Paradigm sees lots of really exciting industry developments coming on line into 2020.
The introduction of new satellite constellations, in particular, the potential of Low Earth Orbit (LEO) and Medium Earth Orbit (MEO) satellites which will bring new capabilities to a variety of users.
Paradigm will continue to position and structure their products to enhance these advances.

Ulf Sandberg, the Founder and Managing Director at Paradigm, has more than 30 years of experience in the global satellite and telecommunications world. He served in the Swedish Armed Forces and, from there, Sandberg joined Notelsat, the operating company for Tele-X, one of the earliest Nordic Communication satellites. From there, he was with the Swedish Attaché for Science and Technology office, based in the USA. Leaving the Government sector, Mr. Sandberg worked for Swedish Telecom International and then Unisource, where he advanced to be Managing Director for the satellite business based in the Netherlands. Mr. Sandberg was also involved in the start-up and creation of a number of companies and ventures in Europe and the USA. In 1993 Sandberg became Managing Director, EMEA for ComStream, where he was responsible for growing regional operations. He was then with ACT Networks prior to starting Paradigm in 1996, where he has spent the past 23 years as Managing Director.
---