CPI Antenna Systems Division
By Tony Russell, President

How do you prepare for a market where LEO and MEO SATCOM markets will not only flourish, but place new types of services and capabilities in the hands of a new generation of users? If you are Communications & Power Industries (CPI), you grow bigger, make strategic consolidations and acquisitions and focus on streamlined production and delivery systems.
The past year has been a highly successful one for the new Antenna Systems Division (ASD) of CPI on several fronts. This was the company's first year as the newly consolidated Antenna Systems Division, which was formed by integrating the activities of CPI's two antenna divisions — the former Malibu Division in 2007 and ASC Signal Division in 2015 — under a single operating division. This effort was a significant undertaking and the synergies harnessed from operating as a single division have been substantial. Of particular note is that this consolidation better enabled us to unite the technological strengths of each organization in one, comprehensive offering for customers.
A Record Year for ATC Radar
In 2018, in spite of a softer commercial SATCOM market, ASD's business grew and had several key areas of success, particularly within the government and military MILSATCOM market segments, which remained strong during the year, and industry interest in our transportable, multi-band, SATCOM Trifold® systems is expected to continue.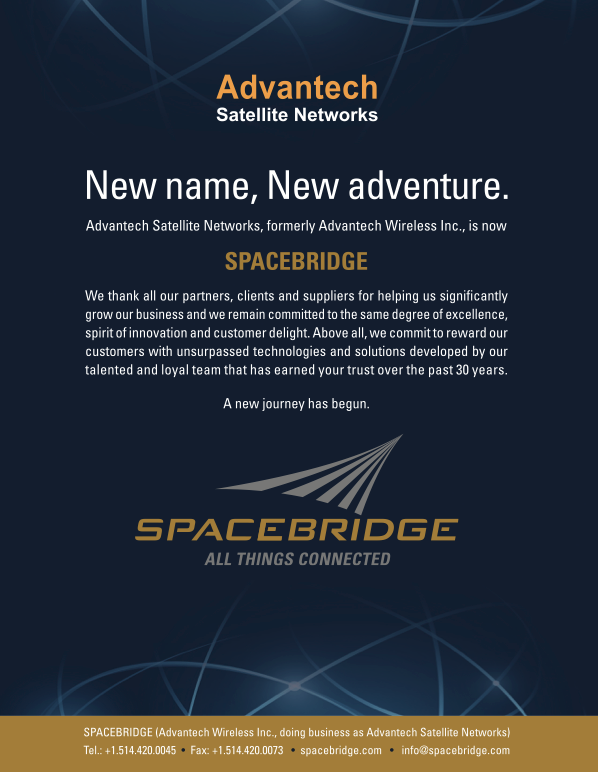 CPI ASD's line-of-sight (LOS) telemetry systems and other unique products for MILSATCOM applications were also strong sellers. In addition, the firm's air traffic control (ATC) radar antenna business saw a record number of systems being manufactured and the near-term outlook for these systems is rosy heading into 2019.
The Link
ASD's Datalink product line serves an important specialty market and business in this market remained vibrant in 2018. Our expertise in high-precision pointing/tracking has made ASD a recognized leader in this segment for advanced antenna systems for LOS applications in the global unmanned aerial systems (UAS) market, including some of the most sophisticated UAS platforms. These platforms include NATO's Global Hawk AGS, Fire Scout, Shadow, Gray Eagle, Watchkeeper and ANKA. CPI ASD is extremely excited about ongoing opportunities in this market.
As ASD, the advanced millimeter-wave SATCOM positioner technology from Malibu Division was combined with ASC Signal Division technology to generate a new class of full motion tracking antennas for LEO/MEO SATCOM applications. The integrated Antenna Systems Division then used the large-scale manufacturing capabilities of the firm's Whitby, Ontario, Canada, facility to move into full-rate production of these antennas for a prominent LEO customer. Involving all aspects of the newly consolidated division, this large program brought major benefits to production flow and overall logistics, thereby enhancing our time to deliver products to market. The experience gained through the development and deployment of the 3.5 meter satellite communications antenna enables CPI ASD to offer a rare, field-proven product of this size to address the growing LEO/MEO SATCOM market.
In an effort to better serve the company's customers in the GEO SATCOM space, CPI made a strategic decision to extend ASD's product line with a range of new, large-aperture, Earth station antennas. In March of 2018, we acquired technology in March of 2018 from ViaSat, Inc. that allows ASD to offer customers new, larger antennas for the first time. These antennas range in diameter from 7.2 to 18 meters, can be configured for C-, K-, Ku-, X- and DBS-band operation and feature high-efficiency optics and precision high-rigidity mounts. ASD is in the process of integrating these larger aperture antennas into the firm's existing product line, while making them compatible with industry-leading technologies.
The new antennas may now be configured with ASD's Next-Generation Controller (NGC); this controller receives a great deal of attention — and rightly so. This is a powerful, modular platform for controlling every aspect of antenna operation. The NGC can interface with a full suite of tracking technologies and also offers a wide range of features and options, such as an integral spectrum analyzer, a beacon receiver, transmit and receive chain-switching capabilities, system redundancy management, and carrier monitoring.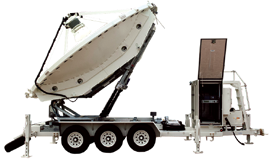 Two Key Areas of Growth
In 2018, CPI ASD was strategically focused on growth in two areas: the company's technology base and the expansion and strength of the expansive product portfolio. We continue to offer a complete range of products for any type of satellite, irrespective of that satellite's orbit, and for any type of line-of-sight telemetry and common data link (CDL) application. This makes CPI one of the few antenna manufacturers to support such a wide array of applications. CPI completed several acquisitions that have furthered this goal over the years, as mentioned earlier in this article.
In August of 2018, CPI grew the firm's antenna technology and expertise for various space and satellite communication markets, strengthening the product portfolio with the simultaneous acquisition of Orbital Systems and Quorum Communications.
These two related companies design and manufacture antenna positioners, as well as complete front-end systems that meet the high performance, accuracy and reliability needs of Earth Observation Satellites (EOS), direct broadcast (DB), telemetry and control (TT&C), UAV/RPV tracking, radar, search & rescue (SARSAT), and general satellite uplink and downlink applications.
CPI's acquisition of Orbital and Quorum brought the firm the designs for cost effective, high-quality full-motion antenna solutions for thesatellite remote-sensing market, including microwave receivers, demodulators, downconverterand feeds.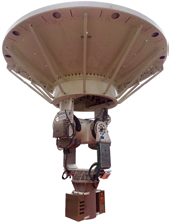 CPI ASD anticipates strong growth in these vertical markets over the next decade. With this acquisition, ASD offers a best-of-class antenna portfolio to address the demands of a growing customer base.
In addition to the acquisition of key technologies in 2018, valued expertise and talent were attracted to ASD, as well. In March, Andre Jones joined CPI ASD as the company's new Vice President of Business Development, bringing a wealth of knowledge in SATCOM systems engineering and sales and previous experiences in key senior executive roles at industry leading firms in the satellite antenna business. Andre is responsible for leading global business development efforts while addressing the needs of the company's strategic customer base.
ASD believes the teleport remains the most important link of any satellite communications network. CPI's focus on innovation in our MILSATCOM and SATCOM business is critical to the firm's, and our customers, future successes. The company will continue to develop technologies and products to support this strategy. For the satellite communications industry to remain relevant, it is imperative that CPI develop cost effective space and ground systems that operate efficiently and at the desired frequency bands to meet the growing demand for bandwidth. ASD is investing heavily in R&D, with a focus on technologies and products that permit efficient operation at higher frequency bands, including Q/V-band and higher.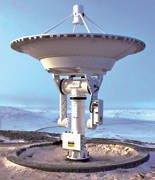 An Orbital antenna.
In 2018, CPI ASD prepared for the future of a dynamic market that will touch more and more vertical industries, with new fleets emerging to play a key role in areas as diverse as agriculture, broadband connectivity, and military and government applications. The company worked to develop the scale and technological depth that we believe will be needed as traditional GEO satellite operators, broadcasters and telecommunications companies adjust their business models to a hyper-connected world, including LEO/MEO and hybrid systems. In order to meet the demands of these complex architectures and business propositions, the company will continue to invest in the talent, the time and the capital to evolve our technologies and systems to ensure that CPI ASD customers can count on us across the board.
www.cpii.com/asd
Tony Russell possesses 35 years of experience in the RF industry, primarily within the airborne and maritime radar, ground and airborne communications and millimeter-wave science segments. Mr. Russell has been with Communications & Power Industries (and the firm's predecessor) for more than 25 years, serving in technical and management roles in the firm's electron device solid-state HPA and antenna businesses. Currently, Tony serves as the President of the CPI Antenna Systems Division. He has an Honors degree in Physics from the University of York (UK) and an MBA from York University (Canada).
---
EM Solutions
By Dr. Rowan Gilmore, Managing Director and Chief Executive Officer

Who would've thought in 2018...
That by September, the share price of the "Big 3" satellite operators would rise by 250 percent over the past 12 months, outperforming aerospace and defence shares by a factor of four
• That low-earth trials would prove that LEO constellations will become a reality — but that cost-effective ground terminals remain a pipe-dream?
• That more than 20 companies around the world would still be racing to develop a flat-panel tracking satellite terminal — while marketing hype still continues to outpace the commercial reality?
• That a 1 meter terminal could achieve data rates over 100 Mbps with a GEO satellite — and exceed the capacity of a much larger 2.4 meter terminal?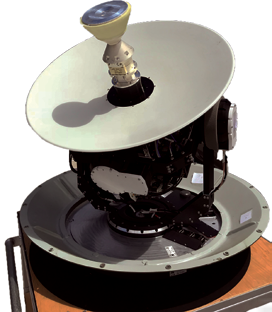 The EM Solutions Salamander Ku-Band
COTM Terminal
Full of Surprises
EM Solutions displaced a goliath in the industry. The company delivered the first Salamander roll-on, roll-off, Ku-band, Communications-On-The-Move (COTM) terminals that are designed for land and sea operations to an Asian army, plus, at the end of the year, completed the development of a power and size upgrade in order for the Salamander terminals to also be used by an Asian police force.
This unique terminal has constant gain over any terrain and thus maintains a high data rate when most needed and is the only satellite terminal that can be shifted from boat to truck for immediate use without modification.
Then in September, the company's well established Ka-band maritime Cobra terminal was used as an anchor node by a defense client to test a military satellite transponder as part of a star network with multiple terminal types. Not only did the 1 meter Cobra achieve data rates of more than 100 Mbps, the Cobra outperformed terminals twice as large in size.
It was only then that we realized how important accurate antenna pointing is at the higher Ka-band frequencies. Mis-pointing a 2.4 meter terminal by as little as 0.2 degrees is enough to cause the unit's transmit performance to be worse than the much smaller, but much more accurately aligned, Cobra.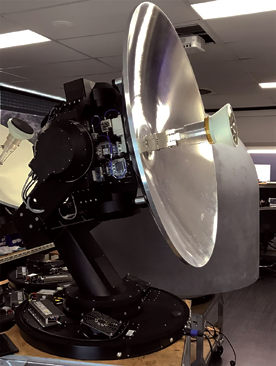 Cobra X/Ka Triband Terminal prior to delivery
from EM Solutions facility in Brisbane, Australia
The company has bragged about the firm's monopulse acquisition and tracking system for years; however, it took a trial such as this to make the firm realize that there is no point buying a bigger terminal if the unit's pointing capabilities are not up to scratch. EM Solutions expects that when LEO constellations do become operational, such errors in tracking will have to be addressed head on.
To complete the trifecta of surprises, in honor of the company's work in developing the Cobra terminal with the Royal Australian Navy and bringing it into operation on the first of their ships, EM Solutions was awarded the coveted Essington Lewis Trophy for best Defence SME by CASG, the Australian Defence procurement agency.
Since 1998, the company has been developing bespoke and customized solutions for customers, now including blue-chip defence forces. From the firm's roots as a developer of solid-state power amplifiers, filters, and oscillators, EM Solutions has progressed up the value chain to develop high speed receivers and transmitters for radios and now on-the-move terminals to become the partner of choice for several systems integrators and, increasingly, customers around the world.
For example, the company's 50W and 80W Ka-band linearized transmitter (BUC) still remains the only airborne-qualified solid-state Ka-band BUC at this power rating on the market, specifically developed for a European
prime contractor.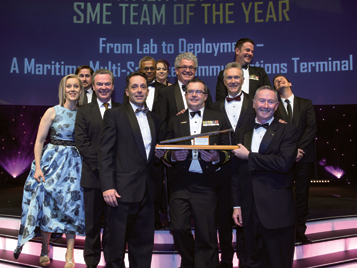 During the year, the company was awarded a multi-million dollar contract by that customer for use in IFC (in-flight connectivity) solutions.
The company's research with the University of Queensland also continued, with EM Solutions Research Fellow Dr. Yifan Wang leading an innovative project on a novel reconfigurable Flat Panel Antenna — to align with the company's strategy to offer on-the-move terminals that are both broadband and monopulse steered.
The firm's first prototype has shown the potential for this technology to satisfy both of the aforementioned attributes at a cost-effective price point in order for demonstrations to now be scheduled for later in 2019.
How can a small Australian company be unique and relevant? By being willing to customize SATCOM radio products, by providing multi-band solutions and by developing superior technology, such as terminal stabilization for high availability COTM.
Two of the company's biggest advantages have been its flexibility and innovation, and these haven't waned. Innovation occurs by building on the shoulders of giants that have gone before.
The real giants in the innovation puzzle are those customers who embrace innovation and are prepared to fund its development. Such customers push the technology envelope and drive innovation by demanding specialized requirements, new features, and performance improvements.
As 2018 draws to a close, EM Solutions salutes the company's customers — they are the real heroes.
www.emsolutions.com.au
Rowan Gilmore is Managing Director and CEO of EM Solutions, the Brisbane, Australia, -based technology developer of high speed microwave radio and mobile satellite communications terminals. Rowan is a graduate of the University of Queensland (UQ) and Washington University in St Louis, Missouri, where earned his doctorate in electrical engineering. Since joining EM Solutions in 2011, the company has tripled its revenues and won a number of prestigious awards, including the 2016 Brisbane Lord Mayor's Business Award for Innovation. The company exports more than half its products, which are in use by customers as diverse as the New York Stock Exchange and the Royal Australian and U.S. Navies.
---
ExOS Aerospace
By John Quinn, Co-Founder and Chief Operating Officer

A tiny, Texas-based rocket manufacturer is about to make a huge impact on the aerospace industry. With the goal and company slogan of making "SPACEavailable…," Exos Aerospace has developed some of the world's most commercially-viable, reusable rockets to drive down space access costs and reduce lengthy launch wait times.
"Our rockets are reusable, and we already have the capability to provide multiple launches per week," said Exos COO and front-man, John Quinn. "Our upcoming launch on January 5th, 2019 has SPACEavailable… and, with just a few days of work, we could integrate your payload and add it to the launch manifest."
The Beginning…
With a military background as a submariner in the U.S. Navy, Quinn has been involved with engineering most of his adult life. He and his close friend/business mentor, David Mitchell, co-founded Exos Aerospace Systems & Technologies, Inc. in 2015.
David worked on funding the operation, while John focused on the day-to-day tasks of developing the technology and the processes to mimic how commercial spacecraft are flown and "reused."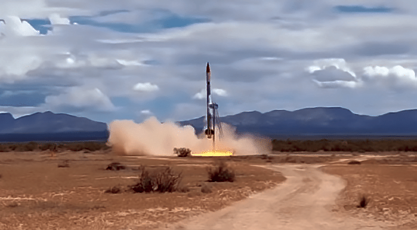 The successful Exos Aerospace SARGE launch.
On August 25th, 2018, the Exos team successfully test-launched and recovered their Suborbital Autonomous Rocket w/GuidancE, (SARGE) vehicle from Spaceport America, providing a glimpse into a future of increased space flight opportunity via reusable vehicles.
The Launch…
The rocket was "light loaded with propellant," reached an altitude of 32 km. and was recovered less than 30 minutes later with 99 percent of the vehicle ready for reuse, validating the vehicle's robust design.
The test also demonstrated the capability of the autonomous control system, validated the preflight vehicle integration process and proved accuracy of the models that will be used for fine-tuning the vehicle for a NASA IDIQ qualification flight planned for January 5th, 2019.
Once Exos qualifies for NASA's IDIQ program for suborbital launches, Exos will continue to use SARGE to provide cost effective commercial launch services as the company develops the predictive and prognostic data models required to support development of the firm's next vehicle, a mobile Low Earth Orbit (LEO) launcher the company calls "Jaguar." Jaguar is being designed to loft 100 to 200 kg. to a 200 to 400 km. orbit.
The Impact…
Government/Military
The implications of these reusable rockets will be pivotal in the industry. The SARGE rocket is designed to support up to 200 flights, but Exos plans to use the Lox/Ethanol vehicle as long as it's "safe" and ultimately desires to sell the liquid-fired rockets to Missile Defense Agency (MDA) as "hard-to-acquire" targets when they near the end of their economically viable life.
Meanwhile, plans for Jaguar to provide low-cost, fast turn-around solutions for satellite deployment could place Exos in the forefront of military and commercial space needs.
"The main concern here is the long wait times to get something launched and deployed," said Quinn, "There are payloads on two-year or more waiting lists and we intend to fix that."
Looking back at Sputnik, the satellite weighed 83 kg. yet, today, its replacement would weigh only a few ounces.
Exos intends to leverage what the firm calls the "miniaturization of space" as they initially develop their small-scale launchers to serve the sub-1000 kg. reusable (first stage) launcher market.
Commercial Space Flight
This reduced-cost, fly-now focus will offer increased availability of space-flight for corporations, medical research firms, schools, and anyone with a few thousand dollars and a desire to send product into the cold vacuum and microgravity of space. The recent Exos test-flight carried payloads from Purdue University, CAST (for the Mayo Clinic), Arete', Space Kidz India, and a few individuals who just wanted to fly space memorabilia.
Education
Pioneering the world of space education, Exos has developed a school assistance program for educators around the world to help their young scientists send real cubesat experiments to space. The "SPACEedu…" program has already gained some footing with major universities, high schools and even some grade schools. Exos is looking for additional sponsors and partners to cubesat research competition part of the national science fair.
BioMedical Research
Unlike flying on traditional solid fuel spin stabilized rockets (such as missiles), Exos rockets are stabilized using fins and gimbal capabilities to keep the vehicle from rolling.
The gimbal used for controlling and directing SARGE is controlled by Morpheus flight software that was acquired through a Space Act Agreement with NASA. The drogue recovery system brings the rocket back from space and the Wamore GPS guided canopy system flies the rocket back to its launch site within minutes of launch. All this results in a very smooth (~5G) and efficient rocket ride that is friendly to even the most delicate of payloads, giving medical researchers hope for new space tests and data acquisition.
Environment
Perhaps the only thing not feeling the impact of the Exos rockets is the environment. Compared to the solid rocket boosters of the past, the exhaust from the Lox/Ethanol fuel burn doesn't leave a smoke trail, but does leave a bit of water vapor. Their Lox/Ethanol technology is one approach that Exos will use to support the industry in an environmentally responsible way.
The Future…
Exos is in the process of launching their first National Charter Enterprise in the Basilicata Region of Italy. David Mitchell and John Quinn signed the first Charter LOI with Roberto Cifarelli, Regional Director of the Basilicata Region, Southern Italy, on November 6 ,2018, to bring an Exos presence to Italy. Mario Mauro (former Italy Minister of Defense and member of the European Parliament) aided in the negotiations and directed Exos in its development efforts.
While working though the process of bringing Suborbital Capabilities to Italy with the Italian government and PricewaterhouseCoopers, Exos realized the many benefits and resources that are available in the region. In addition to the benefits afforded companies that come to support development in the SEZ (Special Economic Zones), it is also well positioned with Aerospace University pipelines and the broad base of expertise available across the EU.
When developing the business plan for Italy, the team said they could not deny the logistically enviable position they found possible if they expanded their plans for Italy to include development of the Exos Mobile Reusable (first stage) LEO Launch Vehicle. Based on this realization, this expansion will include additional facilities to support the added scope of LEO launcher development in Italy. Exos intends to commence construction of their Italy facilities in the second quarter of 2019.
With Exos taking their vision abroad, the world will take notice of the tiny rocket company from Greenville, Texas, and for the space industry to realize the monumental shifts that the reusable rocket maker is causing in their realm of space. Exos is excited to discuss establishment of National Charter Enterprises with other NATO countries looking to bring space development to their nations.
"Our next flight is slated for January 5th, 2019," said Quinn, "We will have a NASA REDDI payload for UCF, a NASA Tech Transfer payload, an FAA payload, several educational payloads, several memorabilia payloads, and… we will still have SPACEavailable… for your payload."
At 18 years old, John enlisted in the U.S. Navy-serving in the Silent-Service on fast-attack and Trident submarines for a total of 14.5 years (including his reserve duty). In 1992, he started his civilian career as a power plant instrument technician and operator. In 2002, he completed his degree getting a Bachelor of Science in Electrical Engineering with a Controls Specialty. John's love of business drove him to develop the opportunity he recognized while working on an MST Project (with the brilliant Scientists at Blink Design and Manufacturing) in what we now officially call EXOS Aerospace Systems & Technologies, INC. (E.A.S.T.) In Feb of 2015 John became was promoted to Chief Operating Officer for E.A.S.T.
---
FOXCOM
By Allen Wald, Director, Sales and Marketing

2018 marked 25 years since the founding of Foxcom, one of the pioneers of RF over Fiber technology. Needless to say, the telecom market, which has undergone profound changes during this period, has given birth to new technologies and solutions that were unthinkable back in the early 90's.
The traditional SATCOM business has been the mainstay of our business over the years, as the need for high performance RF over Fiber solutions has remained firmly in place in the world market.
Satellite and teleport operators look to Foxcom as a market leader for innovative, resilient and reliable solutions. As High Throughput Satellite (HTS) technology took root worldwide, more and more operators began deploying Ka-Band Earth stations. This created a need for site diversity to help mitigate the problem of rain fade.
Foxcom met the challenge by providing long-distance connectivity over a single fiber using DWDM (Dense Wavelength Division Multiplexing), which reaches distances that were unprecedented in the industry.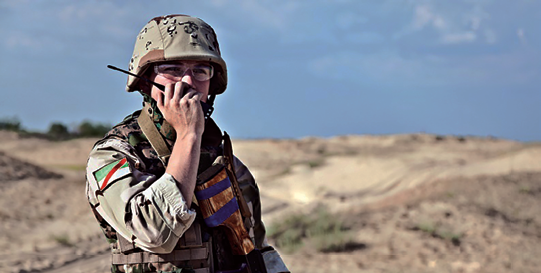 This was achieved using the company's advanced Platinum series of links, along with high-power optical amplifiers (EDFA's), DWDMs and an all-encompassing Simple Network Management Protocol (SNMP)-based Monitoring and Control (M&C) platform.
Foxcom has always been a market driven company. The company's greatest asset lies in the firm's ability to learn from customers, to leverage that intelligence and to seize opportunities well ahead of the competition. Foxcom's close relationship with the military has been a great source of inspiration for developing new technologies.
No challenge is too great for the company's R&D team. Thanks to their dedication, creativity and perseverance, Foxcom has rolled out a new range of products that are unique — if not revolutionary — in the industry.
Military Radio Links
Military radios are equipped with encryption and hopping mechanism making their operation mode classified. This means that transmit or relay sites need be manned in order to guard these devices in the battlefield. Close proximity to the antenna makes the soldier an easy target.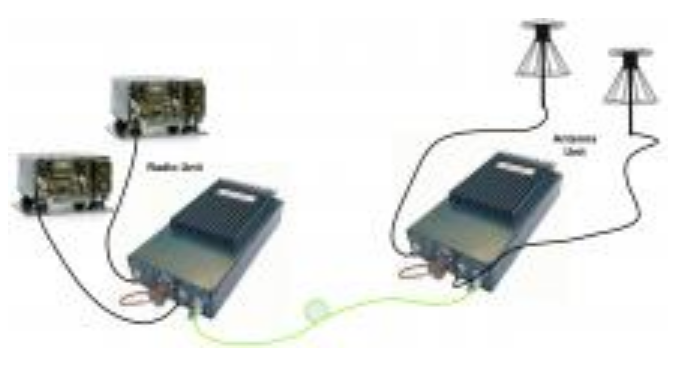 Foxcom's radio extension system
The Foxcom fiber solution provides a cost-effective alternative to coax cable deployments and allows military personnel to place their antenna far away from the military radio.
The equipment consists of two ruggedized units, one for the Radio-side (RSU) and another for the Antenna-side (ASU). The system supports two simultaneous radio channels and is equipped with a programmable microcontroller providing universal adaptive hopping frequency support and a Dust-Proof mechanism for maintaining constant RF performance levels.
Iridium, Inmarsat and GPS Repeaters
This year marked the release of Foxcom's new SATCOM and GPS hangar repeater solution, which enables engineers involved in Maintenance, Repair and Overhaul (MRO) of aircraft to undertake testing 24/7, regardless of weather conditions, without having to move aircraft in and out of a hangar, as is the current practice.
While Inmarsat and Iridium satellite equipment has been deployed worldwide, its use was limited to the outdoors, as building structures' block satellite signals. Foxcom's unique and all-inclusive repeater solution provides communication inside buildings or underground without the need for a direct line of sight to the sky.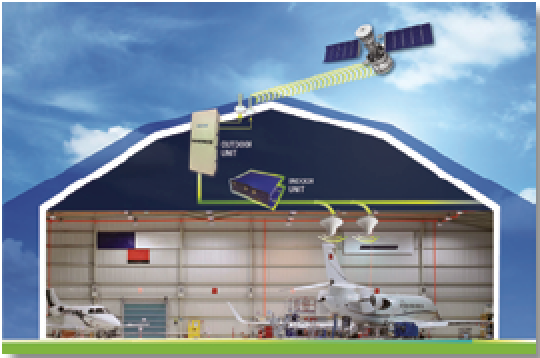 The dedicated repeater, which now includes GPS, Inmarsat and Iridium, greatly reduces aircraft-on-ground time, man-hours and overall maintenance costs, thereby providing an immediate Return on Investment (ROI). This is our latest solution in the highly successful range of repeaters launched by Foxcom in 2014.
Beyond the aviation sector, GPS, Inmarsat and Iridium repeaters can be deployed across a range of locations and industries, such as underground civil defense and military bunkers, oil rigs and ships, and large buildings.
FiberGo — Low Cost VSAT Fiber Link
Foxcom's innovative FiberGO solution uses a single fiber optic cable, rather than coax, to connect VSAT dishes to the indoor modems over long distances. This solution is sold as a compact and weatherproof kit with compact indoor (IDU) and outdoor units (ODU).
The IDU interfaces with the satellite modem, while the ODU connects to the block upconverter (BUC) and LNB at the antenna-site. The solution has generated much interest in the region due to the product's low cost, ease of installation and performance boost that the product line provides over traditional coaxial infrastructure.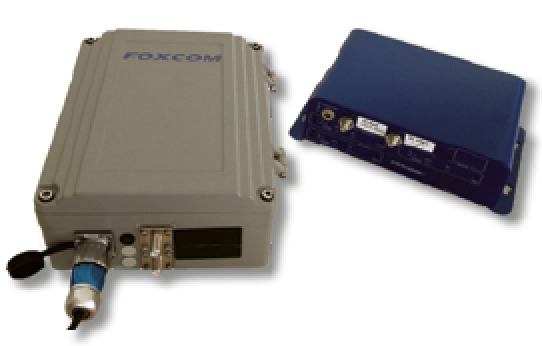 Outlook for 2019
It is still not clear to me how HTS will affect the satellite industry as an ecosystem in the long term, and how much it will impact on the traditional satellite business model once it is fully operational.
Regardless of the outcome, Foxcom is committed to bringing solutions to new horizontal markets that leverage the company's 25 years of RF over fiber expertise. This will be an integral part of the firm's growth strategy for 2019. Our entry into the MRO market with our latest repeater solutions is a perfect example of how we plan to achieve this goal.
Being part of the Global Invacom Group has facilitated this growth by leveraging the vast amount resources that the group has to offer, such as their global marketing reach, integrated manufacturing footprint and strong research and development capabilities.
With seven manufacturing plants across China, Israel, Malaysia, the United Kingdom and the USA, I am more confident than ever that Foxcom will continue to position itself as the leading provider of RF over Fiber solutions to the satellite, military and aerospace industries.
www.foxcom.com
---