---
Space & Missile Systems Center To Be Re-Designated As The USAF's New Space Systems Command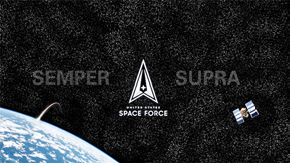 The U.S. Space Force has released the organizational structure for the military arm's new Space Systems Command — the Command is set to officially stand up in the summer of 2021, once all required conditions are met to re-designate the Space and Missile Systems Center at Los Angeles Air Force Base, California, as SSC headquarters.
SSC will rapidly identify, prototype, and field innovative, space-based solutions to deliver swift and responsive space capabilities to meet the demands of the National Defense Strategy.

"Space Systems Command's organizational structure was purpose-built to anticipate and be responsive to the challenges presented by a contested space domain," said General John W. "Jay" Raymond, USSF Chief of Space Operations. "We took the SMC 2.0 transformation of 2019 to the next level, aligning missions and organizations, and pushing authorities down from the three-star level to lower echelons in order to reduce cost and go fast. This will allow us to move at speed in delivering the resilient space capabilities necessary to stay ahead of a growing threat."
The establishment of SSC will elevate the current responsibilities of SMC to that of a U.S. Space Force Field Command. SSC will be responsible for developing, acquiring, equipping, fielding, and sustaining resilient space capabilities to enhance joint lethality. This includes launch, developmental testing, on-orbit checkout, and sustainment. SSC will also provide strategic oversight of USSF science and technology activities.

"SMC led the nation in developing and delivering unparalleled, enduring space capabilities to the warfighter and our nation's allies," said Lieutenant General John F. Thompson, SMC Commander. "With the re-designation of SMC as SSC, we will further build upon the success seen with SMC 2.0, while synchronizing the science and technology research, capability development, system production, launch operations, and system sustainment efforts to more effectively deliver cutting-edge space systems needed to ensure the future of our national security and prosperity. Furthering our focus on accelerating the pace of acquisition while still delivering excellence, we will continue to emphasize more partnerships and more innovation.
One of the required conditions to establish SSC will be met after a USSF general officer is nominated by the President and confirmed by the U.S. Senate to fill the position of the three-star general officer SSC commander.
The SSC deputy commander will be a two-star USSF officer, who will also serve as the Assured Access to Space leader, responsible for integration and oversight across the entire Launch Enterprise.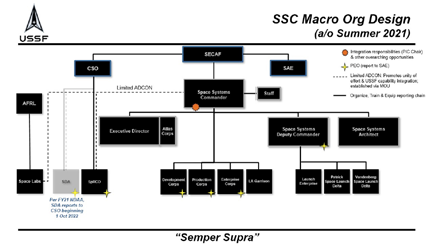 Upon official establishment, additional units will realign from the U.S. Air Force to the U.S. Space Force or re-designate as part of SSC. As these units and mission sets realign to the Space Force and SSC, military and civilian personnel in those units will also be assigned to the new armed service.
No geographic moves of personnel or units are anticipated as a result of actions required to establish this Field Command.
These unit changes include:
• SMC subordinate units will realign to SSC.
• The 61st Air Base Group at LAAFB is projected to be re-designated as the Los Angeles Garrison, aligned under SSC.
• The 30th Space Wing at Vandenberg AFB, California, will be re-designated as Space Launch Delta 30 and the 45th Space Wing at Patrick Space Force Base, Florida, will be re-designated as SLD 45. SLD 30 and SLD 45 and their respective subordinate units will realign from under Space Operations Command to SSC.
• The SLD 45 commander will be a one-star USSF general officer who will also be the director of the eastern range, the SSC operations director and the acquisition lead for the range of the future.
• Subordinate group-level organizations such as the mission support group and operations group at 30SW and 45SW are planning to inactivate, and units previously aligned under these organizations will look to realign under their respective Space Launch Deltas.
• The 45th Range Squadron at Patrick SFB will be re-designated as the 1st Range Operations Squadron and will transfer the airfield management and associated maintenance responsibilities and resources to the existing 45th Logistics Readiness Squadron.
The operational mission communications responsibilities and resources will realign from 45th Space Communications Squadron to 1 ROPS.
• The Launch Enterprise will be established as an office under SSC. The Launch Enterprise will realign under the SSC deputy commander.
• The manpower and funding of the Air Force Research Laboratory units that perform space science and technology functions will be under the administrative control of SSC, but will remain aligned to the AFRL commander for unity of effort. These units include Space Vehicles Directorate, Space Electro-Optics Division, Rocket Propulsion Division, and the Space Systems Technology Division.
• The Strategic Warning and Surveillance Systems Division will transfer from Air Force Life Cycle Management Center to SSC. The Division is the program office for ground- based radars, missile warning, space domain awareness, missile defense systems, and shared early warning capabilities.
• The Space Force Commercial Satellite Communications Office is currently aligned under SMC as approved under a previous organization change request and will remain aligned to SSC when it is established as a field command.
Additionally, SSC will provide select administrative and integration support to the Space Rapid Capabilities Office at Kirtland AFB, New Mexico, which is currently a direct reporting unit to the Chief of Space Operations. The Space Rapid Capabilities Office will receive their acquisition authorities from the Service Acquisition Executive.
Per the fiscal year 2021 National Defense Authorization Act, the Space Development Agency will transfer from the Department of Defense to the U.S. Space Force on October 1, 2022, as a unit aligning directly to the CSO.
Upon transfer, SSC will provide select administrative and integration support to SDA. The Space Development Agency will receive their acquisition authorities from the Service Acquisition Executive at that time.
The USSF organizational structure for echelons below the service headquarters is designed to support a lean, agile and mission-focused force. In order of hierarchy, the USSF field echelons are named field commands, deltas or garrisons, and squadrons.
There are three planned field commands aligned to specific mission focuses, of which SSC will be the second established.
The other two field commands are Space Operations Command (SpOC) and the planned Space Training and Readiness Command (STARCOM).
SpOC was established on October 21, 2020, and is responsible for organizing, training, and equipping fielded space forces who execute space warfighting operations for combatant commanders, coalition partners, the joint force, and the nation.
STARCOM is projected to stand up in 2021 and will oversee training, education and professional development of units and personnel, doctrine development, and operational test of fielded systems.
The Space Force's new field structure effectively organizes space forces to fight in place within mission deltas.
Installation support functions align under garrisons and look to use Air Force units and personnel through Air Force mission support groups, medical groups, and special staff.
---
USSF Selects Slingshot Aerospace For Battlespace Awareness Visualization Tool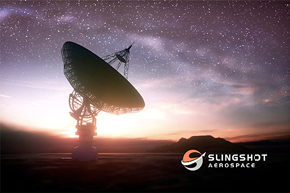 Slingshot Aerospace, Inc. has been awarded a $1.2 million contract to develop a sophisticated tool for the U.S. Space Force (USSF) that streamlines the visualization of enemy missiles and enhances data integration and mission- critical collaboration.
The company has partnered with Culver City, California-based, Zoic Labs, a software and advanced visualization company, to develop a video transcoder.
The new technology aims to enhance national security with advanced missile warning visualization by providing more efficient ways to view and interact with complicated data sets collected from satellite sensors.
These instruments, known as overhead persistent infrared (OPIR) remote sensors, use infrared radiation to visualize adversary weapons and assets. The Slingshot Aerospace tool has the following goals with respect to three missions: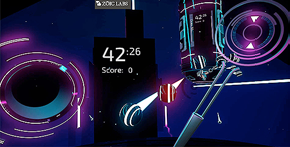 • Missile Warning – Identify and characterize missile launches and communicate key information to appropriate stakeholders faster.
• Technical Intelligence – Help operators use OPIR data to detect, track, and characterize the adversary's assets.
• Battlespace Awareness – Carry out general surveillance to successfully apply combat power, ensure national security, and complete missions.
During the research and development phase, the Slingshot Aerospace tool will process archived data from space-based infrared systems. The controlled data sets will be used to develop and test algorithms and processing techniques, which will be evaluated and tested by end-users while in the prototype phase.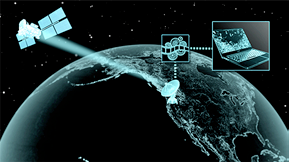 In the final step, the Slingshot Aerospace tool may be transitioned into real-world use for Air Force operators who are responsible for space-based infrared surveillance, tracking, and Missile Warning and Battlespace Awareness related reports.
Zoic Labs will be responsible for transforming satellite sensor data into video, storing a rolling cache, and publishing requested video content in a security camera-like format available for space operator use.
The Slingshot Aerospace tool will help operators identify threats and minimize false alarms. The solution will also lay the groundwork to support the Department of Defense's new, high-priority, missile warning satellite program, Next Generation Overhead Persistent Infrared (or next generation OPIR). The U.S. government aims to launch these satellites in 2025.
"The missile warning mission is critical for the United States to maintain superiority across all defense and intelligence domains. Our innovative solution will help improve the operator experience and optimize mission efficiencies, while positioning Slingshot Aerospace to be a potential leader in next generation OPIR situational awareness," said Melanie Stricklan, Co-Founder and CEO, Slingshot Aerospace.
"Zoic Labs is thrilled to take on a critical component of this effort, converting satellite sensor data into actionable, decision-enabling information for our space warfighters and national security leadership," said Tim McBride, President of Zoic Labs.
---
EM Solutions Completes Cobra Terminal Shipments To The Royal Australian Navy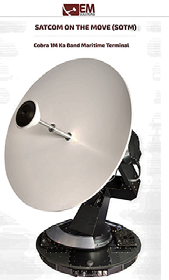 EM Solutions, a wholly-owned subsidiary of Electro Optic Systems Holdings (EOS:ASX), has completed the shipment of the firm's final Cobra terminal for the Royal Australian Navy's (RAN) Anzac Class Frigates.
Witnessing the over-the-air test of the final and eighth Cobra terminal for the Navy's Anzac frigates was Chief of Navy, Vice Admiral Michael Noonan, AO and Dr. Rowan Gilmore, CEO, EM Solutions.
The Cobra is now used by the RAN on its Cape Class, Supply, Anzac, and future Arafura-class ships, as well as by five other navies around the world.

On the Anzac frigates, the Cobra will provide quality of life services to the crew and additional services to its existing legacy communications systems.
The Chief of Navy also inspected EM Solutions' expanded factory facility, which will accommodate the production of two much larger maritime communications terminals whose development is being sponsored by the RAN through the Defence Innovation Hub.
Dr. Gilmore said, "The shipment of the eighth Cobra X/Ka- band terminal to the Australian Navy for each of its Anzac frigates marks an important milestone for EM Solutions. Since its commercialization through a Defence innovation grant in 2015, the Cobra has proven itself as an exemplar of a system that results from close collaboration between Navy end users, engineers, and industry. The support of the Navy throughout has been outstanding."
---
Lockheed Martin Space Launches New ISR Satellites
Lockheed Martin (NYSE: LMT) has introduced a new line of rapid, integrated and affordable tactical Intelligence, Surveillance and Reconnaissance (ISR) satellites. These satellites, based on Lockheed Martin's LM 400 mid-size bus, enable tactical warfighters to track moving targets at long ranges and operate in contested and denied environments — on compressed timelines at the scale of battle.
Based on flight-proven and mature components, an open architecture, and a highly produceable design, the affordable LM 400 satellite bus forms the backbone of this needed capability across a variety of emerging mission areas. These satellites fully integrate space ISR with the warfighting platforms and weapons of other domains to shorten the find-fix- finish kill chain.

The LM 400-based tactical ISR satellites offer the following benefits:
• Interoperable: By following open standards, such as Open Mission System (OMS) and Universal Command and Control Interface (UCI), these tactical ISR satellites readily connect with other warfighting platforms and battle management systems from all services.
• Adaptable: The software-defined satellite capabilities of Lockheed Martin's SmartSat™ platform offer the ability to responsively develop and deploy new mission capabilities on orbit ahead of the pace of evolving threats.
• Powerful: The high-powered LM 400 can also support payloads up to 14 kilowatts and up to 3,300 pounds (1,500 kilograms) of mass, enabling extended operation of a wide-range of sensor technologies.
• Autonomous, Survivable, Combat-Ready: Powered by on-board processing and resilient connectivity, this tactical ISR satellite line enables in-theater, low-latency sensor tasking, on-orbit processing of mission data, protected communications and direct downlink of situational awareness and targeting information, increasingly essential to shortening the sensor-to-shooter timeline against fleeting targets.
For persistent ISR capabilities, "at scale" means larger constellations and rapid satellite production and deployment. Lockheed Martin's new high-capacity Gateway Center satellite manufacturing facility supports accelerated space vehicle production, assembly and testing in a single, flexibly configured space, accommodating multiple security classification levels.
The LM 400-based tactical ISR satellites will play a key role in Joint All-Domain Command and Control (JADC2) by allowing tactical warfighters to better employ space-based capabilities. Lockheed Martin is also developing and building 10 space vehicles over the next two years for the Space Development Agency's (SDA) Transport Layer Tranche 0, cited as the backbone of JADC2, enabling even more connectivity between ISR and warfighters.
"Digital engineering and manufacturing are accelerating our ability to deploy robust, future-focused constellations that feature leading-edge technology for our customers' missions," said Rick Ambrose, executive vice president of Lockheed Martin Space. "Our LM 400 is a highly adaptable, mid-sized satellite and yet can be produced at scale in a rapid and cost-effective manner."
---
Space Development Agency Initiates RFI For Mission-Capable Space Vehicles

The Space Development Agency (SDA) is seeking industry feedback on the design and development of mission-capable space vehicles for the National Defense Space Architecture's (NDAS) Tranche 1 Transport Layer (T1TL), including feedback on industry's ability to support a homogeneous constellation design to provide the full suite of Transport T1 capabilities.
T1TL will provide an initial warfighting capability through persistent regional access to low-latency data transport services. SDA expects the T1TL constellation to feature 6 near-polar circular planes with tens of satellites at 1000 km altitude in each plane.
All responses received to this Request for Information (RFI) are solely for information and planning purposes. Responses to this RFI may be used to support future solicitations.
Please see the RFI at this direct link for details and submission instructions.
---
Constellations...Accidents Waiting To Happen? An NSR Report...
Last week, two major constellations operators, OneWeb and SpaceX, nearly crashed in space, when two of their satellites almost collided. Another near-miss happened the same day when two other satellites nearly struck each other over the Arctic. And last month, the 2-ton NOAA-17 satellite broke up, sending dangerous debris all along its orbit.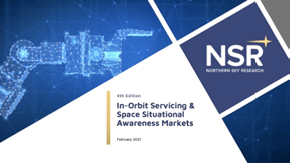 This type of space debris and close calls are becoming too common, especially as more satellites are launched, and space junk, even from decades ago, persists and compounds the problem.
Space Situational Awareness (SSA), the commercialized service of monitoring orbit and warning operators, maybe the best market response to this litter challenge. Yet, while the risk and opportunity grow daily, the SSA market lags.
Fractured coordination, capabilities, offering, and pricing structure, and long-established low priority affected to cleaning up space is such that SSA struggles as any emerging market does with a solid perception that "if it ain't broke, don't fix it." Furthermore, it presents different views on the danger of debris, and the necessity of its services. Lastly, it suffers from far smaller funding and budget than is provided to constellations.
However, while constellations may appear crucial, especially to certain investment and bottom lines, SSA is, in fact, crucial to the safe and sustainable use of space to avoid constellations from becoming accidents waiting to happen.
Why is the SSA market lagging, what impact will that have on the industry, and what can be done to change the situation?
Government Play or Commercial Opportunity?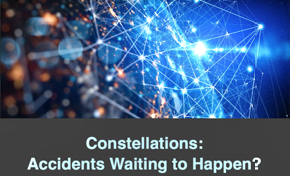 NSR's In-Orbit Servicing & Space Situational Awareness Markets, 4th Edition (IoSM4) report forecasts SSA services to grow from just $2 million to $282 million in annual revenues between 2020 and 2029. While that seems impressive, NSR also forecasts that SSA players will only capture 20% of the serviceable addressable market during that time. In other words, out of every five high-risk satellites operating over the next decade, only one will be actively monitored and tracked, with warnings provided to its operator by a commercial provider.
Competition with government programs is one reason behind this trend. Increased funding and development of programs, such as the U.S. Space Fence, JAXA's SSA, and the EU Space Surveillance & Traffic (EUSST) will challenge the commercial market through the capabilities and services offered. Additionally, the issues of dual-use, and splitting between classified and non-classified data, muddy the water and are expected to limit the commercial play.
However, given the high-strategic value of the assets, government and military customers are still expected to drive commercial SSA market revenues, at 53% of the cumulative opportunity over the decade, 95% of which will be for non-GEO satellites.
While growing government programs will bring greater monitoring capability, a severe lack of coordination and fragmentation of performance hold the SSA market back, at best, and spell disaster for operators in the worst case.
Worst Case Scenarios
Take the OneWeb/Starlink near-collision. According to one report, the U.S. Space Force alerted OneWeb, who then contacted Starlink to quickly create a mitigation plan. For a reason yet unknown outside of SpaceX, the company turned off its automated collision avoidance system, allowing OneWeb to take full control of the situation by maneuvering their satellite away. There was no pre-arranged plan, and coordination was handled last minute.
There is no central governing authority for SSA or satellite collision avoidance. Licensing regulations remain fragmented, region to region, and underdeveloped, failing to set minimum required capabilities and standards.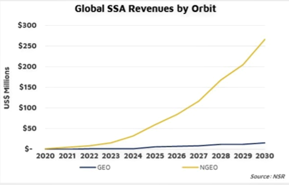 While it is generally imprudent to fear that the sky is falling, these incidents will continue, in greater frequency, and one day, the worst-case scenarios will unfold, and collisions will happen. In the meantime, late coordination costs money, through reactive avoidance maneuvers, shortening satellite and revenue-generating lifetimes.
There is hope here. Support for SSA coordination has grown, such as through statements made recently by the U.S. Space Command who support setting international "rules of behavior in space". At the same time, projects such as IBM's SSA, and Imagine LAB's Eyes on the Sky projects are aiming to crowdsource and coordinate the development of SSA data and monitoring capabilities. In the commercial sector, partnerships such as between LeoLabs and SpaceX serve to support and improve the development of SSA services.
Space is full of junk. Debris, defunct satellites and other objects like rocket bodies as far back as from the first few rocket launches remain a danger in orbit. With constellations continuing to drive the market, the chances of collision will only increase.

Space Situational Awareness is necessary for monitoring and warning against this risk, yet the capabilities and market remain significantly fragmented and underdeveloped. Coordination, collaboration, and setting stronger standards for collision avoidance will be necessary to move this market forward. Otherwise, collisions, not constellations, will be the main market outcome.
Author: Dallas Kasaboski,
Principal Analyst, NSR
---