Ken Torok is vice president of Navigation and Communication Systems, responsible for leading Boeing's MILSATCOM and Navigation businesses, including Wideband Global SATCOM (WGS), Global Positioning System (GPS) IIF, and Mobile User Objective System (MUOS) Payload program execution and mission success. He was appointed to this position in August 2008.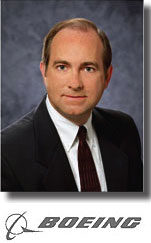 Prior to this assignment,
Torok
was vice president of
National Systems
, overseeing several proprietary programs of national significance. Torok has also held positions as director of Space Technology Programs, director of Satellite Operations, and vice president and general manager of National Security Programs, leading all proprietary programs at the
Boeing Satellite Development Center
.
Torok
also served as program manager for the
Modular Communications
programs. Through
Torok
's leadership and partnership with the government team, the first of these systems was successfully delivered on time and under budget. The programs received the customer's highest award and the
David Packard Award for Excellence in Acquisition
. Earlier in his career, Torok held various line and technical management positions, primarily in payload systems engineering and communications systems analysis.
Torok received a Bachelor of Science degree with distinction in electrical engineering from
Cornell University
in 1983. He also received his Master of Engineering from Cornell in 1984 as a
Hughes Master Fellow
.
Torok
has completed the Executive MBA program at the
University of California, Los Angeles
, the Management Development Program at the
University of Southern California
and the
Hughes Program Manager Development Course
. Torok is also a recipient of the
Joe E. Sanders Leadership Award
.
MilsatMagazine (MSM)
Ken, it appears as though you've been in the space business for most, if not all, of your career. How did you end up there?
Ken Torok
As an undergraduate at Cornell, I became interested in pursuing graduate studies in electrical engineering. I was fortunate to be selected for the Hughes Master Fellowship Program, which supported my education goals, brought me to sunny southern California, and most importantly gave me the opportunity to work in an incredibly exciting field — Hughes was at the center of the developing space business. After all these years working on state-of-the-art space systems with the most creative and capable people, for customers dedicated to missions supporting our national defense and saving lives, I can't imagine doing anything else. Working with the Space and Missile Systems Center over the past year has been the latest exciting chapter in a career full of wonderful opportunities.
MSM
GPS is one of the programs you oversee. It's really become integral to the military and civilians alike, hasn't it?
Ken Torok
Yes, it has. It's almost hard to remember how warfighters completed their missions without GPS. And we're continually amazed at what the commercial market is doing with GPS. In fact, the commercial market has created expectations with soldiers who would like access to the same functionality they have at home when they are deployed, as they have at home. GPS was created by the U.S. Department of Defense to enhance U.S. military warfighting capability, but it is available for use, free of charge, to anyone with a GPS receiver. Since its development, the system has seen a proliferation of use by the civilian community and new applications are continuously being found.
This increased civil and commercial use of GPS, coupled with lessons learned from years of military operations and experience during
Operation Desert Storm
,
Kosovo
,
Desert Shield
and
Iraqi Freedom
, drove a desire to modernize the system — augment its capabilities while sustaining the current GPS mission. In response to new civil demands and the emerging doctrines of navigation warfare, the U.S. Air Force was charged with directing and procuring improvements to the GPS constellation. Boeing was selected to support the Air Force in architecting the future of GPS, guiding the introduction of new capabilities and technologies into a new operational control ground system and modernized Block IIF satellites.
MSM
What's GPS IIF?
Ken Torok
GPS IIF is the next-generation series of GPS satellites. GPS is a space-based, worldwide navigation system providing military and civilian users with highly accurate 3D position and timing information 24 hours a day in all weather conditions.
The GPS IIF satellites will bring more capability and improved mission performance to the GPS constellation. GPS IIF is the product of Boeing's experience with 39 successful satellites from the GPS Block I and Block II/IIA programs and more than 30 years of teamwork with the Air Force. Twelve new IIF satellites will form the core of the constellation for many years to come.
MSM
How much more capability will GPS IIF deliver?
Ken Torok
A key to the IIF design was to build in growth flexibility to accommodate new or evolving requirements, as well as other upgrades. Each satellite delivers twice greater navigational accuracy than heritage satellites as well as more robust signals for commercial aviation and search and rescue. Included is the military signal "M-code" with variable power for better resistance to jamming in hostile environments. IIF is compatible with existing receivers and has a 12-year design life to provide long-term service and reduced operating costs. Additionally, an on-station, reprogrammable processor directly receives software uploads for improved system operation.
Boeing's innovative pulse-line manufacturing approach is being used to deliver the IIF fleet. Similar to a traditional airplane assembly line, the IIF pulse line efficiently moves a satellite from one work area to the next in a steady rhythm, like a pulse.
MSM
Ken, what recent successes has GPS IIF experienced?
Ken Torok
In preparation for the first GPS IIF launch, Boeing shipped a IIF satellite from the factory in El Segundo to Cape Canaveral Air Force Station in Florida. Space Vehicle 2 (SV-2) was used at the launch site to execute a consolidated system test (CST), which is a set of one-time, system-level design validation tests involving the space vehicle, the ground-based control segment, and user equipment. SV-2 was also used as a "pathfinder" to validate satellite transportation processes and equipment, and the launch site test program, procedures, and equipment. After completion of the CST and pathfinder activities, SV-2 returned to El Segundo in September to complete system level testing.
The first GPS IIF satellite (SV-1) is being prepared for shipment to the Cape to support the Air Force's planned launch schedule. The GPS IIF satellites will be launched, initialized, and operated with the Boeing Operational Control Segment (OCS) ground system. OCS was successfully delivered to the Air Force in 2007 and is currently operating all of the on-orbit GPS satellites. The complete system cutover to OCS from the legacy ground segment was accomplished without even being noticed by users worldwide!
MSM
Let's discuss your other programs. What's happening with the Wideband Global SATCOM (WGS)?
Ken Torok
Great things. WGS is the Defense Department's highest-capacity communications satellite, offering a major increase in bandwidth for airmen, soldiers, sailors and Marines. In June, Boeing successfully transferred control of the second WGS satellite, WGS-2, to the U.S. Air Force, which will monitor and control the new satellite from Schriever Air Force Base, Colorado. WGS-2 was declared ready for Department of Defense operational testing after rigorous ground testing, a successful launch and a thorough on-orbit checkout.
Brig. Gen. Samuel Greaves, vice-commander of the Air Force's Space and Missile Systems Center in Los Angeles, recently said, "The Air Force could not be more pleased with the performance of the WGS government-industry team and, of course, the performance of this important satellite. We have high expectations in the MILSATCOM Systems Wing, and this team has once again proven that it is fully capable of meeting that challenge."
The WGS system is augmenting and will eventually replace the Defense Satellite Communications System (DSCS) constellation. WGS-1, which Boeing delivered to the Air Force in January 2008, and WGS-2 together are capable of handling more than 25 times the capacity of the entire DSCS constellation. Troops in the Pacific region have reported dramatic improvements in communications throughput over WGS-1, and WGS-2 is making a significant difference for warfighters in the Middle East.
It is very gratifying to know these satellites are having real, positive impacts immediately after being placed into service. The Air Force has already ordered six WGS satellites. WGS-3 is being readied for the next launch later this year. The remaining three satellites, which have a special Radio Frequency (RF) Bypass payload upgrade to support wideband Airborne Intelligence, Surveillance, and Reconnaissance (AISR) platforms such as the Global Hawk UAV, are in various phases of production. These latter three satellites are part of the WGS Block II program, and that program is performing very well from a cost and schedule standpoint.
There has been a lot of discussion lately about all of the unique features in WGS that make it particularly suitable for military use. The RF Bypass — which provides a 400 MHz transponder — is just one example. WGS also has a number of features specifically to monitor, control and protect communications such as the X-band phased array antennas, which allow beams to be shaped to avoid interference. The digital channelizer provides point to point, multicast, and broadcast capability between X-band and Ka-band users, great improving interoperability.
To meet ever-growing wideband communications needs, the Air Force is making plans to buy additional WGS satellites to field an eight-ball (eight-satellite) constellation. With the cancellation of the Transformational Satellite Communications System (TSAT), we are working with the Air Force to leverage the excellent performance and inherent growth capability of the WGS satellite to address important unmet mission needs, such as AISR support and anti-jam communications-on-the-move. This is a tremendous opportunity to provide rapid, low-risk and cost-effective service to the warfighter.
MSM
You have another program in your portfolio — the U.S. Navy's new Mobile User Objective System (MUOS) communications system. What's happening there?
Ken Torok
Boeing has delivered the first Legacy UHF Communications Payload and the first User to Base Payload to MUOS prime contractor Lockheed Martin. The F1 spacecraft payload has been integrated on the spacecraft and initial testing has been completed.
MUOS is a constellation of satellites that will provide narrowband communications services to mobile and fixed equipment used by U.S. military personnel around the world. The Legacy UHF Communications payload allows the Navy to use existing UHF ground- and space-based communications systems.
Boeing is under contract to build, test and deliver Legacy UHF Communications payloads and User to Base payloads for the first four MUOS satellites. We anticipate that the option for the F5 satellites will be exercised next year.
Delivering the first Legacy and User to Base payloads is another important milestone in Boeing's long history of providing ultra-high-frequency communications to the U.S. Navy and ultimately to the warfighters. Our MUOS team did an excellent job leveraging Boeing's UHF and digital signal processing expertise to deliver payloads that meet performance requirements and promise to deliver vital services to the warfighter.
M SM
Our final question, Ken — what new opportunities are you eyeing?
Ken Torok
In addition to the evolution of the WGS program, we are pursuing various approaches to addressing MILSATCOM requirements, including a new emphasis on hosted payloads. We are already on contract with commercial satellite services provider Intelsat to provide a hosted UHF payload that will be used by the Australian Defense Force. Hosted payloads provide an excellent way for needed capabilities or new technology demonstrations, such as Lasercom, to be provided rapidly and cost effectively. We are also exploring risk mitigation options to extend and enhance the GPS OCS ground segment to ensure GPS system continuity.
Changing budget priorities and evolving mission requirements provide a wide range of opportunities for the creative and talented Boeing workforce to work with the Air Force and our other customers on new and innovative system solutions.