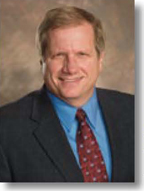 Rick Lober joined Hughes in late 2008 as Vice President and General Manager of the Defense and Intelligence Systems Division (DISD). He has over 25 years experience with both COTS-based and full MIL communications and intelligence systems starting as a design engineer and progressing to a P&L executive. He has previously worked at Cubic Communications, Inc. and Watkins-Johnson Company. Mr. Lober received his BS and MSEE degrees from the University of Illinois, Urbana.
MilsatMagazine (MSM)
Mr. Lober, would you please tell us about your experience in this industry and how you came to select Hughes Defense and Intelligence Systems to further your career?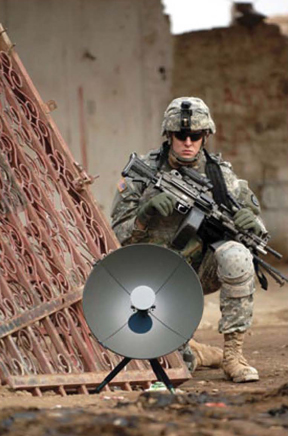 Rick Lober
I joined Hughes as the Vice President and General Manager of the Defense and Intelligence Systems Division in late 2008. Over the past three years, I've had the opportunity to see the Division grow and expand significantly. Prior to joining Hughes, I worked in communications and intelligence engineering and leadership roles in both military and commercial markets at companies such as Cubic Communications, Inc. and the Watkins-Johnson Company. The emphasis in both companies was C4ISR products and telecommunications technologies.
I joined the Hughes team because I am passionate about developing technologies that allow our warfighters to have increased capabilities to meet their mission needs at an affordable cost. Hughes is able to take commercial-off-the-shelf (COTS) technologies and apply them to the unique needs of our soldiers, and SATCOM is a technology that crosses over between commercial and military markets. I also enjoy start-up opportunities, and while our former Hughes parent had been strong in defense for decades, Hughes Network Systems had only recently entered this market. It was an opportunity to grow a new Division with the backing of the world's largest VSAT operator and SATCOM technology provider. The entrepreneurial spirit at Hughes has allowed me the room to grow and bring some of my DoD experience to our business with the goal of once again making Hughes a household name in defense communications.
MSM
In today's austere budget environment, how can the military and intelligence agencies best utilize the expertise and commercially-proven equipment of the private sector?
Rick Lober
Our country is in a budget crisis, and it is important to utilize the best practices of commercial SATCOM providers to help increase capabilities while decreasing costs. Bandwidth efficient technologies and advanced network management techniques are inherent to commercially oriented companies like Hughes and can provide significant savings in the SATCOM area for our military, both in reducing hardware and operational costs. Additionally, to be sustainable in the field, warfighters need smaller antennas, lightening their load and allowing for more ubiquitous deployment of communications-on-the-move (COTM) equipment. We are continually assessing ways to reduce weight and cost, while increasing communications capabilities in a bandwidth constrained environment. We feel we can bring significant advantages to existing networks, in particular in the growing area of airborne ISR, by delivering technologies that are generations ahead of what the military is currently using at a fraction of the equipment and operational cost.
MSM
What's the next big trend in satellite communications-on-the-move? In tactical and transformational systems?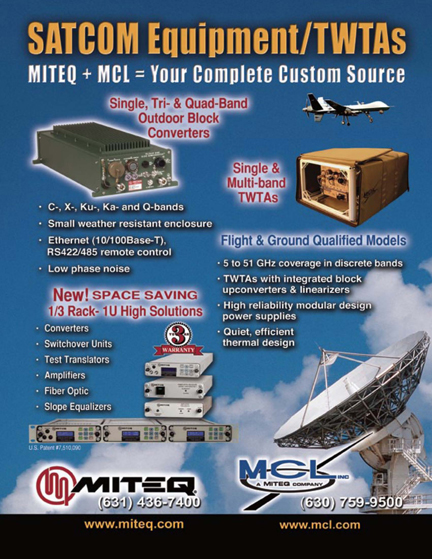 Rick Lober
Given the saturation of current Ku- networks, I think we will see a move to Ka- and X-bands as COTM antenna technology as this area matures, and as Ka- networks such as Jupiter™ that's being developed by Hughes are built out. Hybrid terminals that use Ku-, Ka- or X-band coupled with an L-band back-up (which tends to be a bit more ubiquitous in terms of coverage and ease of set-up but much more expensive to operate) should also find a place in the DoD. Continued advances in modulation and coding in SATCOM modems will continue to help push antenna size down while preserving bandwidth. This should allow COTM to take off in a big way versus its current limited usage. Finally, the employment of modern network management techniques in shared networks should allow the DoD to maximize on its utilization of limited bandwidth.
MSM
As UAVs and airborne ISR become ever more prevalent, how does the military best use a commercial global network?
Rick Lober
The first step would be to replace the dated modem technology currently in use in most airborne networks. Modems that utilize modulation and error correction codes are generations ahead of what is in use in most military operations today, and are available in an open standard and widely used commercially. Second, would be the use of an optimized, managed network that could be shared among assets – including those on the ground. Today, the DoD is buying large segments of bandwidth and dedicating it to these airborne assets – clearly the need and priority is there – but with a move to more modern modem technology and shared network management, bandwidth utilization by many of these systems could be cut back drastically with equivalent or better performance than that being achieved today. Hughes is currently operating an airborne network over large parts of the world for commercial applications and has won initial programs for the US government airborne applications. Working with our partners, we expect to complete a comprehensive global network very soon.
MSM
Hughes was awarded a Ka-band study contract with the U.S. Air Force earlier this year. How is the study progressing, and what impact will the study have on the commercial SATCOM market?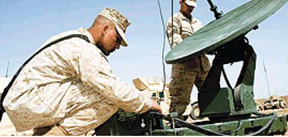 Rick Lobe
The study has been very successful thus far; USAF recently awarded us an extension to the original work. Early in the study, we focused on COTM and how changes in various SATCOM architectures would affect military needs and outcomes. At this stage we are focusing on the complete system – space segment, ground segment and terminal segment, along with approaches to commercially oriented acquisition. Hughes uses a systems level approach in our commercial network developments to make trades among segments. Given our results, applying the same approaches to the military will create savings for the military in terms of cost and schedule, should a new COMSATCOM initiative be put in place. Our expertise in high throughput, Ka spot beam systems such as Hughes Jupiter has also garnered much interest. We are not wed to a particular architecture – just identifying and implementing the one that best meets the needs of the DoD.
MSM
You addressed the Satellite Industry Association's (SIA) Army Commercial SATCOM Users' Workshop in August on situational awareness. What's your take on interoperability of communications equipment for coalitions?
Rick Lober
As I noted in the workshop, it really depends on the level of interoperability required. Given two HUMMVs in the middle of the desert with no other form of connectivity, you better be interoperable at the physical layer – i.e., a truly open standard – or be using the same radio family. For Coalition operations where there are ties at the command post level, interoperability at higher layers will likely suffice (Ethernet connections). Then there is the issue of multi-level security (encryption) across Coalition partners which may be more of a policy issue than a technical problem. However, from an acquisition and cost reduction point of view, open standards encourage competition and can create significant cost savings for the military. I have witnessed large cost reductions in an ISR datalink with standards such as Common Data Link (CDL). Everything that Hughes has recently developed, and is developing, is based on open standards. Our Hughes HX System not only meets FIPS information assurance (IA) standards and is being Wideband Global SATCOM (WGS) certified, but has gone through European Telecommunication Standards Institute (ETSI), Telecommunications Industry Association (TIA), and the Institute of Electrical and Electronics Engineers (IEEE) standards processes to be truly open.
MSM
As the U.S. begins to pare down troops in Afghanistan, do you think satellite communications will play an even larger role in remaining ISR missions?
Rick Lober
Yes, I do. Satellite ISR technologies not only ensure our deployed troops have the best information possible, but also allow us to help keep our borders and homeland safe. In conjunction with other intelligence gathering, satellite-based ISR has been crucial in identifying and ultimately eradicating key targets. While defense budgets will be cut in the future, C4ISR is expected to stay well funded and SATCOM is a key element for over the horizon communications among these assets.
MSM
Can you share some tactical networking best practices you've learned from Hughes' implementations?

Rick Lober
Our DoD Systems team, led by Senior Director Dan Losada, has worked with many US tactical forces. Some best practices from our implementations follow:
– Use embedded FIPS 140-2 encryption on the satellite network instead of external devices, via a Network Management System. This saves bandwidth and limits complexity in the network by reducing encryption overhead.

– Use enterprise quality Network Management Systems that allow operation over multiple satellites and over multiple enclaves to allow centralized control of all network assets. This provides a true net-centric SATCOM solution.

– Use advanced dynamic routing technologies such as BGP and RIPv2 over satellite links to improve reliability and minimize use of inefficient tunneling solutions.

– Use adaptive coding and modulation technologies to adapt network links to environmental conditions or heterogeneous terminal sizes.
Provide simple to use edge-user devices that require very little user intervention. Any complexity in the system should be at the network gateway locations where subject matter experts can be located. This requires using remote management technologies, such as those found in the COTS world.
MSM
What areas do you see the Defense and Intelligence Systems Division (DISD) focused on in 2012?
Rick Lober
In DISD, we often focus on the more difficult problems facing our military and intelligence customers. Airborne ISR looks to be a strong growth area for us because we have already developed expertise running a large airborne network for some of our commercial customers. Our work on classified programs is growing quickly and I expect that to continue. In the DoD area, we are focusing on projects that result in improved bandwidth efficiency through advanced waveforms and coding along with modern network management techniques, Hughes' strengths given the commercial nature of our primary business. We are applying these techniques to airborne and ground-based COTM systems. We also continue to promote open standards – even as we move to our next generation Ka systems, which will yield even higher throughputs. We feel that many of these COTS technologies can be applied to evolving US programs of record in the ISR area. We are also seeing some of our international Coalition and NATO partners truly understand the value in our open standards approach to VSAT networks. As Hughes not only designs SATCOM equipment, but also operates SATCOM networks, we can provide guidance and solutions to solve some of the more difficult challenges for the military and intelligence communities.
MSM
What recent advances has Hughes made in its solutions for military/intelligence customers?
Rick Lober
Our HX 280 high-performance satellite router was recently validated as Federal Information Processing Standard (FIPS) 140-2, Level 2 certified. Additionally, our HX System for land mobile, maritime, and airborne COTM is undergoing Wideband Global SATCOM (WGS) certification by the U.S. Strategic Command (USSTRATCOM) SATCOM Systems Expert (SSE). We also continue to apply our knowledge of airborne SATCOM to the military market and are investigating new waveforms and coding technologies that will address some of the tougher problems out there including protected SATCOM, use of smaller COTM antennas, and SATCOM operation on rotary wing aircraft. We have CRADAs in place with three DoD Research and Development commands to help advance modern SATCOM methodologies.
MSM
Of all of the projects for which you have been responsible, which one or two truly bring a smile of satisfaction to your face?
Rick Lober
I can't get into some of them, but anything we have the opportunity to do that helps keep our country more secure has always been very satisfying. With regard to our DoD efforts, we are winning our first airborne ISR programs and it is exciting to see how much a COTS-based approach can save the DoD in both equipment and operational costs – in particular in an environment that is both budget and bandwidth constrained.
MSM
Given that the pool of professional candidates for companies within the SATCOM industry is dwindling, how can firms assist in STEM education endeavors so we don't fall further behind other nations in the application of knowledge for crucial projects?
Rick Lober
As federal, state, and local governments continue to face a budget crisis, educational programs continue to be on the chopping block. It is important for companies and individuals to support educational endeavors, especially in science, technology, engineering, and mathematics (STEM). STEM education is so important to nurturing the next generation of innovators in the SATCOM industry. In addition to financial support, it is important for current engineers, scientists, and innovators to make time to speak to students, to share their passion for their industries and help mentor these future leaders
MSM
Is Hughes involved in any STEM support programs? If so, would you tell us about them?
Rick Lober
Hughes is deeply committed to supporting STEM education. We sponsor the FIRST Robotics competitions in the greater DC-region each year.