Information is absolutely vital to an effective military campaign. Through its rich history, no force has grasped this idea more clearly than the military of the United States of America, nor has any force been more innovative in its methods of relaying that information.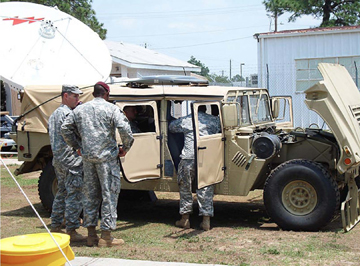 From Paul Revere delivering news by horseback on his "midnight ride" to warn the American colonists that the British forces were coming during the American revolution, to the U.S. Marines employing Navajos to transmit messages by telephone and radio in their native language during WWII — a code that the Japanese never broke — the U.S. military has long been inventive when it comes to implementing communication methods.
With the latest developments in IP content delivery, the military is creating new opportunities and capabilities never previously considered possible.
Today, U.S. military forces are at the forefront of using broadband technology in all aspects of their various missions. A key aspect of this has been the ability to combine mobility and access to critical data in any theatre of operation. The military, more than any other communications user, simply cannot compromise its ability to execute operations due to lack of access to data.
Key to accomplishing ubiquitous access has been the innovation of mobile communications, or
Comms-On-The-Move
(
COTM
). COTM is, quite simply, the ability to support various broadband communications while operating at a high rate of speed. While this has long been possible on ships and aircraft, it is a relatively new development at the infantry level. COTM offers the ground troops significantly improved command and control by allowing for continuous communications without concern for location or line of sight proximity to fixed communications assets. For commanders on the ground, this means full-time situational awareness, and better ability to execute.
Focus On The Goal
The military's goal to provide its soldiers with the most updated information possible is especially important — and challenging — as operations are underway in theaters which lack existing communications infrastructure. Ground troops have to bring any required communication assets with them, and they must be able to support and maintain this equipment on the ground. As the military faces the challenges of unfamiliar terrain and innovative styles of warfare, it is imperative that a system of reliable communication be constantly available and more covert. The system should:
• Be expeditionary in design
• Operate in austere environment
• Operate during precarious weather
• Be user-friendly
• Possess the ability to integrate with other networks
• Function beyond the line of sight (BLOS)
• Above all — support full mobility
Satellite Communications-On-The-Move
(
SOTM
) meets all of these requirements. Through smaller mobile antennas, soldiers are able to stay in contact with their commanders and each other while fully mobile in virtually any environment. COTM relies on satellites to create consistent and effective mobile broadband connection — satellite communications are ideal for most military operations. Satellite service, particularly VSAT (Very Small Aperture Terminal) communications can provide:
• High broadband rates
• Support for virtually any communications requirement (voice, video, data)
• Delivery of service anywhere
• High security access (including type 1 encryption)
The new generation of SOTM solutions can maintain all these benefits much more easily and with greatly improved form factors. Today's SOTM antenna is a rugged, low profile (height of only 7-inches) device requiring little maintenance. This allows the antenna to remain operational at high speeds and minimizes the potential impact of environmental factors. Additionally, and most importantly, the antenna does not broadcast to the enemy which vehicle is supporting the vital communications, avoiding high value vehicle targeting by the enemy.
According to
Tom Smith
, Vice President of
Spacenet Integrated Government Solutions RaySat Antenna Systems
division, "The real value of the low profile antenna is its ability to maintain virtually any operational communications requirements without hanging a 'shoot me first' sign on the vehicle".
The value of the low profile element of the equipment cannot be stressed enough — enemy forces understand the value communications capabilities provide to troops and exactly what a force multiplier COMs have become. They recognize the impact on operations that disrupting communications would have...they would wish for nothing more than to disable or eliminate command and control vehicles. They are a high value target that helps to maintain operational capabilities as well as protecting the lives of the troops using them.
In Example
One such COTM implementation is the
StealthRay 5000
(pictured on the previous page). This unit was developed specifically to offer higher return link data rates. The antenna supports the transmission of high-resolution, high-quality, streaming video from mobile units in the field to a fixed station. Similar to the other mobile satellite antennas in this product line, the StealthRay 5000 antenna employs a GPS and gyro-assisted mechanical tracking system.
The built-in GPS and gyro are used for a fast and fully automatic satellite acquisition. High-speed satellite tracking technology supports communication at speeds up to 350 km/h. The StealthRay 5000 can be configured for use with virtually any Ku-band satellite to enable IP connectivity on fast-moving vehicles for real-time, high-quality, streaming video, VoIP and high-speed data applications.

About the author
Susan Miller has more than 20 years of experience in the telecommunications and satellite sector and has a broad background in management, technology and operations. She is responsible for overseeing the strategic direction of Spacenet's government services unit, Spacenet Integrated Government Solutions, with a focus on delivering network and communications solutions to the Department of Defense, Homeland Security, the Intelligence Community and other government related agencies. Ms. Miller has also served in several government advisory capacities including as a corporate representative to the National Communications System (NCS) National Security Telecom Advisory Committee (NSTAC) National Coordinating Center (NCC) for Telecommunications. Ms. Miller earned a BSEE from Rensselaer Polytechnic Institute and a MSEE with a concentration in satellite communications from the University of Southern California.
About Spacenet Integrated Government
In September of last year,
Spacenet Integrated Government Solutions
(SIGS), a wholly owned subsidiary of
Spacenet Inc.
, announced the Company was managing operations of
Raysat Antenna Systems
' (
RAS
) U.S. division. RAS, a leading provider of Satcom-On-The-Move antenna solutions, was recently acquired by Gilat Satellite Systems, Spacenet's parent company — all U.S. operations were integrated into SIGS. SIGS is focused on delivering network and communications solutions to meet the unique requirements of the Department of Defense, Homeland Security, the Intelligence Community and other government agencies. The integration of RAS will enable SIGS to expand its communications offerings and increase business opportunities in the government market.
"This is great news for any government agency with a requirement for highly mobile, secure communications," said SIGS CEO
Susan Miller.
"The integration of the RAS family of Comms-On-The-Move antennas with the satellite networking expertise of SIGS will deliver a new level of high speed, highly mobile communications for the military, emergency response organizations, and other markets with a need for fast, flexible, on the move communications. Comms On The Move is one of the many application areas we see poised for rapid growth, and with this acquisition, we are well positioned to lead this market and deliver new solutions."
SIGS provides stand-alone and hybrid telecommunications solutions that are tailored to meet the unique mission-critical requirements of military, homeland security, emergency response and disaster recovery, humanitarian and other Government organizations. SIGS leverages a strong history and culture of technical excellence, R&D and system integration capabilities to deliver reliable, vendor-agnostic, standards-based, interoperable and flexible solutions to meet the needs of our clients.  
SIGS specializes in the development and provision of low-profile, in-motion, 2-way satellite antenna systems and emergency communications systems. The company's RaySat™ line of Stealthray™ low-profile satellite antenna systems provide government agencies with reliable SATCOM-On-The-Move (SOTM) capabilities to enable secure transfer of real-time Beyond-Line-of-Sight information exchange between field and command locations.  
The Company's
Emergency Communications System
(
ECS
) is a rapidly deployable, modular, scalable, and flexible communications platform designed to support emergency response and COOP operations during planned and unplanned events. It can be employed to enhance
Coalition Tactical Edge C3
systems and ISR capabilities and provide secure, deployable, modular, wireless communications in support of distributed small unit operations. ECS supports both unclassified and classified communications using satellite links and
Commercial-Off-the-Shelf
(
COTS
) equipment.