New Solution for Mission Critical Apps by Inmarsat and Cobham
Inmarsat and Cobham SATCOM have launched a comprehensive new Broadband Global Area Network (BGAN) Push-To-Talk (PTT) solution to connect remote workers using vehicles across the globe.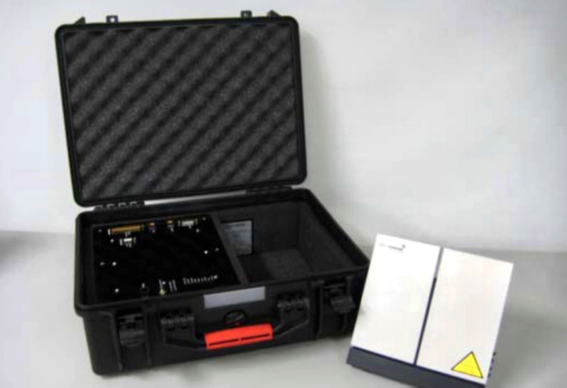 The solution provides real-time data transfer and PTT communications to enable remote utilities, mining, aid and NGO, agricultural work and more, as well as for use in public safety and emergency response. Remote workers from a variety of industries brave hostile environments to deliver critical operations.
For engineers performing well-head maintenance, mining exploration teams on the hunt for new mineral deposits and aid and NGO organizations responding to humanitarian events, it is vital that all parties can see the position of their assets, share data and communicate in real-time. However, the very nature of the remote regions means that operations often occur where there is a lack of reliable cellular communications connectivity.
This means communications are not possible, leading to operational and safety challenges. Inmarsat's and Cobham's new solution responds to these challenges by using the company's BGAN solution, which offers industry-leading reliability of more than 99% uptime. Low form factor satellite terminals, such as the new Cobham EXPLORER 323, are mounted on vehicles providing real-time GPS, telemetry and PTT capabilities, through the EXPLORER Mobile Gateway anywhere in the world. This means control centers can efficiently and safely monitor the movement and performance of their vehicles, while enabling communications with crew wherever they are located.

An important feature of the solution is the integration with existing equipment on board. The Cobham EXPLORER Mobile Gateway integrates easily into any existing radio equipment, allowing the organization to keep and use their existing trusted equipment.
PRISM PTT+, a service powered by Cobham SATCOM's innovative PRISM (Private Routing & Intelligent System Management) technology enables the BGAN PTT Solution to switch between connectivity types such as UHF or VHF, 3G/4G and satellite making the solution cost-effective and easy to use. The switching process is unique in the market because it is completely seamless and offers an economical approach to voice communications.
Tara Maclachlan, VP of IoT, Enterprise, at Inmarsat, commented that the company's BGAN push-to-talk solution is set to offer a new level of resilient communications for organizations working in remote regions. It provides visibility of the movements and performance of remote assets along with real-time communications ensuring organizations benefit from enhanced efficiencies and safety levels.
Todd McDonell, President of Inmarsat Global Government, added that first responders and public safety teams need communications certainty, especially in operating conditions where fixed networks become disabled or degraded due to emergency events. The Broadband Global Area Network push to talk solution provides government users with a way to maintain Comms-On-The-Move (COTM) connectivity regardless of the situation on the ground. Providing voice, data and streaming services that can be easily integrated with the existing radio and data networks, the Broadband Global Area Network push to talk service provides extended coverage for traditional communications links.
Henrik Nørrelykke, VP, Global Sales & Marketing, Cobham, stated that the firm is excited to work with Inmarsat to launch the new BGAN PTT Solution. Using the Cobham EXPLORER Mobile Gateway, the PRISM PTT+ solution enables easy integration into any existing radio equipment, making it simple for organizations across a range of industries to upgrade their trusted 2-way radio capabilities.
www.inmarsat.com
www.cobham.com
---
VOX Space Missions to Occur From Andersen AFB in Guam
VOX Space, the Virgin Orbit subsidiary, has signed a new agreement with the Department of the Air Force, allowing the company's LauncherOne system to conduct missions to space from Andersen Air Force Base in Guam.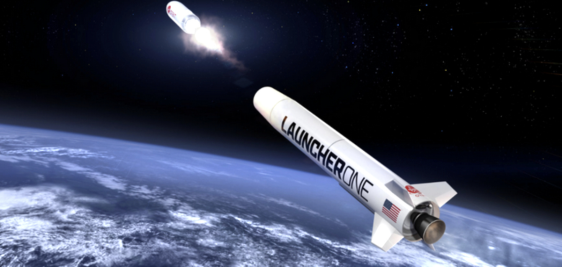 VOX Space President Mandy Vaughn and U.S. Air Force 36th Wing Commander Brig. Gen. Gentry Boswell, signed the Commercial Space Operations Support Agreement (COSOSA) Annex in early April, setting the stage for the STP-27VP mission, VOX Space's first launch from Andersen Air Force Base.
Virgin Orbit and VOX Space first expressed interest in launching from the Pacific island of Guam in mid-2019. Due to Guam's low latitude and clear launch trajectories in almost all directions, the company's uniquely mobile LauncherOne system can effectively serve all orbital inclinations, such as delivering up to 450 kg to a 500 km equatorial orbit.
The U.S. Department of Defense (DoD) Space Test Program (STP) procured the STP-27VP launch with VOX Space under the Rapid Agile Launch Initiative (RALI), leveraging the Defense Innovation Unit's (DIU) Other Transaction Agreement. One of the first missions to fly on LauncherOne, the STP-27VP manifest consists of several cubesats from various government agencies performing experiments and technology demonstrations for the DoD.
After successfully demonstrating all major vehicle assemblies and completing an extensive flight test program, the Virgin Orbit team is in the midst of final preparations for an orbital launch demonstration expected soon.
Ms, Vaughn said the company is grateful to Brig. Gen. Deanna Burt and her team at HQ USSF/S3, as well as Wing Commander Brig. Gen. Boswell, Vice Commander Col. Matthew Nicholson, and all of the excellent airmen and women of the 36th Wing and Pacific Air Forces for their support. She added that Lt. Gen. John Thompson and his team at the Space and Missile Systems Center have also provided visionary leadership throughout this process.
virginorbit.com
---
Reconfigurable Tech Speeds Sensor Design and Delivery
The space market is booming. It's projected to grow to $1 trillion over the next two decades, according to a report from the Space Foundation.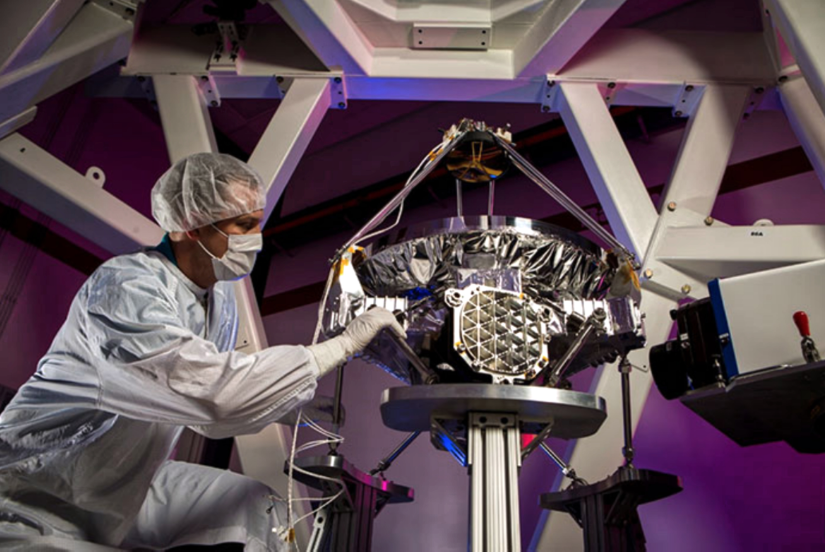 A Raytheon Intelligence & Space engineer works on the Infrared Imaging Space Experiment, or IRISX. Electronics play a critical role in a sensor's ability to gather and process data.
In this fast-moving market, the aerospace and defense industry is looking for faster and more affordable ways to build satellites – and their payloads – and place them in orbit.
"The one constant in this market will always be the actual space environment. And it's harsh; tons of radiation, extreme temperatures and other phenomena," said Wallis Laughrey, Vice President of Space Systems at Raytheon Intelligence & Space, one of four businesses that form Raytheon Technologies. "Everything we build has to account for that, plus dissipating the heat that systems generate and fitting into a specifically-sized satellite."
Fitting into small spaces requires advances in all space tech, including electronics – individual, circuit-like boards that help a satellite realize its mission. They perform functions like detecting targets while on orbit, processing data or compressing images.
To meet the needs of the accelerating space market, Raytheon Intelligence & Space makes electronics that are not only small and light, but also open-architecture and reconfigurable.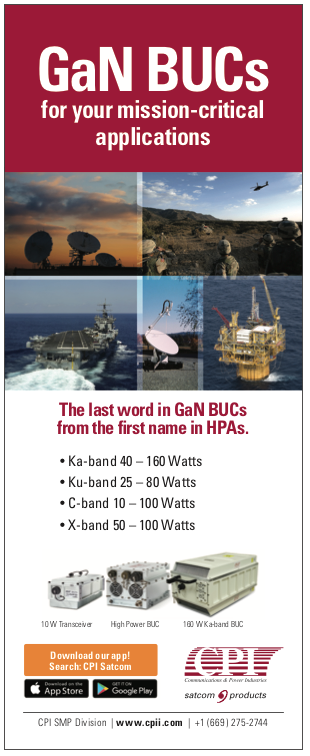 "Electronics can be built to go together, sort of like Legos," said Laughrey. "Because we can build and configure them faster and more affordably than custom-made electronics, it helps enable the rapid design and build of new sensors."
Today's electronics are up to 10 times smaller than before – one particular board is about the size, length and width of an electronic tablet. They can be stacked together and arranged in different ways. Unlike regular, earthbound electronics like we see on laptops, for example, these space-grade electronics are built to withstand extreme radiation and harsh weather.
"Some electronic components will effectively short circuit when they're hit by radiation particles, while others degrade over time," said Dan Petrovich, technical director for RI&S Space Systems. "We make sure all of our parts can withstand radiation and are designed to basically last up to 20 years."
Modern space electronics go beyond being configurable for different uses – some of the boards can even be re-configured while on orbit.
"There are instances where we could update a system with a new capability by uploading a new file from the ground to the sensor on orbit," said Petrovich.
As threats evolve, it's vital to quickly bolster existing space-based assets with new capabilities.
"Plug-and-play electronics can give military, government and commercial customers more options to access space more affordably and rapidly," said Laughrey.
www.raytheonintelligenceandspace.com
---
US Air Force Academy Smallsat to Launch
A satellite built by U.S. Air Force Academy cadets will launch into space on May 16 aboard the X-37B, Orbital Test Vehicle sponsored by the Department of the Air Force Rapid Capabilities Office and built by Boeing — this is the first time a satellite built and designed by cadets will catch a ride into space aboard the X-37B.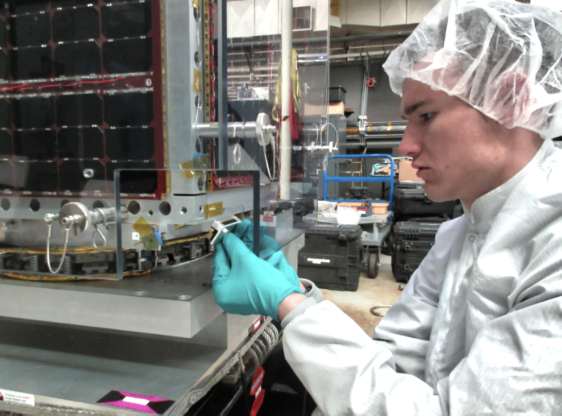 Work on the FalconSAT-8. Photo is
courtesy of the U.S.Air Force Academy.
FalconSAT-8 will carry five experimental payloads, and members of the Cadet Space Operations Squadron will operate FalconSAT-8.
There's little doubt that the work by cadets will have an effect on the new Space Force, which opened for business in December and is designed to maintain and enhance the competitive edge of the Defense Department in space. Eighty-six cadets in this year's graduating class commission into the Space Force.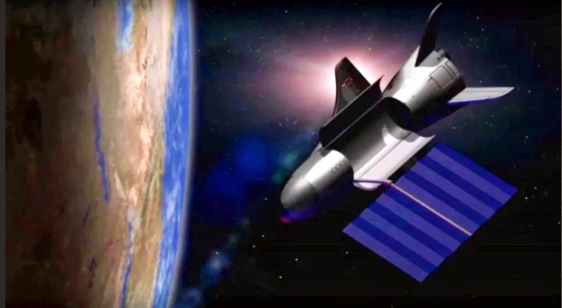 The U.S.A.F.'s X-37B Spaceplane.
Image is courtesy of Boeing.
Good noted that few undergraduate programs allow their students to work on flight hardware and design and build their own flight components. Cadets are given hands-on work that allows them to get a feel for real engineering on real projects.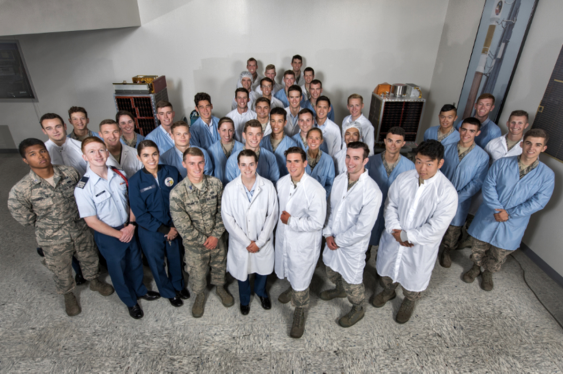 Cadets and instructors in the U.S. Air Force Academy's
FalconSAT program pose for a group photograph at the
Academy. They were directly involved in building a salivate
scheduled to launch into space May 16 aboard the X-37B
Orbital Test Vehicle, sponsored by the Department of the
Air Force Rapid Capabilities Office and built by Boeing.
This is the first time a satellite built and designed by cadets
will catch a ride into space aboard the X-37B. Photo is
courtesy of the U.S. Air Force Academy.
Lt. Col. Dan Showalter, assistant astronautics professor at the Academy, said that as novel as this mode of transportation might be, the purpose for cadets in the school's space program is the same as it was when the school's space program began in the 80s. FalconSAT-8 is an educational platform for cadets.
He added that several cadets, including Cadets 1st Class Reagan Good and Claudio Yambao, traveled to Cape Canaveral, Florida to deliver, test, and integrate FalconSAT-8 with the X-37B. This is like an engineering internship – experimental technologies for the Air Force are flown to evaluate their performance on-orbit,
The Academy's space program consists of aerospace experts, mechanics and engineers. The FalconSAT program serves as an academic platform for an array of aerospace industry and DOD experiments. Cadets design spacecraft and integrate payloads in the Space Systems Research Center with faculty support.
FalconSAT-8 is the Academy's capstone undergraduate systems engineering course managed by the school's Astronautics department.
Cadet Yambao said the space program's motto, "Learning Space by Doing Space," means cadets get to experience the postgraduate engineering world on campus and entails building and testing components of a spacecraft and understanding how it plays a role in the entire space engineering community.
---