In September of 2015, the first European Geostationary Navigation Overlay Service (EGNOS) payload went live, providing improved accuracy of satellite navigation signals in Europe.

Hosted on the SES-5 commercial satellite, navigation augmentation payloads such as EGNOS, GAGAN, MSAS and WAAS have been hosted on commercial spacecraft since the 1990's. While this hosted payload success is often overlooked it can serve as an example for how other government services can make use of the assured schedule and shared launch cost of riding along with a commercial satellite.
Satellite-based augmentation systems (SBAS provide supplementary data, improving upon the measurements and information supplied by a global navigation satellite system. The US Federal Aviation Administration reports that using a navigation augmentation system "improves the accuracy, availability, and integrity (safety) of GPS-derived position information…GPS signal accuracy is improved from 20 meters to approximately 1.5 - 2 meters in both the horizontal and vertical dimensions."
One such system is the European Geostationary Navigation Overlay Service (EGNOS), which improves the accuracy of the GPS, GLONASS and Galileo systems by reporting on the accuracy of satellite navigation signals in Europe.
Similar to the EGNOS system, the Wide Area Augmentation System (WAAS) and Multi-functional Satellite Augmentation System (MSAS), and GPS Aided Geo Augmented Navigation (GAGAN) provide supplementary navigation data to North America, Asia and India, respectively. Just as in the case of the EGNOS system, the WAAS, MSAS and GAGAN systems are currently on-orbit as hosted payloads.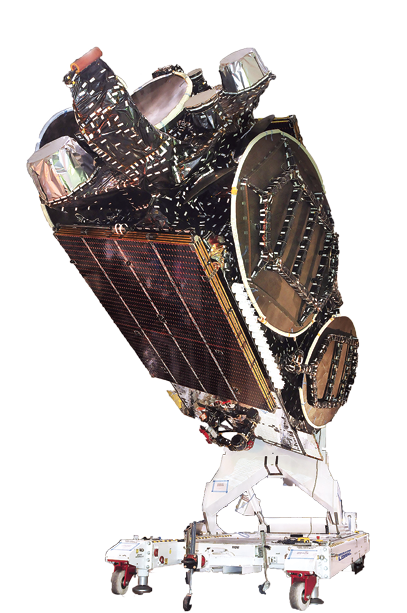 SBAS navigation payloads have been hosted by multiple satellite operators, including Eutelsat, Inmarsat, Intelsat, SES and Telesat. Integrated on commercial spacecraft by major satellite manufacturers, such as Airbus Defense and Space, Boeing, Lockheed Martin, Orbital ATK and SSL, navigation augmentation payloads can be found on more than 15 commercial satellites. These satellites include Anik F1R, Astra 5B, Galaxy 15, four Inmarsat satellites, SES-5 (photo of the SES-5 satellite to the right is courtesy of SSL), as well as the recently announced Eutelsat 117 West B and SES-15.
GEO communications satellites possess key characteristics which make them ideal hosts for navigation augmentation payloads. First and foremost, the payload technology used in SBAS is already within the toolbox of the GEO communication satellite business. Also, GEO communications satellites provide a large, predictable coverage area which is consistent with the requirements of a navigation augmentation payload.
GEO communication satellites also have the benefit of enabling navigation augmentation payloads to provide coverage over large bodies of water, where ground-based coverage is not possible.
Finally, there is significant synergy between communications satellites and navigation augmentation payloads, which can share some resources with the commercial satellites. In example, the SSL-built MTSAT-1R satellite uses L-band mobile links to provide communications services for air traffic management while additionally hosting a WAAS navigation augmentation payload which uses the same frequency range and provides a combined solution for air traffic control.
With governments around the world deciding to put navigation augmentation payloads on commercial satellites, the benefits of the hosted payload model have been proven and many perceived obstacles have
been overcome.
This column's question for HPA Members is…
From your perspective as members of the Hosted Payload Alliance, why are navigation augmentation instruments so well suited to be hosted payloads and what can we learn from those successes?
---
"The most widely used precision navigation system in the world today is the global positioning system or GPS. This system enables users with a GPS receiver to determine their current location by detecting beacons broadcast from Earth orbiting GPS satellites. Real-time awareness of where you are and where you want to go within a standardized global position coordinate system enables precision GPS-based navigation. Additionally, there are opportunities to solve problems and create value by enabling stakeholders beyond just the GPS receiver user access to this data. Hosted payloads provide a powerful tool for unlocking this value.
"Augmentation instruments for GPS navigation services are particularly well suited for deployment as hosted payloads. Two specific examples are the Harris designed and produced hosted payloads that provide real- time global detection of ship and aircraft location data. The resulting real-time global air transportation and maritime domain awareness services provide significant benefits to individuals, industries, and governments worldwide including improved safety, lower fuel costs, and more efficient traffic management. Harris is currently producing these hosted payloads in support of air traffic management services offered by Aireon, as well as maritime domain awareness services offered by Harris and exactEarth.
"The instruments (receivers) that collect location data for ships and airplanes are particularly well suited for deployment as hosted payloads. The payloads only receive the RF beacons from ships and airplanes—they do not have to transmit. Therefore, electromagnetic compatibility risks with the host platform are significantly reduced. Also, detection of these terrestrial location beacons in Oceanic and remote regions is not practical without space based receivers. The use of hosted payloads provided an affordable, robust, and mission compatible solution for fielding this capability with greater than 12 years of mission life."—Sid Stewart,
Senior Program Manager, Responsive ISR, Space and Intelligence Systems, Harris Corporation.
---
"Part of SBAS system architecture consists of ground uplink stations that relay information to the repeaters on GEO spacecraft. Commercial operators already have networks of fiber-connected teleports which can be leveraged to perform this function. Additionally, while the payloads provide vital services to PNT users (government and civilian), operations of the host spacecraft do not need to be conducted from within a classified control environment which allows further sharing of existing facilities. GEO owner operators already provide trusted services to governments across the globe and reliability of their commercial platforms is very high. With a predictable satellite replacement plan stretching into the next decade, PNT stakeholders can feel confident that SBAS services from commercial platforms will continue well into the future."—Bryan Benedict, Senior Director, Innovation and Satellite Programs, SES Government Solutions.
During the recent Global MilSatCom 2015, the HPA presented a preconference workshop that was led by:
• Nicole Robinson, Corporate Vice President of Government Market Solutions and HPA Chair
• Rick Skinner, Director of Business Development for Northrop Grumman Aerospace Systems
• Catherine Dargeou, Business Development in Commercial & Military Markets for Thales Alenia Space
• Rich Pang, Senior Director of Hosted Payloads at SES Government Solutions

The workshop explored current examples of successful, commercially hosted government payload programs and where those successes could help accelerate adoption of similar programs for global government customers. The experts from HPA member companies offered an unbiased view with a diverse base of satellite owner-operators, launch providers, payload and satellite manufacturers and others, who brought forward lessons learned from their respective hosted payload programs. Also offered was an open dialogue about technical considerations, procurement and funding challenges as well as opportunities for industry and global governments to collaborate to further leverage these time and cost reducing means of accessing space. This workshop served as a targeted discussion regarding hosted payloads as well as a forum for open dialogue between the government and industry participants.
For additional information regarding the HPA, please visit: www.hostedpayloadalliance.org/
---