Kratos gleans a $39 million geolocation global support services contract
Kratos Defense & Security Solutions, Inc. (Nasdaq: KTOS) has been awarded a $39 million sole-source contract for Geolocation Global Support Services — the award is a five year contract that includes a base year and four one-year options, for a total value of up to $39 million — work on the initial $7.7 million base year contract began on December 1, 2019.

Kratos will provide continuous RF monitoring services for government leased bandwidth on commercial satellites and bandwidth on military satellite communications; including bandwidth identified by the Combined Space Operations Center, or CSpOC. Kratos will also support resolving interference events through employment of mitigation strategies and geolocation activities.
These services use Kratos products including Monics® and satID® to identify, isolate and geolocate interfering signals.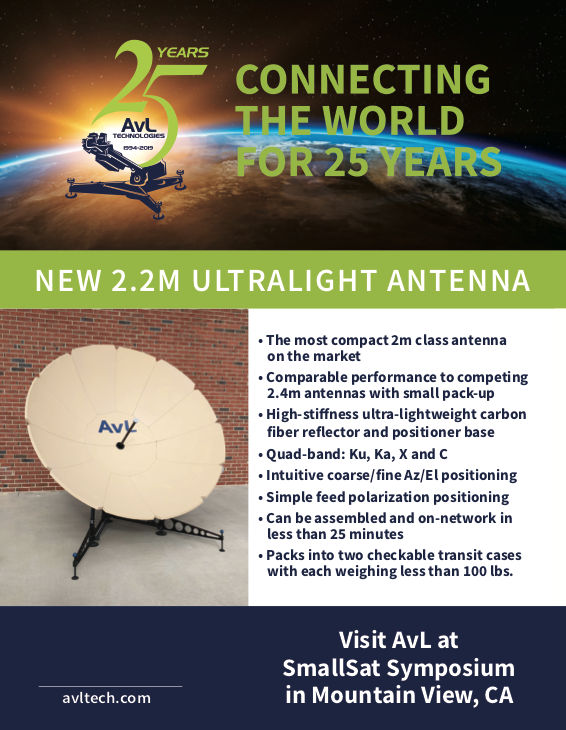 Monitoring services will provide the U.S. Government the ability to efficiently use leased bandwidth, saving money and resources while ensuring that critical satellite communication links stay operational.
Kratos offers RF monitoring services, also referred to as spectral services, with a global network of antennas and sensors necessary to provide constant (24 hours per day, 7 days per week) bandwidth monitoring, detection and geolocation interference in the C- and Ku- bands specified by the Combined Force Space Component Command (CFSCC).
Kratos' sensor network currently consists of 20 worldwide sites hosting more than 80 fixed and steerable sensors and antennas in C-, Ku-, X- and S-bands.
Kratos spectral services are part of a portfolio of RF services offered to government and commercial customers including end-to-end satellite RF monitoring, interference detection, geolocation and mitigation.
RF data analytics services including bandwidth use reports and advanced correlative and predictive analytics are available as a subscription or on demand. Kratos RF space domain awareness services provide RF data insights, including: detecting payload and other operational changes or anomalies, their origin or cause and ephemeris generation.
Matt Langenbahn, VP of RF Sensing Systems for Kratos, said that the company's commercially owned and operated global RF space domain awareness network uses proprietary sensors and software to collect and deliver persistent, day or night real-time data. The global network augments U.S. government satellite communication with detection services for anomalies, maneuvers and interference. Kratos' Mission Partner approach helps the government and satellite operators understand more about the health, location, attribution, performance and other behavioral factors about satellites in space.
Phil Carrai, President of Kratos Space, Training and Cybersecurity Division, added that the company's technology assures that U.S. multi-domain operations continue unabated. This service is just one of the many ways Kratos is aligning commercial capabilities with U.S. government strategies by ensuring satellite communication links in support of national defense.
---
WGS-10 accepted by U.S. Space Command
On November 19, U.S. Space Command accepted Wideband Global SATCOM (WGS)-10 into the operational constellation and will be transitioning users to use the bandwidth provided by this new satellite.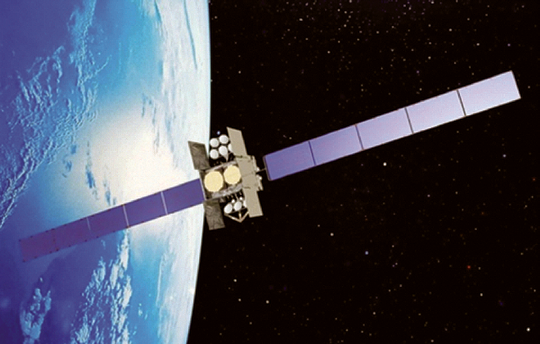 Boeing completed verification of the satellite's performance and handed control authority to the U.S. Air Force on July 10.
Following handover, Space and Missile Systems Center's WGS program office, in collaboration with the U.S. Army and U.S. Navy, completed on-orbit testing of WGS-10 and then recommended the satellite for acceptance into the operational constellation.
The joint team conducted numerous payload characterization and verification activities to optimize the end-to-end system's performance.
Additionally, the wideband community took advantage of an extensive special testing period to validate new and emerging anti-jam capabilities as well as resilient techniques and procedures that will be incorporated into the entire WGS constellation.
The WGS mission demonstrates the U.S. Air Force's and U.S.Army's continued commitment to jointly deliver secure and reliable satellite communications around the globe to US and Allied forces.
WGS delivers critical capacity, connectivity and interoperability to the Air Force, Navy, Army, Marines and International Partners. Each WGS satellite is fully backwards compatible with more than 15,000 joint terminals across the wideband enterprise.
Culture and partnerships are key tenets of the SMC vision to accelerate capabilities to the warfighter.
The WGS program office has established a strong working relationship with Boeing by having a lean and empowered government team embedded in the prime contractor's facilities, leveraging commercial processes, practices and technology.

The acceptance by U.S. Space Command of the WGS-10 satellite is a testament to the dedication of the U.S. Air Force-Boeing team that helped ensure military's communications capability anytime and anywhere in the world.
In order to accelerate the production of game-changing capabilities to meet an evolving threat environment, the WGS program office has been part of an SMC culture change from risk aversion toward innovation, and has utilized a "speed through empowerment" operating model.
With WGS-10 transferring to operations, the WGS program office will shift its focus solely to executing its Mitigation and Anti-jam Enhancement upgrade and the development and fielding of its next generation WGS-11+ satellite system.
With WGS-11+, the government is using its commercial best practices and is incorporating the same technologies offered to commercial communication satellite customers to deliver enhanced mission utility through contested environments.
The SMC Production Corps is leveraging partnerships and exploring collaborative efforts to posture WGS-11+ as a viable government host platform for rapid prototyping efforts.
Additionally, WGS-11+ will continue and expand upon the already strong international partner support associated with the WGS program.
Lt. Connor MacMillan, WGS test lead, stated that by verifying system performance and testing new resilient capabilities, SMC is able to put the warfighter first — maintaining a robust satellite constellation with proven MILSATCOM capabilities.
Dr. Kurt Fiscko, technical director of the Navy's Communications and Global Positioning System Navigation Program Office, noted that the WGS system now provides U.S. Navy ships worldwide 20 times the data throughput that ships received before the advent of the system. Computer applications that previously could not operate over wideband SATCOM are now enhancing warfighting capability on a daily basis, creating a Navy today that is digitally connected.
---
Envistacom's $47.8 million SATCOM contract
Envistacom has received a $47.8 million, three-year award to support the Deployable Ku Band Earth Terminal (DKET) program managed by the U.S. Army's Product Manager Satellite Communications (PdM SATCOM).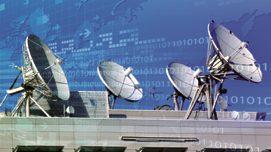 The task order was awarded under the Deployable Adaptive Global Responder Support (DAGRS) indefinite delivery, indefinite quantity (IDIQ) contract worth up to $480 million over five years.
Envistacom will provide installation, training, relocation, integration, and upgrades for new, legacy and existing DKETs, DKET LT ("Lite" version) and mobile DKET (MKET).
PdM SATCOM is responsible for the Army's tactical multi-channel satellite ground and commercial terminal programs and Envistacom will help upgrade existing terminals, as well as spares, new terminals, installation, relocations and necessary interface equipment and services.
Additionally, the new deployable SATCOM terminal antennas provided by Envistacom will be multi-band capable, operating in Ku, Ka and X-Band frequencies.
The DKET is the backbone of long-haul transmissions for the U.S. African Command (AFRICOM) and U.S. Central Command (CENTCOM), with more than 80 DKETs deployed to support multiple areas of operation (AOs).

DKET provides intra-country communications within and between regional commands globally, and inter-theater communications with reach back capabilities to other countries and continents.
Nelson Santini, SVP of Sales at Envistacom, said the company will help support the Army's PdM SATCOM achieve its modernization goals through the implementation of virtualization, and other new technologies. The firm has built a strong rapport with the Army and is pleased to be selected for such an important program providing satellite transmission capability within the Department of Defense global network for almost 20 years.
---
Gilat's Wavestream receives $6 million DoD order
The U.S. Department of Defense (DoD) has enlisted the expertise of Gilat Satellite Networks Ltd.'s (NASDAQ, TASE: GILT) Wavestream subsidiary.

The company has received orders for more than $6 million from the U.S. Department of Defense (DoD) for their state-of-the-art GaN BUCs.

This venture is the first award for Gilat of a five-year base-period of potentially over $10 million worth of deliveries to the U.S. DoD.
Bob Huffman, Wavestream's General Manager stated that Wavestream has delivered thousands of SSPAs to the U.S. Armed Forces for over a decade, and they take pride in continuing to provide the best solutions to support the U.S. forces world-wide with field proven, highly reliable telecommunications solutions.
---
Hypersonic and Ballistic Space Sensor Tracking Phase IIa contract for Northrop Grumman
Northrop Grumman Corporation (NYSE: NOC) has been selected as one of four Other Transaction Authority awards for the Phase IIa Prototype Payload Design and Signal-chain Processing Demonstration of the Missile Defense Agency's (MDA) Hypersonic and Ballistic Tracking Space Sensor (HBTSS) program.


The company's concept advances under the HBTSS
Phase IIa program Image is courtesy of Northrop Grumman.
Northrop Grumman is developing a highly capable, affordable, survivable and extensible space-based sensing solution for hypersonic and ballistic missile defense.
The 12-month HBTSS Phase IIa will demonstrate the payload design for a proposed satellite constellation to detect and track hypersonic and advanced missile threats.
Phase IIa retires technical risk through the demonstration of critical technologies required to track advanced weapons like hypersonic missiles from space.
The award continues Northrop Grumman's longstanding partnership with the Missile Defense Agency and broader space and missile defense community on solving critical national security challenges.
Northrop Grumman will demonstrate its agile and affordable approach to producing space-based sensors in large quantities for proliferated, global operations.
Northrop Grumman is building Phase IIa upon the concepts developed in Phase I. Work will be performed at various company locations in the United States.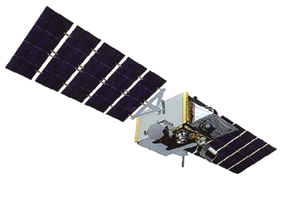 Artistic rendition of an MDA STSS satellite.
Northrop Grumman's end-to-end, multi-domain approach to hypersonic and ballistic missile defense spans technologies in multiple warfighting domains from sea to space, as well as the electromagnetic and cyber environments.
Kenneth Todorov, VP, Missile Defense Solutions, Northrop Grumman, said that HBTSS is an important undertaking that allows advanced threats, such as hypersonic missiles, to be seen in ways not previously possible. He added that if threats can be seen, they can be taken out.
The Missile Defense Agency (MDA) operates the Space Tracking and Surveillance System (STSS), which consists of two satellites orbiting at 1350 km., 58 degree inclination, with 120 minute orbital period. STSS uses sensors capable of detecting visible and infrared light and serves as an experimental space tracker for the Ballistic Missile Defense System (BMDS).

On September 25, 2009, MDA, NASA, and the U.S. Air Force teamed to successfully launch two satellites into LEO on a Delta II launch vehicle from Cape Canaveral, Florida.
Both satellites are operating nominally on-orbit at the Missile Defense Integration & Operations Center, Schriever AFB, Colorado.
STSS is participating in integrated BMDS testing and providing risk reduction in support of a future missile defense space tracker.
---