---
It's Silver For Space Dynamics Laboratory — Celebrating 25 Years As A Government Research Center
Twenty five years of becoming a significant part of the Department of Defense's efforts to maintain essential engineering, research, and development capabilities through long-term, strategic relationships with university laboratories across the nation is noteworthy and are celebrated.
This year marks the 25th anniversary of Utah State University's Space Dynamics Laboratory formally becoming a significant part of the Department of Defense's efforts to maintain essential engineering, research, and development capabilities through long-term, strategic relationships with university laboratories across the nation.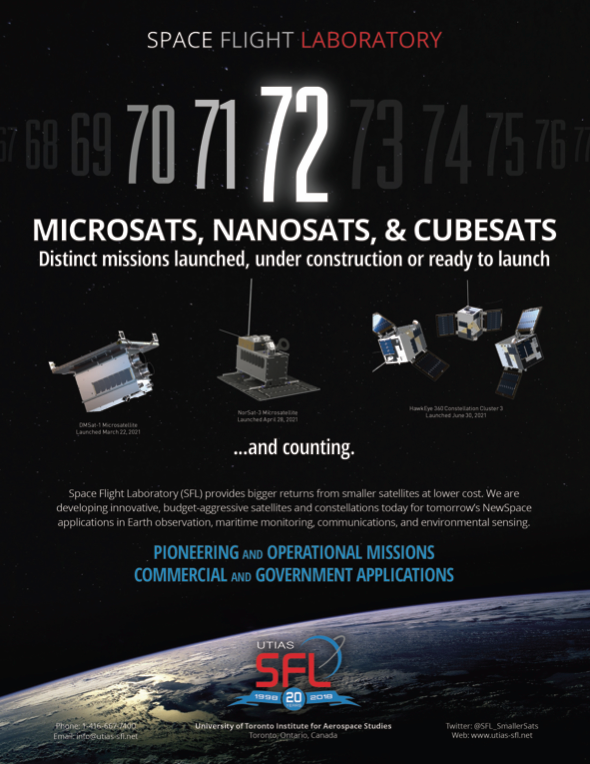 In May 1996, SDL and five other university research centers were designated as DOD University Affiliated Research Centers, or UARCs, established to operate in the public interest rather than in the interest of corporate shareholders.
UARCs have become crucial partners in the development of advanced defense technology, while sustaining critical national engineering and scientific expertise.
As a UARC and a nonprofit organization affiliated with a university, SDL's core competencies span a variety of technical areas. SDL has benefitted from a longterm strategic relationship, for over 25 years, with the Missile Defense Agency, who acts as SDL's DOD UARC sponsor. From researching and developing small satellite systems and subsystems to sensor technologies and cyber capabilities, SDL has played a vital role in defending the U.S. and protecting our military service members. As a UARC, SDL rapidly develops and deploys mission-driven capabilities to support an array of DOD user needs.
"Research institutions such as Utah State University's Space Dynamics Laboratory have long been catalysts for innovative breakthroughs, and the UARC designation enables the DOD and other government organizations to advance a variety of game-changing technologies within the defense and space industry," said H. Scott Hinton, president of SDL. "For example, SDL developed the sensor for the Midcourse Space Experiment that resulted in the first-ever demonstration of a space-based sensor for ballistic missile defense mid-course surveillance, tracking, and discrimination. Today, SDL is an integrated member of the MDA team leading the Hypersonic and Ballistic Tracking Space Sensor program, where SDL provides decades of experience and expertise in space-based infrared sensing phenomenology and sensor systems design, test, and calibration."
Each UARC provides core capabilities to the DOD Research and Engineering community—including the Office of the Secretary of Defense, Army, Navy, Marines, Air Force, Space Force, Defense Agencies and Combatant Commands.
UARCs receive funding from multiple government organizations, by virtue of their strategic relationship with the DOD. The Government leverages UARC expertise in their core competency areas to quickly develop government-owned solutions for problems of national security importance.
SDL and other UARCs serve as trusted government agents, providing objective, unbiased expertise. UARCs develop and maintain capabilities designated as essential, while preserving independence from for-profit stakeholders and freedom from conflicts of interest.
SDL has been solving the technical challenges faced by the military, science community, and industry for over six decades and supports NASA's mission to drive advances in science, technology, aeronautics, and space exploration to enhance knowledge, education, innovation, economic vitality, and stewardship of Earth. As one of 14 DOD UARCs, SDL serves as a subject matter expert in its core research areas to the U.S. Government, ensuring that essential engineering and technology capabilities are maintained. SDL is a research laboratory headquartered in North Logan, Utah, and has offices in Albuquerque, New Mexico; Bedford, Massachusetts; Colorado Springs, Colorado; Dayton, Ohio; Huntsville, Alabama; Houston, Texas; Los Angeles, California; Stafford, Virginia; and Washington, DC.
---
Arqit's Federated Quantum System Now Includes International Partners And Government Agencies
Arqit Limited ("Arqit") has formed an international consortium of companies and government organizations to provide its quantum encryption technology to government customers in a federated system concept called Federated Quantum System (FQS). The UK, USA, Japan, Canada, Italy, Belgium, and Austria are now represented.
Arqit has invented a unique quantum encryption technology that makes the communications links of any networked device secure against current and future forms of hacking — even an attack from a quantum computer. Arqit's product, called QuantumCloud™, creates unbreakable software encryption keys, using satellite to deliver quantum information to data centers. These keys are delivered using a new patented protocol called ARQ19, which solves the "Global versus Trustless" problem that previously prevented the adoption of Satellite Quantum Key Distribution (QKD). Arqit further invented QuantumCloud™ to translate the benefits of this quantum key distribution to any form of endpoint or cloud machine without the need for any special hardware. The first version of QuantumCloud™ will launch for live service to commercial customers in 2021.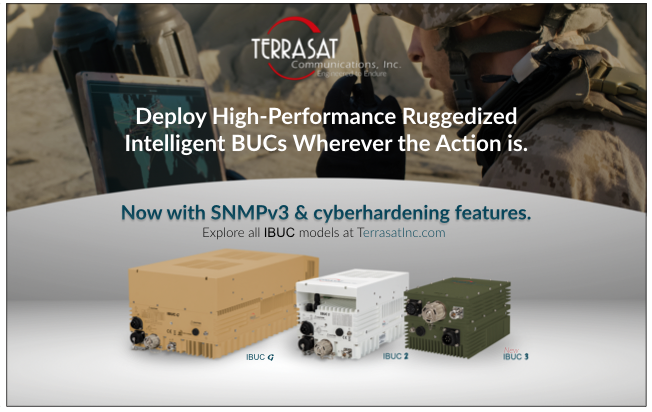 Government customers typically have more stringent requirements for control and are more inclined to buy "Private Instances" of cloud technology rather than managed services. Arqit has, therefore, designed a different version of its technology to meet this need and has recruited a strong community of partners from allied countries to collaborate in bringing the FQS system to use.
Collaboration partners include BT, Sumitomo Corporation, Northrop Grumman, Leonardo, QinetiQ Space N.V., qtlabs and Honeywell. Additional western Allied countries are expected to announce their inclusion during 2021.
FQS has been developed with support from the UK Space Agency (UKSA through its National Space Innovation Program. The system consists of dedicated satellites, control systems and QuantumCloud™ software. It will be provided to the UK's 'Five Eyes' allied governments and other international partners, allowing sovereign protection of strategic national assets and interoperability for joint operations.
The first FQS satellites are to be integrated and tested at the National Satellite Test Facility in Harwell near Oxford and are expected to be launched on Virgin Orbit's LauncherOne from Newquay in Cornwall in 2023, after the launch of the first commercial Arqit satellites. The role of Virgin Orbit in providing responsive launch services for government customers from any location is additive to the plan to deploy many FQS satellites to support the needs of a growing list of allied country partners.
Arqit's Chairman and Chief Executive Officer, David Williams, said, "FQS enables collaboration between NATO-allied governments around the world to form a federated version of QuantumCloud™ infrastructure. It also enables the Joint All Domain Command and Control vision to come to life. The FQS system is global in its nature, and there is now strong momentum in an international consortium joining forces to bring it into use."
General Stephen Wilson, Director of Arqit Inc. said, "For Allies working together Joint All Domain Command and Control (JADC2) is essential. For JADC2 to work, we must have a real identity, credentialing, and access management solution. Arqit's technology makes trusted data security possible."
---
The Contract To Develop The SICRAL 3 Defense SATCOM System Won By Thales Alenia Space + Telespazio
Thales Alenia Space and Telespazio have signed a contract with the Italian Ministry of Defense, represented by TELEDIFE / Secretariat General of Defense, for the development of the SICRAL 3 secure satellite communications system, including its ground segment. Covering the development of phases B and C1, the contract is worth a total of approximately €159 million, as result of an articulated and complete negotiation process.

The SICRAL (Italian System for Secure Communications and Alerts) program deploys geostationary satellites for confidential strategic and tactical communications, to support defense missions both in Italy and abroad. The new SICRAL 3 system is designed to meet Italian defense communications and interoperability requirements.
It will ensure continuity with the current SHF and UHF-band telecom services provided by the SICRAL 1A, 1B and SICRAL 2 satellites, while expanding its suite of services by providing a Ka-band payload, as well as supporting security, public rescue and civil protection services.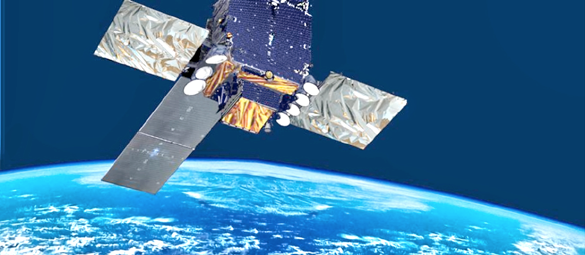 SICRAL is Italy's satellite system for military
communications, boasting unprecedented flexibility
and versatility. Image is courtesy of Telespazio.
SICRAL 3 will also capitalize on the ongoing developments within the ItalGovSatCom (I-GSC) program, a pillar of the evolving "Space Economy" and the Programs of Military Research and will help expand NATO's current satellite capabilities. To develop the SICRAL 3 program, Thales Alenia Space and Telespazio, via their SpaceAlliance, have created a temporary consortium led by Thales Alenia Space, with Telespazio also playing a major role.
Thales Alenia Space will be responsible for the entire SICRAL 3 telecommunications system, the space segment (including system design and integration), and the design, production and integration of the innovative UHF, SHF and Ka-band payloads. The space segment includes two geostationary satellites, SICRAL 3A and SICRAL 3B. The platform, which features electric propulsion, is based on a modular and autonomous orbital transfer design using GNSS/GPS sensors and receivers for satellite positioning and attitude. Leonardo will supply the star sensors that enable SICRAL 3 to maintain the correct attitude in orbit through sophisticated algorithms.
Telespazio will manage the development of the highly innovative ground segment, drawing on synergies with previous SICRAL developments for the Vigna di Valle Control Center and the Fucino Space Center. The company will be in charge of the satellites' launch and early orbit phase (LEOP) and in-orbit tests (IOT).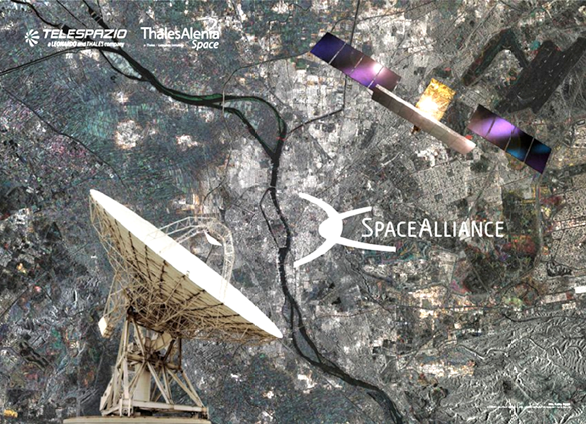 Thales Alenia Space and Telespazio have already supplied to the Italian Ministry of Defense two first-generation SICRAL satellites (no longer in operation) and the second-generation SICRAL 2 satellite. Telespazio, having co-financed the SICRAL 1B and SICRAL 2 missions, has consolidated its role as a defense satellite operator.
Holding a share of these satellites' transmission capacity, the company offers telecommunications services to the armed forces of NATO member countries. The Space Alliance also contributed to the development and launch of the Athena-Fidus satellite for military and dual (civil-military) telecommunications for France and Italy and two SATCOM BW satellites for Germany. Thanks to Athena-Fidus and SICRAL 2, Thales Alenia Space and Telespazio form the cornerstone of European collaboration in defense.
"The SICRAL 3 contract marks a major step forward for Thales Alenia Space and the entire space industry in terms of our ability to propose design solutions and technologies, not only for the Italian government but also for allied nations and international organizations such as NATO," said Massimo Claudio Comparini, Deputy CEO and SEVP Exploration, Observation and Navigation at Thales Alenia Space. "This contract reflects the fruitful long-standing collaboration between our company and the Defense Administration.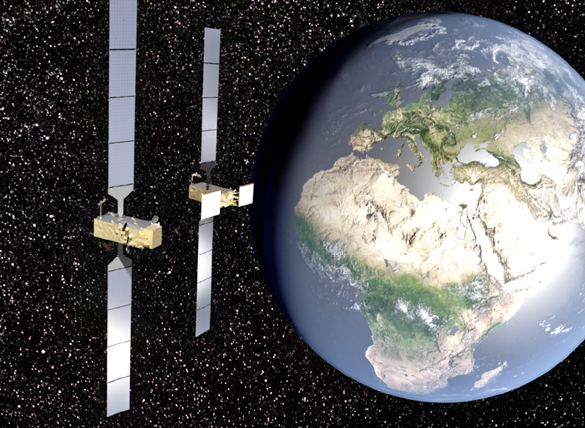 Artistic rendition of SICRAL satellites on-orbit.
"Thanks to the experience gained in conducting national programs such as SICRAL and COSMO-SkyMed, as well as expertise in both ground and space systems, the Italian space industry retains full autonomous capacity in the development and delivery of end-to-end solutions for large-scale integrated systems." "SICRAL missions have represented excellence in the implementation and management of complex space programs for over 20 years," said Luigi Pasquali, Telespazio's CEO. "The Space Alliance between Leonardo and Thales, through its companies Telespazio and Thales Alenia Space, works closely with the Italian Ministry of Defense to provide modern and effective satellite communications services for our country and NATO. By ensuring the continuity of the SICRAL program and expanding its services, especially through an added Ka band, our defense forces will have the operational capacity needed to further strengthen the country's international role."
Giuseppe Abbamonte, Admiral Chief Inspector of TELEDIFE (IT, Telematics and Advanced Technologies Directorate of the Ministry of Defense) added, "Within the past three and a half years, as a Director of TELEDIFE, we have launched major space programs. Today, these efforts have culminated in the signature of the contract for the development of the future military SATCOM satellite constellation. Today's signature once again proves not only the enormous importance of space for defense, but also the very high level achieved by Italian industry, represented today by two of the most important companies operating in this sector, Thales Alenia Space and Telespazio. Italian industry not only produces systems capable of meeting the complex requirements imposed by national military needs, but is also asserting itself in a highly competitive international context."
1 Phase B is the detailed development of the project, while phase C is the production of the hardware up to the Engineering Qualification Models, with the related qualifications, up to the Critical Design Review.
---
Small Rocket Launch Site Given The OKAY By Australia's Queensland Government
Locals and tourists in the Whitsunday region of Australia could soon be watching rockets launching into space, with the Queensland government announcing their support for the local space launch industry. The announcement follows a technical and environmental study commissioned on Abbot Point last year, which concluded that the site is suitable for smallscale launch vehicles.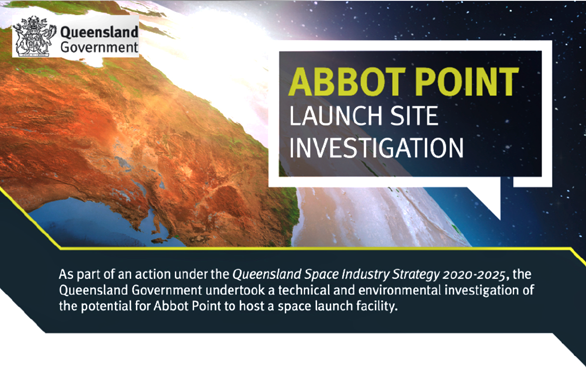 In a statement, Deputy Premier and Minister for State Development, Steven Miles, said, "Growing our space industry in Queensland will add billions to the economy and create thousands of local jobs. That's why we are committed the development of launch infrastructure. Our easterly facing position, proximity to the equator, and our leading launch and propulsion companies make Queensland the perfect place to invest in space."
Enter Gilmour Space Technologies, a venture-funded rocket company on Australia's Gold Coast that is developing lower cost rockets to launch smallsats into LEO starting in 2022. "Gilmour Space Technologies has expressed an interest in the site (and) we are keen to work with the team at Gilmour and local stakeholders," said Mr Miles.
Launching on Gilmour's first Eris rocket next year will be several Australian payloads, including a 'space taxi' by Sydney-based Space Machines Company and a fire detection satellite by Fireball International, another Queensland company on the Sunshine Coast.
"A launch site at Abbot Point in North Queensland would give our customers a range of valuable orbits, inclinations, and altitudes that they will require," said Gilmour Space co-founder and Head of Launch Operations, James Gilmour The company is also looking at a proposed launch site in South Australia for complementary polar orbits, in line with their vision to achieve 'All Orbits, All Planets.'
"Our next step is to continue to work with key stakeholders to get all the necessary approvals we need to proceed on building and operating an orbital launch facility at Abbot Point," said Mr Gilmour. "With sufficient and timely support, I see no reason why we can't be demonstrating key, sovereign space capability next year, launching our first Australian-made rocket, with Australian payloads, from an Australian launch site."
---
A First For RUAG Space
RUAG Space has been awarded a satellite power subsystem program by the U.S. Air Force Research Laboratory (AFRL).
For AFRL, RUAG Space will develop a configurable Rapid Electronic Power Subsystem (Rapid EPS) for satellites that will dramatically cut the lead time and cost of the power subsystem. This project leverages aspects of RUAG Space's overall Rapid EPS development and supports RUAG Space's ability to supply Rapid EPS to the U.S. Government/DoD markets.
"This project is a decisive door opener for further projects with the U.S. Government," said André Wall, CEO RUAG International.
AFRL controls the entire United States Air Force Science and Technology ecosystem and budget and it leads the discovery, development and delivery of warfighting technologies for US air, space and cyberspace forces. Electronic Power Subsystems are highly critical for the operation of satellites and AFRL expects the Rapid EPS concept to deliver a "radical improvement compared to existing technological approaches," said Dr. Robert Walters, lead of the AFRL Advanced Space Power program.
"This project is a great example for a collaboration across different product units and countries," said Luis De León Chardel, Executive Vice President a.i. at RUAG Space. "With this technology development program, we are ultimately targeting a new EPS subsystem offering. Moving up in the value chain by strengthening RUAG Space's subsystem portfolio offering is a key pillar of our strategy."
Program management will be led by Kellenie Lopez, Senior Project Manager based in Denver, under Mike Allen, Director of Electronic Systems. The program will be supported from both Product Unit Mechanism in Zurich headed by Oliver Kunz, with John Ransdell serving as Project Manager, and Product Unit Interface Electronics in Tampere, Finland, lead by Timo Hänninen, with Juha Kuitunen as Project Manager. Additionally, staff in Denver and Titusville, Florida, will provide engineering design and satellite manufacturing capability.
The Rapid EPS will be designed to enable rapid configuration and rapid delivery of systems in various sizes and, furthermore, at a cost point that makes reconstitution and upgrades for satellites in LEO an attractive proposition in comparison to the current systems that are typically highly optimized and the result of long, nonrecurring engineering-intensive projects. In addition to studies, the hardware deliverables consist of a Solar Array Regulator demonstrator and a Solar Array Wing demonstrator. Both products will be assembled and tested in Titusville, Florida. According to Mathias Burkhalter, Team Leader of Systems Engineering at Product Unit Mechanism, "The study will help RUAG to ascertain the exact degree of modularity achievable with the currently developed modular components for the Solar Array Wing and show the gaps for the future modular roadmap."
The photovoltaic array (PVA) will be sourced by the Titusville facility from RUAG's consortium partner, SolAero Technologies, Inc., in Albuquerque, New Mexico. Finally, know-how and skills will be built up in the Titusville facility for future manufacturing of the needed solar array panels and assembly, integration and testing (AIT) of the complete Solar Array Wing (SAW) for US customers.
For each piece of this project, RUAG leverages innovations from previous research and development. Harri Myllymäki, Lead Engineer at Product Unit Interface Electronics, explained the degree of innovation and said, "For the Solar Array Regulator, this project overcomes limitations of previous developments for other missions by introducing a new level of configurability and flexibility in the design – yielding an ability to adapt to changing spacecraft requirements with reduced non-recurring costs and lead times."
One of the ways this is achieved is through the modular design. The other is through the use of automotive grade Commercial-Off-The-Shelf (COTS) components.
---
Countries Ramp Up Cybersecurity Strategies
The latest Global Cybersecurity Index (GCI) from the International Telecommunication Union (ITU) shows a growing commitment around the world to tackle and reduce cybersecurity threats.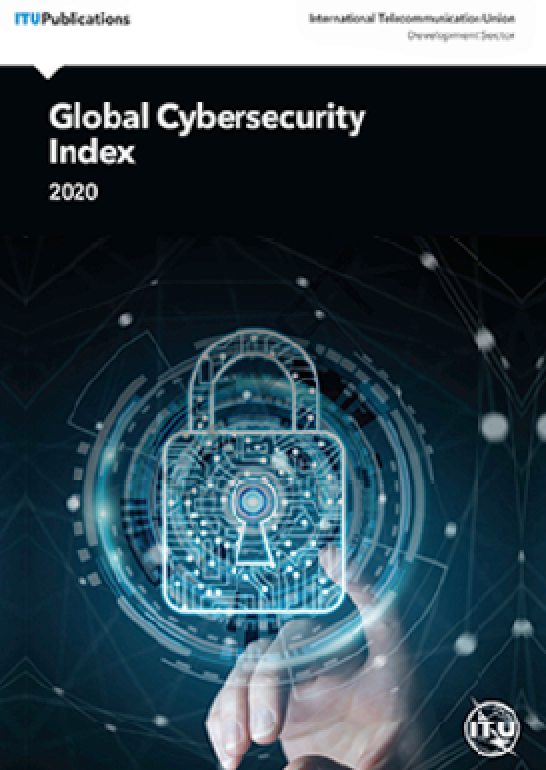 Countries are working to improve their cyber safety despite the challenges of COVID-19 and the rapid shift of everyday activities and socio-economic services into the digital sphere, the newly released 2020 index confirms. According to GCI 2020, around half of countries globally say they have formed a national computer incident response team (CIRT), indicating an 11 percent increase since 2018. Rapid uptake of information and communication technologies (ICTs) during the COVID-19 pandemic has put cybersecurity at the forefront.
"In these challenging times, the unprecedented reliance on ICTs to drive society, economy and industry, makes it more important than ever before to secure cyberspace and build confidence among users," affirmed ITU Secretary General Houlin Zhao. "Governments and industry need to work together to make ICTs consistently safe and trustworthy for all. The Global Cybersecurity Index is a key element, offering a snapshot of the opportunities and gaps that can be addressed to strengthen every country's digital ecosystem."
Some 64 percent of countries had adopted a national cybersecurity strategy (NCS) by year-end, while more than 70 per cent conducted cybersecurity awareness campaigns in 2020, compared to 58 per cent and 66 per cent, respectively, in 2018. Yet despite notable improvements, gaps in cyber capacity persist. Many countries and regions lag in key areas. These include: Cybersecurity skills training, which must be tailored to the needs of citizens, micro-, small-, and medium-sized enterprises (MSMEs); Finance, healthcare, energy, and other key sectors, which require dedicated measures to close cybersecurity gaps; Critical infrastructure protection, which requires enhancement to meet new and evolving cyber threats; Individual data protection, which requires continual reinforcement as online activity expands.
• Growing reliance on digital solutions necessitates ever stronger, yet also accessible and user-friendly, data protection measures.
• GCI 2020, the index's fourth iteration, measures the cybersecurity commitments of 193 ITU Member States and the State of Palestine [1]. It aims to identify gaps, serve as a roadmap to guide national strategies, inform legal frameworks, build capacity, highlight good practices, strengthen international standards, and foster a culture of cybersecurity.
• Amid interconnected commerce and communication, cybersecurity risks are increasingly borderless, with no single entity or stakeholder able to guarantee the security of the global cyber ecosystem.
• Countries with high cyber capabilities may therefore need to support others, such as Least Developed Countries (LDCs), Small Island Developing States (SIDS), and Landlocked Developing Countries (LLDCs).
"This snapshot of the world's commitment to cybersecurity is just a starting point for further discussions, interventions, and strides towards achieving global, regional and national cyber safety," noted Doreen Bogdan-Martin, Director of the ITU's Telecommunication Development Bureau. "I invite all ITU Member States to continue updating us on their progress on cybersecurity-related commitments, so that we can effectively share experiences, research, and solutions to create a trusted cyberspace for all."
About one billion people worldwide became Internet users for the first time between 2015 (when the first GCI was released) and 2019, according to ITU data. With global losses due to cybercrime expected to reach USD 6 trillion this year, according to third-party data, citizens count on governments to enhance cybersecurity norms and protect increasingly exposed personal and financial data. ITU has produced four GCI editions to date, providing periodic global snapshots of a rapidly evolving industry. With each iteration, the methodology has been adapted to shed more light on countries' cybersecurity commitments.
Each country's level of development or engagement is assessed based on five pillars of the ITU Global Cybersecurity Agenda – legal measures, technical measures, organizational measures, capacity development, and cooperation. GCI 2020 features data from more countries than any previous edition, with ITU receiving 150 updated questionnaire responses despite the constraints imposed by COVID-19. For the other 44 countries included, data was collected and validated through desk research.
Country commitment was assessed through online surveys for each pillar, which further facilitated the collection of supporting evidence. Survey questions were weighted in consultation with expert groups to reach composite index scores. ITU also undertook independent verification to ensure accurate and reliable results. Download the report at this direct link.
Since the launch of the first edition six years ago, the Global Cybersecurity Index has been continually developed through a multi-stakeholder partnership, incorporating data provided by ITU members and additional contributions and support from a diverse range of countries, institutions and international organizations. Contributors include multi-disciplinary teams from ITU Member States and Sector members, the public and private sectors, industry stakeholders, academia, and interested individuals.
---
Umbra Receives $950 Million Contract For Development Work On JADC2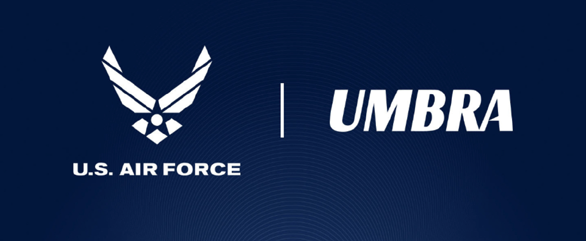 Umbra has been awarded a $950 million ceiling, indefinite-delivery/ indefinite-quantity (IDIQ) contract for the maturation, demonstration and proliferation of capability across platforms and domains, leveraging open systems design, modern software and algorithm development to enable Joint All Domain Command and Control (JADC2).
This contract is part of a multi-award, multi-level security effort to provide development and operation of systems as a unified force across all domains — air, land, sea, space, cyber, and electromagnetic spectrum — in an open architecture family of systems that enables capabilities via multiple integrated platforms. Umbra was awarded the contract alongside industry leaders including Boeing (NYSE: BA), L3Harris Technologies (NYSE: LHX), Lockheed Martin (NYSE: LMT), Northrop Grumman (NYSE: NOC), Palantir (NYSE: PLTR), and Raytheon Technologies (NYSE: RTX), who were previously awarded their own IDIQ contracts. Umbra was the only radar satellite provider announced in the most recent cohort.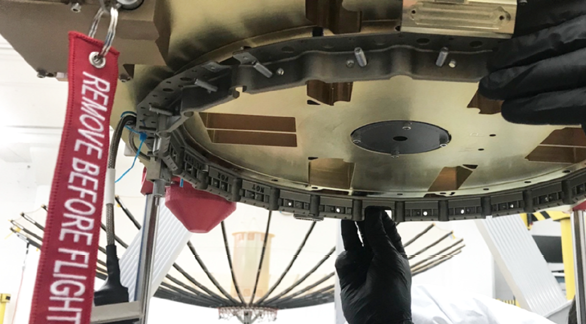 Photo of Umbra's satellite, courtesy of the company.
An Umbra satellite is equipped with a powerful Synthetic Aperture Radar (SAR) payload, capable of seeing at night and through dense clouds to generate the highest-resolution radar images ever sold on the commercial market. Umbra is excited to participate in this multi-domain systems integration effort and hopes to make meaningful contributions to U.S. national security objectives.
"The contract vehicle has a lot of potential and is a great opportunity for Umbra. The initial award is small compared to our other government contracts but this is a positive signal and it offers an avenue for the government to get familiar with our capabilities," said Umbra co-founder, Gabe Dominocielo.
---
Airbus' MILSATCOM Support Strengthened With A UHF Payload Going Aboard The EUTELSAT 36D Satellite
Airbus has announced the company will place a dedicated UHF (Ultra High Frequency) military communications hosted payload on board the EUTELSAT 36D telecommunications satellite.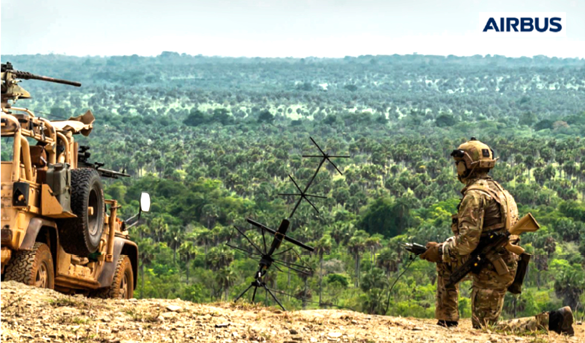 Airbus will be able to offer a new UHF communications service to the armed forces, particularly those of European countries and NATO allies. As the UHF frequency band is a relatively scarce orbital resource, this offering will make up for the capacity shortage around the world. Airbus has already signed the first firm orders for this capacity, well ahead of the satellite's scheduled launch in the first half of 2024.
The UHF payload will be operated from Airbus's Network Operations Centre (NOC) in Toulouse. Its 18 UHF channels will enable as many as 200 simultaneous communications over Europe, the Middle East, Africa, large parts of Asia, as well as the Atlantic Ocean (to eastern Brazil) and the Indian Ocean (to western Australia).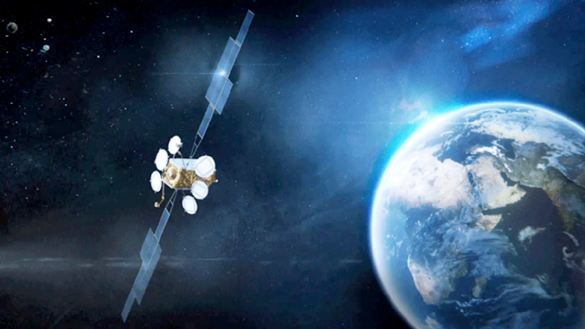 Artistic rendition of the EUTELSAT 36D satellite
on-orbit.
Military UHF SATCOMs are used by the armed forces for operations on land, at sea and in the air. They have a high level of interoperability and are, therefore, very useful for multi-national and coalition operations. The UHF band is very flexible and is of particular interest to Special Forces units, as it offers a lightweight, robust and highly secure means of communication. An extensive range of terminals for use on land, at sea and in the air is available to meet the needs of the various armed forces.
Airbus noted that this new payload will enhance the firm's portfolio throughout the lifespan of the satellite. According to the company, Airbus is the only armed forces, private, SATCOM operator to cover the full spectrum of military (UHF, X-, Ka- Mil) and commercial (L-, C-/Ku-, Ka-) frequency bands and applications.
The EUTELSAT 36D satellite will be built by Airbus based on its Eurostar Neo platform. In addition to the UHF payload and will also be equipped with 70, Kuband transponders for TV broadcasting.
---