With the release of United States Coast Guard (USCG) regulations to extend Notice of Arrival/Departure (NOA/D) reporting to domestic as well as foreign vessels, captains and fleet operators have a new, onboard administrative challenge — especially if their vessel was not previously required to carry a SATCOM system with access to the Internet. Electronic notice of a vessel's arrival and departure from U.S. ports, Caribbean community (CARICOM) ports, or the St. Lawrence Seaway is required at least 96 hours prior to arrival or departure, as applicable, with the electronic NOA/D (e-NOA/D) web format as the preferred method of submission.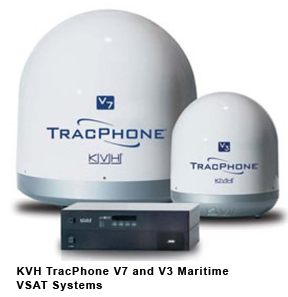 When an e-NOA/D is completed and submitted properly, it provides all of the information required by the Federal regulations listed in the USCG and Customs and Border Protection regulations and eliminates the need to send separate notifications with slightly different information to multiple agencies. As electronic data is typically seen and processed quickly, e-NOA/D is viewed as a faster process to reduce the chance that a vessel would be delayed or denied entry into (or exit from) a port. NOA/D information is used to:
• assess risk to vessels; identify vessels
• identify individuals associated with vessels that may pose a safety or security risk to the U.S.
• facilitate the entry and departure of vessels into and from the U.S.
• assist with conducting maritime safety and security missions in accordance with international and domestic regulations.
Faced with the expansion of this regulation to domestic vessels, as well as the requirement for NOA/D submissions for every arrival and departure, affordable and easy-to-use broadband connections are critical to the efficient operations of commercial vessels. That's why many competitive fleet operators are selecting a
KVH
turnkey
mini-VSAT Broadband SATCOM
solution to ensure that they have the fast, affordable, reliable, and efficient data connections required to make e-NOA/D compliance simple and cost-effective. KVH's end-to-end commercial system equips each vessel with a powerful, cost-effective communications suite perfect for e-NOA/D submissions as well as ship operations and crew moralel, thanks to: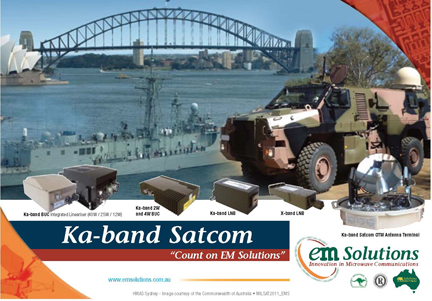 • The global mini-VSAT Broadband network with downloads as fast as 2 Mbps, high-quality connections, and low latency
• The commercial-grade 24" (60 cm) TracPhone® V7 or 14.5" (37 cm) TracPhone V3 antennas
This article offers a quick look at what the e-NOA/D regulations mean to commercial operators as well as how KVH's fully integrated SATCOM and network management solution will play a significant role in making compliance effective and affordable.
The e-NOA/D Process
Submitting an e-NOA/D to the
U.S. Coast Guard
is a relatively straightforward, if tedious, process — provided your vessel captain has access to the Internet. First, a visit the e-NOA/D site at
https://enoad.nvmc.uscg.gov/
is required and an account must be created. Once that account is validated, an e-NOA/D may be submitted directly from this site via a sequence of screens. These forms will need to be submitted with each arrival or departure. If the vessel is not capable of submitting its reports online, NOA/D reports will need to be filed by the fleet office on shore via fax, potentially slowing the process and delaying the approval for arrival or departure.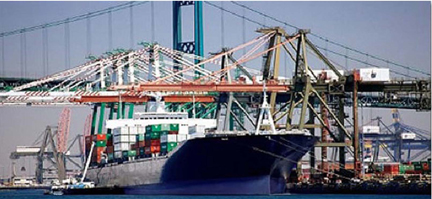 e-NOA/D Compliance
Given the fact that tugs, OSVs, and crewboats have not previously been required to carry a computer with satellite Internet service, e-NOA/D implementation is a technically challenging requirement. In a study conducted by the
Offshore Marine Service Association
, it was estimated that a fleet of 50 vessels could incur up to $1,850,000 in costs to obtain and install equipment, plus an approximate $540,000 per year minimum for bandwidth. As noted in an FCC "frequently asked question" on the
Notice of Proposed Rulemaking
(
NPRM
), a single U.S. vessel without Internet capability will now submit more reports in a single month than the NPRM assumed the entire industry would submit in a year.
Commercial operators required to comply with the e-NOA/D application should ensure that their IT department, operations group, and fleet managers should research the best solution for the fleet's vessels. Consider the equipment size compared to vessel size, where vessels travel, estimated data use, and budget. e-NOA/D reporting can easily be done onboard by the ship's crew, instead of by agents, ship owners, or managers if your vessel is equipped with a reliable, affordable SATCOM system such as KVH's mini-VSAT Broadband network and its compatible TracPhone systems.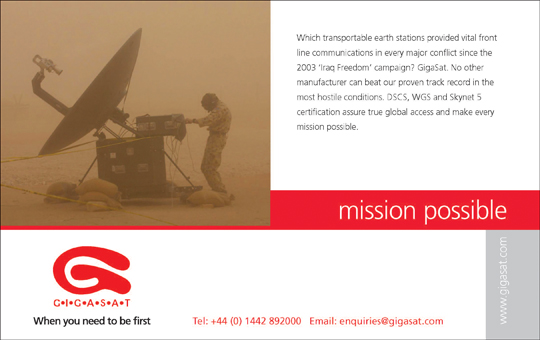 A Fast, Affordable Resource For Compliance
The mini-VSAT Broadband network is the first next-generation maritime satellite communications solution. The global spread spectrum satellite network, built with
ViaSat
's patented
ArcLight
®
technology, offers more affordable airtime, voice service and Internet access as fast as 2 Mbps (shore to ship). KVH offers two mini-VSAT Broadband-compatible antennas:
• The 24-inch (60 cm) TracPhone V7
• The 14.5"-inch (37 cm) TracPhone V3
In 2010, the mini-VSAT Broadband network delivered more than 60 terabytes of data and handled more than 1.5 million voice calls to and from vessels around the globe.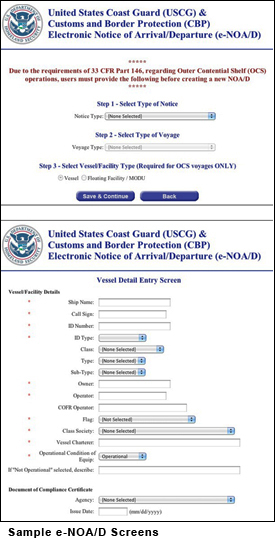 CommBox Onboard IT Management
KVH's mini-VSAT Broadband solution also offers the option to add the
CommBox
™
Ship/Shore Network Manager
. CommBox offers a wide range of capabilities, including web compression and acceleration, easy file transfers, crew e-mail tools, fleet management capabilities, configurable firewalls, and data encryption. CommBox also supports automatic least cost routing, which allows the vessel to rely on the faster, more affordable mini-VSAT Broadband service for everyday use and then switch to a complementary service such as
Inmarsat FleetBroadband
, GSM cell phone, or shore-based WiFi, if necessary.
Reducing Operational + Regulatory Costs
Compliance with e-NOA/D doesn't have to be difficult or expensive to implement. The mini-VSAT Broadband-compatible antennas are 85 percent smaller in size than traditional VSAT systems, with lower hardware and installation costs on par with Inmarsat's compact FleetBroadband antennas. KVH customers report that installation can be done in hours versus days by one to two people, and in port or while underway.
Most importantly, from an e-NOA/D compliance perspective, the mini-VSAT Broadband service offers very economical and flexible airtime subscription plans designed to meet commercial vessels' budget and data speed requirements. With a basic metered plan, users can enjoy Internet access and email for just $0.99 per MB along with crystal-clear voice calls worldwide for only $0.49 per minute. This is one-tenth the cost of published airtime rates of $10-13 per MB from competing L-band services. Airtime costs for mini-VSAT Broadband service can be even lower when choosing a fixed monthly plan or a fixed seasonal plan (if a fleet's vessels don't operate year-round).
Required e-NOA/D compliance is coming to the commercial maritime industry and with it comes a dramatic increase in data and bandwidth requirements. Vessels need affordable and fast solutions for convenient global compliance and KVH's TracPhone V-series, together with mini-VSAT Broadband service and KVH's CommBox Ship/Shore Network Manager are a solution that should be considered.

About KVH Industries
KVH provides global high speed Internet, television, and voice services via satellite to mobile users at sea, on land, and in the air. KVH is also a manufacturer of high performance sensors and integrated inertial systems for defense and commercial guidance and stabilization applications. The Company sees an increasing demand for mobile access to live media and information on the move — their goal is to connect mobile users to satTV, communications, and Internet services customers wish to use while "on the go." An ISO 9001-certified company, KVH has five facilities located in Middleteown, Rhode Island and Tinley Park, Illinois, USA; Kokkedal, Denmark; Singapore and Horten, Norway.
KVH's
TracVision
®
and
TracPhone
®
products offer:
• A family of solutions for the mobile consumer on sea, land, and air
• In-motion passenger entertainment via high-powered regional satellite TV services and our fully stabilized antenna technology
• Mobile satellite communications around the globe via our powerful mini-VSAT Broadband satellite communications service and Inmarsat airtime services
• The benefit of strong relationships with other industry leaders, including ViaSat and Inmarsat; and
• A commitment to quality customer support through our Certified Support Network (CSN), an international network of skilled technical dealers and support centers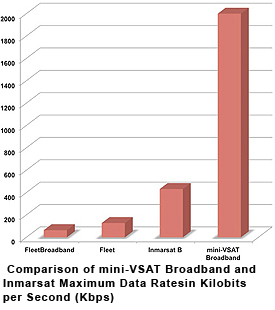 Also offered is a portfolio of digital compass and fiber optic gyro (FOG)-based systems that meet the rigorous requirements of military and commercial customers for precision guidance, stabilization, and navigation. Defense products include precision FOG-based systems that help stabilize remote weapon stations, gun turrets and radar units, as well as provide guidance for munitions. The FOGs are also used in commercial applications such as industrial robotics, optical stabilization, autonomous vehicles, and remotely operated submersibles. In addition, the TACNAV
®
tactical navigation systems provide uninterrupted navigation and pointing information for a broad range of military vehicles. These systems offer...
• Stabilization and guidance for remote weapon systems and torpedoes; gun turrets, optical targeting systems, radar, and communication antennas in both the military and commercial markets;
• Field-proven, continuously available navigation for combat and combat support vehicles participating in operations in Iraq, Afghanistan, the Balkans, and elsewhere
• Integration and aggregation of data from on-board systems, both for the crew and vehicle commander, as well as for communication with digital battlefield systems, friendly units, and command centers