ULA, NRO + NASA—Secret Sat + Cold Cubes Launch From Frigid California
A United Launch Alliance (ULA) Atlas V rocket carrying a payload for the National Reconnaissance Office (NRO) lifted off from Space Launch Complex-3 on December 5th at 11:14 p.m. PST.
Designated NROL-39, the mission is in support of national defense.
"Today's successful launch of the NROL-39 mission is a testament to the tremendous government-industry partnership. We greatly appreciate the teamwork with the NRO Office of Space Launch and our many mission partners," said Jim Sponnick, ULA vice president, Atlas and Delta Programs. "We are honored to be entrusted to launch these one-of-a-kind national assets to orbit to protect our national security and to support the many brave men and women serving around the world."
This mission was launched aboard a United Launch Alliance Atlas V Evolved Expendable Launch Vehicle 501 configuration vehicle, which includes a 5-meter diameter payload fairing. The Atlas booster for this mission was powered by the RD AMROSS RD-180 engine and the Centaur upper stage was powered by a single Aerojet Rocketdyne RL10A-4 engine.
Developed by he United States Air Force to provide assured access to space for Department of Defense and other government payloads, the commercially developed EELV program supports the full range of government mission requirements while delivering on schedule and providing significant cost savings over the heritage launch systems.
In addition to the NROL-39 payload, the Government Experimental Multi-Satellite (GEMSat), consisting of 12 CubeSats, took advantage of the Atlas V launch vehicle ride share capabilities and were deployed following completion of the primary mission.
The NRO and ULA partnered to develop an Aft Bulkhead Carrier (ABC) on the Centaur upper stage, which is a platform for accommodating auxiliary payloads aboard Atlas V missions.

The CubeSats were developed under a sponsorship of the NRO and NASA. The Aerospace Corporation, the Air Force Institute of Technology and the Army developed the seven NRO-sponsored CubeSats.
The five NASA-sponsored CubeSats were developed by Montana State University, California Polytechnic State University, the University of Michigan, and Medgar Evers College of the City University of New York.
"We are pleased we could support the NRO, NASA, and all of the associated institutions by successfully delivering these important auxiliary payloads which will test and validate new technologies for debris mitigation, propulsion, space weather, communications, on-orbit data processing and the use of commercially available components," said Sponnick.
ULA program management, engineering, test, and mission support functions are headquartered in Denver, Colorado. Manufacturing, assembly and integration operations are located at Decatur, Alabama, and Harlingen, Texas. Launch operations are located at Cape Canaveral AFS, Florida, and Vandenberg AFB, California. For more information on ULA, visit the ULA website at www.ulalaunch.com/
* * * * * * * * *
USAF SMC—Taking WGS-5 To Full OPS
The Space and Missile Systems Center recommended to HQ Air Force Space Command the release of WGS-5 communications satellite to the operational constellation.
This significant achievement reflects the successful collaboration between numerous organizations including the Space and Missile Systems Center, Air Force Space Command, Army Space and Missile Defense Command /Army Forces Strategic Command, and the Boeing Company.
WGS provides flexible, high-capacity communications for marines, soldiers, sailors and airmen throughout the world. WGS is a key enabler of Command and Control, Communications Computers, Intelligence, Surveillance and Reconnaissance, as well as battle management and combat support information functions.
WGS-5 is the fifth of ten planned satellites in the wideband constellation and was launched from Cape Canaveral Air Force Station, Florida, May 24, 2013.
WGS-5 is at its operational orbit location providing coverage over the Atlantic Ocean for the European theater and full coverage of the CONUS for the first time.
"I am proud of the tremendous dedication and commitment of the Military Satellite Communications Wideband Division as we field this critical communication capability," said Ms. Charlotte M. Gerhart, chief of the Wideband Global SATCOM Division. "The success of WGS-5 is a testament to the hard work and dedication of the entire Wideband SATCOM team."
* * * * * * * * *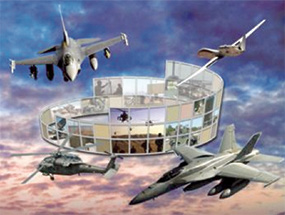 ViaSat—Building Block Upgrades
The U.S. government has awarded ViaSat Inc. (Nasdaq:VSAT) a development contract for Block Upgrade 2 (BU2) hardware and software upgrades to its Multifunctional Information Distribution System-Low Volume Terminals (MIDS-LVT) Link-16 terminals, valued at $33,469,487 with options of $5,713,160.
The order resulted from a solicitation from Space and Naval Warfare Systems Command (SPAWAR). The order adds new functionality to the MIDS-LVT system fleet worldwide.
MIDS-LVT forms the backbone of the Link-16 network across the U.S. DoD and the international coalition. Core terminal functions include Link-16 data as well as secure voice with TACAN capabilities on selected terminals.
* * * * * * * * *
Harris—Chatting With MUOS
Harris Corporation's Falcon III® AN/PRC-117G multiband manpack radio has successfully communicated with the new Mobile User Objective System (MUOS) satellite constellation.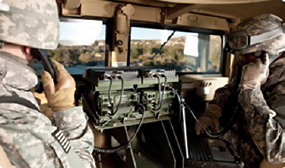 Harris demonstrated third-generation wireless compatibility with the MUOS constellation during a recent high-latitude experiment over the North Pole. The Falcon III radio received and displayed MUOS satellite transmissions during the experiment, demonstrating the viability of MUOS terminals in polar regions, which have been underserved by legacy military UHF satellite communications.
The high latitude experiment was led by Lockheed Martin, the prime contractor to the U.S. government for the MUOS satellite system. The experiment involved repeated transmissions between the MUOS system and the Harris radio onboard a cargo plane flying from Alaska to the North Pole and back. The experiment's success follows favorable results in a similar test during the summer in U.S. government testing labs in San Diego.
Harris is able to deliver the MUOS waveform to users through a software upgrade to the widely fielded and combat proven Falcon III AN/PRC-117G manpack radio platform.
* * * * * * * * *
U.S. Southern Command—First Step Toward Lower Cost for Space COMMS
U.S. Southern Command took a first step in an effort to evaluate how low-cost space communication capabilities can support information sharing and tactical communications across wide geographic expanses, including remote and densely forested areas.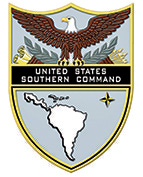 A SOUTHCOM-sponsored nanosatellite was one of the payloads of a United Launch Alliance Atlas V rocket that successfully launched at 11:14 p.m. December 5th from Vandenberg Air Force Base, California. Two additional nanosatellites are scheduled to launch in December 2014.
The nanosatellite will be set to a Low-Earth-Orbit (LEO) and evaluated in partnership with Brazil and Peru as part of a technology program.
"This is just an evaluation, but we think this space capability could help improve communication during various operations," said General John Kelly, SOUTHCOM Commander. "Investing in nanosatellites is also an opportunity for us to collaborate from the ground up with partner nations who are looking to develop this capability for a variety of security and commercial uses."
About 11 pounds and roughly the size of a loaf of bread, nanosatellites currently cost $500,000 to build, offering uses similar to those of large-scale satellites at a significantly lower cost.
Their size makes deploying them to space relatively affordable, and their reduced cost means several can be deployed in a short time to expand communication coverage to ground forces in support of a wide array of mission requirements, including humanitarian assistance and disaster relief operations.
The deployment of this first SOUTHCOM nanosatellite is part of a Joint Capability Technology Demonstration funded by the U.S. Department of Defense and spearheaded by SOUTHCOM´s Science, Technology and Experimentation Division.
The first of two evaluations is planned for May 2014 and will take three months to complete. The final evaluation is scheduled for February 2015 and will span five months using all three satellites.

Under this program, the U.S. Army's Space and Missile Defense Command is in charge of developing a total of three nanosatellites that will serve as one component of a communications suite that will also include a ground station, ground sensors and tactical radios.
The U.S. Naval Postgraduate School (logo to the right) will support SOUTHCOM's assessment of the operational value of the technology.
* * * * * * * * *
USAF 45th Space Wing—Working Wonders For SES-8
The 45th Space Wing provided flawless Eastern Range support as Space Exploration Technologies (SpaceX) completed a successful launch of the SES-8 communications satellite from Launch Complex 40 here at 5:41 p.m. December 3rd.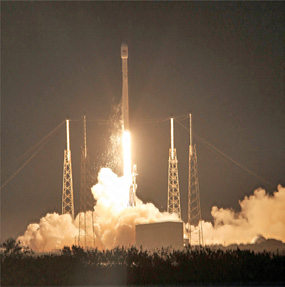 Airmen, Air Force civilians and contractors from throughout the 45th Space Wing provided vital support, including weather forecasts, launch and range operations, security, safety, medical and public affairs.
The wing also provided its vast network of radar, telemetry, optical and communications instrumentation to facilitate a safe launch on the Eastern Range.
Launched aboard a SpaceX Falcon 9 rocket, the payload flew on the Falcon 9 v1.1 configuration with upgraded Merlin 1D engines, stretched fuel tanks, and a payload fairing.
The launch of SES-8, which will be released in a super synchronous transfer orbit stretching above its 22,300-mile-high operating post, requires two burns of the Falcon 9 second stage.
The first firing placed SES-8 in a low-altitude parking orbit, then the second burn injected the 7,055-pound craft in an oval-shaped orbit. SES-8 maneuvered itself into a circular orbit 22,300 miles over the equator, sliding into position in the geostationary arc at 95 degrees east longitude.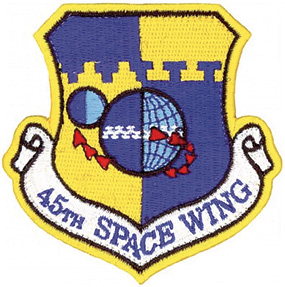 The satellite features up to 33 Ku-band transponders (36MHz equivalent). SES-8 will be co-located with NSS-6 at the orbital location of 95 degrees East to provide growth capacity over Asia-Pacific.
The spacecraft's high performance beams will support the rapidly growing markets in South Asia and Indo-China, as well as provide expansion capacity for DTH, VSAT and government applications.
"For the second time in a little more than two weeks, the 45th Space Wing and our mission partners have worked together to ensure another successful launch here on the Eastern Range," said Brigadier General Nina Armagno, commander, 45th Space Wing, who also served as the Launch Decision Authority for this mission. "It's gratifying to see a varied, high-performing team like this come together time and time again. We are truly grateful for the outstanding space team we have here on the Space Coast," she said.
* * * * * * * * *
USAF Sings Praises of CHIRP's Accomplishments
The knowledge gained from CHIRP's successful operation will continue to contribute to the Air Force's space modernization initiatives for years to come.

Following 27 months of successful operation, during which all mission objectives were met, the Space and Missile Systems Center decommissioned the Commercially Hosted Infrared Payload (CHIRP) December 6, 2013.
An experimental CHIRP sensor is hosted on a commercial SES satellite operating in geosynchronous orbit over the United States.
The CHIRP sensor, designed and built by Leidos (formerly Science Applications International Corporation), was successfully launched on September 21, 2011, as a
hosted payload on an SES commercial communications satellite built by the Orbital Sciences Corporation.
CHIRP was designed for a one-year mission life. The payload completed its initial demonstration period in July 2012, and the contract was extended three times to conduct additional demonstrations employing wide field-of-view staring technology.
During its operations, the CHIRP system accomplished all objectives by collecting more than 300 terabytes of Overhead Persistent Infrared (OPIR) data, enabling analysis of more than 70 missile- and rocket-launch events and more than 150 other infrared events.
CHIRP mission products stimulated new applications of OPIR data by defense and civil users. Given the successful accomplishment of the project's mission objectives, and increasing budgetary constraints, the Air Force chose not to extend the current contract period.
"CHIRP proved the viability of commercially hosted OPIR payloads, and gave us tremendous insights into the applicability of wide field-of-view staring technology to our missile warning, missile defense, technical intelligence, and battlespace awareness missions," said Lt. Gen. Ellen Pawlikowski, SMC commander.
The CHIRP demonstration team was led by the Infrared Space Systems Directorate at the U.S. Air Force Space and Missile Systems Center, Los Angeles Air Force Base, California.
* * * * * * * * *
Proteus FZC—An In-Depth Look @ Corsica
Proteus FZC, a provider of satellite-derived mapping solutions, delivered accurate bathymetric and seafloor classification maps for a joint UK-France amphibious military exercise on the Island of Corsica.
In the pilot managed by the UK Hydrographic Office (UKHO), Proteus partnered with DigitalGlobe to derive accurate bathymetric measurements and identify four seabed types to a depth of 12 meters from multispectral satellite imagery without ground control.
"We completed the Corsica coastal marine mapping project at about one-tenth the time and cost of traditional sonar or LiDAR," said Proteus CEO David Critchley. "Because the data is derived exclusively from satellite imagery, we leave no environmental footprint and face no airspace restrictions."
For the joint military operation, the British and French armed forces requested detailed information about water depth and the submerged seabed along specific sections of the Corsican coastline so that amphibious military vehicles could be launched from larger vessels anchored offshore and safely landed on the island's beaches.
The custom maps created by Proteus were used by the military to select precisely where the landings would occur.
"The vertical accuracy of our bathymetric maps was verified at 10-15 percent of water depth," said Critchley. "If ground truth data were available, the measurements would have been accurate to a solid 10 percent of depth."
Working with eight-band multispectral image data with two-meter resolution collected by DigitalGlobe's WorldView-2 satellite, the Proteus-led team achieved the bathymetric measurements in Corsica's Mediterranean coastal zone to a total depth of 12 meters.
In a separate processing procedure, the team also extracted four critical seafloor types from the imagery – sand, rock/debris, vegetation and mixed seabed.
Since 2011, Proteus has been producing seafloor survey and seabed classification projects using multispectral satellite imagery. The product generation technology that can be carried out in a fraction of the time and cost of traditional methods.
These mapping projects have been delivered for environmental, oil and gas, marine biology and other coastal zone applications in Europe, the Middle East and Caribbean. Derived products have high accuracy, meeting the requirements of engineering, environmental monitoring and strategic geospatial planning applications.