California Airmen are making history in the fight in America's space wars here at home and down range. The mission of the 216th Space Control Squadron is to conduct offensive and defensive space control and space situational awareness missions in support of global and theater campaigns. In simple terms, these airmen provide electronic attack to deny our adversaries the use of space assets.
"Which is huge," said Lieutenant Colonel Randy Tingle, the 216th Space Control Squadron's Director of Operations. Tingle says space is essential in today's wars. "We could not fight a war today without space. Our adversaries use space. We rely on it."
---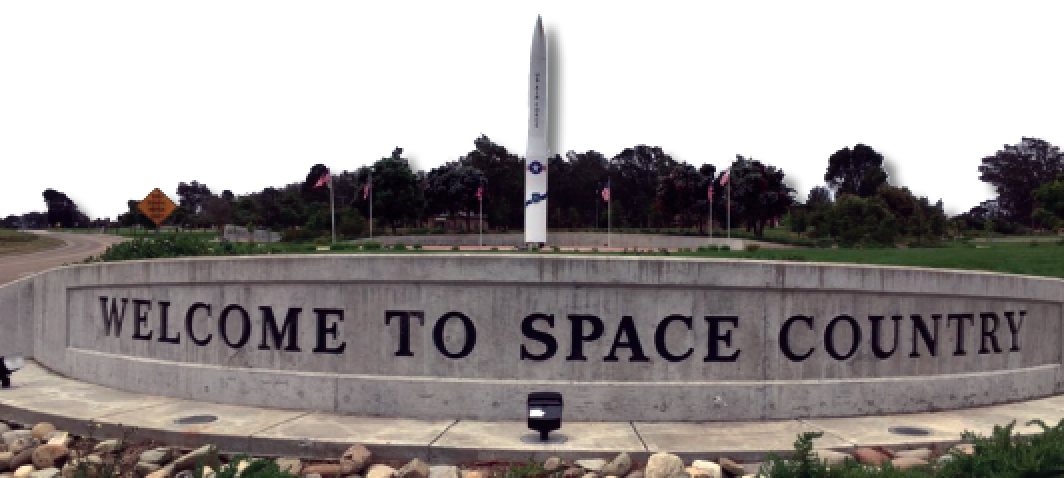 ---
Long gone are the days of space only playing a supporting role.
"We directly engage the enemy in space electronic warfare," said Tingle. "We are forward-deployed right along with the warfighters and geographic combatant commanders. We are able to slow the enemy down, acquire targets, provide security and disrupt adversaries' abilities to further their objectives."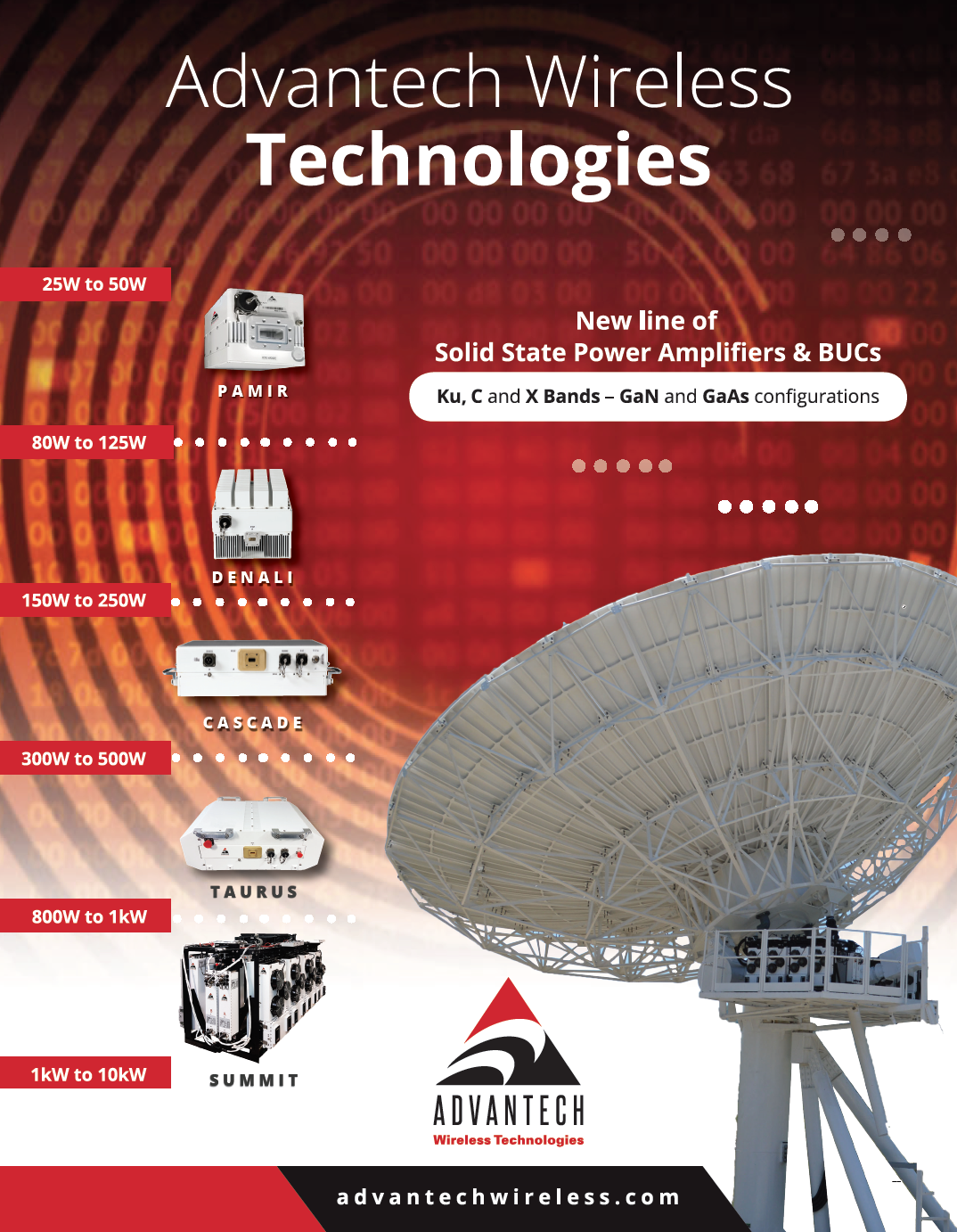 A small, nondescript group of buildings behind a remote, fenced-in area on Vandenberg Air Force Base, California, provides garrison location for the 216th. The sprawling base, filled with brush and teaming with wildlife, offers striking views of the natural coastline along Wall Beach — so close to the squadron you can hear the surf. Set-back, out of view, it would be hard to know just how much groundbreaking work our airmen are doing in the name of space defense.
"We are doing new things all the time. We consistently rise to the challenge," said Senior Airman Alec Voorhies, Space Systems Operator. "All of our stuff is TS [Top Secret]," says Tingle. "We can't even talk to each other [space operators in other units] about what we do."
Put succinctly, Master Sergeant Sebastian Stevens said, "We do cool stuff every day."
"This mission is not at home — it requires forward movement. You surge to it," said Major Robert Glas, Director of Operations and Crew Commander on team one. "You become experts in communication and command and control. It really fits the Guard construct."
"We are the only tactical space unit in the California Air National Guard fighting alongside tactical warfighters," said Tingle. "It's a very exciting mission to get to be a part of. It's the best thing I've done in 18 years."
"If the enemy has a hard time communicating, we have a tactical advantage," said Voorhies. "It's important work."
"Our mission is important," agreed Tingle. "It's another set of tools to the geographic combatant commander."
The mission is not one that's been around for generations, it has taken a lot of work to man the front lines of the space wars.
The squadron took up residence at the old Defense Meteorological Satellite Program (DMSP) facility at Vandenberg in late 2016. The location still houses empty rocket fuel containers and vintage control panels — connected to once active satellite high-bays, and former clean rooms — now filled with the down and dirty business of airmen training for electronic warfare.
"We built this squadron from the ground up," said Voorhies. "We ran Cat-5 cable, set up cubicles, took full ownership. Knowing the importance of your mission, knowing that lives depend on it, helps people focus. It's important to get things right. I'm honored to be a part of a guard unit that's doing it."
"We currently operate a Counter Communication System," said Tingle. "We are also working on a Quick Reaction Capability system. And our capabilities can be mobilized to deploy nearly anywhere in the world."
The 216th achieved mission success and the remarkable accomplishment of being the first space unit deployed for the Air National Guard.
A small but enthusiastic group of supporters at the Santa Barbara airport greeted members of the first team of deployers who made their return home on February 13.
"It was a lot of fun," said Tingle, who was the deployment commander for the first team. "There were a lot of challenges connecting all the moving pieces with NGB [National Guard Bureau) and Space Command, as space forces in the guard had not deployed. People just didn't know the process — getting gear, getting orders, medical, training — but we made it happen."
According to Major Mark Masterson, Operations Officer, the strain can be especially tough on family members who also sacrifice to make the mission successful. For operational integrity and security reasons, loved ones do not receive advanced notice of the member's deployment or return dates until the last possible moment.
"We can't tell families where we are going or what we are doing. They have an idea how long we will be gone but they do not know exactly when we will return," said Masterson.
Team one deployer Senior Airman Josh Cheney, father of three small children, said the late notice to deploy was tough on his family, but they got through it. Cheney says he was proud to do his part supporting this critical mission; and his wife and kids understand it's all part of the job.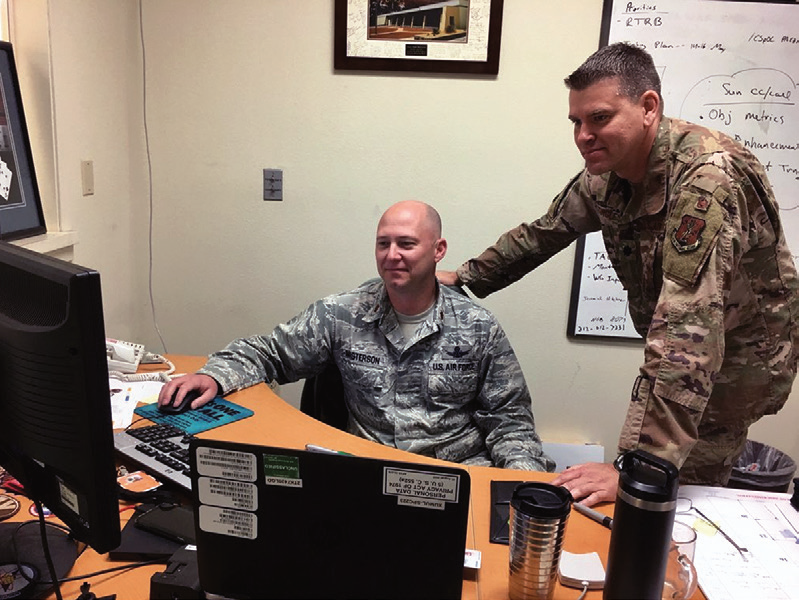 Space Control – Major Mark Masterson and Lieutenant Colonel
Randy Tingle evaluate operations at the 216th Space Control Squadron,
Vandenberg Air Force Base, California. The 216th SPCS is the only space
control unit in the Air National Guard.
Photo is courtesy of U.S. Air Force — Staff Sergeant Richard Lewis.
Still, deployment to the Area of Responsibility (AOR) is an austere experience. The deployments are six months long to an undisclosed overseas location in the CENTCOM area. Team members work 12-hour shifts, seven days a week, and the operational tempo is 24/7. But Lieutenant Colonel Tingle says it's not all work.
"No Starbucks," laughed Tingle. "But we have a 'Green Bean' coffee shop, a nice gym, a nice movie collection. We have our own compound, have our own cops."
"We had a nurse, a doctor, several engineers, firefighters, police officers, maintenance troops, you name it," said Glas. "The unique thing we bring to the fight as citizen airmen is diversity of background."
Tingle said the best part about deploying is making a difference for our mission partners.
"I was all over the AOR discussing our capabilities with operators: Air and Special Operations. Our adversaries are advancing in their space assets. It is important as space units to mitigate that."
Lieutenant Colonel Steven Kimel, Commander of the 216th, said the first deployment return represented a historic mission complete and changeover in theatre. "It really validates the Guard's acceptance in this mission area and puts us shoulder-to-shoulder with our total force integration partners," he said.
The squadron is part of the California Air National Guard's 195th Wing, located at Beale, Air Force Base. The Wing, made up of seven squadrons and six operating locations, is spread over 543 miles throughout the state.
"I am extremely proud of them," said Colonel Douglas Hire, Commander of the 195th Wing. "We are getting lots of accolades from the folks downrange." Leaders at all levels are taking notice.
"Things went great for them [team two]," said Tingle, "The 332nd Air Expeditionary Wing commander is
very pleased."
The second team returned to California on August 7 at the San Luis Obispo airport, following another historic changeover in theatre. They were greeted by a small reception of family, friends and coworkers, along with other supporters. It was an even more low-key affair than the first deployment return, which suited the smiling but weary returnees just fine. These airmen were eager to get home and spend time catching up with their families.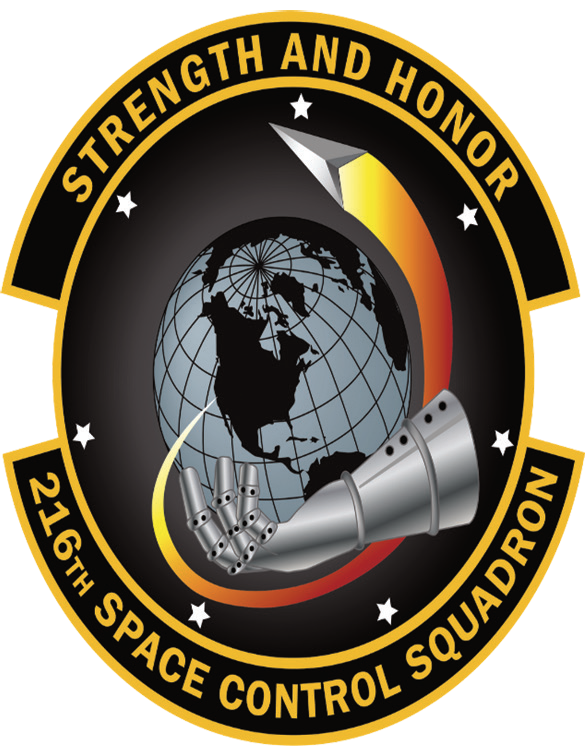 Team two enjoyed notable success oversees, having learned from the first groundbreaking deployment.
"Oh yes, we had a much better understanding and it made it a lot better experience for them," says Tingle. "It was much more fluid, we were much more prepared. We understood medical and how to process orders and UTC packages — and our training was much better. This time we trained directly with the actual people [contractors] who designed our system."
Perhaps the best thing about these space warriors and the mission impacts they bring to the fight is their adaptability.
"We are making changes due to changes in the threat environment. We are flexible, making changes as threats emerge," said Tingle, "we are getting more mobile, more efficient."
What's on the horizon for the only space control unit in the Air National Guard?
"Making sure we establish a robust training program that meets the standards of our active duty partners," said Tingle. "We look to integrate more with our mission partners in the future."
Space is serious business. With the debate of a Space Force occupying recent headlines, it may seem like a passing trend, but there is a reason space is the top priority for leadership. The nation's adversaries are actively pursuing the means to extend the battlefield into space.
"It's heading that way," said Tingle. "Space is a domain, like air, land, sea."
Should it come to that, Lieutenant Colonel Tingle stated that the 216th will be ready, adding he couldn't be prouder of the team and he thanked everyone for their support, from the new, high-speed members recently hired, to senior leadership at the wing.
"I've never worked with a better group of individuals," said Tingle.
Richard D. Lewis is a print and television journalist: writer, interviewer and editor/producer and is a graduate of the Defense Information School's writing, broadcast, and public affairs programs, Richard joined the U.S. Air Force in 1987 and spent 10 years as a Broadcast Producer stationed at Incirlik AB Turkey, Hill AFB Utah and the Air Force Academy, Colorado.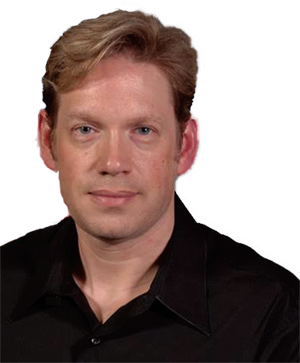 After separating in 1997, Richard began work in TV production in Salt Lake City, Utah. He was hired back as a civilian producer/director by the Air Force in 1999 and has since written about and documented Air Force mission activities at SMC Los Angeles, NORAD, Cape Canaveral AFS, Beale AFB, Vandenberg AFB, March ARB, Schriever AFB, Peterson AFB, Grand Forks AFB, Van Nuys ANG Station, Edwards AFB, NASA Ames Research Center and Wallops Island Flight Facility.
Richard has published bylines and TV clips in Blackbelt Magazine, FILMINK, Fangoria.com, Rocket Magazine, Geek Monthly, P3 Production Update, Campus Circle, The Astro News, BeyondHollywood.com, The History Channel, AMC Theatres, KTLA, Torrance Channel 3, AFN TV, PBS, The Pentagon Channel, Santa Maria Times and The Lompoc Record.
---