The drive for sophisticated communications applications in the defense and security space has significantly increased over the past few years, as well as the overall government demand for secure satellite communications (SATCOM) capabilities.

For example, five years ago, a data rate of 5 Mbps to support the sensors and capabilities of Intelligence Surveillance and Reconnaissance (ISR) platforms was more than sufficient. In five years, these same platforms will seek up to 100 Mbps to deliver live streaming, full motion video (FMV) to enhance situational awareness and safety.
The shift toward data-centric applications can be observed throughout various areas of defense and security activities – from mission-critical tasks at sea, land or airborne, to troops morale and welfare.
From the vantage point of SES Networks, an essential ingredient to the commercial industries' ability to innovate and enhance capabilities for defense and security needs, is early and close collaboration with the government counterparts to understand at the platform and application level what is needed for successful missions.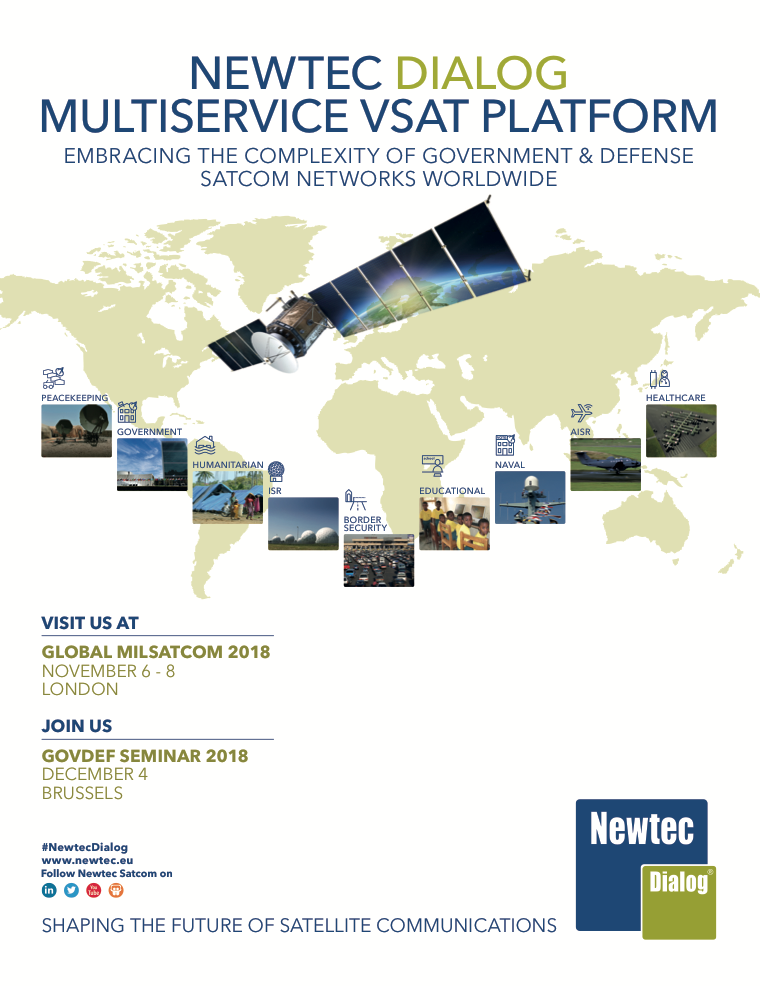 The company is proud to leverage partnerships, insights and engagement of the governments already today and are also factoring future governmental needs into upcoming capabilities, to support the data-centric needs of the future.
Given the appetite for bandwidth and services that is continuing to grow in the defense and security sector, SES Networks appreciates the need to cater to these missions and leverage the company's fleet in two different orbits: Medium Earth Orbit (MEO) operating at 8,000 kilometers from the Earth's surface, and Geostationary Orbit (GEO), operating at 36,000 kilometers from Earth.
Today, governments can take advantage of SES' combined GEO and MEO fleet of more than 70 satellites that is providing global reach and flexibility. As some applications are increasingly latency sensitive, MEO is ideally suited to cater for these applications.
As the platforms are expected to consume more bandwidth, High Throughput Satellite (HTS) assets are of tremendous importance. These assets continue to be developed by SES and governments can avail themselves of them in line with the pace of evolving needs and mission architectures.
New Industry Benchmark
To meet the growing data demands, SES has invested in the next generation of the firm's MEO system, called
O3b mPOWER. This is a satellite communications system that is truly flexible and brings unparalleled capacity, featuring more than 4,000 beams per satellite.
To be launched in 2021, O3b mPOWER is a multi-terabit scalable system that will further boost the usage of sophisticated applications for network-centric operations via "virtual fiber" network literally anywhere, serving the on-demand needs for data and cloud-based applications. Like the current MEO constellation, O3b mPOWER is ideal for high-tech military operations, with multiple layers of active and inherent security.
---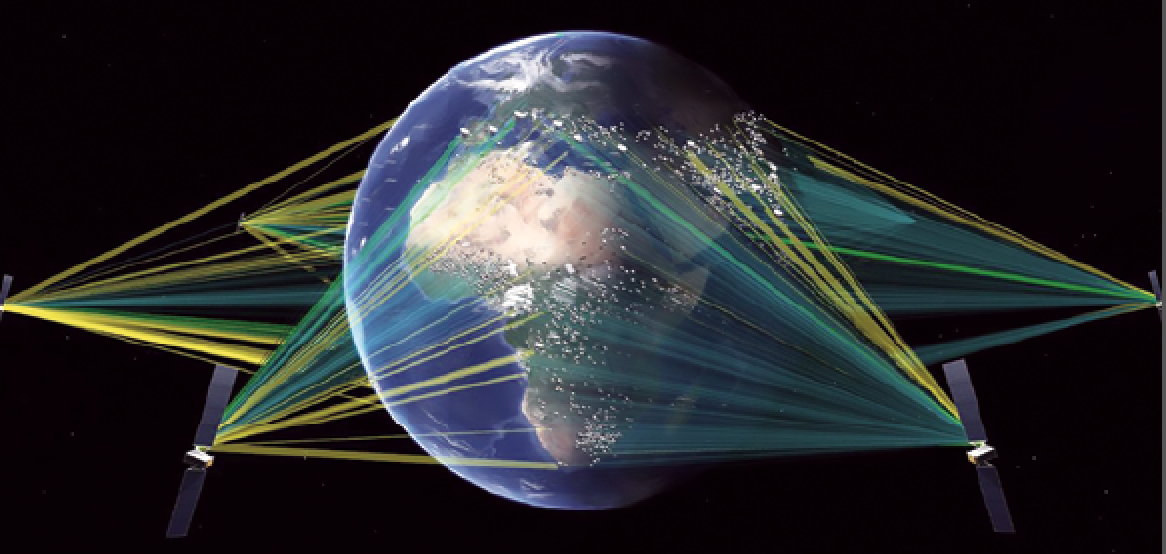 Artistic rendition of the O3b mPOWER constellation. Image is courtesy of SES.
---
The system will come together with innovative ground infrastructure and customer edge terminals, will be fully integrated with the existing SES fleet and will feature various technology advancements that include software intelligence and automation. O3b mPOWER beam-forming flexibility will enable government users to securely and autonomously manage beam capacity and location to support secure operations on air, land and sea.
Quicker Access via Hosted Payloads
In addition to investing in more powerful and flexible satellite systems, we also work closely with governments to understand their needs, and offer them innovative solutions already today.
As an example, in the area of commercially hosted government payloads, the government is able to leverage available space and power on a commercial satellite to launch a dedicated mission more rapidly than with a military or government-owned and operated program. The European Commission and NASA are well versed in
these programs.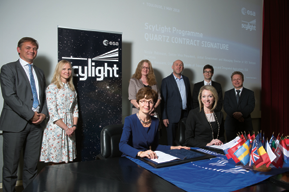 QUARTZ signing (At the table, from left to right: Magali
Vaissiere, ESA Director of Telecommunications and Integrated
Applications, and, Nicole Robinson, SVP Global Government
at SES Networks). Photo is courtesy of ESA/Grimault.
The technical capabilities of commercially hosted government payloads have been impressively proven over the past decade. However what's particularly impressive is the time and cost savings coming along with these business models.
For example, the U.S. Air Force Commercially Hosted Infrared Payload, or CHIRP, on board the SES-2 satellite, delivered impressive R&D infrared staring capability from space, in 36 months from contract to orbit, at only 15 percent of the cost of a military owned and operated spacecraft to perform a similar mission.
Easier Access via New Models and Procurement Vehicles
When a mission's success is at a stake, the ability to bring enhanced communications rapidly is key, and SES increasingly sees governments opening up to models of procuring capabilities in the way that they have access to what they require, exactly when such is needed.
A recent example is the Blanket Purchase Agreement (BPA) between U.S. DoD and SES GS, where U.S. DoD customers will have the opportunity to access SES's industry-leading O3b MEO services worldwide. The BPA scope of work comprises managed services, including HTS capacity and broadband services, monitoring and control services, satellite terminals, training and terrestrial backhaul.


Yet another example of hosted payloads on SES'
satellites. Launched earlier this year, SES-14
carries a hosted payload for NASA's Global-scale
Observations of the Limb and Disk (GOLD) mission.
GOLD will provide unprecedented imaging of the
Earth's upper atmosphere from geostationary orbit
to deepen scientists' understanding of the boundary
between Earth and space. Launch photo is courtesy
of Arianespace.
Pooling and Sharing of SATCOM via GovSatCom
An innovative way for governments to have guaranteed and cost-efficient access to secure satellite communications when needed is to pool and share SATCOM systems.
SES is leading a consortium of partners within ESA's GovSatCom Precursor Program, PACIS-1, to advance creation of an architecture and service concept of pooling and sharing resources, to ensure governments access to secured commercial and governmental SATCOM networks at short notice.
The European Commission has taken an important step in the direction of calling on the capabilities of the satellite communications industry when it outlined an approach to securing their Space Strategy in the EU GovSatCom initiative (www.eda.europa.eu/what-we-do/activities/activities-search/governmental-satellite-communications-(govsatcom)).
The Commission recognized that space and satellite communications are key elements of infrastructure in meeting the defense and security needs and set on a path to plan and procure for SATCOM capability in a manner to assure access to this critical infrastructure.
Through this process, recognition was made clear that reliable and flexible connectivity is key when facing threats such as terrorism, cyber warfare, border control, and natural and technological disasters. Preventing such threats also requires coordination between governments. In this way, especially, SES is proud to support the GovSatCom initiative.

The launch of the GovSat-1 satellite aboard a SpaceX flight-
proven Falcon 9 rocket from Cape Canaveral AFS, Florida,
on January 31, 2018.
This program will help to reduce the fragmentation of demand and act as an anchor to guarantee access, coordinate requirements and ensure security as well as paving the way for active, cross-border cooperation, all the while serving national requirements.
Forming Public Private Partnerships
SES is also innovative in the way the firm serves governments — sometimes this means forming a partnership with a government.
A powerful example is a 50/50 joint venture between the Government of Luxembourg and SES, called GovSat. This J-V reveals the combined value and advantage of government involvement, which is serving their own strategies, and NATO, as well as the ability to leverage private sector efficiencies.
GovSat's satellite, called GovSat-1, was launched earlier this year and is one of the most secure satellites on orbit today. GovSat-1 represents an international platform and is a true game changer: the satellite provides for many countries access to highly secure capabilities exclusively designed for governments and institutions.
Step-Change Technology
Cutting-edge innovation can be advanced through the synergy of R&D, industry and institutions to combat the threats of the future. To achieve this goal, stakeholders need to derive the correct technology and architectures that will be commercially viable and globally available.
Through a program called QUARTZ, or Quantum Cryptography Telecommunication System, the power of the combination pf the scientific communities' research work and private industry expertise, within the ESA ARTES ScyLight program (artes.esa.int/scylight/overview), will
be witnessed.
The SES-lead consortium is designing and developing a satellite-based Quantum Key Distribution (QKD) system and service architecture that will result in a powerful tool for providing safe and intrusion-resistant data exchange.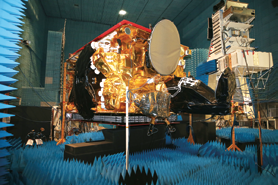 The SES-14 satellite. Photo is courtesy of Airbus
The list of potential applications and end users includes governments, institutions, banking industry, and other practices focused on data protection and security. Quantum technology is an area that should be further developed, and these innovations leveraged to help face the multiplication of cybersecurity threats and attacks.
The Way Forward
The development of applications, services and solutions for governments has been fueling innovative solutions in our sector.
Based on this experience, key takeaways are: the importance of early, frequent and open dialogue between industry and government to realize the potential of these partnerships for the taxpayer, as well as for the men and women of the armed forces.
At the end, secure satellite-enabled connectivity solutions not only help fulfill missions, they transform people's day-to-day experience while on a mission, help to raise morale and welfare and, more importantly, save lives.
www.ses.com
Nicole Robinson serves as the Senior Vice President of Global Government for SES Networks and the Managing Director of SES Techcom Services. In this position, she is responsible for the company's global business portfolio of government customers in the areas of defense, security, humanitarian, federal, civilian and institutional organizations.
In addition to these roles, Ms. Robinson serves as Chairman of the Board of Redu Space Services and Director of the LuxGovSat Board of Directors. In the 10 years since Ms. Robinson joined SES, she has served in a variety of Executive roles leading teams in the area of government product development, business development, government affairs
and marketing.
Prior to joining SES, she served as the leader of the Strategic Communications function for the U.S. Joint Forces Command's Standing Joint Force Headquarters (SJFHQ) with General Dynamics as well as the U.S. Army Center of Military History.
Ms. Robinson is known in the satellite industry for serving in a variety of leadership positions including two terms as Chair of the Hosted Payload Alliance as well as Vice Chair, Board level positions for the Washington Space Business Roundtable, Techcom and others.
Nicole was the recipient of the 2012 Future Leaders Award by the Society of Satellite Professionals International and is a member of "The FEW," an invitation-only assembly of senior executive women.
Ms. Robinson is certified in Federal Financial Management by the Federal Training Center, completed her bachelor's degree in Communications at Radford University, earned an MBA from Liberty University and is a graduate of the Senior Executives in National and International Security Program at Harvard University, Kennedy School of Government.
---