Deanna L. Ryals, director of International Affairs (IA) for the U.S. Space Force's Space Systems Command, said there has been a growing recognition in recent years of the need for a major expansion of international space cooperation and to increase partnership with allies.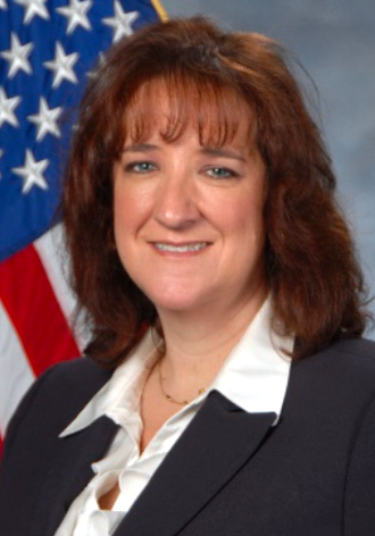 Deanna L. Ryals
"I think the reason we're seeing such an uptick is the recognition that we have to build a resilient space architecture to defeat future threats, and in order to be truly resilient, we can't do it alone: we need our allies and partners to be a part of the enterprise architecture that we're building," Ryals said.
Priorities include Space Domain Awareness, SATCOM, Space C2 (Command and Control), and Data/Data Transport. The IA directorate seeks opportunities to match allied needs, capacity and capabilities with U.S. space architecture to build a coalition architecture that is resilient and diverse.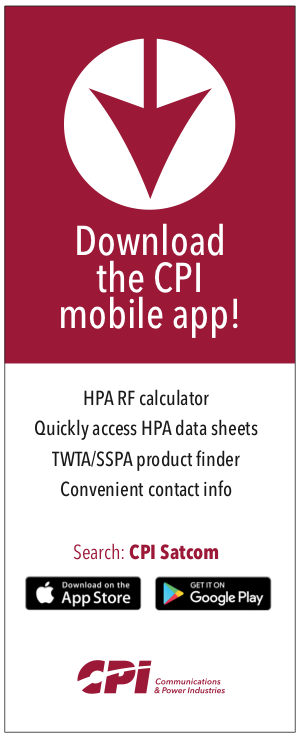 Strong partnerships with international allies are important for a number of reasons, Ryals said. It allows the United States to prioritize funding, can create cost-savings for taxpayers due to economies of scale, and gives the USSF access to cutting-edge technology developed around the globe.
"If we look at Lt. Gen. Michael Guetlein's mantra of 'Exploit what we have; buy what we can; and only build what I must,' when we buy collectively together with our allies and partners, we have better buying power when we're buying and pooling our requirements. Or, if our allies and partners are buying or building something that we can leverage, we don't have to spend dollars to buy or build it ourselves," Ryals said. "We can leverage what our partners are bringing to the fight."
"It is essential that partners and allies collaborate to achieve success in the space domain and we have been working closely with Space Systems Command as they lead on 'allied by design,' said Air Vice-Marshall Paul Godfrey, Commander, United Kingdom Space Command.
"Here in the UK, much like Lt. Gen. Guetlein's mantra, we have an 'own, collaborate, and access' approach which defines what must be retained as a sovereign capability, where we can collaborate with partners, and what we can simply access through commercial space industry," Godfrey said. "It really is an exciting time as we work together to make space safe, secure, and sustainable for future generations."
Forming these partnerships can be complex, Ryals said. As with any U.S. military branch, many USSF details are classified, and there are numerous national security regulations – such as ITAR (International Traffic in Arms Regulations) – that have to be balanced with the need to share information and technology with allies. The policies that govern the reliability of information were written half a century ago, when the space and terrestrial governmental environment was completely different.
How does SSC handle this? By making sure allied partnerships are factored in decisions from the very beginning, Ryals said.
"As we're developing the future space architecture, we're ensuring that the architecture is 'Allied by Design.'" Ryals said. "That's a rallying cry and a mindset that has both policy and technical implications."
She continued, "On the policy side, it's the awareness that the need and benefits from partnerships outweigh the risk that's created by sharing information and capabilities with our allies. By understanding both the policy and technology hurdles we're going to have to get through, we'll be better postured to prioritize allied engagements and work together to develop integrated architectures. By doing so, we're driving a more robust enterprise solution at a lower cost point and while also allowing partners to on-ramp capabilities when the time is right."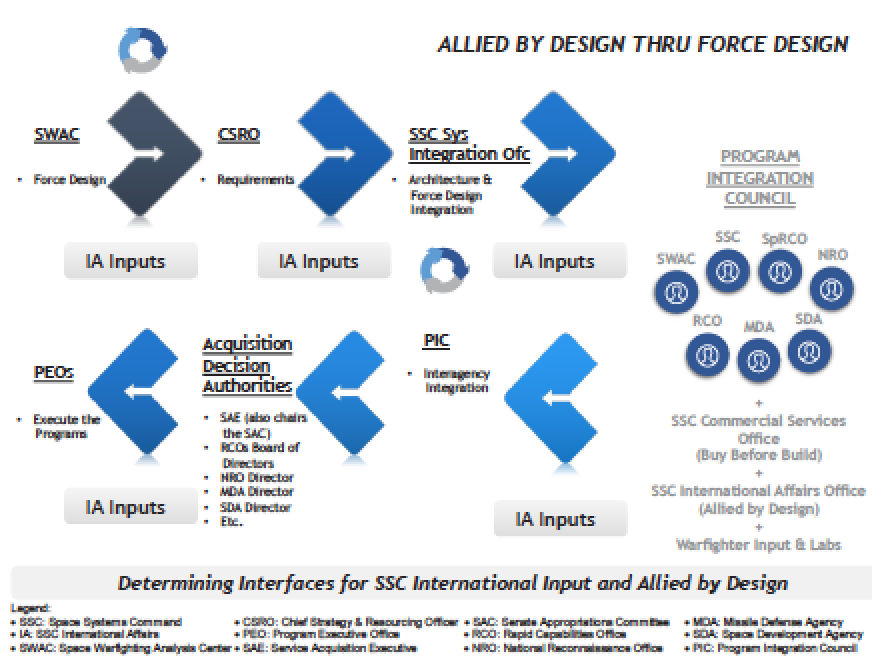 "Allied by Design" also means taking into consideration what allies are buying or building from the very beginning, starting with U.S. force design, Ryals said. The Space Warfighting Analysis Center is actively considering what allies are buying/building and where partners might bring capabilities to augment U.S. force design.
That force design then goes to the Chief of Strategy and Requirements Office. "At this point the USSF is looking at how we might also factor in our allies requirements for space and space capabilities at the same time we're developing our requirements, so we're really thinking about the integrated architecture and the systems we're going to build, buy or borrow based on inputs of what our allies are also doing," Ryals said.
Those requirements are then handed over to SSC's Space Systems Integration Office to look at the force design, architecture and requirements and convenes the Program Integration Council, made up of space acquiring organizations, to determine who is best suited to acquire the capabilities. SSC/IA gets a voice in the council to ensure allied capabilities and partnership opportunities are considered in the discussions.
"Through every step of this process, we're looking at what the allies are building, what they could bring, where they want to partner, and that will be part of the decision trade-space before we make any choices on what we're going to buy or what we're going to build," Ryals said.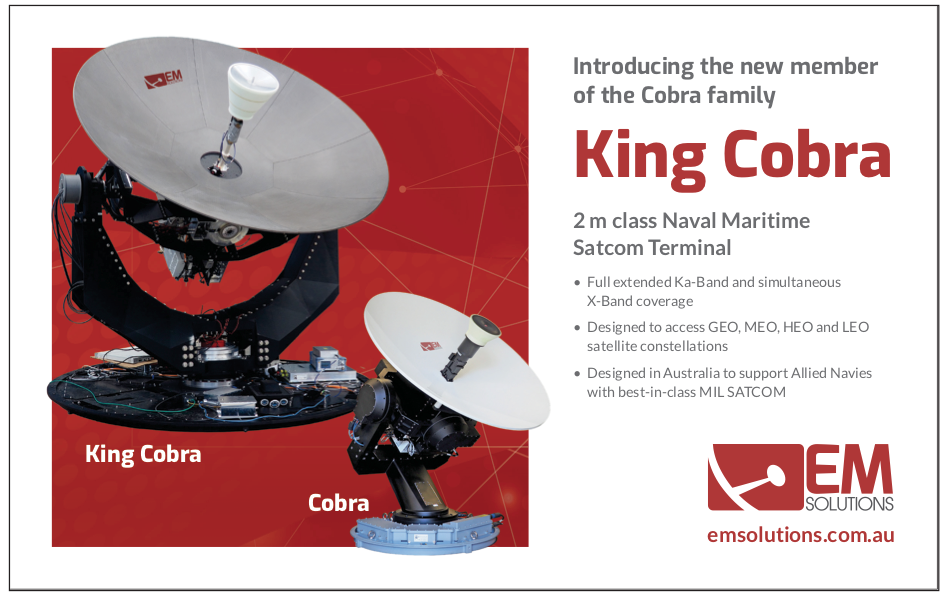 Allied partnerships also help USSF stay ahead of the threat by allowing it to access the best and newest technology and ideas from around the world, Ryals said.
"Sometimes our international partners have more agile acquisition processes, so they can bring capability to bear faster than we can, as their acquisition timelines and tools are on a faster scale than ours," she said. "Secondly, our international partners are building up their own space industrial bases. A lot of space tech and space innovation is happening outside the United States," Ryals said. "Allies and partners may be able to bring technologies and capabilities in that we traditionally wouldn't have access to, or they may be looking at applying a technology or capability in a different way that could be very beneficial to us."
For instance, USSF is working with the Luxemburg Ministry of Defense on a partnership to bring international partners together to purchase commercial SATCOM, in order to deliver capability faster and at lower cost points and field common ground infrastructure that could be shared if nations chose to do so. In similar veins, future projects may include teaming up with allies to tackle orbital debris mitigation and on-orbit servicing of space vehicles, particularly with the growing international interest in cislunar operations, and tactical and responsive launch.
Many international partners also are leveraging both the civilian and the military sides of their industrial base, Ryals said: "They may have companies that are building dual use capabilities that can be used on both the civil and the military side."
"There's a lot of innovation, and venture capital investment that is going into space industries all around the world and we want to be able to capitalize on the best of the best innovation and technology." Ryals said.
Partnering with allies also can help improve the resiliency of the global supply chain, Ryals added.

"Our closest allies and partners are developing for their own national sovereign needs with requirements and capabilities that are comparable to the United States," Ryals said. "Our closest allies are some of the most capable allies in the space domain."
Developing common tools with U.S. partners and allies is another priority, Ryals said. For example, The USSF's Unified Data Library is being developed as the single data repository for the U.S. Space Force, a key component for Space Domain Awareness (SDA).
"We're looking how our allies can leverage the Unified Data Library or develop their own UDLs that are interoperable and integrated with our libraries, and that all comes down to building common interfaces and standards," Ryals said. "For the peaceful use of space, for situational awareness in space, for collision avoidance, for identification and tracking, we all need to be aware of what's going on overhead. That's why it's so important for us to collect data together, to share information with our allies and partners, to gather the information that they're collecting and put it in a common repository so we can all use that information."
SSC's Unified Data Library collects SDA data from a variety of sources, from USSF satellites to commercial satellites, so space operators can distill it and senior leaders can make critical decisions, Ryals said. SSC also is working on common and integrated Space C2 tools so the U.S. and allies together can operate with common and trusted data.
"If we're looking across a swath of the sky and it looks like there's a satellite that may be tumbling, or something is moving in a way we wouldn't expect, that data is used to identify the object, track it and make determinations on why it's moving in an unnatural way," Ryals said. "If we're all collecting and sharing information, then decision makers will have greater tools at their disposal to take action."

"When we talk about partnering with our allies, simply put, the capabilities of individual countries are greater than the sum when partnered as part of a wider coalition," Ryals said.
Note: Space Systems Command has established a permanent capability to directly ingest observation data from the Space Fence radar system into the U.S. Space Force Unified Data Library (UDL). Space Systems Command's
Cross-Mission Data Branch within Space C2 in partnership with Space Fence within the Strategic Warning and Surveillance Systems (HBQ) Division at the Air Force Life Cycle Management Center, successfully completed testing on April 15, 2022.
---