---
Euroconsult
Smallsat Market Report Updated
The latest update of "Prospects for the Small Satellite Market" has been published by Euroconsult, forecasting further growth in the global supply and demand of government, commercial and academic satellites weighing up to 500 kg.
The market intelligence report, now in its 7th edition, builds upon Euroconsult's previous iteration that accurately predicted more than 1,000 satellites would be launched during 2020, a record year despite COVID-19. The new release further reinforces the sentiment that the 2020s will be the decade of small satellites, anticipating the launch of close to 14,000 smallsats before 2030.
The main driver for this continued growth during a time where many face pandemic-related challenges is plans for SATCOM broadband "mega-constellations" and the continuous necessity for replenishment launches. Of all smallsats to be launched, 84% are expected to be part of constellations.
Furthermore, the smallsat manufacturing and launch market are set to do more than triple over the next decade, to $35 billion and $19 billion respectively, driven by the multiplication of constellation projects from both commercial and
government stakeholders.
Euroconsult, who operates from locations across North America, Europe and Asia and specializes in the space sector and satellite enabled verticals, have released their updated findings at a time when launch rates are at least on par with last year, suggesting that the era of the mega-constellation has truly arrived.
Flagship examples of LEO broadband constellations, such as SpaceX's Starlink and Amazon's Kuiper, account for almost half of the projected demand over 2021-2030. Readers are therefore advised to go beyond raw numbers as vertical integration keeps growing with numerous players seeking to manufacture, operate and launch their own smallsats.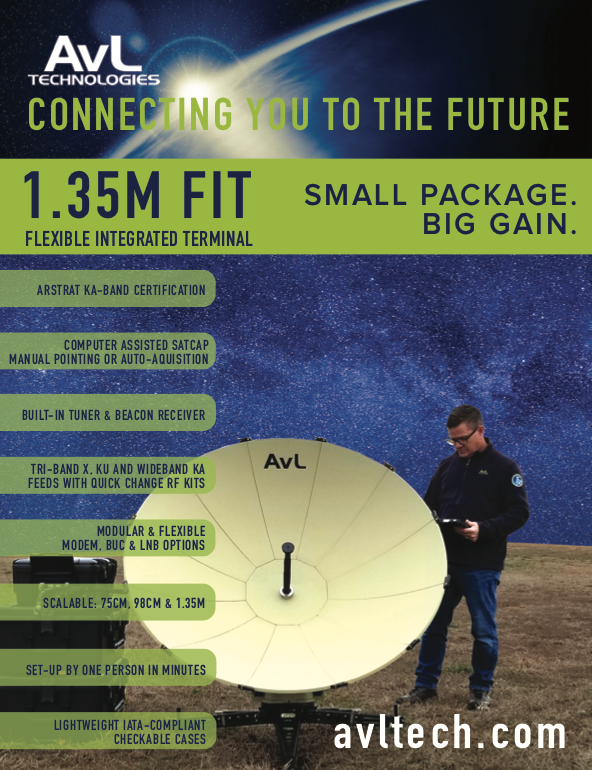 Significant future market shares are now captive of a region, country or of an integrator and/or launch provider, challenging both commercial satellite integrators and launch providers which see more of their target customers not only leaving their addressable market, but also competing with their own services. The smallsat market is, however, more open to procurement from third parties at the subsystem level than at the satellite level.
The updated report, free extract available, comes with an option to access premium features, including Euroconsult's Smallsat Constellation Database that covers extensive past, current and future data – the first time Euroconsult have ever shared their "secret ingredients" with customers.
A free report abstract is available at this direct link…
Alexandre Najjar, Senior Consultant at Euroconsult stated, "Our smallsat report is once again in high-demand and with major intelligence updates being drawn from post-pandemic data and reviews of key pricing models and SATCOM application forecasts, plus the inclusion of Space Logistics information that features In-Orbit Servicing, Debris Removal, Last Mile Logistics and In-Orbit Manufacturing, we believe this report will be invaluable to key industry stakeholders and investors. A plethora of new market insights include the mitigation of concerns around the impact of COVID-19 in our previous edition by an increased availability of capital for the space sector, most notably with the recent M&A and SPAC funding trend."
Other valuable updates to Prospects for the Small Satellite Market include a reviewed and refined pricing model for manufacturing and launch prices, while satellite applications in the database have been rebalanced, most notably with regard to Information, Earth Observation (EO) and Security applications.
The Euroconsult report incorporates new content to help give decision makers key knowledge in this area, as well as a reviewed and up-to-date forecast accounting for the economic situation and impact of COVID-19.
With its increasing importance, the extensive Euroconsult database has been updated to reflect the significant growth and developments of the Chinese constellations, with input from Chinese-speaking stakeholders.
This publication includes extensive data points on units, mass, and value for manufacturing and launch services. It provides a forecast for the next decade broken down by application, orbit, operator type, mass category, operator region, as well as integrator and launch provider, type of integrator, type of launcher and other subsets.
This report has now been added to the Euroconsult shop alongside a portfolio of high-demand space sector research that includes the 24th edition of Satellites to be Built & Launched and the 8th edition of Euroconsult's Space Economy Report.
All Euroconsult reports are available for purchase through the firm's online infosite at this direct link…
---
Aerospace UK Ltd's £500K Contract With UK Ministry Of Defence Space Directorate
The Aerospace Corporation (Aerospace) recently announced that their wholly owned U.K. subsidiary, The Aerospace Corporation UK Ltd (Aerospace UK), has secured a one-year contract for £500,000 to advise the U.K. Ministry of Defence (MoD) Space Directorate on a decision-making framework for space capabilities.
"Space is critical to securing operational advantage and enabling multi-domain integration: It is the responsibility of my team to deliver space coherency across defense and ensure we are aligned with other Whitehall Departments," said Air Vice Marshal (AVM) Harv Smyth, Director of Space at the MoD. "Whilst we are the single touch point for space in defense, this is a team effort, and we are delighted to be working with The Aerospace Corporation UK Ltd, whose expertise over many years spans the entire space enterprise."

Aerospace UK will help to address the MoD Space Directorate's challenges, in parallel with U.S. Space Force Chief of Space Operations Gen. John W. "Jay" Raymond's Planning Guidance objective to strengthen the space capabilities of U.S. allies.
"Working with our allies directly, and through common mission partners, we strengthen our mutual ability to rapidly deliver war-winning capabilities," said Lt. Gen. John Thompson, Space and Missile Systems Center commander. "As the United Kingdom stands up their new Space Command and embarks on their first national space strategy this year, we are excited to work alongside our longest ally to deepen these ties. Through U.K.-U.S. efforts like International Space Pitch Days and collaborative exploration of how to integrate our complementary space systems together, our mission partners help us collectively deliver coalition capabilities that will outpace the threat."
In its March 16 Integrated Review of Security, Defence, Development and Foreign Policy, the U.K. established that it views space as fundamental to the delivery of military capability and to the functioning of wider society. As access to space is increasingly congested and contested, the MoD is developing space capabilities and infrastructure that will enable the U.K. to continue to operate effectively in a degraded or denied space environment. Effective strategic planning underpins the MoD's response to the evolving space security environment.
"Space is a complex and expensive environment, and we understand the dedication and collaboration required to achieve success," said Gina Galasso, Aerospace U.K.'s managing director. "We are excited to be working with AVM Smyth and his team to help them develop and deliver space capabilities necessary for their protect-and-defend mission."
---
SpaceBridge's VSAT Router Integrated Into C-COM's iNetVu Antenna Controllers
C-COM Satellite Systems Inc. (TSXV: CMI and OTCQB: CYSNF) have completed integration of the SpaceBridge U7400 Professional Modem Series for Mobility/Trunking VSAT Router with its iNetVu® antenna controllers. The latest SpaceBridge VSAT networking platform, which encompasses several new modems, is now fully compatible with all C-COM Flyaway and Driveaway antenna systems.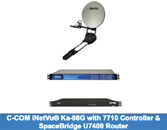 Using the SpaceBridge U7400 VSAT router and testing for satellite acquisition, C-COM's 98 cm Ka-band driveaway antenna system configured with the iNetVu® 7710 controller, was able to seamlessly acquire satellite in under two minutes and offers interoperability with 15 different modem manufacturers and with more than 37 different models.
The interoperability of the SpaceBridge U7400 Professional Modem Series, with its OpenAMIP supported capabilities and its integration with C-COM's antenna systems, enables users to leverage high performing, efficient and reliable connectivity solutions for demanding mobility applications.
C-COM mobile antennas with iNetVu® controllers, compatible with U7400 series VSAT L3 Switches, are now available for immediate delivery.
"We are happy to add the SpaceBridge U7400 highly advanced networking platform to our list of integrated and supported VSAT modems," said Leslie Klein, President & CEO of C-COM Satellite Systems, Inc.
"C-COM is a valued partner that we enjoy collaborating with. The SpaceBridge U7400 Professional Modem Series with our unique WaveSwitch™ multiple waveform switching capabilities, provides the versatility needed to succeed in mobile communication transition between MFTDMA and SCPC over a single Modem," added David Gelerman, President and CEO
of SpaceBridge.
---
USAF's Air Combat Command Adds To Apogee's ISR, Cyberspace + Innovation Division Contract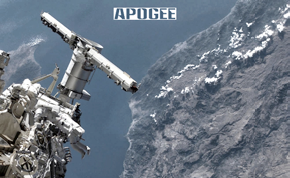 Recently, Apogee Engineering (Apogee) marked their first year anniversary by adding to their contract with Air Combat Command's Intelligence Directorate (ACC/A2) to provide requirements analysis, systems engineering and operational subject matter expertise in the Air Force Cryptologic Office's (AFCO) Intelligence, Surveillance, and Reconnaissance (ISR)–Cyberspace and Multi-Domain Innovation Division.
In this role, Apogee provides highly qualified staff support to help Sixteenth Air Force (16 AF) fulfill its mission to integrate multi-source ISR, cyberspace operations, electronic warfare (EW), and information operations (IO) capabilities across the conflict continuum to ensure the USAF is fast and fully integrated in both competition and war.

In supporting the Cyber Multi-Domain Innovation Division, the Apogee Team conducts studies, analyses, and evaluations to advance multi-domain requirements definition, capability development, force modernization, and experimentation activities.
Apogee also provides assessments and evaluations related to the development of urgent operational capabilities that deliver multi-domain, cross-functional effects to air component commanders and integrate cyberspace operations, ISR, and EW technologies through rapid development of innovative multi-domain operational capabilities and non-kinetic operations planning support.
In its Defensive Cyberspace Operations (DCO) support role, the Apogee Team applies its knowledge and experience with USAF DCO and ISR operations to advise and assist 16 AF staff on ACC, USAF, National Security Agency, and USCYBERCOM cyber-related intelligence and ISR issues.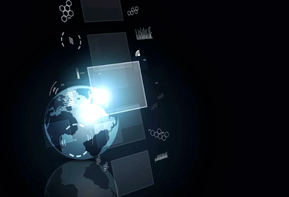 Apogee supports the 16 AF information warfare mission by analyzing and providing technical advice on "ISR for DCO" capabilities and tactics in competition and war.
Primary work for Apogee's ACC and 16 AF support will continue to be conducted at Joint Base Langley-Eustis in Hampton, Virginia, and Joint Base San Antonio in San Antonio, Texas.
"As illustrated in President Biden's Interim National Security Strategic Guidance, the global security landscape is being shaped by the convergence of actors, technologies, threats, and vulnerabilities in the dimensions of ISR, space, cyber, IO, and EW – all overlaid on a digital matrix of next gen communications, big data, and artificial intelligenc,." said Frank Varga, Apogee Vice President of Operations. "We look forward to continuing to work side-by-side with Air Combat Command and 16th Air Force develop integrated, multi-domain capabilities to meet the challenges described in the President's guidance."
---
Iridium®'s Push-to-Talk Solves Indonesian Government's Remote Communications Challenges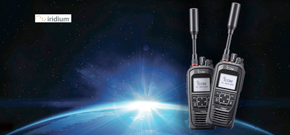 le="margin-left:40px">The Indonesian government now has a reliable "grab-and-go" real-time satellite communications solution, ideal for communications on-the-move applications across the country's diverse island landscapes. By fully deploying 500 Iridium PTT handsets the Republic of Indonesia's government has adopted Iridium Push-to-Talk (PTT) devices to support communication efforts across the country.
As the largest archipelago in the world, Indonesia is made up of five major islands and more than 17,500 smaller islands, of which about 6,000 are inhabited.
The size and scope of its territory makes building and maintaining cellular or land-mobile radio (LMR) network infrastructure expensive, challenging and impractical. It also leaves a need for communications resiliency across all of Indonesia, especially during and after natural disasters, as the country's topography is subject to earthquakes, volcanic eruptions, and tsunamis
During emergencies, Indonesian government personnel deploy on Search and Rescue missions to its remote islands that may have damaged or unreliable connectivity. Iridium PTT is helping the country conquer these challenges, immediately providing an easily deployed, cost-effective solution for reliable real-time communications on land, at sea or in the air.
Iridium service provider PT Amalgam Indocorpora supported the implementation by providing the Indonesian government with customized Icom IC-SAT100 PTT devices. With one-to-many communication at the push of a button and Iridium's truly global coverage, the devices help ensure Indonesian government personnel remain connected.
This capability brings immense value to the Indonesian government as they bridge the previous connectivity gap, allowing deployed teams to efficiently communicate with one another across the country's islands over the Iridium network.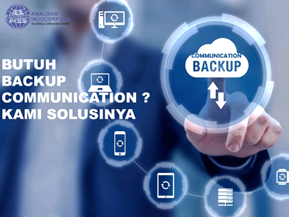 The IC-SAT100 is a compact, user-friendly radio with military grade ruggedness and includes a high audio speaker to ensure communications clarity, even in high ambient noise environments.
Radio-style control knobs and a familiar LMR user interface make the IC-SAT100 incredibly easy to operate for existing radio users.
With real-time, one-to-many communication, the highly secure service has end-to-end AES-256 encryption, making it an ideal option for militaries and government organizations in need of global group communications capabilities offering operational security and safety. Users will know that regardless of where in the world they need to deploy personnel and assets, they will remain within coverage.
"The small, lightweight and high-performing IC-SAT100 PTT device is the ideal tool for keeping dispatched personnel connected beyond the reach of traditional LMR networks," said Bryan Hartin, executive vice president of sales and marketing, Iridium. "In Indonesia's remote locations, where terrestrial networks are limited or non-existent, and in disaster-affected areas where terrestrial networks are damaged, the government can rely on the Iridium network to stay connected."
"From customization to activation, it was an honor to work with the Indonesian government to ensure device best practices and a swift deployment to the field," said Andre Halim, president director, PT Amalgam Indocorpora. "With a full suite of Iridium solutions, we are committed to working closely with our customers to support their vast connectivity needs."
PT Amalgam Indocorpora also supports customers' connectivity needs for businesses and governments with Iridium Certus® and IoT solutions, for tracking personnel and assets, command and control, situational awareness and more.
Iridium Certus is the only global broadband service that provides weather-resilient coverage for on-the-move internet and high-quality voice access.
---