The 12 months of 2017 delivered a devastating series of natural and human disasters — floods in Peru — an earthquake in Mexico City — outbreaks of violence in Nigeria — and the double-whammy of Hurricanes Irma and Maria in the Caribbean.
Insurers estimated economic losses at $306 billion from just one year. Plus, the human toll was beyond counting.
The U.S. Government (USG) responds to international disasters through the Office of U.S. Foreign Disaster Assistance (OFDA), part of USAID. OFDA responds to an average of 65 disasters in more than 50 countries every year, helping to save lives, alleviate suffering and reducing the social and economic impact of disasters worldwide.
---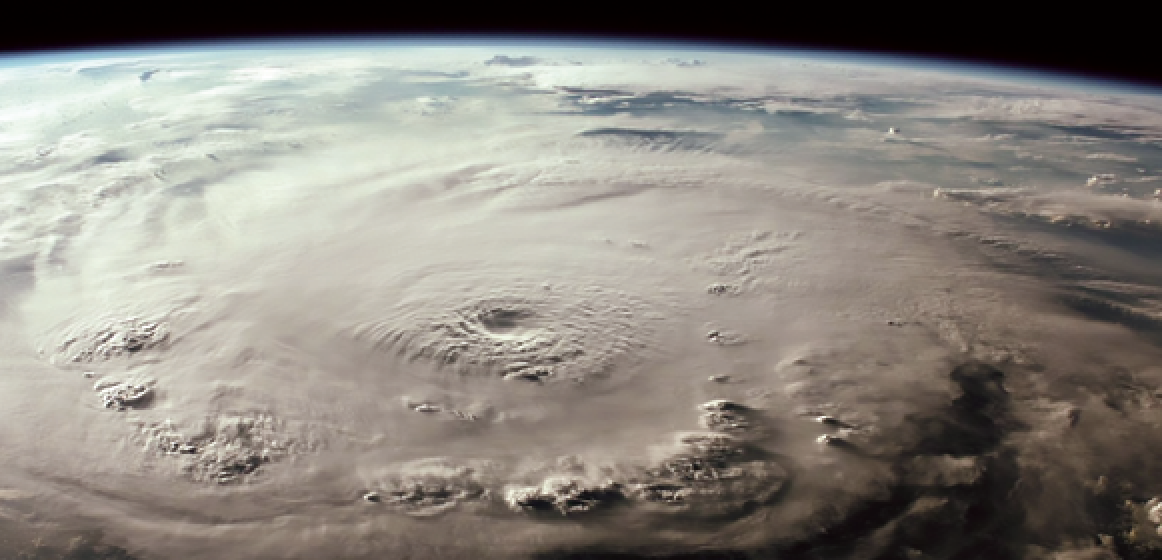 Hurricane Maria that devastated the Caribbean.
---
From Zero to Sixty
OFDA's mission requires a streamlined day-to-day operational capacity. However, it also needs to respond quickly and effectively to disasters anywhere in the world. In other words, OFDA requires the ability to get from zero to sixty and back again in the least possible time. To meet that need, OFDA relies on private-sector partners for expertise, materials and technology — and the flexibility to turn on a dime when necessary.
Among those crucial partners is Globecomm, which developed an Operations Center for OFDA in Arlington, Virginia. The Ops Center provides warehousing and deployment of information and communications technology for OFDA staff and contractors and its staff is ready on a 30 minute notice to support the agency anywhere in the world. In addition to the Operations Center, Globecomm also has staff at OFDA's headquarters and backup locations in Washington DC as well as a Costa Rican facility that provides quick deployment in the Caribbean, a true hurricane hotspot.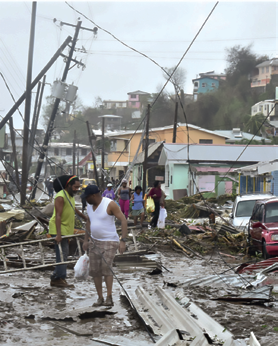 When a disaster is declared, a Communications Officer quickly assembles a detailed plan that includes the landscape of the disaster area, its infrastructure, and available communications, power, transportation, security and housing. The plan determines the deployment of equipment and staff assignments. The Operations Center maintains enough equipment to support eight concurrent disaster response and management teams, plus ongoing individual deployments of OFDA personnel. Globecomm's field support teams are ready for deployment on a four hour notice.
Matching Service to the Need
In September of 2017, Hurricane Irma struck the Caribbean islands as a Category 5 storm, with winds of up to 280 miles per hour, destroying thousands of homes, leveling tourist hotels and collapsing power, communications, roads and bridges. That was the costliest storm in Caribbean history — until, just two weeks later, when another Category 5 storm, Maria, blasted through the region. In response, OFDA and Globecomm teams deployed to Haiti, the Bahamas, Antigua and Barbuda, St. Maarten, Curacao, Dominica and Guadeloupe, each supported from the Operations Center and Globecomm offices.
The surge of technology into the field rapidly used up available satellite channels. Globecomm operates a global satellite, teleport and fiber network and was able to double capacity over the Caribbean within 24 hours.
Moving beyond disaster response, the company made it possible for residents to call family and friends within days of the hurricane by equipping local cellular base stations with wireless service connecting to the company's hosted 4G/LTE switching platform. A satellite link back to the company's Hauppauge, New York, headquartered teleport provided access to major telecom carriers.
Globecomm also restored FAA communications antennas damaged by the storm and provided people and equipment when no other freight forwarder could accommodate shipments. Globecomm monitors, manages and provides field service for a 43-site satellite network that carries radar and cockpit voice traffic for America's air traffic control system, under contract with Harris. Globecomm calls this offering DRaaS, i.e., Disaster Recovery as a Service.
---


The Globecomm teleport in Happauge, New York.
---
Preparation Counts
The 2017 string of disasters may have been out of the ordinary, but hurricanes and cyclones are a known risk in the Caribbean and south Pacific, just as earthquakes are in the "ring of fire" where tectonic plates intersect.
The work of OFDA makes clear that disaster preparedness is better — and ultimately less expensive — than hurried spending on disaster response. The partnership between government and the private sector ensures that this preparation does not go to waste.
As the 2018 summer months come to an end and the hurricane season arrives, the Globecomm DRaaS teams stand ready to assist on a moment's notice with equipment, personnel and expertise based on proven emergency communication solutions.
globecomm.com

Paul Scardino is the Senior Vice President, Sales Engineering and Marketing and is responsible for Globecomm's technical solutions, products, sales operations and marketing.
In his previous positions at Globecomm, he was Vice President, Corporate Sales and Marketing as well as Senior Director EMEA Region responsible for the P/L within Europe, the Middle East and Africa as well as customer specific global accounts. Mr. Scardino serves on the board as Northeast Chapter president of Space and Satellite Professionals International (SSPI), director of Long Island Software & Technology Network (LISTnet) and senior advisor of the Telecommunications Industry Association (TIA).
---