U.S.A.F.'s GPS IIF-9 Makes A Successful Move To Orbit
A United Launch Alliance (ULA) Delta IV rocket successfully launched the ninth Global Positioning System (GPS) IIF satellite for the U.S. Air Force at 2:36 p.m. EDT on March 26, 2015, from Space Launch Complex-37, supported by the USAF's 45th Space Wing.
This is ULA's fourth launch in 2015 and the 95th successful launch since the company was formed in December 2006.
"Congratulations to the Air Force and all of our mission partners on today's successful launch of GPS IIF-9! The ULA team is privileged to work with this world-class U.S. government and contractor mission team, and we are proud to contribute to the GPS capabilities that were delivered to orbit today," said Jim Sponnick, ULA vice president, Atlas and Delta Programs."This entire team is focused on 100 percent mission success, one launch at a time, and also providing on-time launches to meet our customer's mission needs."
This mission was launched aboard a Delta IV Medium-plus (4,2) configuration Evolved Expendable Launch Vehicle (EELV) using a single ULA common booster core powered by an Aerojet Rocketdyne RS-68 main engine, along with two Orbital ATK GEM-60 solid rocket motors.
The upper stage was powered by an Aerojet Rocketdyne RL10B-2 engine with the satellite encapsulated in a four-meter-diameter composite payload fairing.
GPS IIF-9 is the ninth in a series of next generation GPS satellites and will join the GPS worldwide timing and navigation system using 24 satellites in six different planes, with a minimum of four satellites per plane positioned in orbit approximately 11,000 miles above the Earth's surface. The GPS IIF series provides improved accuracy and enhanced performance for GPS users.
ULA's next launch is the Atlas V AFSPC-5 mission for the United States Air Force, scheduled for May 6 from Space Launch Complex-41 from Cape Canaveral Air Force Station, Florida.
The EELV program was established by the United States Air Force to provide assured access to space for Department of Defense and other government payloads. The commercially developed EELV program supports the full range of government mission requirements, while delivering on schedule and providing significant cost savings over the heritage launch systems.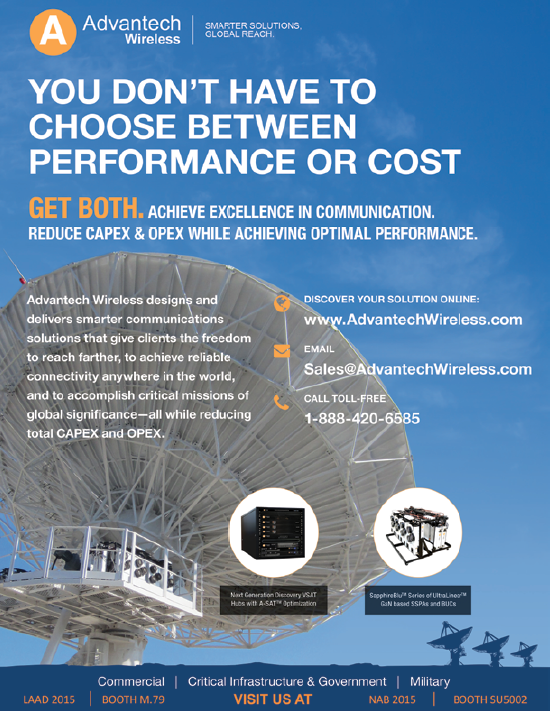 GPS satellites serve and protect our warfighters by providing navigational assistance for U.S. military operations on land, at sea, and in the air. Civilian users around the world also use and depend on GPS for highly accurate time, location, and velocity information.
The satellites continuously transmit digital radio signals pertaining to the exact time (using atomic clocks) and exact location of the satellites. The GPS IIF series have a design life of 12 years. With the proper equipment, users can receive these signals to calculate time, location, and velocity. The signals are so accurate that time can be measured to within a millionth of a second, velocity within a fraction of a mile per hour, and location to within feet. Receivers have been developed for use in aircraft, ships, land vehicles, and to
hand carry.
As a result of increased civil and commercial use as well as experience in military operations, the USAF has added the following capabilities and technologies to the GPS IIF series to sustain the spaceand control segments while improving mission performance:
• Two times greater predicted signal accuracy than heritage satellites.
• New L5 signals for more robust civil and commercial aviation.
• An on-orbit, reprogrammable processor, receiving software uploads for improved system operation.
• Military signal "M-code" and variable power for better resistance to jamming hostile environments, meeting the needs of emerging doctrines of navigation warfare
"I'm elated with today's successful launch. The GPS constellation remains healthy, strong and robust, and, in over 20 years since initial operational capability, GPS has never failed to deliver on its global positioning, navigation, and timing commitments," said Brig. Gen. William Cooley, director of Space and Missile Systems Center's Global Positioning Systems Directorate. "Each new generation of GPS satellites provides enhanced capability over the prior generations, and has delivered reliable performance demonstrating our commitment that GPS remain the Gold Standard space-based positioning, navigation and timing service for the future," he said. "Thanks to the men and women of SMC, the 45th, 50th and 310th Space Wings, Boeing, United Launch Alliance, The Aerospace Corporation, GPS IIF and Delta IV launch teams, the GPS IIF program continues to meet GPS enterprise needs."
Air Force Space Command's Space and Missile Systems Center (SMC), located at Los Angeles Air Force Base, California, is the U.S. Air Force's center of acquisition excellence for acquiring and developing military space systems.
SMC's portfolio includes the Global Positioning System, military satellite communications, defense meteorological satellites, space launch and range systems, satellite control networks, space based infrared systems and space situational awareness capabilities.
Moog Inc. Space and Defense Group played a critical role in this successful launch. The ULA Delta IV rocket that carried GPS IIF-9 into space includes Moog hardware on the first and second stages.
On the first stage, Moog provides electrohydraulic (EH) actuators for the Orbital ATK solid rocket booster (SRB) GEM60 helium blow down system. In addition, two pogo suppression valves, one on each core of the vehicle, function to suppress oscillations in the ducts carrying liquid oxygen to the rocket engines.
On the second stage, a Moog Electromechanical (EM) Thrust Vector Control (TVC) System plays a key role supporting attitude control after separation of the first stage.
Finally, Moog provided the Inlet Valves for the RL10 main upper stage engine and the Control Valves for the Roll Control Module (RCM) Thrusters.
The Boeing GPS IIF-9 satellite is equipped with Moog thruster valves, isolation valves and service valves that contribute to the satellite's Attitude Control System (ACS). High reliability of the ACS is crucial to ensure correct positioning of the spacecraft for optimal information transmittal to and from the Earth.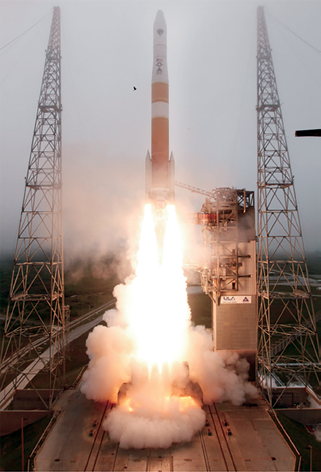 Additional information about Moog's Space Sector can be found at www.moog.com/markets/space/.
Boeing reported the the GPS IIF-9 confirmed its on orbit health on March 30th. The satellite reached orbit approximately three hours, 20 minutes after its launch for Cape Canaveral AFS.
"Boeing, ULA and the Air Force successfully launched four GPS IIFs last year, the highest operations tempo in over 20 years, and today's mission marks the first of three launches planned in 2015," said Dan Hart, vice president, Boeing Government Space Systems. "As they enter service, the IIFs are advancing and modernizing the GPS constellation by improving accuracy, signal strength and anti-jamming capability. We are also introducing the L-5 civilian 'safety-of-life' signal intended mainly for aviation
and transportation."
The GPS IIF-9, designated as SVN-71, then underwent on-orbit testing and checkout, all normal procedures before beginning
full operation.
Boeing has served as a prime contractor on GPS since the program's inception, contributing multiple generations of GPS satellites and accruing more than 525 years of on orbit operation.
The successful rocket propelled launch of a satellite is the end result of numerous companies and experts contributing their skills and assets working to achieve one goal... launch the rocket and then the satellite(s). The launch of the U.S.A.F.'s GPSIIF-9 is such an example.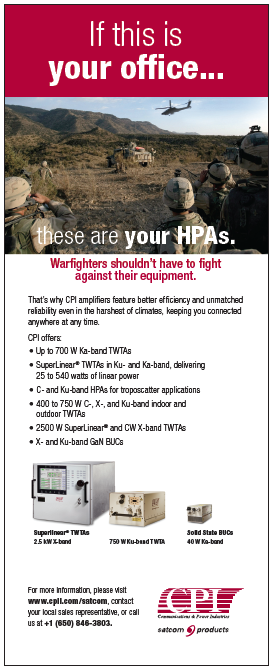 Orbital ATK, Inc. technologies also played a crucial role in the launch of, and the on-orbit operation of, this latest Boeing GPS IIF satellite launch.
Orbital ATK's contributions to the Delta IV and GPS IIF include cutting-edge technologies from across the company. In addition to the state-of-the art solar arrays and other critical components on the GPS IIF satellite, contributions include the two Graphite Epoxy Motors-60 (GEM-60), large composite structures and the main engine nozzle.
"Orbital ATK's contributions to the Delta IV GPS IIF-9 mission are prime examples of the affordable, innovative and reliable products we offer," said Ron Grabe, President of Orbital ATK's Flight Systems Group. "These products are crucial to our nation and millions of GPS users around the world."
ULA's Delta family of launch vehicles has been lifting high-priority government and commercial payloads to orbit for more than 50 years. This launch marks the 371st Delta rocket since 1960 and the 29th Delta IV since 2002. It also marks the 69th GPS satellite launch and the 55th to use a Delta rocket.
The Delta IV medium-plus rocket flew in a configuration featuring two Orbital ATK commercial GEM-60 solid rocket motors produced in Magna, Utah. These motors boast a flawless record and are the 43rd and 44th GEM-60s to fly. Their 90 seconds of flight time and 560,000 pounds of thrust boosted the 371st Delta vehicle into the sky.
The nozzle for the launch vehicle's RS-68 engine was designed and manufactured at Orbital ATK's facility in Promontory, Utah. The nozzle design includes an Orbital ATK-developed thermal protection material that is capable of shielding the nozzle from the extreme heat of launch when external temperatures can exceed 4,000 degrees Fahrenheit.
The Delta IV composite structures manufactured by Orbital ATK provide higher performance with lower weight and included:
• The GEM cases, manufactured using advanced wet winding techniques at Orbital ATK's Clearfield, Utah facility.
• The fairing, payload attach fitting and diaphragm, interstage, centerbody and thermal shield, all produced using advanced hand layup, machining and inspection techniques at Orbital ATK's Iuka, Mississippi facility.
For the GPS IIF-9 satellite, Orbital ATK provided a host of products and services:
• Orbital ATK's Goleta, California, facility designed and manufactured the satellite solar arrays and a deployment boom. Orbital ATK has achieved 100 percent on orbit success on all solar arrays and deployable systems delivered and launched to date.
• Orbital ATK's San Diego, California, facility manufactured the composite solar array substrates.
• Orbital ATK's Commerce, California, facility had responsibility for the ullage tank assembly, including the blankets, heaters, thermistors and pressurant lines. This tank is a spherical vessel constructed of titanium.
• Orbital ATK's Beltsville, Maryland facility provided heat pipes for the GPS IIF equipment and radiator panels.
• Orbital ATK's Rancho Bernardo, California facility performed final assembly and RF (Radio Frequency) testing of the antenna suite for GPS IIF between 2003 and 2010.
ULA will deliver two more GPS IIF satellites into orbit this year, and then another in early 2016 to complete the IIF series. These satellites will be delivered into medium-Earth orbits and will circle the globe every 12 hours, providing critical Navstar positioning, velocity, and timing assets fully functional until the next-generation GPS Block IIIA comes online in 2016. In addition to their civilian usage, the Block IIF satellites boast enhanced accuracy, reprogrammable processors, interference-free signals for commercial aviation, search and rescue capability, and a new Military code that is better resistant to electronic jamming.
Orbital ATK: www.orbitalatk.com/
Aerojet Rocketdyne, a GenCorp company, helped successfully propel another in the series of Global Positioning System (GPS) IIF military navigation satellites into orbit.
Aerojet Rocketdyne propulsion included an RS-68 booster engine, RL10B-2 upper-stage engine, multiple attitude control thrusters and six helium pressurization tanks.
The GPS satellite includes a pair of Aerojet Rocketdyne propulsion systems provided by the Space Systems Business Unit in Redmond, Washington. These systems are used periodically to keep the satellites in their designated orbits and to eventually decommission them.
Steve Bouley, vice president of Space Launch Systems at Aerojet Rocketdyne, said, "Aerojet Rocketdyne propulsion systems have played a role in the launch of every GPS spacecraft placed into orbit since the inception of the program in the late 1970s."
During launch, the ULA Delta IV rocket rose from the pad, powered by an RS-68 engine that provided 758,000 lbs of vacuum thrust and 663,000 lbs of sea-level thrust. This flight represents the final flight of an RS-68 engine, with subsequent Delta IV rockets being powered by the upgraded RS-68A engine which includes 39,000 lbs of increased thrust and improved combustion efficiency. Since its first flight in November 2002, 42 RS-68 engines have successfully powered 28 Delta IV missions (including seven "Heavy" launches of three engines each) with 100 percent mission success.
Once in space, the ULA Delta IV Cryogenic Second Stage (DCSS), powered by a single RL10B-2 engine, ignited multiple times to place the payload into orbit, helped by the DCSS thrusters and other Aerojet Rocketdyne-provided hardware for both the booster and upper stage.
The RL10B-2 engine delivers 24,750 lbs of thrust to power the DCSS, using cryogenic liquid hydrogen and liquid oxygen propellants during its operation. ARDÉ, a subsidiary of Aerojet Rocketdyne based in New Jersey, provides the pressure vessels on the first and second stages of the launch vehicle.
Twelve Aerojet Rocketdyne monopropellant (hydrazine) thrusters in four modules on the Delta IV upper stage provided roll, pitch and yaw control as well as settling burns for the upper stage main engine.
The IIF satellites are designed to improve navigational accuracy for civil, commercial and defense applications worldwide. They feature more capability and improved mission performance, including predicted signal accuracy that is two times greater than heritage satellites; a 12-year lifespan that provides longer service and reduced operating costs; and a military signal that has better resistance to jamming in hostile conflict areas.
Aerojet Rocketdyne in-space propulsion systems have provided 100 percent mission success on all GPS missions over their lifetime.
Aeroject Rocketdyne: www.rocket.com/
---
Imagesat's New Mini-Terminal Deploys In One Hour For EO Data Reception
ImageSat International N.V. , the owner and operator of the EROS A and EROS B very high resolution imaging satellites, will reveal the 70 cm resolution EROS B satellite portable end-to-end ground Mini-Terminal (MiniTer) for real time ultra-fast downloading of data from Earth observation satellites at LAAD 2015.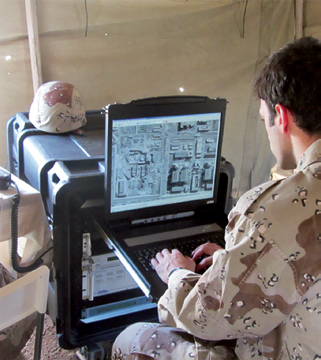 The EROS B MiniTer solution allows direct downloads from the satellite to any location and combines a 1.5m or 2.4m X-band antenna system designed by ORBIT Communication Systems, with a processing unit developed by ImageSat
Specially designed to meet the needs of EROS B customers, this compact, rugged, portable solution can be installed in any environment or weather condition, enabling rapid deployment for any Earth observation application.
The lightweight MiniTer receives X-band signals when the EROS-B satellite passes within a 2000-km radius footprint of the MiniTer's location.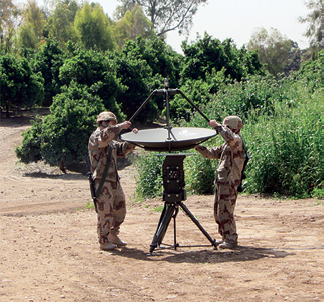 Features include X-band signal demodulation, image reconstruction, image display during signal reception (quick look) and image archiving.
According to Mr. Rani Hellerman, Vice President for Business Development, "We will debut our portable ground system at LAAD 2015—the first of its kind in the world—allowing deployment in one hour. The system enables our customers to receive accurate, high quality data in real time – delivering images of large areas in the shortest possible time, from the battlefield or the location of an event. Currently beginning the marketing of the system, we are very happy with the feedback we have received from potential customers, and expect the first orders to be placed in the near future."
ImageSat: www.imagesatintl.com
---
Military Leaders Report Concerns on Long-term Readiness
The U.S. military is consuming readiness as fast as it can generate it, and this leaves America vulnerable, uniformed leaders have told the House Armed Services Readiness subcommittee.
Gen. Daniel B. Allyn, the Army vice chief of staff; Adm. Michelle J. Howard, the vice chief of naval operations; Marine Corps Gen. John M. Paxton Jr., the assistant commandant, and Gen. Larry O. Spencer, Air Force vice chief of staff, all told the subcommittee that even under the president's proposed fiscal year 2016 budget, readiness is at the ragged edge.
"We are not building surge capacity, we are not building a continuous response capability," Allyn said during his testimony.
Troops will have the training, equipment and leadership needed to do their missions, but long-term readiness remains a problem, the leaders said. And, they added, if Congress allows the Budget Control Act of 2011 to stand, triggering sequestration October 1, even today's readiness would be endangered.
Army Readiness 'Strained'
The Army is consuming readiness as rapidly as the service can generate it, Allyn said, which means "that our ability to respond to the unknown contingencies, to reinforce either the major fight or the deterrence fight is significantly strained."
Sequestration budget cuts would have real consequences, the general said, offering the prospect of responding to two contingency missions as an example.
"It [would mean] we're late to the fight in one or both locations with sufficient capacity, Allyn said, "and we either fail in our mission or we increase the loss of life to those committed forward from the joint force, as well as innocent civilians that we are charged to protect in accordance with our national security interests."
Navy Readiness 'Still in Reset'
The Navy is still struggling to catch up to readiness challenges imposed when sequestration kicked in in fiscal year 2013, Howard told the committee.
"With this particular budget, we are still in reset, taking those ships through drydockings, through overhauls, all the way up through fiscal year '18 for our carrier strike groups," she said. "And then we don't reset and recover the maintenance on our amphibious ships until fiscal year '20."
Marine Corps Faces Degraded Readiness
Like the Army, the Marine Corps is facing readiness issues in meeting today's deployments, Paxton said.
"The challenge is that the next to deploy will be in a degraded state of readiness," he said. "Right now we have over 50 percent of our home station units in what we call degraded readiness, C3 or C4. They don't have their proper equipment, they don't have the right skilled leadership at the small-unit level, they don't have the right training opportunities."
Air Force Operations Tempo Hurts Proficiency
The Air Force is seeing huge readiness challenges, Spencer said.
"We have the smallest and oldest Air Force in history, we need all of our airmen to be proficient in every aspect of their mission," he said. "Unfortunately, our high-operations tempo has caused our airmen to only be proficient in the jobs they do when they deploy. We simply do not have the time and resources to train airmen across the full spectrum of Air Force missions."
Story by Jim Garamone DoD News, Defense Media Activity
---